Bryson City is a hidden treasure in North Carolina. With close proximity to the Great Smoky Mountains National Park, a plethora of outdoor adventures, and a picture-perfect downtown, our slice of the Western North Carolina mountains is perfect for a getaway. With so much natural beauty, it's also ideal for some good old-fashioned camping - with a twist! Our area is home to plenty of unique and out of the box camping options to take your camping experience to the next level with glamping, a modern take on traditional tent sites. Here are five glamping spots you have to check out on your next getaway!
Upgrade Your Tent Stay at Sky Ridge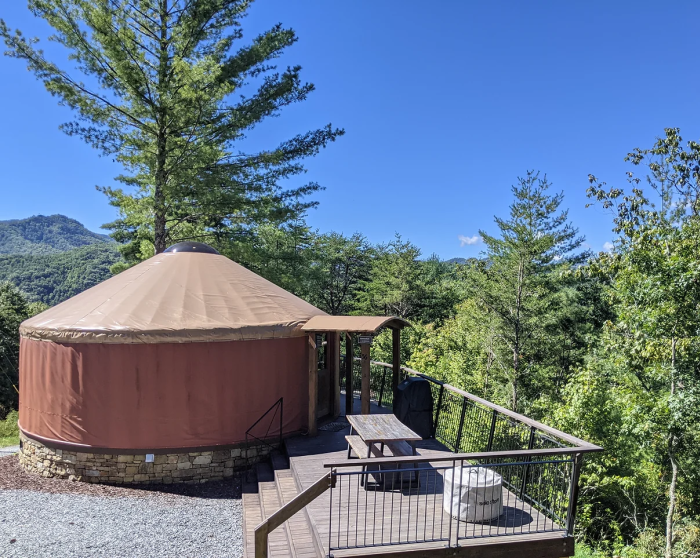 The yurts at Sky Ridge bring glamping to a whole new level! High atop a mountain ridge line, this collection of cozy, comfortable yurts provide awe-inspiring views of the rolling Smoky Mountains. In fact, you may love your stay so much, you'll become a Sky Ridge regular! These well-appointed, beautifully decorated accommodations are a must on your Bryson City Bucket List, with plenty of sizes to fit a variety of groups. The Tsali yurt, one of seven options at Sky Ridge, can sleep four guests, making it perfect for the whole family. The Tsali also features a dining area, a bathroom and a small kitchen. Meanwhile, the Tuckaseegee, the smallest of the yurts, can comfortably sleep three with a queen bed and twin pull-out. This unit also features a small kitchen and bathroom, but no dedicated dining area. Many yurts come with private fire pits, perfect for toasting marshmallows and hot dogs.
Embrace Your Inner Pop Culture Nerd, Gorge-Style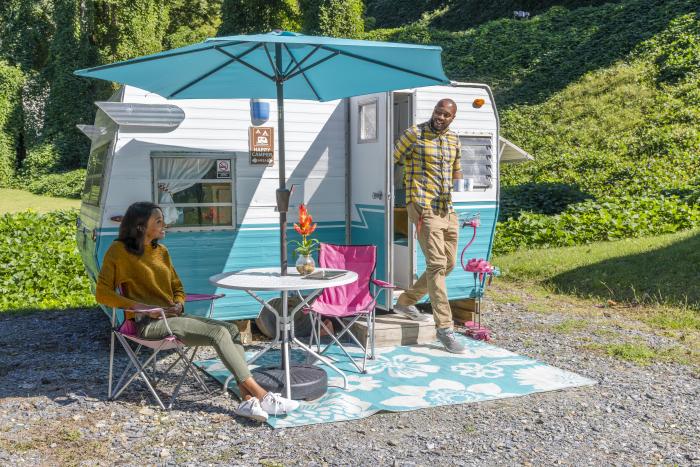 Gorgeous Stays, located in the heart of the Nantahala Gorge, has accommodations themed to the nines. From restored vintage campers and buses to bohemian yurts, and Marvel, Harry Potter and Jazz-themed tiny homes and tents, this place is sure to spice up your stay. Tiny homes, buses and campers, like the charming British double-decker, dubbed the Crown Jewel, come equipped with small kitchenettes, beds and, excluding the 1940s-style vintage camper, composting toilets. The glamping tents, which includes the ever-popular Harry Potter hideaway, add a little flair to your typical camping adventure, with small bathroom areas, coffee stations and elevated beds. All guests have access to the property's fire pits, food pavilions, onsite camp store and full-service bathrooms.
Dive into a New Waterfront View on Fontana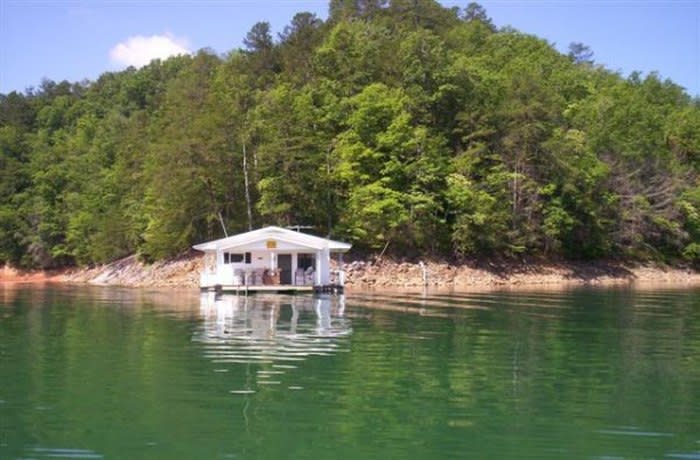 While this is not your traditional yurt or tent-style glamping, we would be remiss if we didn't include Fontana Lake's one-of-a-kind floating cabins! Located quite literally atop the lake's blue-green waters, this unique rental can only be accessed via pontoon, kayak or other watercraft. Many come fully equipped with full bedrooms, kitchens, dining areas, and bathrooms, meaning they have all the amenities necessary for a relaxing stay. Much like traditional campsites, though, it's encouraged that you bring water, coolers, food supplies and lanterns. While some floating cabins have solar-powered generators, none are wired with electricity or traditional running water. It's a small price to pay when you can dive directly into Fontana's cool waters at a moment's notice!
Feel like Part of the Family at Gina's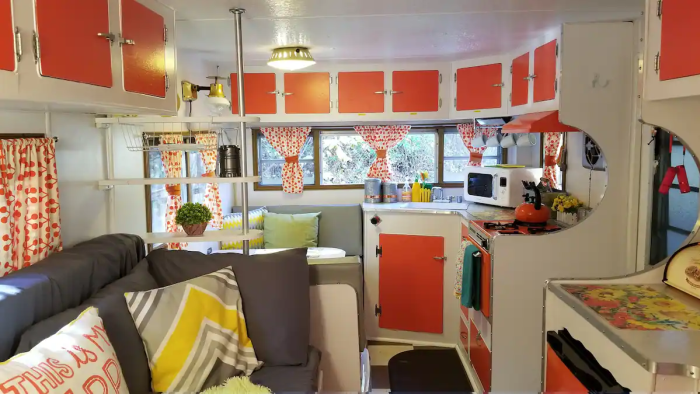 Gina's Great Getaways, a family-owned business here in Bryson City, strives to bring the comforts of home to each of its unique accommodations. While Gina's proudly boasts many wonderfully decorated and equipped cabins, there are also many options perfect for a glamping getaway. This vintage camper is truly a blast from the past! The 1965 camper has been fully restored and fitted with a full bathroom for the guest's convenience. This camper is teeming with retro decor, giving a fun and spunky twist to a weekend in nature.
Gina's also has a quirky, cool caboose-themed RV. Perfect for small families, this caboose still has many of the 1970s-era features from the RVs heyday!  It also has its own deck, charcoal grill, firepit and, nearby, a laundry room shared with other guests staying on the property. Small but comfortable, larger guests may have to duck entering its retro shower!
Step Back in Time with this Airstream Find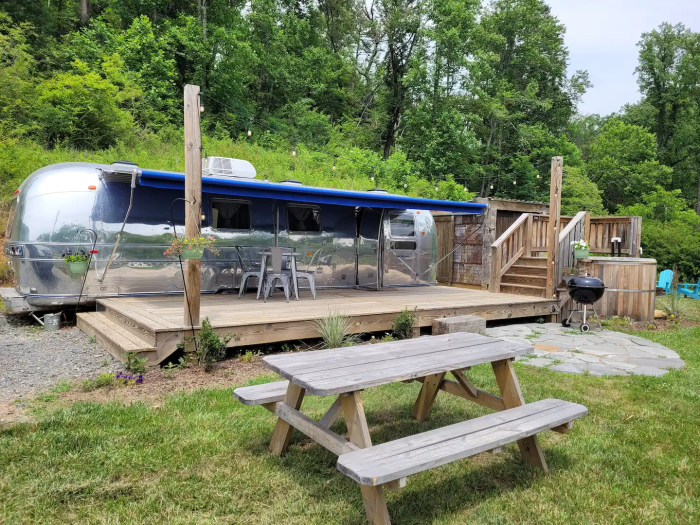 Speaking of a blast from the past, if you and your crew are looking for a retro stay with the modern amenities of today, check out this fully renovated Airstream. This sleek stay has everything you'll need for an idyllic glamping experience. The wood-paneled kitchen and living area allow for just enough room to spread out, while the outdoor deck and hot tub offer perfect perches to enjoy stunning mountain and valley views. Guests staying here can also receive an exclusive discount for tube rentals at Deep Creek.
Ready to plan your Bryson City getaway? Come glamping with us and explore our scenic paradise: https://www.explorebrysoncity.com/
Stay in touch with our E-News: https://www.explorebrysoncity.com/newsletter-sign-up/