Is there anything more quintessential than a summer vacation? School is out, the sun stretches days longer and longer and everywhere you look, lush greenery can be found. Surrounded by nature's best playground, the Great Smoky Mountains, Bryson City is a treasure trove of summer adventure. From heart-pumping hikes, adrenaline racing rapids and refreshingly cool tube rides to kayaking across Fontana Lake and more, our destination is overflowing with opportunities to connect with nature this summer. Our best Bryson City tips are here to help you make the most out of your next vacation.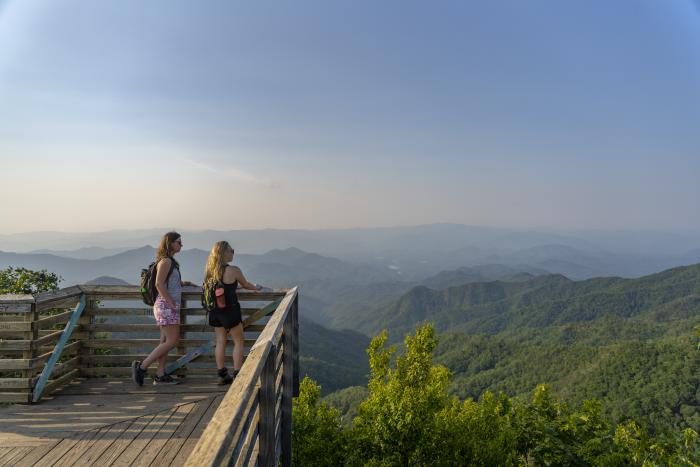 "Hike" To It: Traverse Bryson City's Best Trails
Hiking through the Great Smoky Mountains is a hallmark of any Bryson City vacation, something you truly can't skip on your adventures. With the Great Smoky Mountains and Nantahala National Forests surrounding our destination, we have trails for every level of explorer. From simple walking trails and easy hikes to challenging, multi-day treks across the vast wilderness, adventure comes naturally to us.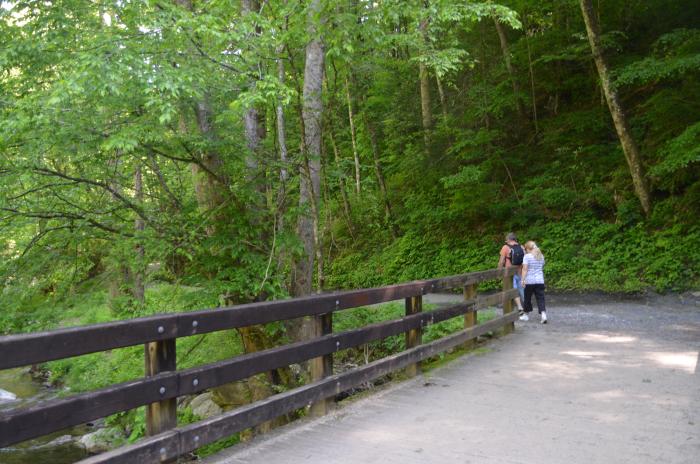 One of many popular spots is Deep Creek, ideal for those looking for a gentler excursion. This area of the Great Smoky Mountains National Park features three awe-inspiring waterfalls - Tom Branch Falls, Juney Whank Falls and Indian Creek Falls. All are connected by a 2.5-mile, easy-to-navigate trail known as the Waterfall Loop. Several other hiking trails are connected to Deep Creek for those wanting a more strenuous journey. No matter how you choose to explore, walking through Deep Creek is a relaxing adventure, with many benches offering you ideal spots to soak in waterfall views or stop and listen to the calming sounds of babbling creeks and streams. The area is also a popular spot for tubing, but more on that later!
One of the country's most historic hikes lies just within reach of Bryson City. The Appalachian Trail, stretching 2,180+ miles from Georgia to Maine, has several access points near our destination. Many of these hikes are strenuous, requiring a full day to complete and covering many miles at increasing elevation. One of the closest is the Wesser to Stecoah Gap hike, which starts near the Nantahala Outdoor Center. At 13.6 miles, this one-way trek will take an estimated minimum of 10 hours to complete. It's advised to have a car accessible at the parking stations at both ends of this trail.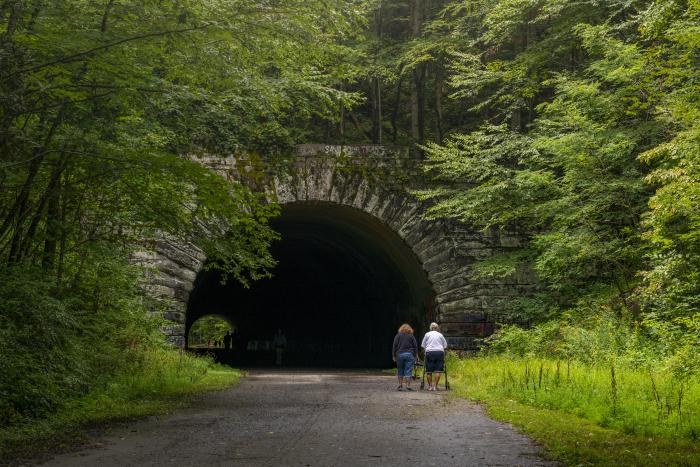 Another nearby, but less strenuous, hiking spot to explore can be found along the Road to Nowhere. In addition to providing gorgeous views, lush foliage and hiking opportunities, the Road to Nowhere is also steeped in history, with a tale even locals remember to this day. The area once housed and connected families across the Smokies, but the land was purchased to create Fontana Lake, creating the trail we see today. Several hikes are available from the Road to Nowhere, including a short trek through its mile-long, dark tunnel.
Cool Down and Make a Splash: Explore Bryson City's Outstanding Aquatic Activities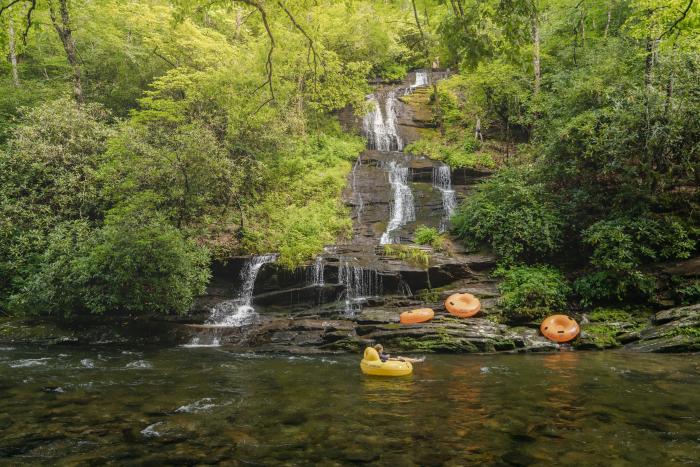 With an atmosphere that can often rival some of the world's rainforests, it's safe to say that summers in Bryson City and the Great Smoky Mountains can often get HOT! What better way to fight the heat and humidity than diving into any of Bryson City's wonderful "water"-ful adventures? Home to beautiful Fontana Lake, an abundant number of streams and rivers and other natural waterways, we have plenty of ways to keep cool and have fun this summer. One of our most loved and most popular is taking a gentle tube ride through the waterways at Deep Creek. Crisp cool waters from the area's namesake creek flow through the area, notably passing Tom Branch Falls. Tubing partners line the road leading to Deep Creek, giving you plenty of options to choose from for that perfect afternoon. Tubing season stretches from Memorial Day through Labor Day.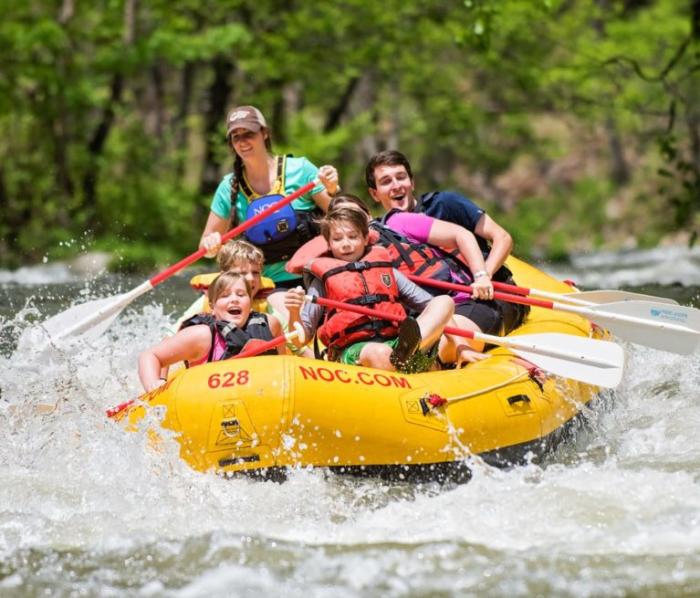 For a more thrilling adventure, get your feet wet with a wild whitewater ride down one of four nearby waterways! One of the best and closest to downtown Bryson City is the mighty Nantahala, which draws more than 200,000 paddlers to its thrilling rapids each year. Guides, such as the Nantahala Outdoor Center and Wildwater Ltd, line the waterway, ready to help safely get you down this rushing river. Many of these guides also offer zip lining and other unique tours on their campuses, adding even more excitement to your adventure.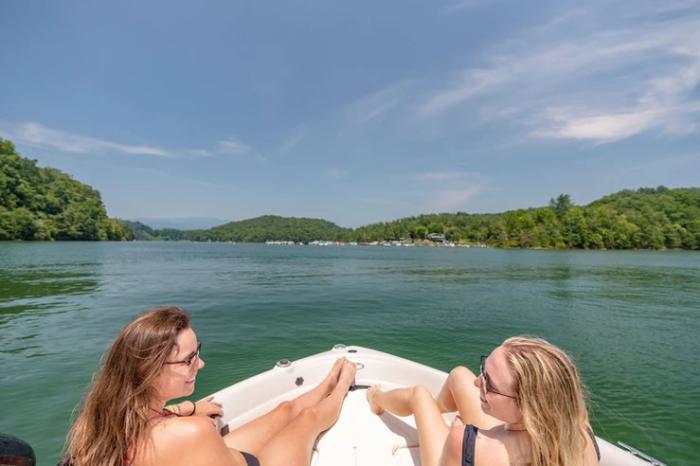 Another wonderful way to enjoy our waters is by taking a boat out along beautiful Fontana Lake. The crown jewel of Bryson City, Fontana Lake is a truly under-the-radar destination, with the Great Smoky Mountains National Park occupying 90% of its shoreline. Here, you can enjoy tranquil, calm waters surrounded by a largely undeveloped, tree-filled skyline. In addition to boating, the lake is also great for fly fishing, kayaking, stand-up paddleboarding and more.
Create Your Kodak Moment: Discover Bryson City's Most Awe-Inspiring Scenic Overlooks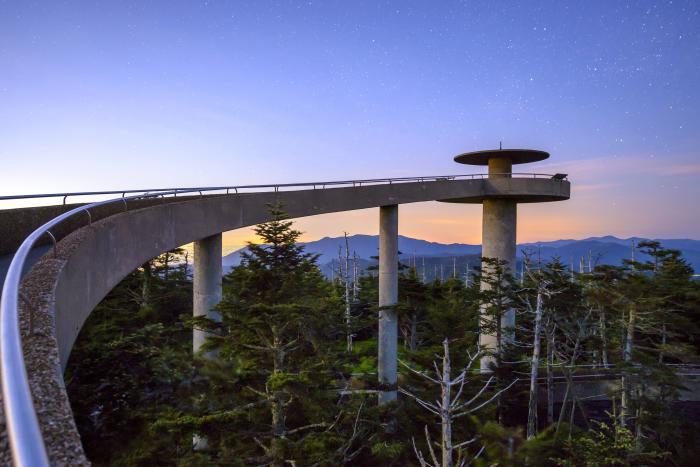 While Bryson City is an ideal destination to unplug from the world, you can't visit without snapping that one perfect, memorable photo! Whether a snap of the entire group or capture of some of our undisturbed natural beauty, Bryson City has a number of scenic spots to get that shot. One of our most popular is Clingmans Dome. The highest point in the Great Smoky Mountains at 6,634 ft, Clingmans Dome is roughly a one-hour drive from downtown Bryson City, deep in the heart of the National Park. On a clear day, you can see about 100 miles out from this peak's observation tower. Clingmans Dome is also an access point to many nearby hikes such as Andrews Bald.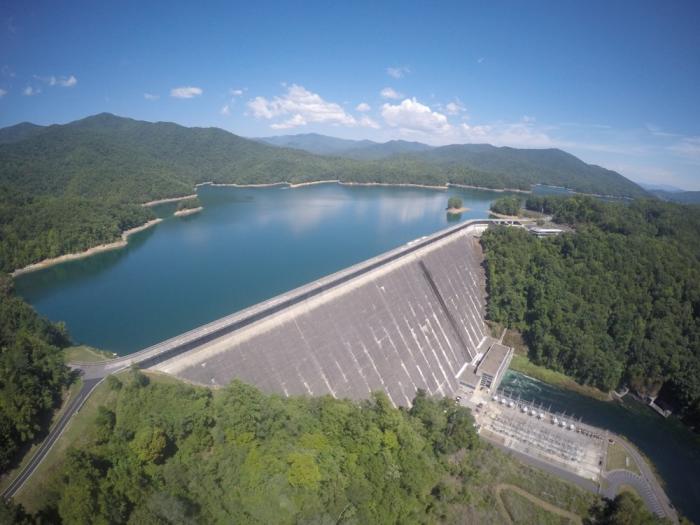 Another overlook to explore is Fontana Dam. Amidst the Great Smoky Mountains National Park, the Nantahala National Forest and deep river gorges, Fontana ranks among the world's most stunning dams. The dam is accessible via NC-28-N, where you can walk across the surface to see the untouched natural landscape surrounding you.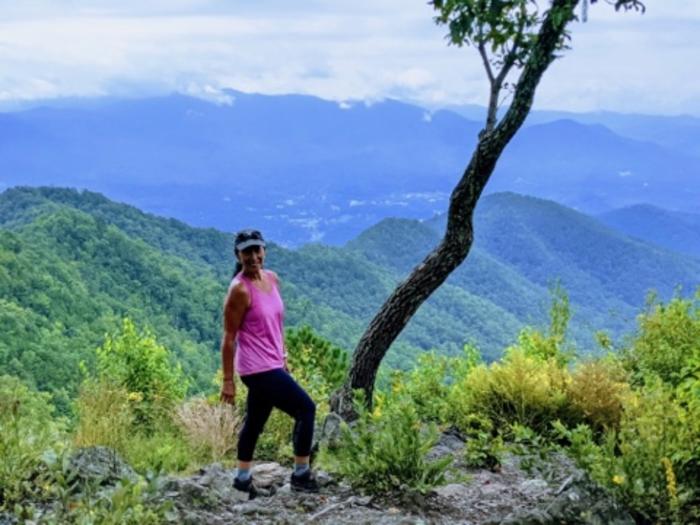 For a more challenging adventure, try hiking to Lonesome Pine Overlook! This 6.6-mile out and back hike starts at Deep Creek and is considered a moderate to challenging route. Along your way up, you'll reach stunning Lonesome Pine Overlook, which offers panoramic, take-your-breath-away views of the Great Smoky Mountains, Nantahala Mountains and Tuckaseegee River Valley.
Climb Aboard Adventure: Embark on The Great Smoky Mountain Railroad's Picture-Perfect Excursions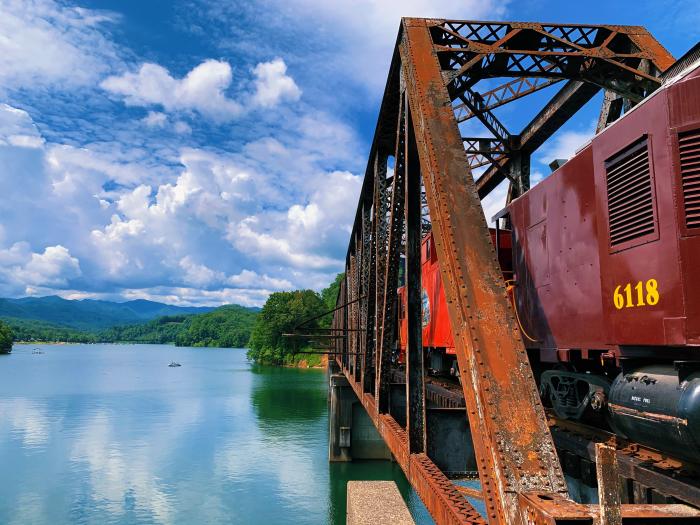 The sound of that old-fashioned Great Smoky Mountain Railroad train whistle rippling through downtown is true music to our ears in the summertime. When the weather warms, our railroad is bustling, taking thousands on scenic adventures through the Smokies. One of our favorite summertime excursions is the Raft and Rail. On this adventure, a scenic train ride will take you across Fontana Lake and up to the Nantahala Gorge, where a certified Wildwater Ltd guide will then lead you on an adrenaline-pumping whitewater trip through the Gorge's coursing waters. It's a wonderful way to get the best of both worlds - a calming, beautiful view of our wilderness and an exciting adventure through chilly waters. A roundtrip, train-exclusive ride through Nantahala Gorge is also available, with seating ranging from open-air cars to first-class comforts. You can check out a few of our other favorite Great Smoky Mountain Railroad rides, here: https://www.explorebrysoncity.com/blog/post/grab-your-ticket-to-ride-5-ways-to-experience-the-great-smoky-mountain-railroad/.
Sleep in Style: Find Your Perfect Bryson City Accommodation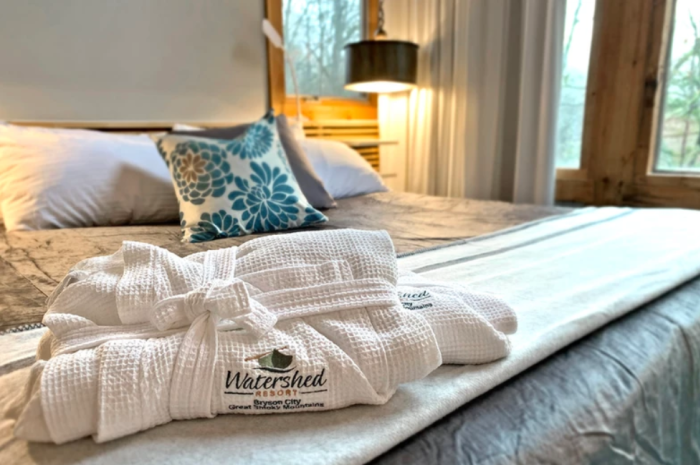 Arguably, the most important part of any vacation is finding that perfect home away from home. Like any good town nestled in the mountains, Bryson City is full of beautiful cabins available in a variety of sizes to fit all group needs. One of many wonderful spots to find your rustic stay is Watershed Cabins, which owns several homes spread throughout our area. Whether looking to stay close to downtown or to be along the shores of Fontana Lake, Watershed has you covered. Speaking of Fontana Lake, have you ever wanted to stay on the water without having to travel abroad? Beautiful blue-green Fontana is home to several floating cabins! Sleep surrounded by its glittering surface and start your day with a gentle kayak, canoe or paddleboard ride across its calm waters.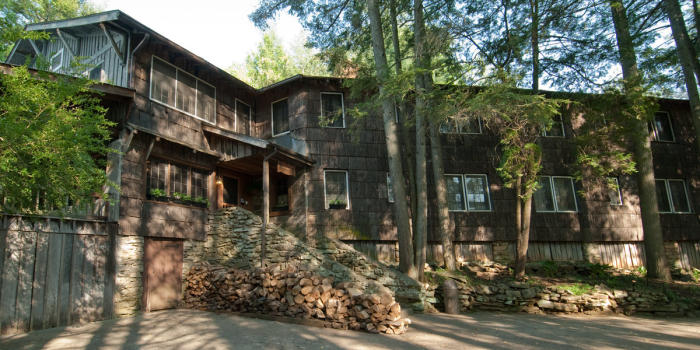 Bryson City is also home to prestigious and historic accommodations. The Fryemont Inn, one of the oldest properties in Bryson City, has welcomed guests to gather around its roaring fires, sit on its expansive porch and enjoy good old-fashioned Southern cuisine since the 1920s. Family-owned and operated, this hotel has lost none of its charm or tradition, with rustic and nostalgic rooms available that harken back to its early days.
In addition to these, our charming destination also features a number of cozy bed and breakfasts, spacious campsites, RV Parks and hotels. Our diverse accommodations can all be found, here: https://www.explorebrysoncity.com/places-to-stay/.
Now that we've divulged all of our best secrets, there's nothing left for you to do but pack your bags and get ready for adventure! We can't wait to see the memories you make this summer exploring Bryson City. Discover more of the fun that awaits in Bryson City, here: https://www.explorebrysoncity.com/.