Sometimes the best answer to fixing those summertime blues is a beautiful, scenic road trip vacation that's just a small stretch from home. Bryson City, tucked away in the Great Smoky Mountains and conveniently located just a short drive from Tennessee, South Carolina and Georgia, is a wonderful place to escape. As temperatures continue to rise in the cities, head up to the cooler mountain temps and let the stress melt away as the miles stretch on towards our picture-perfect destination. Get away from the hustle and bustle of Atlanta, Nashville, or our sister cities, Raleigh and Charlotte. Enjoy a change of scenery from the familiar sights of Greenville or Knoxville. Come explore the best Bryson City has to offer and use our handy guide to plan!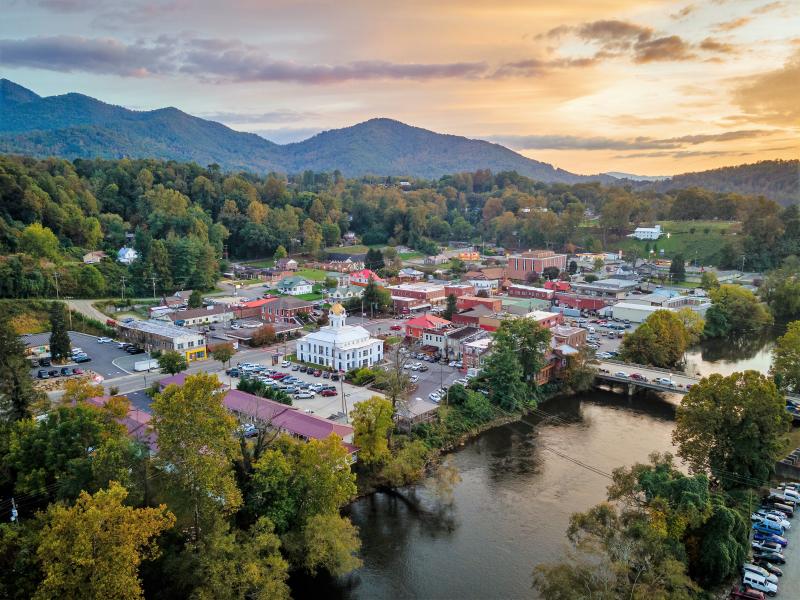 Enjoy the Scenic Route Along the Way
The age-old debate of whether the journey or the destination is better gets solved in Bryson City. The answer - both! No matter which way you're driving into the town, you're guaranteed to be greeted with beautiful views of the Smokies as you get closer and closer to your destination. Want to know how long your Bryson City road trip will take? Here are the estimated drive times and mileage to Bryson City from nearby major cities:
Georgia

Atlanta - approximately 2 hours, 51 minutes, 164 miles
Those driving in from Georgia will enjoy spotting all of the oddities and curiosities that line the interstate leading into Bryson City. As you get closer and closer to your final destination, the Smokies begin to tower on the horizon.

South Carolina

Greenville - approximately 2 hours and 7 minutes, 117 miles
Spartanburg- approximately 2 hours and 6 minutes, 124 miles
Those driving in from South Carolina will pass through the Nantahala National Forest, one of our favorite wooded wonderlands to explore. Begin your reconnection to nature on this scenic drive.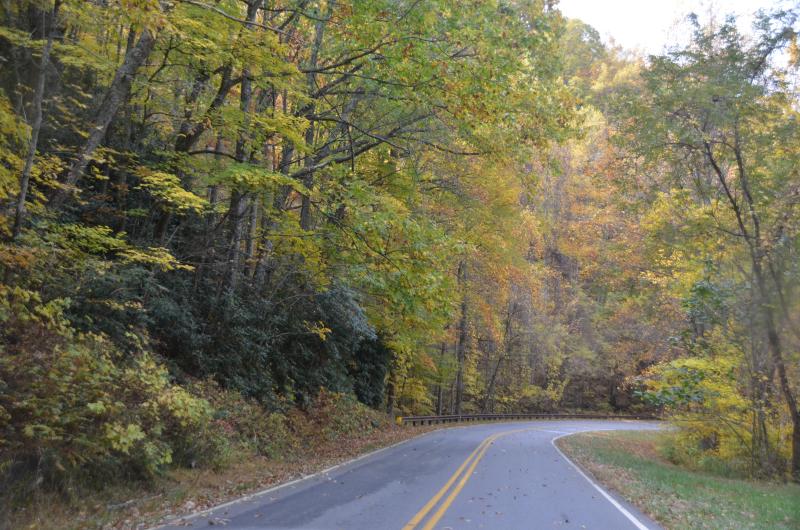 North Carolina

Charlotte - approximately 3 hours and 19 minutes, 180 miles
Raleigh - approximately 4 hours and 43 minutes, 309 miles
For those keeping it in-state and driving in from our eastern North Carolina cities, you'll pass by both the Pisgah National Forest and Nantahala National Forest. Savor this journey and soak in our state's natural beauty.

Tennessee

Chattanooga - approximately 2hours, 40 minutes, 139 miles
Knoxville - approximately 2 hours, 10 minutes, 133 miles
Nashville - approximately 4 hours, 40 minutes, 252 miles
Those driving in from Tennessee are in for an extra special treat as the most efficient route to Bryson City from the Volunteer State cuts directly through the Tennessee portion of the Great Smoky Mountains National Park!
Have Fun in Your Favorite Mountain Town - Free of Charge!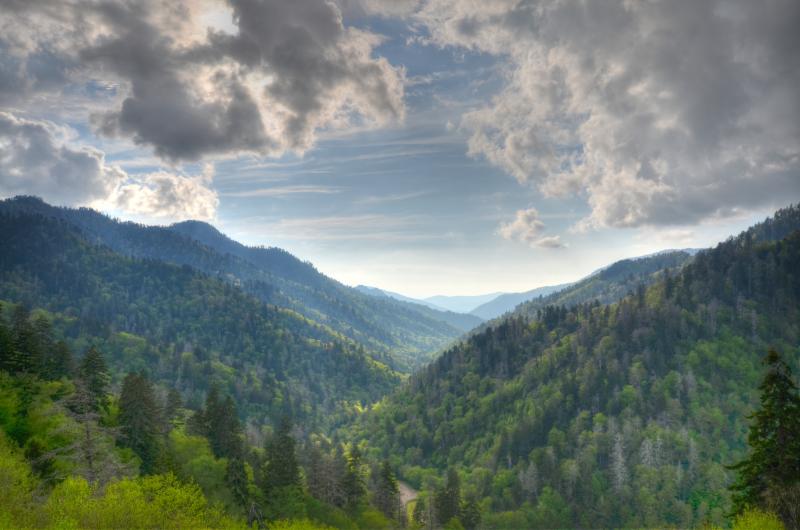 Did you know many of Bryson City's best adventures are free? That's right! Your western North Carolina road trip is close to home AND is also budget-friendly! The Great Smoky Mountains National Park, our favorite natural playground and the country's most visited national park, is free to enter and explore from any of the six access points near Bryson City, your home base for outdoor adventure. With plenty of rivers, waterfalls, overlooks and nearly 900 miles of hiking trails, it's almost impossible to run out of places to explore in the national park. In fact, you could spend your entire vacation solely venturing through this stunning wilderness (which just leaves even more for you to do on your next visit to Bryson City).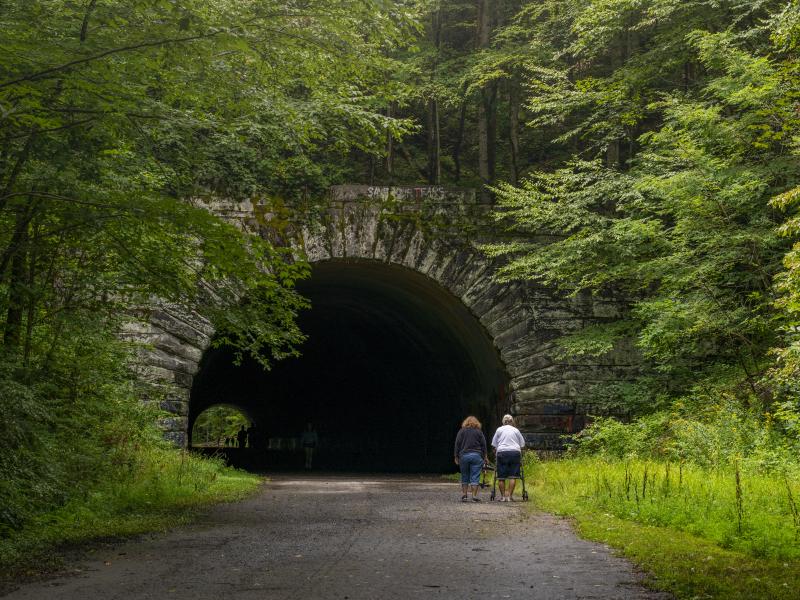 One of our favorite spots to explore in the park is the Road to Nowhere, a historic spot that acts as a gateway to several hiking trails that loop through the forest and around Fontana Lake. Other free experiences to explore in and near the park include Fontana Dam, Clingmans Dome, historic landmarks at Oconaluftee such as Mingus Mill, Deep Creek and more.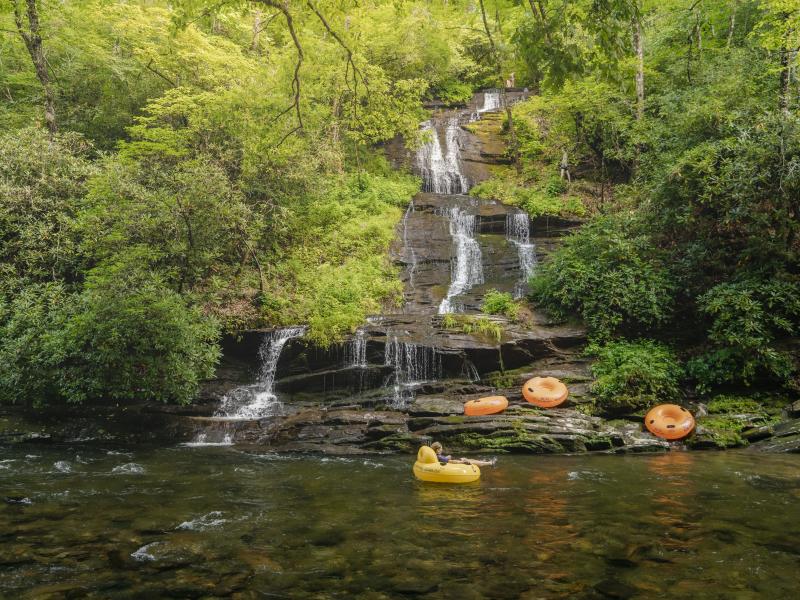 Looking to escape the summer heat? Several of Bryson City's indoor attractions are free as well! One favorite is the Appalachian Rivers Aquarium, located in our charming downtown. Open Thursdays through Saturdays, the aquarium features many regional species of fish, hellbenders and salamanders, with more aquatic or semi-aquatic species to come. Another free spot to explore (equipped with crisp, cold AC) is the Swain County Heritage Museum. The museum highlights Bryson City's history through informative and engaging exhibits that depict how life has changed over the years.
Cool Down in our Many Waterways
Bryson City is both home to and nearby so many wonderful natural waterways. From Fontana Lake to the waterfalls and streams of Deep Creek to the many rivers and water features of the Great Smoky Mountains National Park and abundant whitewater rafting and tubing opportunities, it's easy to make a splash this summer when you're spending those hot days in our paradise. Those who choose to swim, fish or boat on the waters of Fontana Lake will enjoy an aquatic experience like no other. The majority of the 240 miles of Fontana's shoreline fall under the protection and preservation of the National Parks Service, blanketing the lake in unspoiled wilderness. Boats, kayaks, fishing gear and more are available to rent for a fun day on Fontana.
One of the coolest (and we mean coolest) ways to enjoy our waterways is by tubing through Deep Creek. The bustling mountain streams that pass through towering trees and cascading waterfalls are always refreshingly cold. It's a truly relaxing way to beat the summer heat, bobbing along nature's favorite lazy river. Deep Creek also has three beautiful waterfalls to explore, one of which is a prominent part of any tubing adventure. Tube rentals are available leading into the entrance of the park and can be rented for an average of $5 per tube.
Embark on a Scenic Ride through the Smokies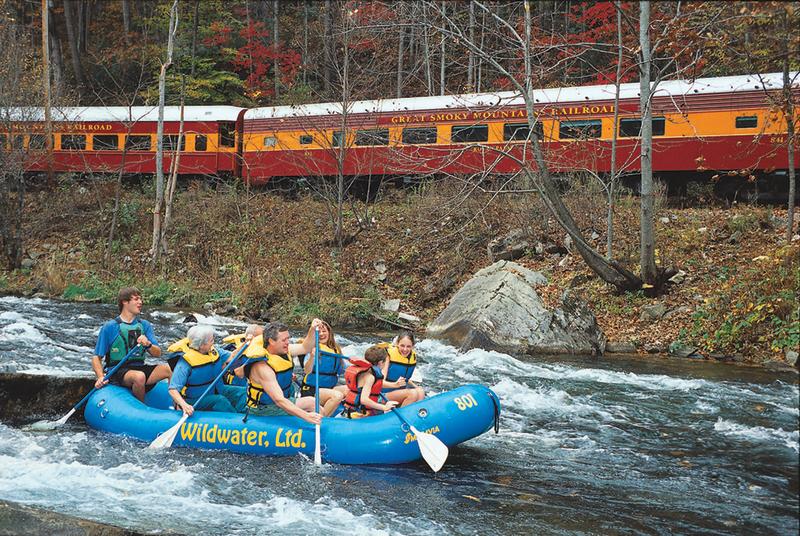 Exploring the Smokies from the seat of a gently rocking train car is one of the most unique experiences here in Bryson City. The Great Smoky Mountains Railroad boasts several beautiful trips that make exploring our backyard easier than ever. Depart from your home base in Bryson City and explore some of our neighboring towns and famous former film sets on a Tuckasegee River Excursion. Explore the beauty of the Nantahala Gorge with several excursions to this mountain playground, including a package deal that includes whitewater rafting. Add some spirited fun to your vacation by embarking on one of many food and beverage-themed excursions such as Uncorked, a relaxing trip that comes complete with a unique wine tasting and small plates. No matter which excursion you choose, you'll enjoy the beauty of western North Carolina, with our charming downtown ready to welcome you back at the end of every adventure.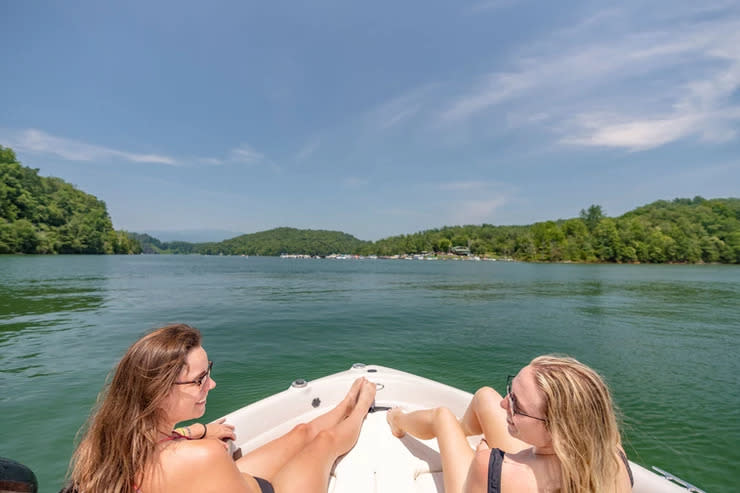 Ready to explore more of the excitement that awaits in Bryson City? Hop in the car and come see it for yourself! With so many wonderful adventures to discover, you may need to visit more than once to enjoy it all. Considering how close we are to home, too, making that first, second or third Bryson City vacation is as easy and sweet as a mountain breeze. Explore the Outdoor Adventure Capital of the Great Smoky Mountains, your home base for adventure and fun, by signing up for our e-news here: https://www.explorebrysoncity.com/newsletter-sign-up/