All across the great state of North Carolina, cities far and wide are celebrating the stellar Year of the Trail. No matter where you go across NC, there's a trail for you, and there's no place where that's more true than right here in Bryson City. With our close proximity to the Great Smoky Mountains National Park, Nantahala National Forest, the Tuckaseegee River, Fontana Lake and countless other waterways, we're the perfect base camp for your Smoky Mountains adventure. Let's kick off this year of celebration with five of our must-explore trails! 
1. Venture Through Deep Creek Your Way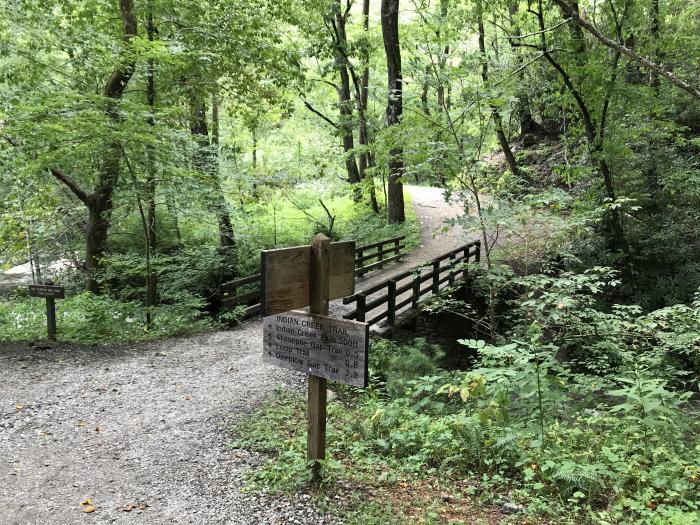 A staple of any Bryson City getaway, Deep Creek boasts plenty of adventure, with trails to fit any kind of explorer. Its 2.5-mile waterfall loop takes you on an easy breezy hike past all three of Deep Creek's beautiful cascades - Tom Branch Falls, Indian Creek Falls and Juney Whank Falls.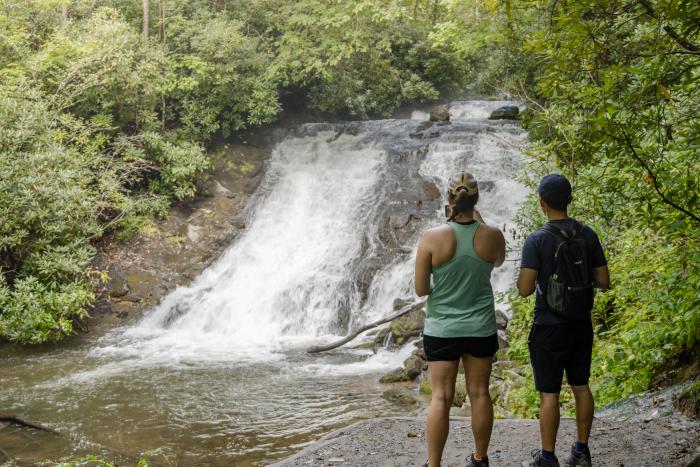 The most strenuous part of this trek is the hike to Juney Whank, which takes you up a short incline. To avoid any increase in difficulty, you can also take an out-and-back walk to Tom Branch and Indian Creek Falls. From Deep Creek, you can also access other more strenuous hikes, like the Thomas Divide Trail.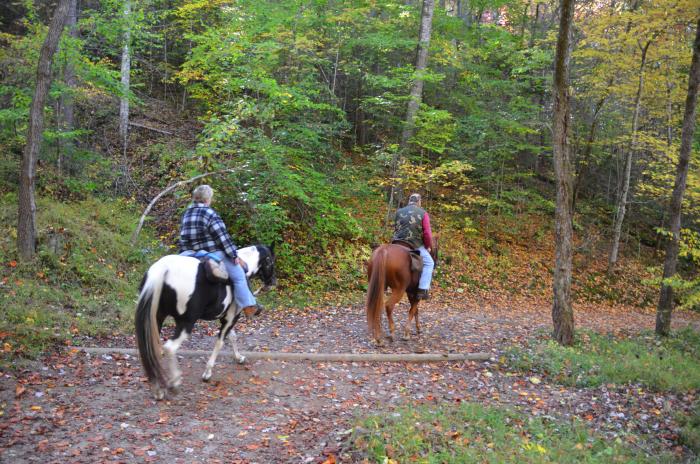 Another way to tackle the trails of Deep Creek is on horseback. Several paths that originate here allow for horses, including the Deep Creek Trail, Noland Divide and Thomas Divide. If you are traveling on your own, be sure to follow trail guidelines and stick to areas that permit horses. Guided tours are also available for those who want an expert trek.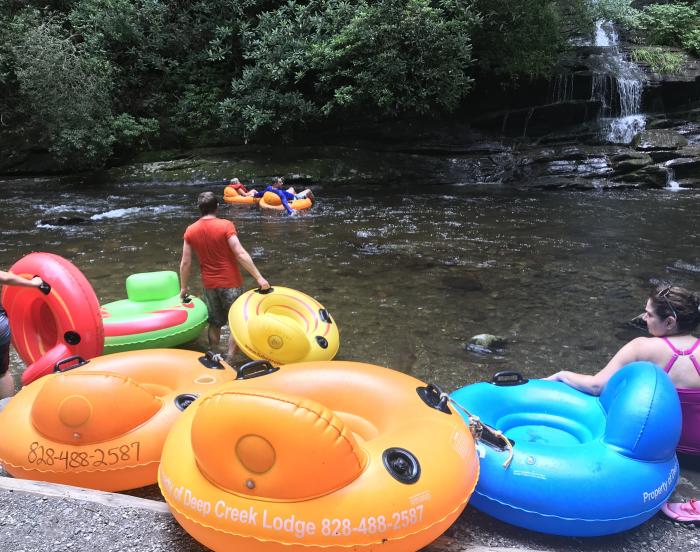 Visiting in the summer and want to cool off? One of Deep Creek's most popular "trails" is here to help. 15 miles of beautiful, crystal clear and cool streamline flow through Deep Creek, past Tom Branch Falls and straight into the Tuckaseegee River as it crosses downtown. Every summer, this iconic waterway is dotted with brightly colored tubes floating downstream. Grab yours from one of many rental spots near Deep Creek's entrance and enjoy the many dips, swirls and pools along this watery trail!
2. Soak in the Gorge-ous views of Nantahala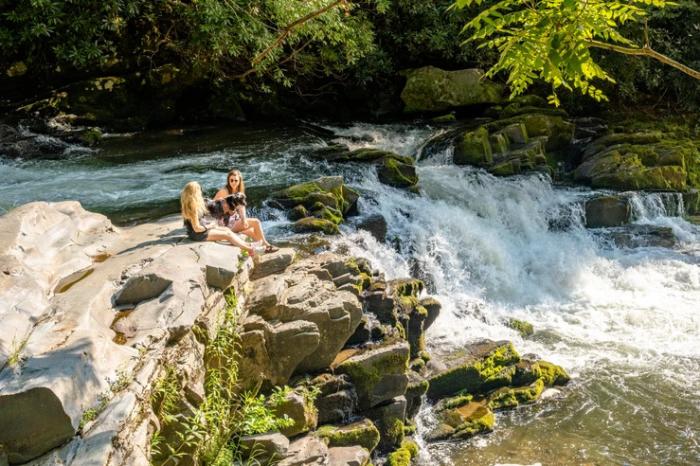 A true playground of outdoor adventure, there are plenty of trails to cross off your list in the Nantahala Gorge. One of the most popular by far is taming the swirling waters of this forest's namesake river. White water rafting and kayaking have been synonymous with the Gorge for generations, with thousands migrating to these cool waters every season to dip their paddles in. Get your adrenaline flowing by taking to the Nantahala Cascades, a beautiful waterfall known for its quick-moving swirls. If working as a team is more your speed, your trail can also take you to one of our many outfitters, like the Nantahala Outdoor Center or Wildwater Ltd, for a white water adventure that's out of this world.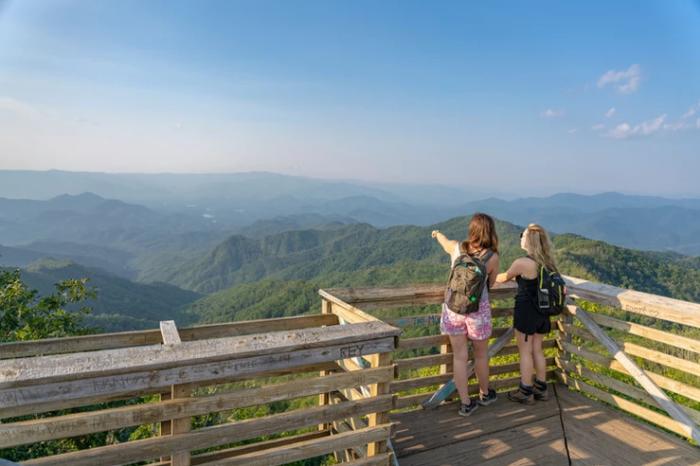 Those wanting to keep their feet on land have plenty to explore in the Gorge, too. One of the most popular fire towers in our area is accessible from the Gorge - Wesser Bald! Offering spectacular 360-degree views, this old fire tower is accessible by following the Appalachian Trail for close to one and a half miles. The trailhead is located a Tellico Gap, which can be reached by following Wayah Road in the Nantahala Gorge. It's worth noting that the drive to the trailhead is equally awe-inspiring, for those who want an easier "trail" to conquer.
3. Touch the Clouds at Clingmans Dome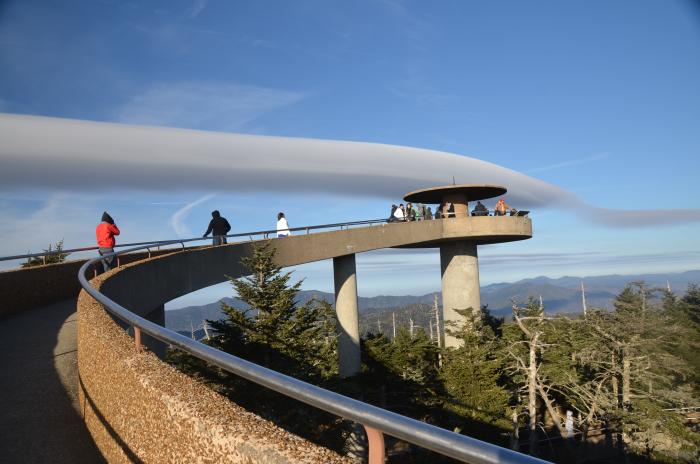 Exploring Clingmans Dome takes "choose your own adventure" to a whole new level - literally! At roughly 6,634 feet, Clingmans Dome is the highest point in the Smokies with an observation tower at its peak. On a clear day, you can see seven states from this impressive point. The path that winds to the top of the tower is a steep, .5-mile paved trail, with benches along the way for a quick break, along with a visitors center and restrooms at the base. From here, you can also access several other hiking trails, including the trailhead for Andrews Bald.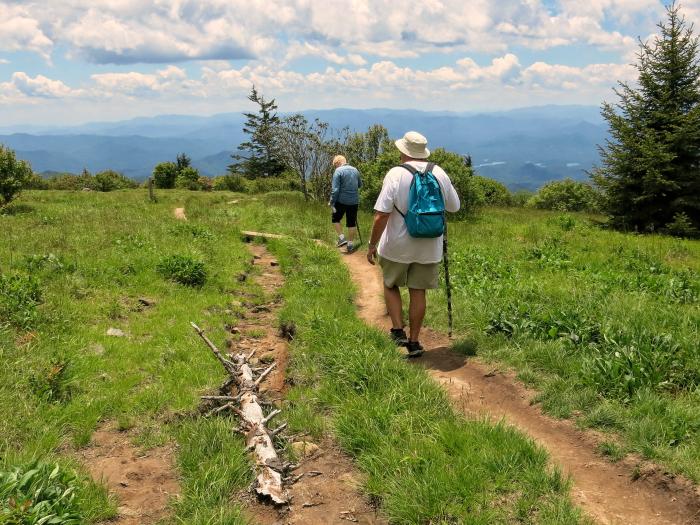 There are two ways to summit Clingmans and get those 360-degree Smokies views: drive or hike. The easiest way to climb is to drive. A one-hour scenic drive up through the mountains will lead you to the parking area, with only the half-mile steep paved trail to the observation tower. The 2nd hike, however, requires exceptionally more time. The full trek to Clingmans Dome from Fontana Dam is a strenuous 30-mile hike along the Appalachian Trail. We recommend starting at Fontana Dam for this hike, which will greet you with spectacular scenery as you climb to the Dome.
Before you plan this trail trip, there are a few things you need to know. Clingmans Dome Road is closed from December 1 through March 31 due to seasonal weather conditions. Due to its elevation, Clingmans is also several degrees cooler than Bryson City year-round. Bringing a jacket is highly recommended!
4. Enjoy the Best of the Blue Ridge Parkway on the Art Loeb Trail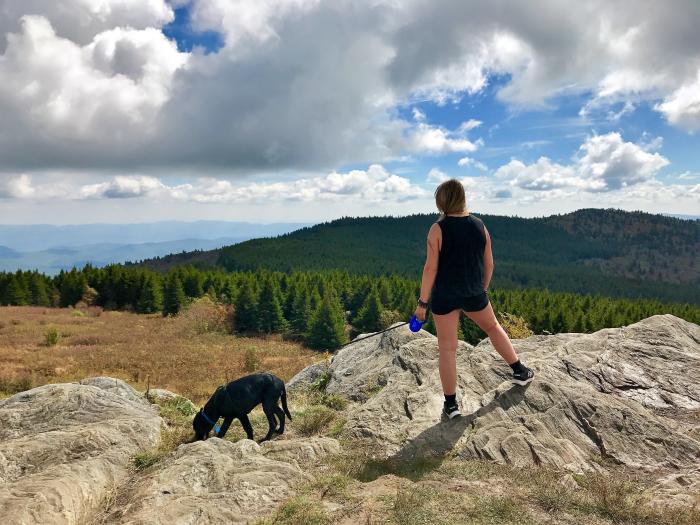 Known as "America's Favorite Drive," the Blue Ridge Parkway could be a trail in and of itself. Lined with scenic vistas and pull-off spots, you could explore this road all day without ever leaving your car. And all trails off of the Blue Ridge Parkway are pet friendly! It wouldn't be the Year of the Trail, without recommending one of our favorite places to hike, though!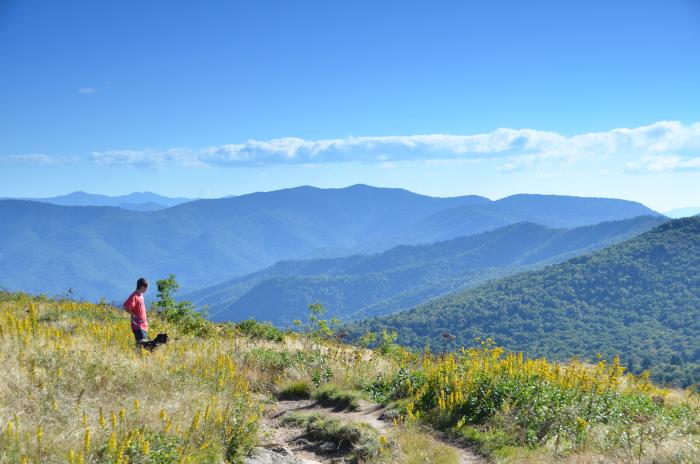 At Mile Marker 420.2 just a few steps off the Blue Ridge Parkway, you'll find the start of the Art Loeb Trail. For roughly 1.5 miles, you will travel through a dense grove of balsam fir trees that opens to a wide expanse of rocky landscape that, in spring and summer, is dotted with wildflowers. Soon, you'll reach the beautiful Black Balsam Knob, where you can soak in 360-degree views in elevation. If you're not ready to turn back, you can continue forward and also hit Sam Knob and Tennent Mountain before making your return journey.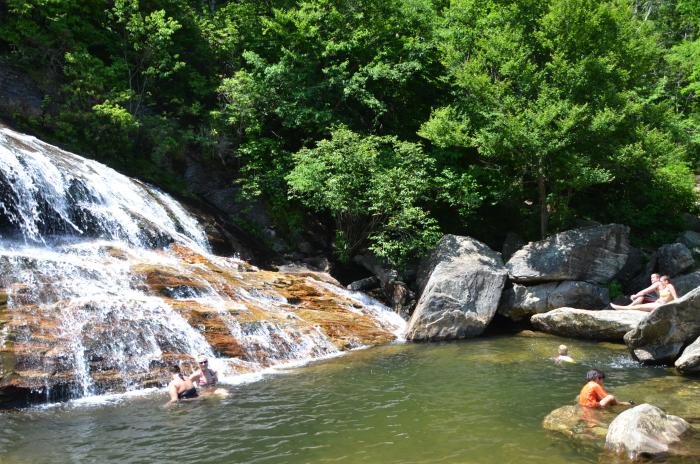 From the Art Loeb Trail, you can also access the trailhead for Graveyard Fields. This hike takes you to two beautiful waterfalls, through dense fields of wildflowers in the spring and summer or beautiful fall leaves in autumn. No matter how long your hike, you'll be treated to some of North Carolina's best views along Art Loeb!
5. Make it a Challenge with Lonesome Pine Overlook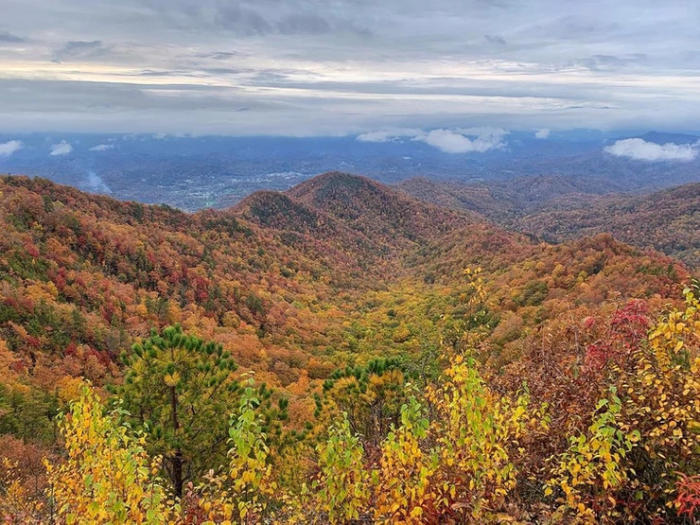 Ready to level up your Year of the Trail bucket list? Try your hand (and hiking boots) at Lonesome Pine Overlook! A 6.6-mile out-and-back trail, the hike to this sweeping vista starts as a moderate journey that quickly becomes challenging as you climb. Starting at Deep Creek, you will journey along the Noland Divide Trail for most of your journey, rising higher and higher. After roughly three miles, you'll reach your final destination. From Lonesome Pine, you can see the Nantahala Mountains, Tuckaseegee River Valley and, if you look down, even some of Bryson City. It's a great trail for those wanting solitude in the Southern Smokies and will take up to four hours to complete.
These are just a few of the many trails that await in Bryson City, proudly the Outdoor Adventure Capital of the Great Smoky Mountains. We can't wait to see how you celebrate the Year of the Trail by exploring our backyard! Start planning your perfect mountain getaway, here: https://www.explorebrysoncity.com/plan-your-visit/. 
There is nothing quite as refreshing as getting outdoors and trekking into nature for a waterfall hike. In Bryson City, there are several…