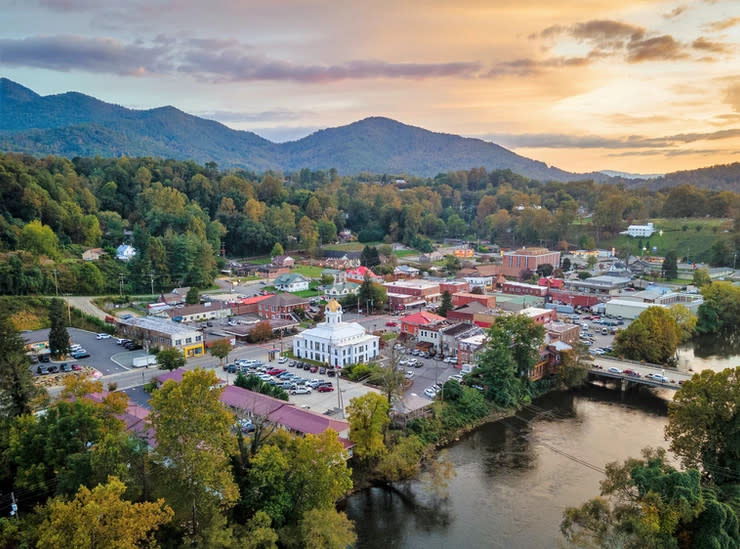 In Bryson City, we're known for our towering mountainsides, sparkling Fontana Lake, the Nantahala Gorge, and our charming downtown, all providing you with the sense of relaxation and calm that allows you to reconnect with nature and each other. Whether taking a gentle, scenic train ride on the Great Smoky Mountains Railroad, pausing to hear the rush of Tom Branch Falls or exploring an attraction off the worn path, we pride ourselves on being a true natural haven for any adventurer.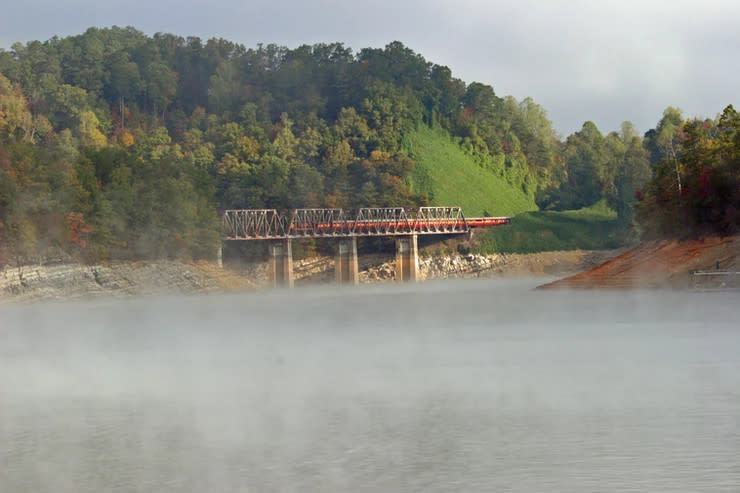 Have you ever wondered what those hidden gems await in our wonderland, just off the journeys most traveled? What those lesser-known, but no less loved, experiences are that allow you to discover a new part of Bryson City's heart? We've rounded up a few of our favorites that you can't miss on your next visit to our wonderland.
Take the Trail Less Traveled
Here in Bryson City, we are fortunate to have unprecedented access to the beautiful natural wilderness of the Great Smoky Mountains National Park, bustling with hikers and explorers all seeking the thrill of adventure. While lucky to be home to so many popular and well-loved trails, we have a few secret spots we're letting you in on.
Noland Creek Trail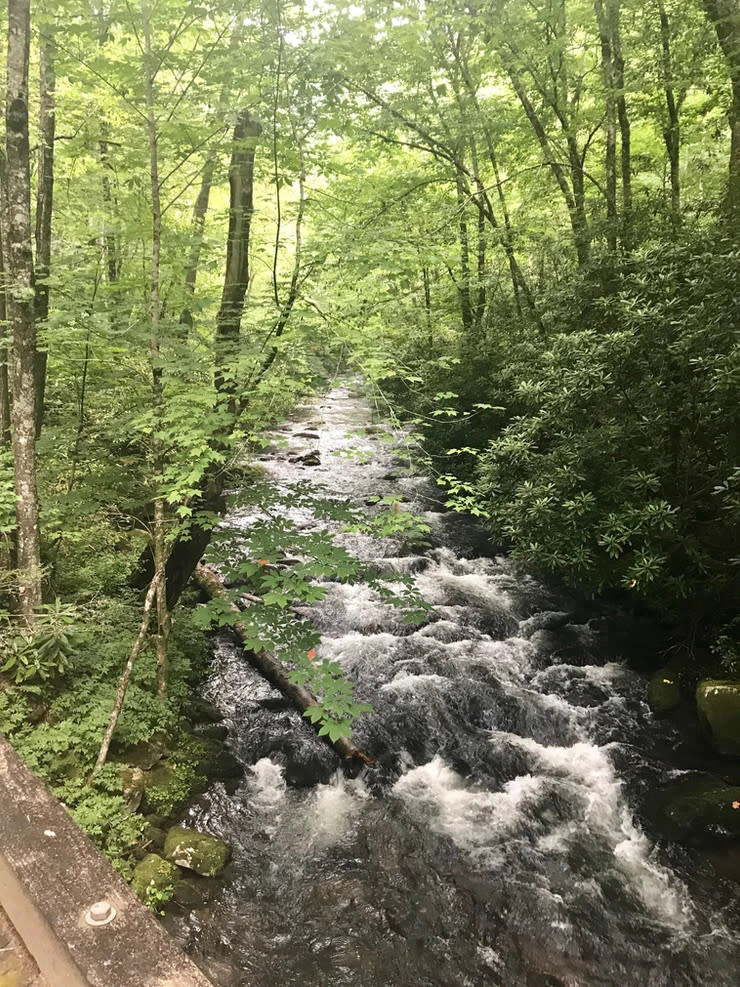 One lesser-known, but no less loved, hiking trail in our backyard is Noland Creek Trail, a trek that can be traveled by foot or on horseback. This trailhead, which starts along Lakeview Drive (a.k.a. the Road to Nowhere) offers two directions to choose from. Travel south on the trail, and you'll venture towards Fontana Lake (two miles down and back). Head north on Noland Creek Trail, and you'll experience an easy walk alongside the creek. The trail follows an old logging road with some bridges to cross over, so it's wide and fairly level with a few moderate gains. Our favorite feature about the Noland Creek Trail is the tranquility. Few people travel this trail, so you can experience the quiet sounds of moving water and the surrounding nature. It's considered an "out and back" trail, so walk as far as you'd like (the trail is 18.5 miles in total) and return back to the trailhead.
Lonesome Pine Overlook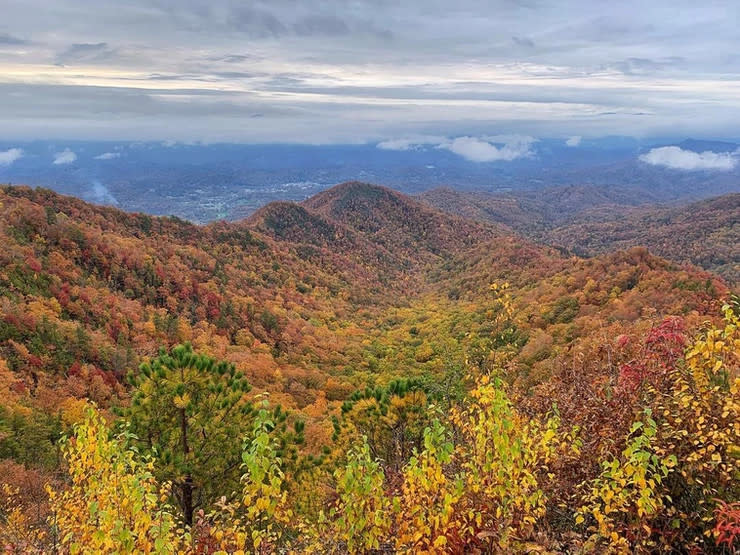 Lonesome Pine Overlook by instagram.com/lilblueboo
Another hidden gem of a hiking adventure is Lonesome Pine Overlook, a scenic viewpoint that's part of the Noland Divide Trail, which winds through Deep Creek and connects to Clingmans Dome. While the full trail stretches a strenuous 11.2 miles, the round-trip journey to Lonesome Pine Overlook, while still strenuous, is just around half that length at 6.7 miles. Starting at the entrance of Deep Creek, the trail climbs at an elevation gain of 2,300 feet before you're greeted with sweeping views of downtown Bryson City (shown in photo above), the Tuckasegee Valley and the peaks of the Smoky Mountains.
Wesser Bald Fire Tower
Located just over 40 minutes south of Bryson City and tucked in the heart of the Nantahala National Forest, the Wesser Bald Fire Tower is a treasure along the historic Appalachian Trail, which has several access points in Bryson City on its way south to Georgia and north to Maine. Traveling through a thick swath of trees, this stretch of the Appalachian Trail starts at Tellico Gap and, after three short miles, leads you to a striking summit where you can soak in 360° views from atop a fire lookout tower and observation deck.
Explore What Lives Beneath Our Waters
Southern Appalachia, which consists of a stretch of mountains and waterways winding from the northeast tip of Alabama, through Bryson City and up to West Virginia, is home to almost 15,000 miles of trout waters and streams. These sparkling mountain waterways are overflowing with a diverse amount of aquatic life, ranging from the trout that make us a haven for fly fishers to rare amphibians, like the Eastern Hellbender, the largest salamander in North America. Nowhere is this rich history of our aquatic life on better display than Bryson City's Appalachian Rivers Aquarium. The Aquarium displays many of the creatures and critters you'll find swimming, hopping and slithering through our streams. From the aforementioned Hellbenders to small game fish and turtles, you're sure to learn something new peering into the fourteen tanks and two terrariums that make up this hidden gem. The Fly Fishing Museum of the Southern Appalachians  is located in our charming downtown, the Museum offers in-depth exhibits about everything from the evolution of fishing rods to profiles about the Steam Blazers, some of the finest fly fishermen to ever enter an Appalachian stream.
Join the Hunt for Smoky Mountain Treasures
Miners and gem enthusiasts have been panning our mountains for gems as far back as the 1800s. Rubies, emeralds, sapphires, various minerals and more have hidden away in the Smokies for years, awaiting eager hands to hunt for this sparkling treasure. While there are no longer any large mining operations in our area, there are several spots throughout Bryson City for you to try your hand at gem panning. A perfect activity for all ages, our gem mining spots provide you with the best tools for your gem quest. Nantahala River Gem Mine, located along its namesake river, brings the adventure to you, providing bags of local dirt for you to sift through to find our prize. Near Deep Creek, the Deep Creek Tube Center Mining Company's gem panning activities offer a fun activity before or after you tube down the cool surrounding waters. This location's covered water flume also allows you to pan rain or shine! Located nearby in Cherokee, the Smoky Mountain Ruby and Gold Mine offers similar year-round panning opportunities and has an on-site store ready to assess and set the gems you find, turning your treasure into a one-of-a-kind souvenir.
Soar Through the Towering Treetops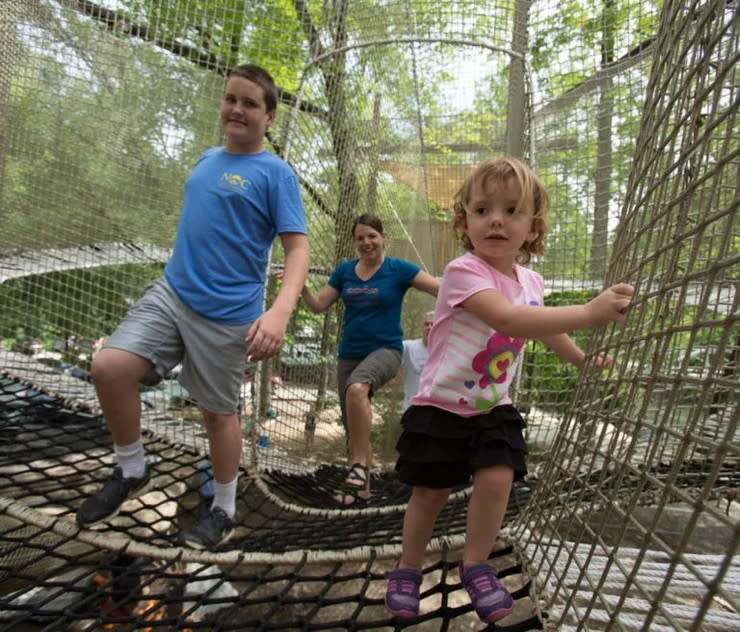 Have you ever wanted to explore the beauty of our national forest Tarzan-style? Here in Bryson City, we have plenty of activities that will get you climbing, swinging and flying through our mountainsides. Many of our zip lines and adventure spaces come with age-based requirements, but this is not the case at Nantahala Outdoor Center's (NOC) Treetop Adventure Nets, an aerial playground designed for children as young as three. Safely watch or join your young ones on a fun crawl and climb through a netted maze of ropes.

For the older children, and for those seeking the thrill of adventure, NOC also has impressive zip line courses, which will either take you soaring between the trees 350 feet above the Nantahala Gorge, or put you and your friends or family head to head in friendly competition on an adventure course with 16 high flying obstacles.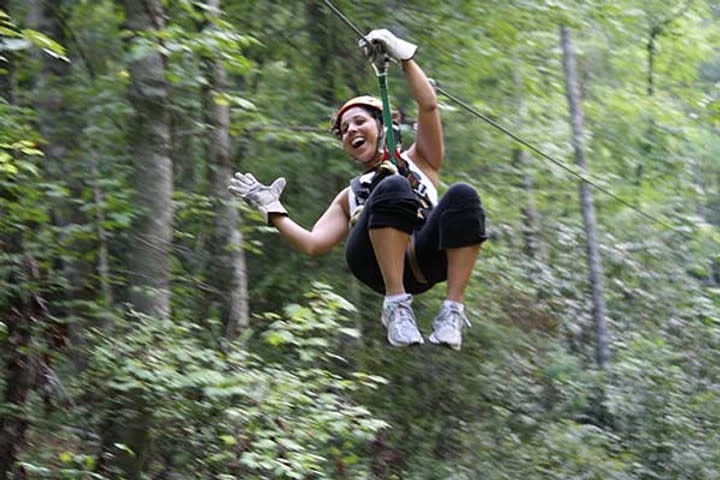 Wildwater Rafting also offers a scenic canopy tour, with more than half of a mile of adventure stretching across the Gorge and through the trees, with 13 zip sections and 8 bridges along your thrilling journey. Wildwater's offerings include a KidZip course, specifically designed for those between the ages of 4 and 12. Both facilities offer packages that allow you to bundle your treetop adventure with other excursions such as white water rafting or, exclusive to Wildwater, a trip on the Great Smoky Mountains Railroad.
Uncover the History in our Backyard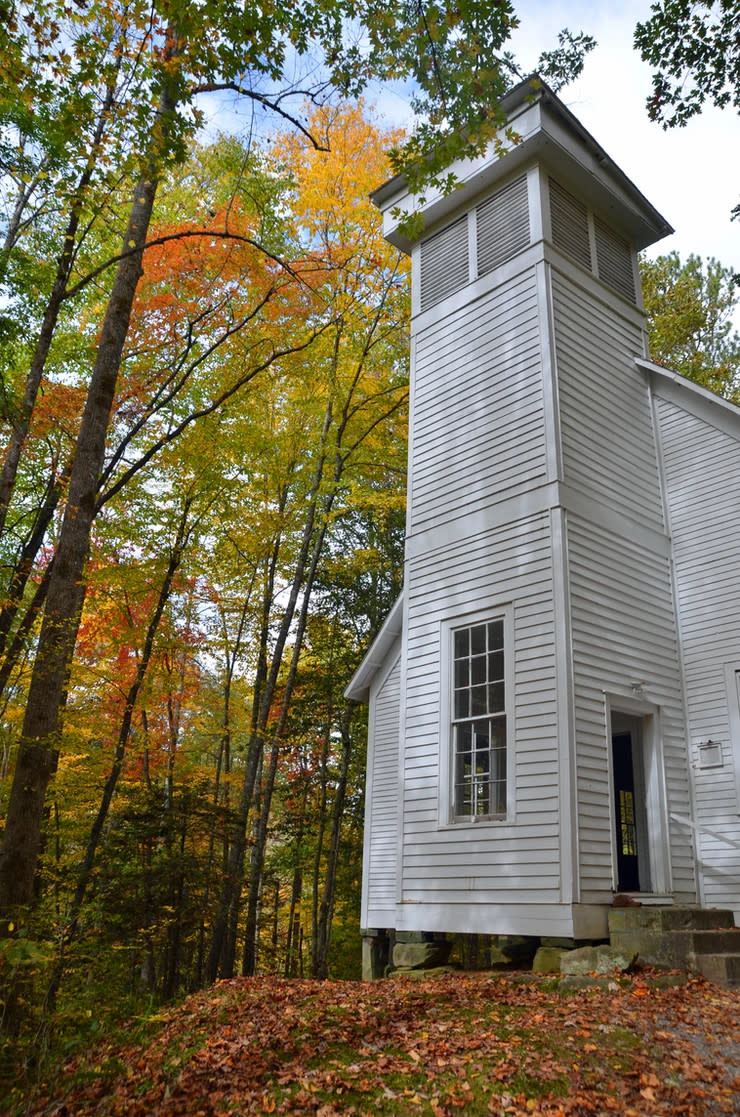 Our mountain town, nestled in the Great Smoky Mountains, is more than 100 years old, with the first incorporated settlement of our area dating back to the late 1800s. With this esteemed age comes a deep root in the history of Appalachia, the Smokies and Western North Carolina. Our forests, waterways and even our downtown are steeped in that past, with many experiences to immerse yourself in its richness. One of many unique spots is the Smokemont Baptist Church, located at a campground that shares its name and only three miles from the Oconaluftee Visitor Center. Also known as Lufty Church, this rustic, wood building was constructed in 1912 and remained in active use until 1935, when the area was made part of the Great Smoky Mountains National Park. The restored and well-maintained structure is open and available for all to explore, with original pews still in place.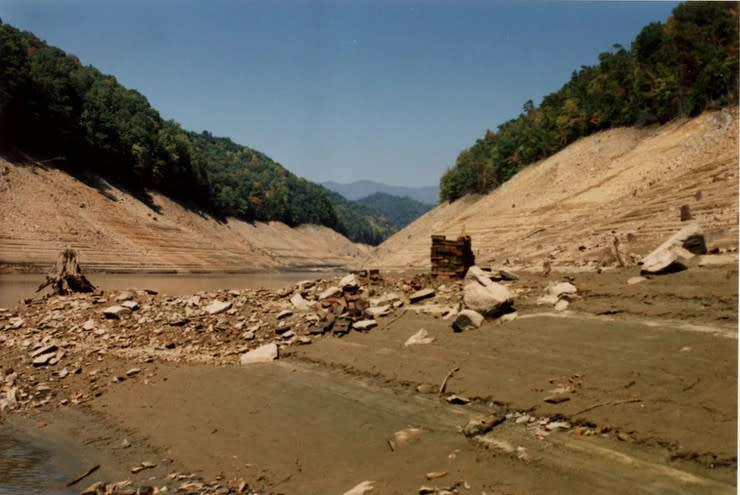 Another is the Lost Town of Proctor, which is only visible when the waters of Fontana Lake are low. Once a thriving lumber town along Hazel Creek, this community was flooded to create Fontana Lake as part of World War II war efforts to create more power supply in the area. While residents of this lost community have been displaced for years, the remnants of it still stand at the bottom of Fontana Lake. For the best opportunity to spot this unique, yet somber piece of history, explore the area near the Hazel Creek section of the Lakeshore Trail in the winter months, when Fontana's water levels are lowered.
Channel Your Inner Child at the Smoky Mountain Trains Museum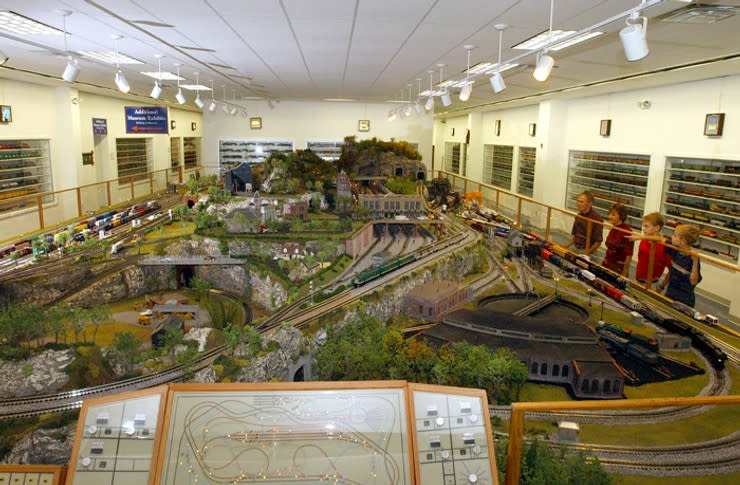 Looking for that perfect activity that's fun and educational for children and children at heart? Pop into the Smoky Mountain Trains Museum, located along our idyllic downtown streets. More than 7,000 Lionel model trains and accessories are on display at this one-of-a-kind museum, with an impressive network of tracks running throughout the space. The museum also has a children's activity center and gift shop. Admission is included with all Great Smoky Mountains Railroad excursions, but tickets can also be purchased separately at $9 for adults and $5 for children ages 3 to 11. Children under three are free. The museum is open on days that the train is running, so call ahead if you'll be visiting in the winter months.
With so many hidden gems waiting to be discovered, you'll never want to leave Bryson City. Here, you'll find adventure and fun that speaks to everyone, whether it's a scenic, stretch your legs hike, an immersive exhibit at a unique museum or a soaring adventure through our treetops. Uncover our history and find your new favorite vacation destination in our charming mountain town. Start planning, here: https://www.explorebrysoncity.com/.