There's nothing quite as special, quite as important, as making lasting memories with your family on a one-of-a-kind vacation. Whether you're celebrating a major milestone like a birthday, anniversary or graduation; hosting the small wedding of your dreams or putting on that "should happen more often" family reunion, Bryson City is the perfect destination for you. With abundant cabin options, plenty of group activities and more outdoor adventure than you can imagine, we have everything you need for a vacation nobody will forget. Let's explore six of our must-do adventures for the whole family!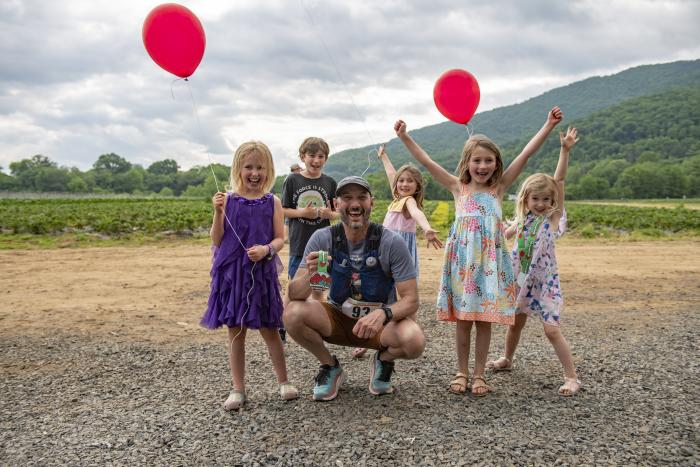 Where to Stay
From spacious cabins to properties that let you book out a host of homes all at once, Bryson City has a plethora of options for your entire family to stay. One such place is Bryson Village, a locally-owned rental community that's just steps away from downtown! Bryson Village features a beautifully restored historic house and 15 newly built properties and cabins, all equipped with jacuzzis, private decks, fireplaces and the comforts of home. In total, the community can sleep up to 78 people.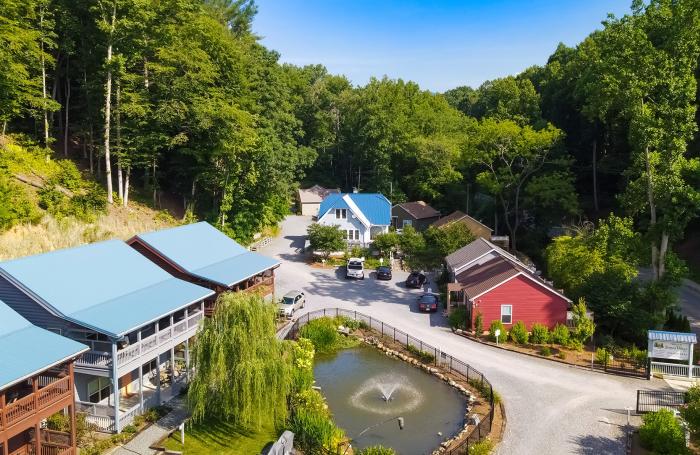 Lands Creek Log Cabins, located just outside of the Great Smoky Mountains National Park, is also a wonderful option for those wanting to rent out an entire community of homes. Surrounded by natural beauty, this community features 19 unique cabins, some bordering the on-property creek, some overlooking mountains and others tucked in the woods. The centerpiece of Lands Creek is Harmony Hall, a rustic event space that can easily accommodate up to 40 people for a reunion, wedding or other retreat. The property also has its own hiking trail for you and your family to explore!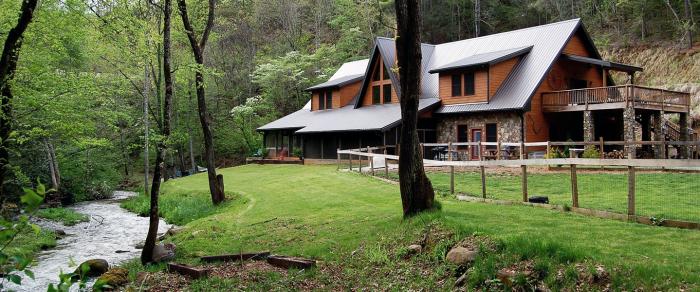 Another ideal spot for large parties is the Sabbath House, a beautiful 8-bedroom, 8.5-bathroom lodge tucked away in the mountains. Perfectly suited for groups, family reunions and even intimate weddings, this 5,000-square-foot home provides a peaceful environment where friends and family can truly reconnect with each other. Its stunning overlook of rolling mountainsides provides an extra special scenic perk, too.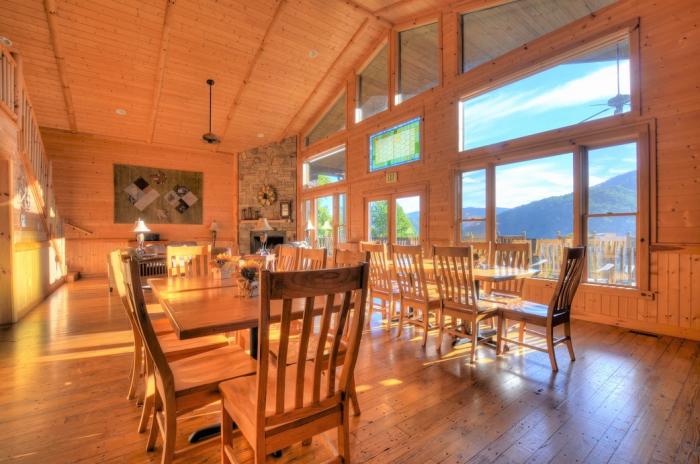 "Choo-Choo"-se a Private Great Smoky Mountains Railroad Adventure
One of Bryson City's staple attractions is without a doubt the Great Smoky Mountains Railroad. Bustling in and out of our downtown depot, this iconic rail line takes riders up through the Nantahala Gorge or along the Tuckasegee River to explore neighboring Dillsboro. Each roundtrip route guarantees a wonderful adventure.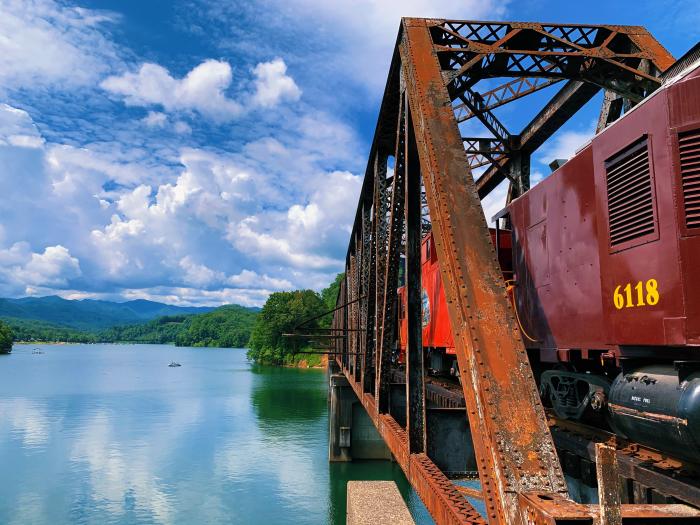 The Nantahala Gorge Excursion takes you above and around Fontana Lake and through miles of towering trees. At your primary stop, the Nantahala Outdoor Center, you can watch whitewater rafters make their final landing and wander a sprawling campus. The Tuckasegee River Excursion, meanwhile, takes you past historic Cherokee farmland on its way to Dillsboro, where you can explore the charm of this little mountain town.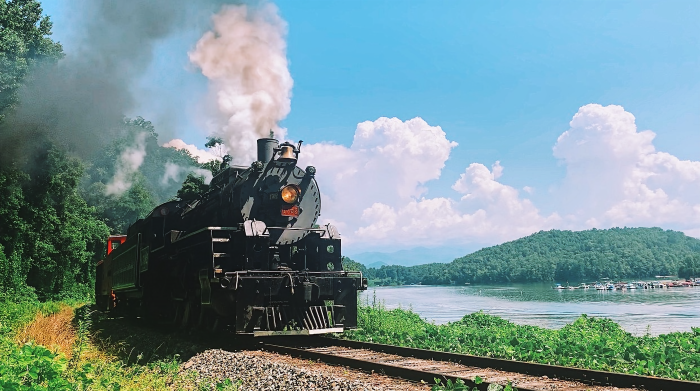 Even the train cars themselves provide unique experiences, ranging from wine tastings to rich storytelling from true Appalachians! One of the best for large groups, though, is renting your own caboose. Available for either excursion, the caboose can accommodate up to 15 people, making it perfect for a one-of-a-kind family reunion adventure. It features private bathrooms, heat, windows that can be opened and open-air vestibules at both ends. Cheese plates and sodas are provided as onboard refreshments as you enjoy this special journey with your entire family. The caboose is also the only car that permits outside food and beverages, alcohol excluded. Advance reservations are required.
Soak in the Charm and History of Downtown Bryson City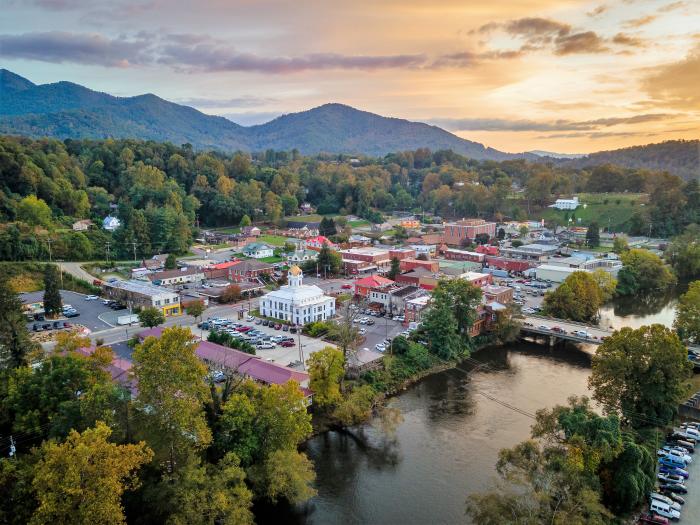 Before your train ride or to enjoy time on a rainy day, enjoy a little small mountain town charm by strolling around downtown! Our streets are lined with locally-owned boutiques, specialty stores, outfitters, markets and more. It's a wonderful area for some good old-fashioned retail therapy and souvenir shopping. After all, is it really a vacation if you don't bring a special treat home?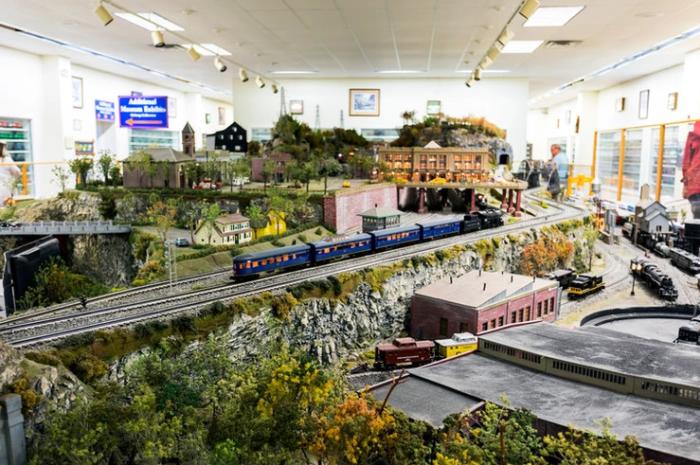 In addition to shops and boutiques, our downtown area is also home to several family-friendly museums that are of little to no charge. Those with tickets to ride the railroad also have free admission to the Smoky Mountains Train Museum, located near the depot. Here, you can see an impressive collection of more than 7,000 Lionel train engines, cars and accessories, all built into interactive displays. The museum charges a small fee for those touring without train tickets.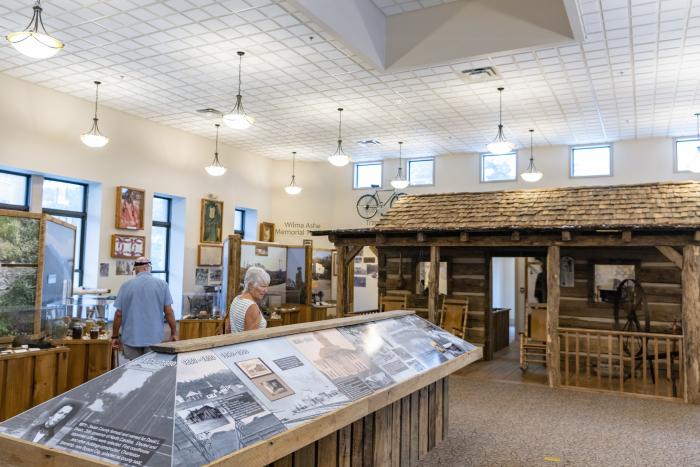 Another fun museum to explore is the Swain County Visitors Center and Heritage Museum, located in what was once the county courthouse. This museum is a one-stop-shop to learn about the history of Swain County and its people through videos and exhibits, including a historically restored log cabin porch. It also features a children's activity area, restrooms and a gift shop! Want to learn more about our museums and aquarium? Check out our new museum guide, here:
Stretch Your Legs Your Way at Deep Creek
Bryson City is notably near six prominent entrances to the Great Smoky Mountains National Park. The closest of these, by far, is Deep Creek, a beautiful section of the park with enough adventure to fit and fill everyone's needs. The best part? It's only 5 minutes from downtown!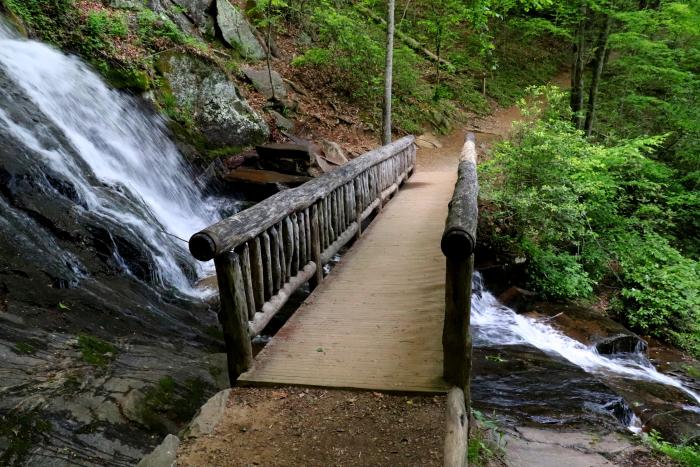 Deep Creek's crown jewels are its three beautiful waterfalls, Juney Whank, Indian Creek and Tom Branch Falls. All three can be accessed on the Waterfall Loop trail, a 2.4-mile easy hike. Benches are available at several points along portions of the trail bordering the creek, giving you ample opportunity to pause and soak in the awe-inspiring rush of the area's waters. Portions of this path are also open to mountain bikers should you and your family want to explore on wheels!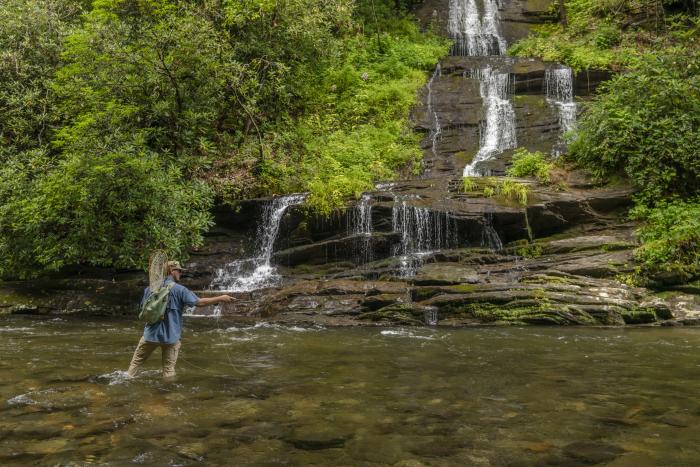 Because of its crystal clear waters, Deep Creek is also a prominent spot for fishing. Reel in a variety of trout and other impressive catches as a family or with the aid of a guide. Make a fun family challenge out of the afternoon by seeing who can hook the biggest fish! Pro tip: the best spot to cast your line is above Indian Creek Falls!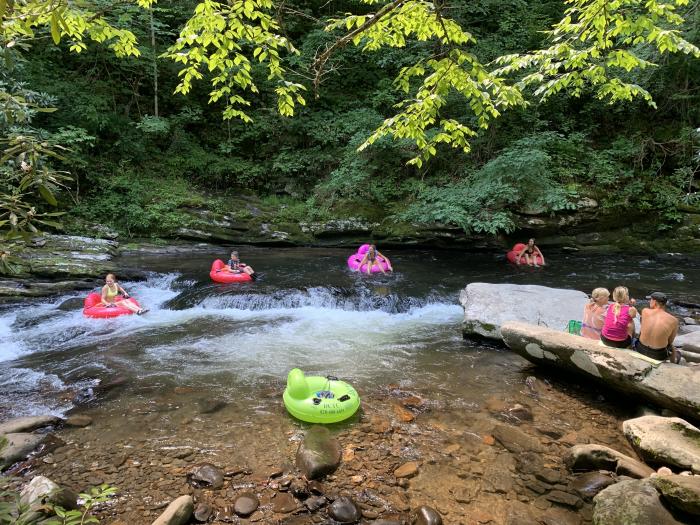 Deep Creek's waters also make it popular for one other Bryson City-staple adventure - tubing! From Memorial Day to Labor Day, the sparkling waterway that runs through this section of the park is dotted with colorful, bouncing innertubes floating past Tom Branch Falls, around hidden natural pools and down sliding rocks. Tube rentals can be found just outside of the entrance to Deep Creek. Children 13 years of age and younger are required to wear a life jacket while tubing. Bring your own, or rent one along with your tube!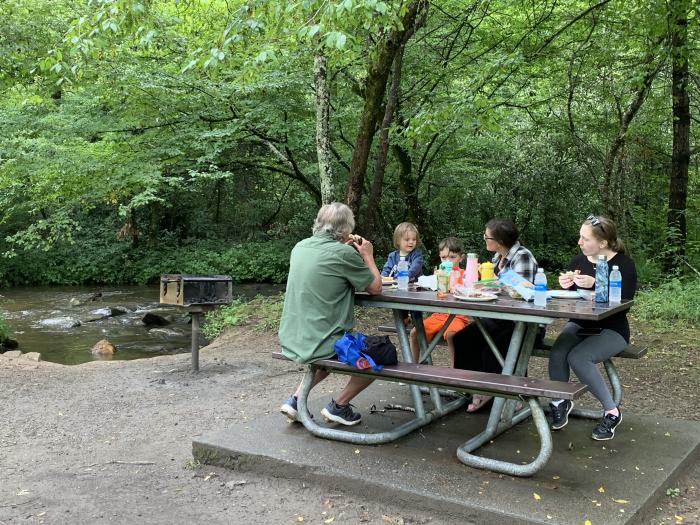 No matter which adventure best suits you, we highly recommend bringing a picnic on your visit to Deep Creek! The area has many picnic tables, perfect for a scenic lunch.
Ride the Rapids on a Whitewater Adventure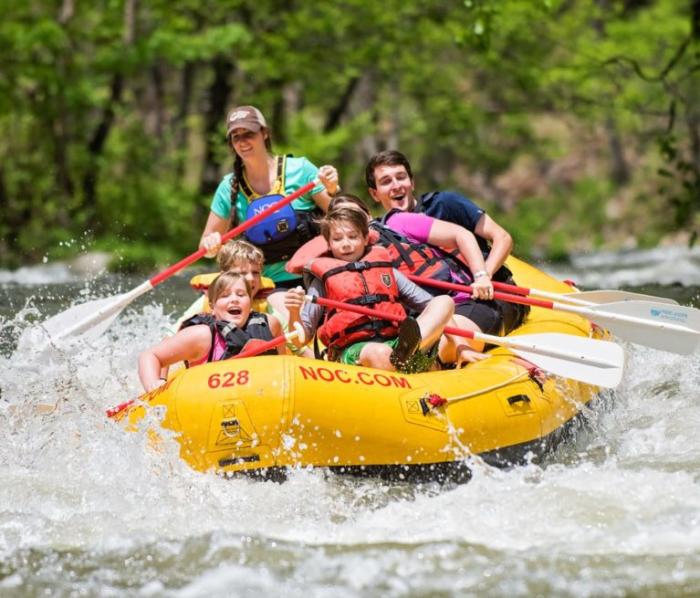 Is your family a group of thrillseekers? With the Nantahala River right in our backyard, Bryson City is the perfect destination to get your adrenaline pumping. This crystal clear waterway is one of the best for whitewater rafting, with local outfitters lining the river, ready to take you on a guided tour.
Two of the most prominent outfitters on the Nantahala are Wildwater Ltd and the Nantahala Outdoor Center. Both offer spectacular guided rapid tours and explore-on-your-own duckies. Wildwater offers a unique Raft and Rail adventure, allowing you to take advantage of a scenic ride on the Great Smoky Mountains Railroad and a thrilling whitewater adventure. NOC, meanwhile, has a sprawling, summer camp-style campus that boasts dining, raft viewing areas and so much more!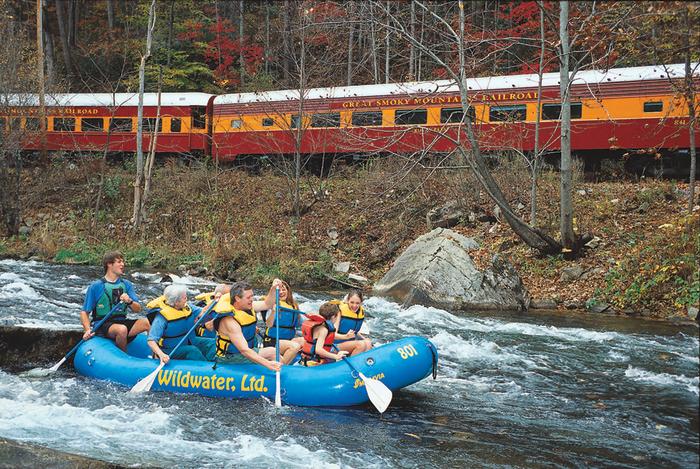 The U.S. Forest Service requires that children be at least 7 years of age OR weigh at least 60 pounds in order to raft the Nantahala River. However, that does not mean the whole family has to miss out on the fun! In addition to guided rafting tours, Wildwater and NOC both offer ziplining, a thrilling way to explore our favorite natural playground from above. NOC, specifically, also offers bike rentals to explore nearby trails and a children's ropes course.
Spend A Day Exploring Cherokee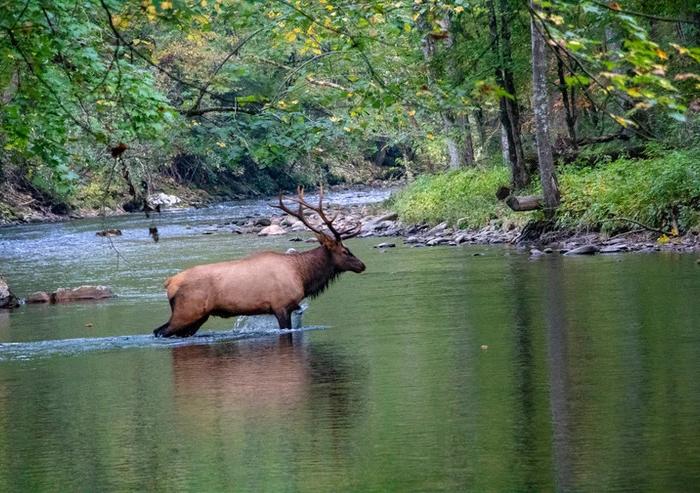 Only 20 minutes from downtown Bryson City, Cherokee is a treasure trove of outdoor adventure, history and fun. In fact, there's so much to see in this rich community, you could easily spend an entire day exploring its many offerings! One of many Cherokee must-do's is elk watching, best done at the start of your day just after sunrise, or as your closing adventure at dusk. The fields of the Oconaluftee Visitors Center, located just within the borders of the National Park and along its namesake river, are prime for spotting these majestic beasts, though remember to keep a safe distance. Elk often wander this expanse of land, eating its grass or lounging in the rising or setting sun.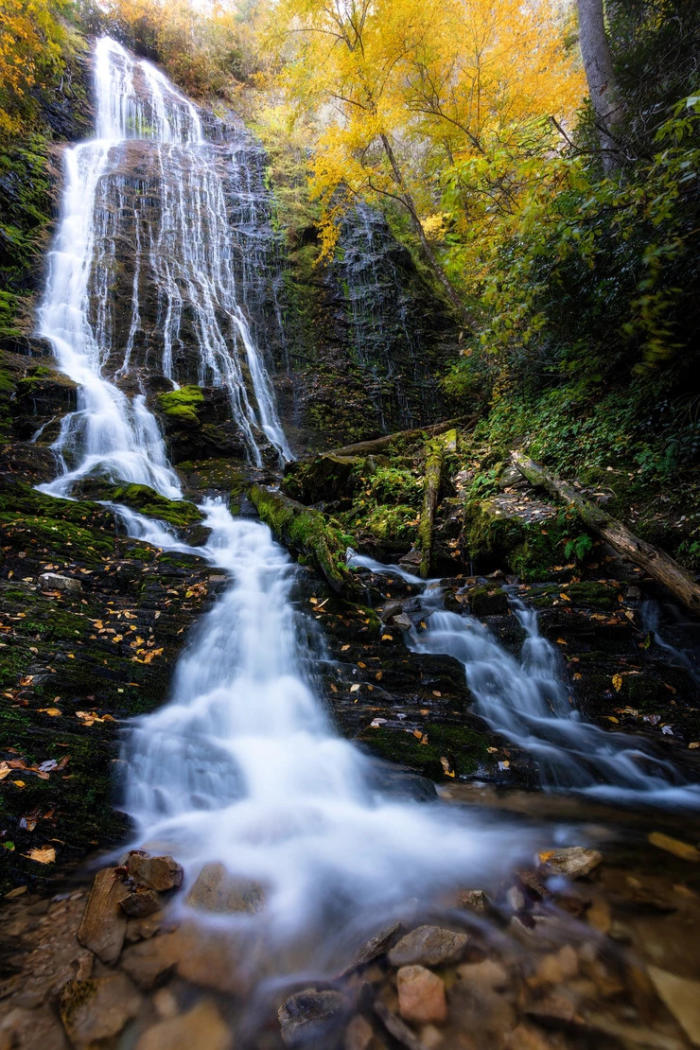 Cherokee is also home to two beautiful waterfalls! Mingo Falls, which translates to Big Bear in Cherokee, is one of the tallest in Southern Appalachia at 120 ft. A maintained, wooden stairwell leads you from the parking lot up to the base of the falls. Though it is a bit of a workout to climb all 160 steps, the view of this towering cascade is well worth the journey. Soco Falls, meanwhile, is located 11 miles east, accessible from Cherokee or the Blue Ridge Parkway. The climb down to its base is steep, but Soco's dual falls truly make it a sight to behold.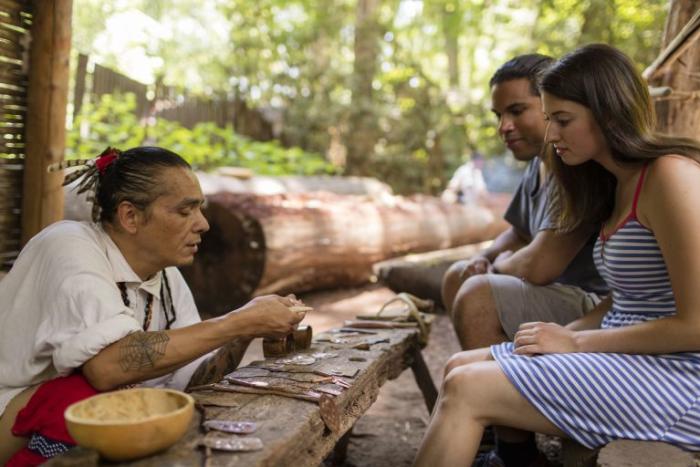 Other great activities for your family to explore in Cherokee include tubing along the Oconaluftee River, biking on the Fire Mountain Trails, exploring Oconaluftee Islands Park and touring the Oconaluftee Indian Village, a living museum celebrating Cherokee heritage. We've already got the perfect day trip guide ready for you, too! Check it out, here: https://www.explorebrysoncity.com/blog/post/bryson-city-day-trips-explore-cherokee-north-carolina/.  
Dive Into Family Fun on Fontana Lake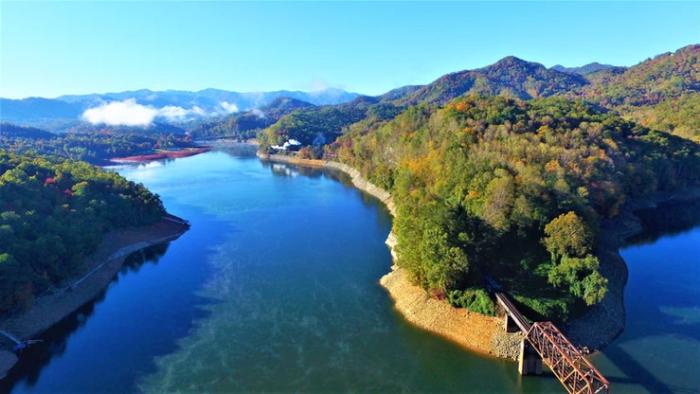 Need to cool off in the heat of a western North Carolina summer? Bring the family over to Fontana Lake for a splash of refreshing fun! Our emerald blue gem consists of more than 240 miles of shoreline, much of it bordering the National Park. This special proximity makes it one of the most unspoiled lakes in the Southeast, nestled by towering trees and natural beauty. It also makes it one of our best playgrounds!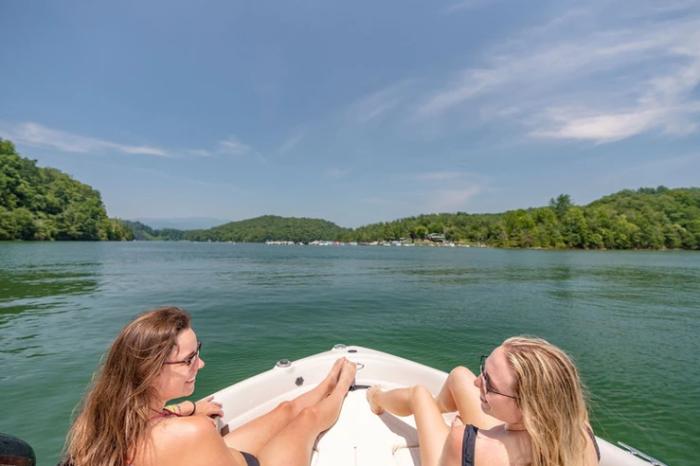 Boating, of course, is huge on Fontana Lake during the summer months. Private marinas, boat docks and boat and watercraft rental services line the limited area of developed land on Fontana, offering you a number of ways to explore its blue-green waters. Rent a pontoon from partners such as Almond Boat and RV Park and enjoy a day of aquatic adventure. You can also book guided tours for those wanting an expert at the helm. Fontana Guides offers wonderful sunset pontoon cruises. Carolina Bound Adventures, meanwhile, offers unique guided paddleboard tours, covering the lake from its iconic trestle bridge all the way to Fontana Dam!
Speaking of Fontana Dam, this historic structure is a wonderful stop for those wanting that 360-degree view of pristine, untouched wilderness. Free to visit, the dam is accessed via a scenic drive on NC-28, known widely as the Hellbender because of its many twists and turns. Once at the dam, you pop into the Visitors Center (open from April - October) or walk to the top of the dam itself. It's a great spot to snap that big family photo!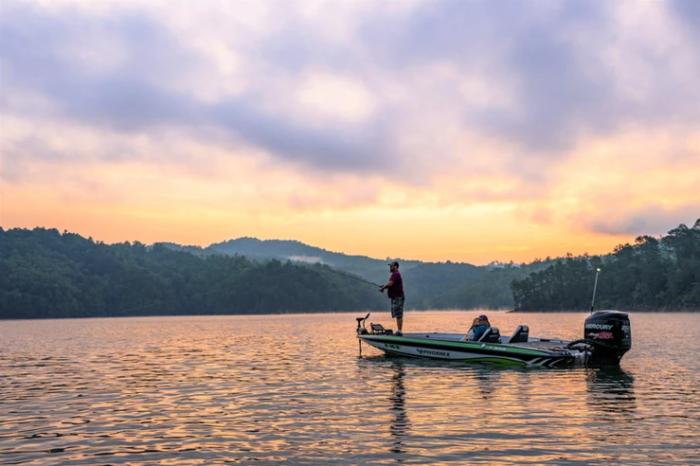 Fontana Lake and its surrounding creeks are also ideal for fishing. Much like Deep Creek, many varieties of trout can be found swimming in these waters, just waiting for you to cast your line. Local guides, like Fly Fishing the Smokies, offer hands-on, engaging fishing trips for you and your group. Know you're reeling in a true prize catch with one of these experts leading the way!
This is just the start of all of the rich adventures and memory-making fun that awaits you in our picture-perfect destination. No matter what you're celebrating, let Bryson City help you make it all truly unforgettable! Start planning your big family vacation, here: https://www.explorebrysoncity.com/plan-your-visit/.