Tucked away in the rolling Great Smoky Mountains and nestled along the banks of the Tuckaseegee, Bryson City has all of the charms of a Hallmark town and enough adventure to rival our counterparts out west. Nothing beats strolling through our picturesque downtown or swinging on the porch of one of our cozy cabins, peering out at sweeping mountainsides and towering trees. The best part of it all? With Bryson City as your base camp, any adventure you can imagine is right at your fingertips.
Chase Every Waterfall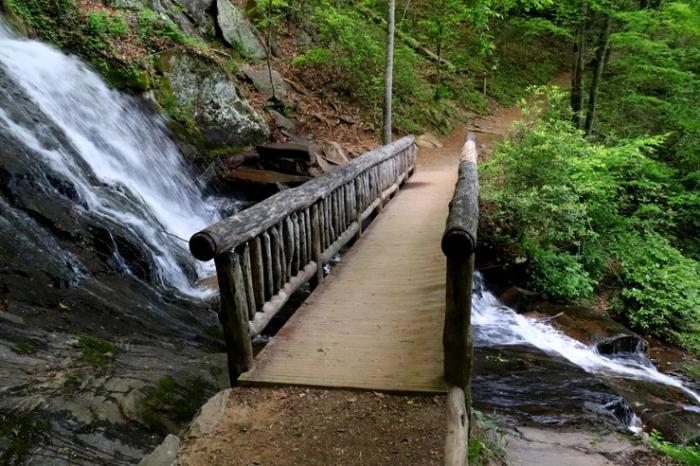 It's no secret that the Smokies are overflowing with an abundance of jaw-dropping cascades. From Bryson City, you can easily access more waterfalls than you can dream of; you can even make a day trip out of it! Starting from your base camp (aka Bryson City), you can drive to 12 stunning waterfalls, which range in distance from a short few miles from town to a longer scenic drive. Closest to Bryson City, you can check three waterfalls off this list at Deep Creek, home to Tom Branch, Juney Whank and Indian Creek Falls. From there, you can head up north to Cherokee to see Mingo or Soco Falls, or stop through the Nantahala Gorge to see the Upper Nantahala Cascades and Findley Falls.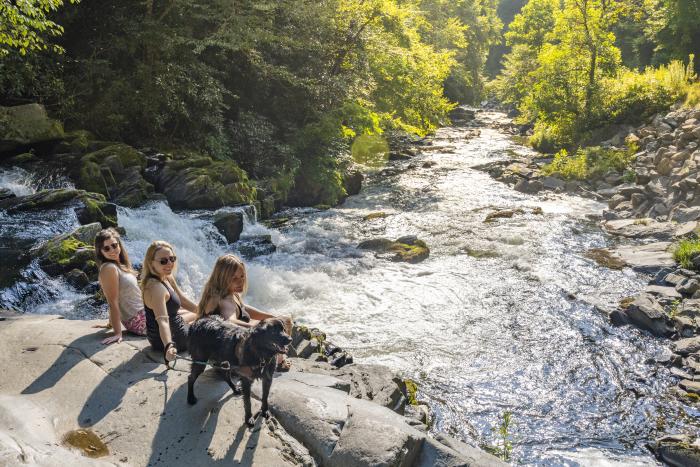 After visiting the falls closest to Bryson City, venture further afield to bask in the glory of a few of our other favorites. In the Highlands/Cashiers area, you can spot Bridal Veil, Cullasaja, Dry, Silver Run and Whitewater falls. All unique in scale, these falls are sure to delight and fill you with a sense of wonder, marveling at the power of nature. A map of the entire route is available below:
Choose Your Aquatic Adventure
As if seeing many of North Carolina's waterfalls wasn't enough, Bryson City also puts you right in the heart of plenty of other aquatic action. With several activities to fit any speed of adventurer, you're sure to find fun perfect for you, too. Let's dive into some of our favorite waterways!
One of our best-known activities for thrillseekers by far is whitewater rafting. The Nantahala Gorge, America's favorite whitewater playground, is quite literally in our backyard. Outfitters line the river's swirling waters, ready to help you tame miles of Class I, II and III rapids. Many also rent rafts and kayaks for those brave enough to take to the water on their own. In addition to whitewater rafting, outfitters can offer several other unique experiences including zipline tours, jeep tours, fishing rentals, mountain biking tours, camps and more. Offerings vary per outfitter.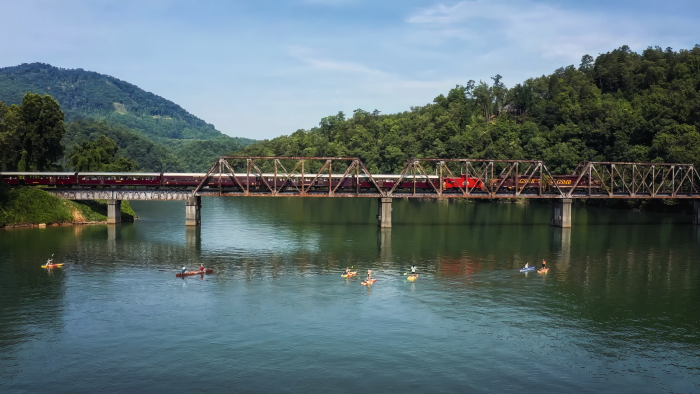 Bryson City's crown aquatic jewel is the beautiful signature emerald blue Fontana Lake. With 240 miles of remote shoreline bordering the Great Smoky Mountains National Park and national forest land, this sparkling body of water is one of the most pristine around. In fact, sometimes it's possible to get out and not see another person as you ripple across its surface. Here, you can rent boats, kayaks or canoes and get out and explore at gentle or high speeds. Those looking for a guide may also want to grab a spot on a sunset cruise for a relaxing end of your day. You can also grab or rent a pole and cast your line in fish-filled waters, hike around the secluded trails near the shore, peer over the top of Fontana Dam, camp and mountain bike.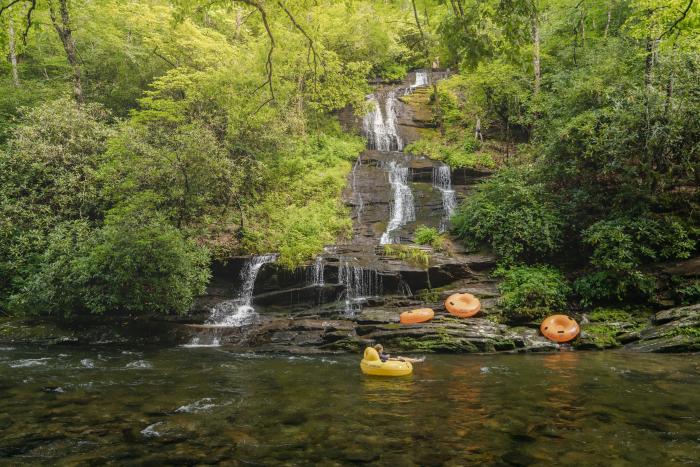 A true staple of any Bryson City summer vacation is a relaxing tube through the refreshingly cool waters of Deep Creek. Drift downstream, plunging into swimming holes and sliding down rocks that act more as water slides along the way. Another great spot for tubing is the Oconaluftee River up in Cherokee, where you can float across occasional Class I and II rapids. Tubing companies generally operate from Memorial Day weekend through Labor Day; however, Deep Creek tubing can begin earlier in May and continue after Labor Day if the weather is warm. Great fishing is also available at Deep Creek, though summer fishers should cast lines upstream to avoid tubers.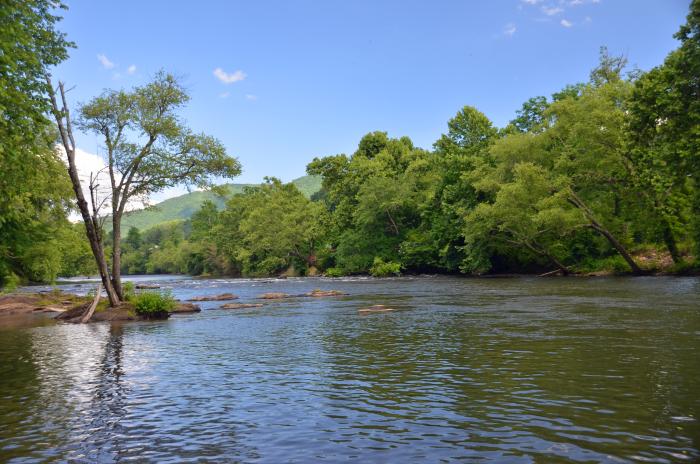 Another great waterway to explore is the Tuckaseegee River, so close to Bryson City that it quite literally cuts through town! The river is best known for its designation as a Delayed Harvest fishing site, stocked fall through spring with trout for anglers who enjoy catch-and-release fishing.
Explore Our Trails Your Way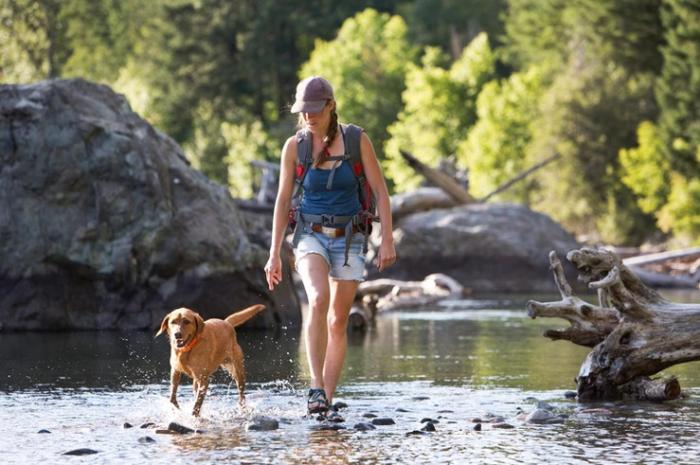 With unprecedented access to the Great Smoky Mountains National Park, the Nantahala National Forest and more, our adventure-filled backyard is overflowing with opportunities to explore. It's time to lace up those shoes and head toward memory-making fun. Here are a few of our favorite ways to experience the western North Carolina mountains!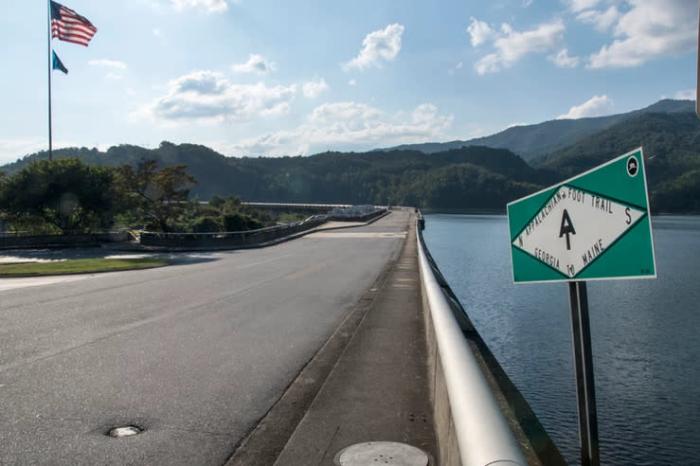 One of the best and, depending on which route you choose, easiest ways to enjoy our wilderness is setting out on a good hike. Our trails twist and turn with flora, fauna, history and wonder. You can even check one of the country's most famous hikes off your list! The Appalachian Trail has a number of trail section hikes near Bryson City.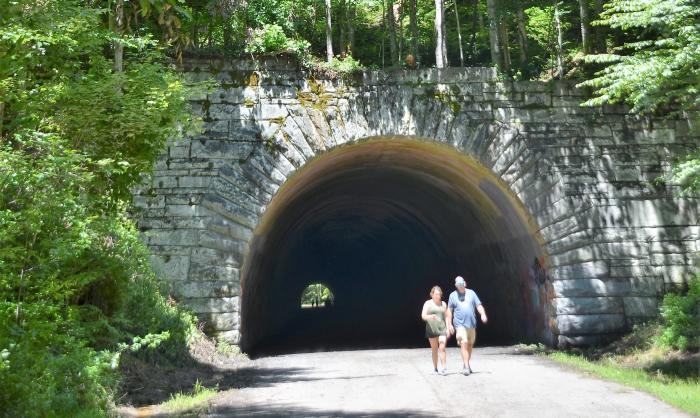 Another popular hiking area to explore is the Road to Nowhere. Full of history, the Road to Nowhere stands today not only as a monument to Bryson City's past, but also as a diverse area of the national park, where you can soak in views of Fontana Lake, wander through the famous tunnel or embark on several hiking trails. Other popular hiking trails include the waterfall loop at Deep Creek, the Mingus Creek Trail, Joyce Kilmer Memorial Forest and countless others.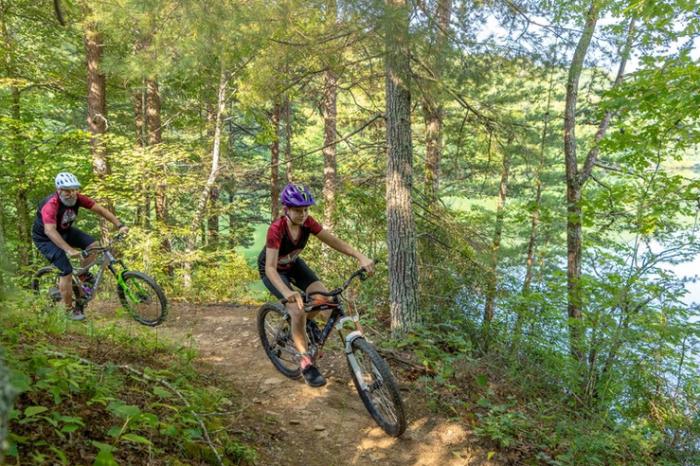 Want to add a little speed to your outdoor adventure? Bryson City is also a haven for mountain bike enthusiasts! One of our most well-known spots to ride is the Tsali Recreation Area, which borders part of Fontana Lake. Lined with nearly 40 miles of trails in a system with four excellent loops, it has been rated as one of the top 10 places to ride in the country. There is a per-person day-use fee for trail use.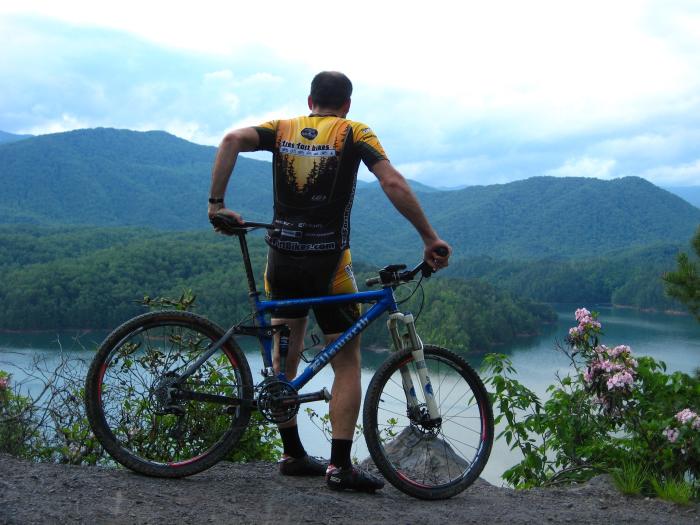 Up in Cherokee, you can also explore the Fire Mountain Trails. Accessed from the Oconaluftee Indian Village, seven different trails and over ten miles of multi-use trail can be found here —with even more in the works. Fire Mountain is always open and there's no admission fee. There are also areas to bike around the Nantahala Gorge, Cades Cove, the Blue Ridge Parkway and more. Guided tours are offered through partners like the Nantahala Outdoor Center, Carolina Bound Adventures and Nantahala Adventure E-Bike Tours.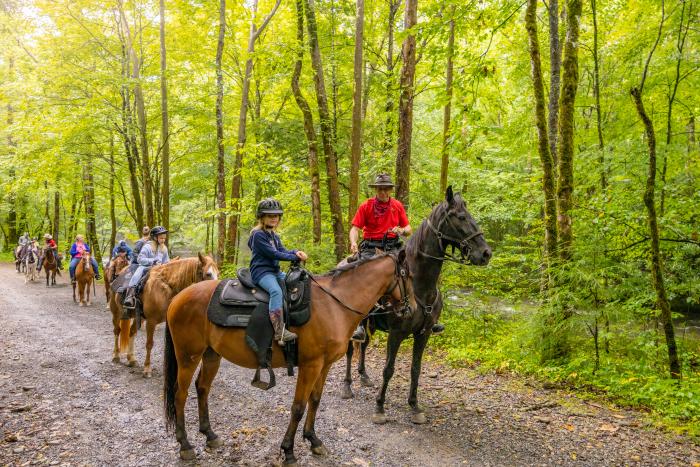 Another great guided adventure to take is a horseback riding tour!  Our North Carolina destination features many excursions to show you the scenic beauty of the Great Smoky Mountains National Park while saddled up. Trails can also be accessed without a guide, though it is recommended to have a copy of trail maps handy. Areas accessible to horses include the Tsali Recreation Area, Noland Creek Trail, Thomas Divide Trail and sections of Deep Creek. (Speaking of guided tours - you can also find a list of other excursions available here: https://www.explorebrysoncity.com/blog/post/let-us-guide-you-our-top-5-expert-led-adventures/)   
Make it a Day Trip: Exploring Nearby Hotspots
Not only does Bryson City put you in the heart of adventure, but it also puts several popular destinations right at your fingertips! Start your morning in Bryson City and head out to explore some of the must-see attractions in both Western North Carolina and Tennessee. Here are a few of our favorites.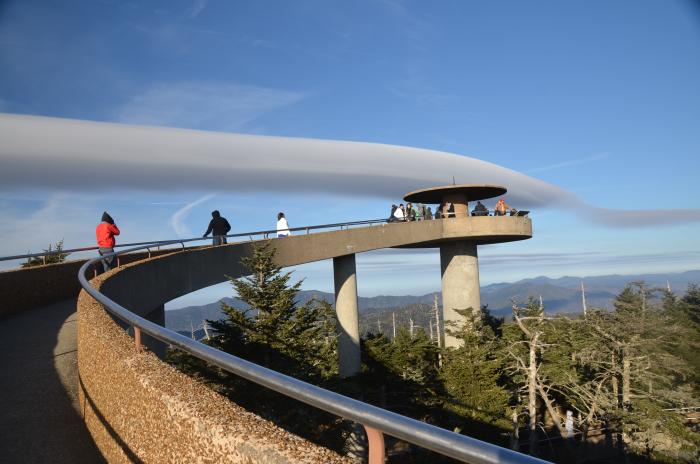 For a shorter day trip adventure, hit the road and head to Clingmans Dome! Towering at 6,643 feet, Clingmans Dome is the highest point in the Great Smoky Mountains National Park. On a rare clear day, you can see 100 miles out from this peak and truly feel like you are on top of the world, towering above the wonder and awe of the Smokies.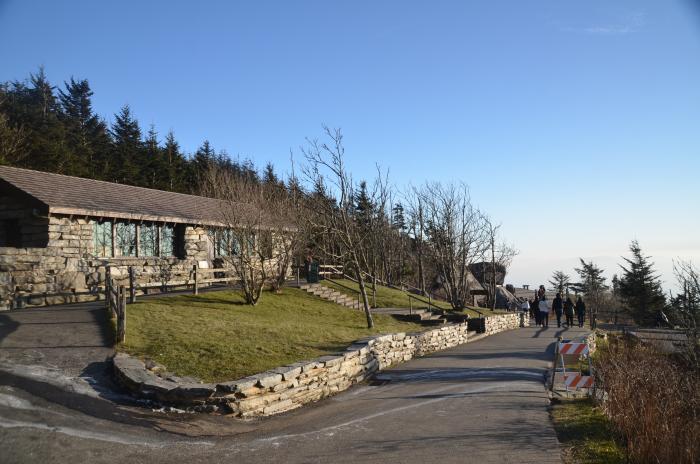 Clingmans Dome offers parking areas, restrooms, a Visitors Center and an impressive observation tower, all of which are accessible from April through November. The road leading to Clingmans Dome, as well as the restrooms and Visitors Center, close for the winter months due to inclement weather and seasonal conditions. It is still possible to reach Clingmans Dome and the observation tower on foot during this time, however, that strenuous hike is recommended for experienced hikers. Clingmans Dome is open 24/7 unless there is inclement weather causing a closure of the road. In fact, it is a popular spot for sunset photography and stargazing.
The scenic drive to the Dome is sure to scratch your picture-perfect journey itch, but why not take that a step further? The Blue Ridge Parkway, known as America's Favorite Drive, is just a short, well, drive from Bryson City! Stretching from nearby Cherokee, NC to Virginia, you can hop in the car, grab your motorcycle or rent a vehicle and ride for as much or as little of this 469-mile roadway as you'd like. If you're visiting in the winter months, check the Parkway's Road Closure map before you head out.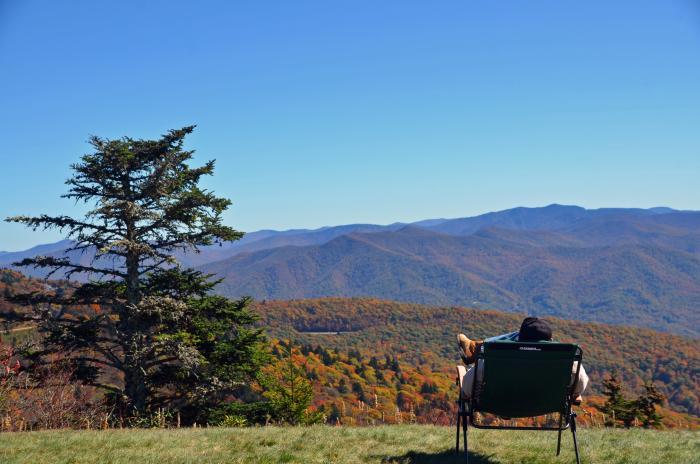 While there's an abundance of beauty to enjoy as you ride, there are also plenty of places to pull off, pause and soak in the Parkway's majesty. One of our favorite places to stop is Waterrock Knob. Located at mile marker 451.2, Waterrock is the highest point on the Parkway, standing at 5,820 feet. Here, you can view several mountain chains, soak in a sunrise, have a picnic or take a short, but steep, hike to the Knob's top. If the Parkway isn't your speed or you just want more Kodak moment drives, you can find a list of other much-loved roads, here: https://www.explorebrysoncity.com/blog/post/take-the-scenic-route-your-guide-to-picture-perfect-drives-near-bryson-city/.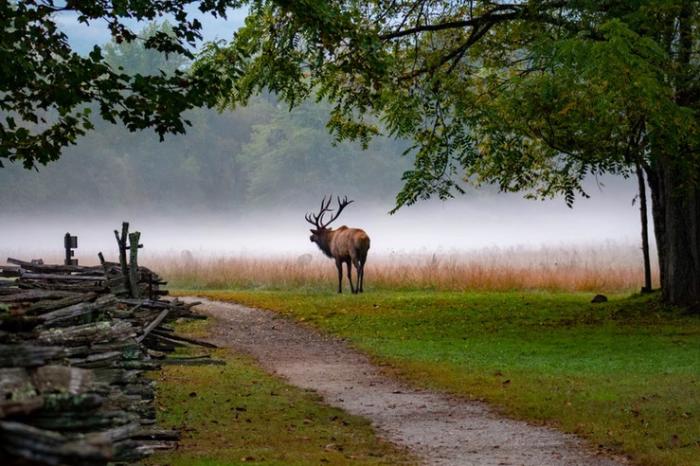 Your access point to the Blue Ridge Parkway, Cherokee is a wonderful place to spend a day. Roughly 15 minutes from our downtown, Cherokee is full of history, outdoor adventure, wildlife and more, much of which we've touched on above. Several museums and historic sites are also available to teach you about the ways and heritage of the Cherokee Native Americans. One popular one, the Oconaluftee Village, is a living museum, offering tours and demonstrations from April through November. You can also explore the Oconaluftee Visitors Center, home to the Mountain Farm Museum, hiking trails and, if you're lucky, an abundance of elk-spotting opportunities.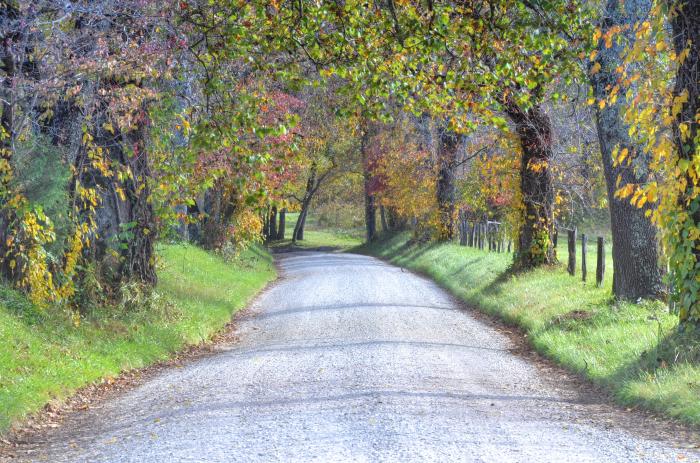 A National Park favorite, Cades Cove is a fantastic place to visit, with a journey that makes the day even more magical. Located two hours from Bryson City, the drive to Cades will take you along Newfound Gap Road, one of the most beautiful paths through the Great Smoky Mountains. Once you arrive, you can enjoy the best natural wonder this valley has to offer by touring historic structures, biking along its 11-mile loop or simply enjoying a nice long walk. Cades is also one of the best places to spot wildlife, with everything from deer and rabbits to bears and coyotes calling it home!
No matter how you choose to explore the richness of our wonderland, Bryson City will always be ready to welcome you back. Take a day off from the outdoors to soak in our downtown, lined with boutiques, specialty stores and museums. Fuel up before your day at one of our breakfast spots or coffee shops, or take it easy with a cold brew and hot meal from one of our other restaurants or breweries. All of this is accented with a wide array of accommodations, ranging from boutique hotels and historic inns to campsites, glampsites and cabins.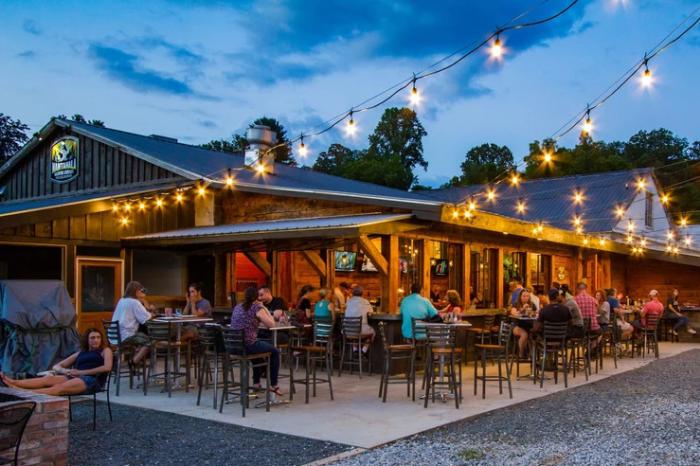 With so much fun and adventure in our mountains, if you don't keep your feet about you, there's no telling where you'll be swept off to! Enjoy the best of the Smokies here in Bryson City. Start planning your getaway: https://www.explorebrysoncity.com/plan-your-visit/.
Your home away from home awaits in Bryson City, NC, nestled in the heart of the Great Smoky Mountains.