The days are stretching longer. New leaves are budding on the trees. Flowers are beginning to bloom. The air is filled with the sounds of birds returning to our mountainsides. It can only mean one thing - summer is on its way to Bryson City! With that, comes the return of one of Bryson City's best and coolest adventures - tubing. There are few things more quintessentially summer in the Great Smoky Mountains than grabbing a brightly colored raft and floating in icy cool waters under canopies of trees, through swirling rapids and past towering waterfalls. This summer, we want to make sure you don't miss out on any of the fun. We've got everything you need to know to make a splash, below!
When is Tubing Season?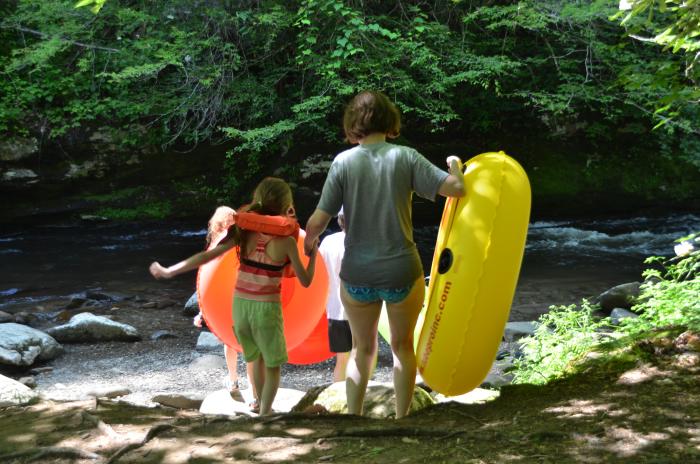 Tubing season generally begins on Memorial Day Weekend and ends on Labor Day Weekend. Should warm weather permit, the tubing season can start earlier in May or end later in September.
Where Can I Tube?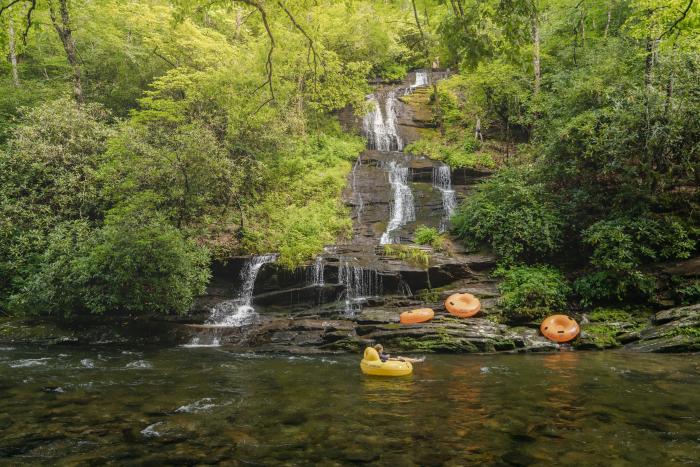 Tubing is the most popular at Deep Creek, a beautiful stretch of the Great Smoky Mountains National Park that is just a short drive outside of Bryson City. Here, you can float down icy cool stream waters in a true natural wonderland, surrounded by towering trees and passing Tom Branch Falls. A few hidden swimming holes can be found along this watery trail, perfect for a cool dip and a little extra fun. After your trip downstream, re-enter Deep Creek to explore its many other adventures! The area also boasts easy-to-trek hiking trails, which take you past all three of Deep Creek's falls, in addition to picnic areas and fishing spots.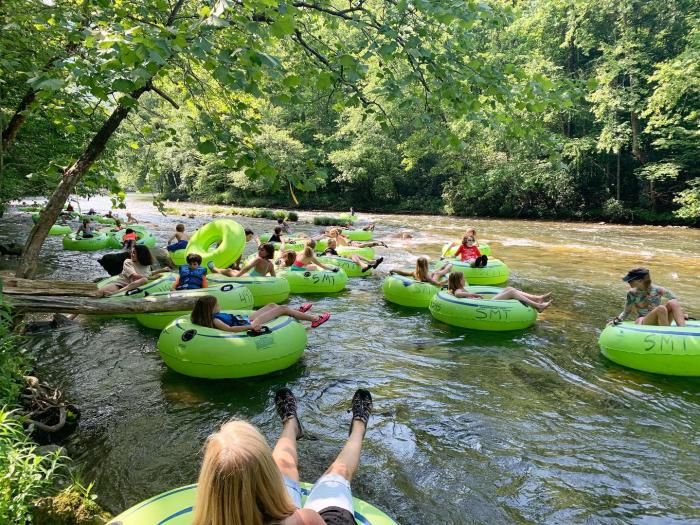 Another great place to tube near Bryson City is along the Oconaluftee River in Cherokee, under 30 minutes from downtown Bryson City. The crisp, clean waters of this beautiful river feature Class I and II rapids, adding a little thrill to your float. Once you've floated your fill, explore the other historic and natural sites of Cherokee! One great spot is the Oconaluftee Visitors Center, popular for elk spotting, especially at sunrise or in the evening. While here, you can pass walking trails that line the Oconaluftee River, or drive further up the road to visit Mingus Mill, a historic active grist mill, or the old Oconaluftee Baptist Church at Smokemont Campgrounds.
Where Can I Rent Tubes?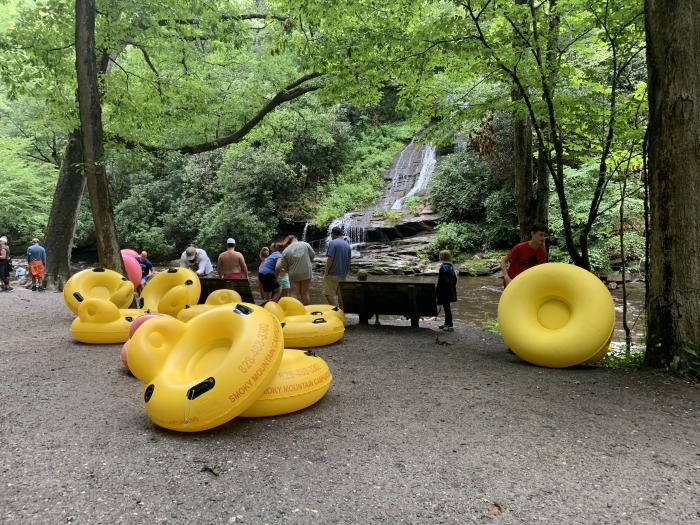 An affordable way to enjoy the western NC mountains, tube rentals are abundant near either destination. Several are found right at the entrance to Deep Creek, including Deep Creek Lodge Tubing, JJ's Tube Rentals, Smoky Mountain Campground and Tubing, and Tube World. All will rent out tubes for use specifically in Deep Creek. Several also offer campsites or small cabins, helping you have a more all-inclusive experience. Two primary rental companies offer Oconaluftee access - Cherokee Rapids Tube Rentals and Smoky Mountain Tubing. Like the Deep Creek businesses, their tubes are meant for exclusive use at their waterway.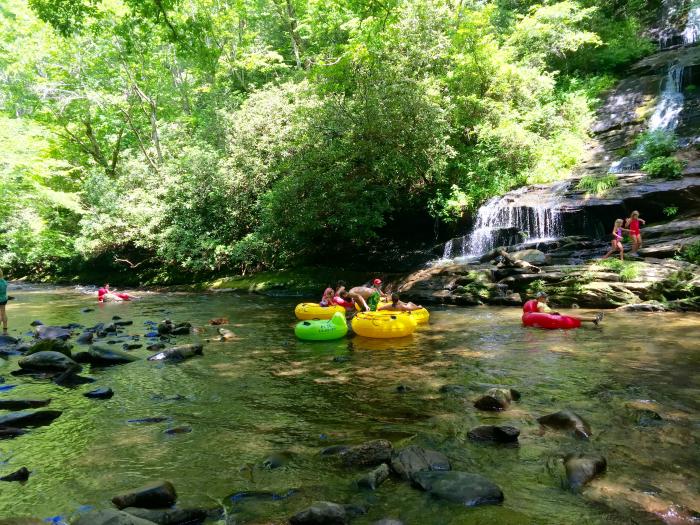 While not offered as part of your rental at either location, we also recommend packing sunscreen and wearing water-appropriate footwear! These are natural waterways, meaning that the river and stream floors are not as smooth as the lazy river at your local waterpark. Wearing appropriate shoes will keep your feet safe, while sunscreen - well, who wants a sunburn?
What are the Best Places to Stay if I Want to Tube?
As mentioned above, select rental businesses near Deep Creek also offer camping and lodging. Smoky Mountain Campground and Tubing has 25 campsites and 5 cabins, with the largest sleeping up to 12. Deep Creek Lodge, meanwhile, has a cabin and lodge building, which consists of 5 apartment-style rental units. No matter where you stay, both promise to put you as close to Deep Creek's action as possible, making tubing access (and any other adventures) a breeze.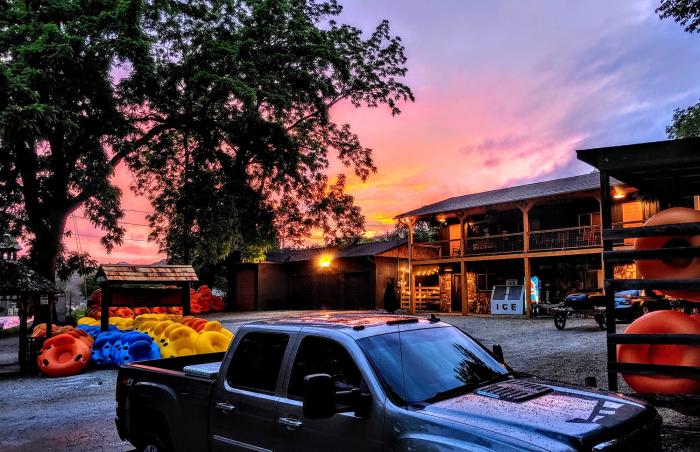 In addition to lodging near Deep Creek, Bryson City also boasts an abundance of other cabins, campsites, bed and breakfasts, hotels, and even yurts! No matter what your party size, you are sure to find the perfect home away from home in the Outdoor Adventure Capital of the Great Smoky Mountains. 
This summer, there's truly no better way to beat the heat than by cruising down a sparkling mountain waterway, fully immersed in the nature that surrounds you. Don't miss your chance to enjoy one of Bryson City's best staples. Book your getaway today and let the countdown to tubing season begin