Ready to explore Bryson City, but not sure where to start? We can fix that! Our corner of western North Carolina is vast, brimming with exciting activities perfect for all ages. With our many guided tours, you can take the question and mystery out of your vacation planning and let an expert lead the way! We've rounded up our top five favorite guided tours that are sure to give you the perfect Bryson City experience.
 Cast Your Line with a Pro
With so many diverse waterways nestling our destination, we are a haven for fishing enthusiasts. Whether trying your luck on the blue-green waters of Fontana Lake, wading through nearby creeks or navigating one of our rushing rivers, you'll spot bass, crappie, walleye, record-size muskie, and more in Bryson City. One of our prized waterways for fishers is the Tuckaseegee River, a 2.2 mile waterway that is swimming with trout. Due to its designation as Delayed Harvest Water, fishing on this river is limited to certain times of the year.
Take the guessing game out of where to cast your line by embarking on one of our guided fishing tours! Named best Fly Fishing Guide in 2020's Best of the Blue Ridge awards, Fly Fishing the Smokies offers many expert-led tours across our waterways and has a bait and equipment shop located in the heart of downtown Bryson City. Fontana Guides, another wonderful outfitter, also offers a plethora of tours, with the added bonus of offering select lodging options to create a wonderful package deal. Guided fishing tours are also available through:
Navigate Rushing Waters with an Expert Guide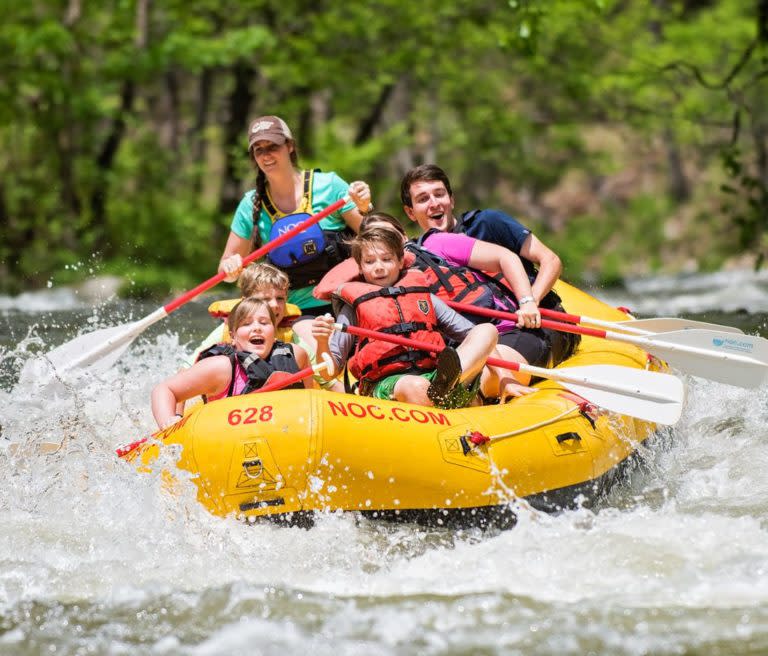 With the Nantahala Gorge and several other rushing waterways at our doorstep, we are an adventure seeker's dream! There is nothing quite like the thrill of crushing down those coursing rapids, and our waterways are home to exceptional guides ready to lead you through it all. One of many popular outfitters is the Nantahala Outdoor Center, which is celebrating its 50th birthday this year. The sprawling campus of NOC's flagship location along the Nantahala Gorge is overflowing with fun. In addition to whitewater rapid adventures, this summer camp-like campus has ropes courses, full-service restaurants, ample viewing space to watch rafters and kayakers, shops, lodging and more. You can even access the historic Appalachian Trail - a section runs just steps away from sprawling NOC.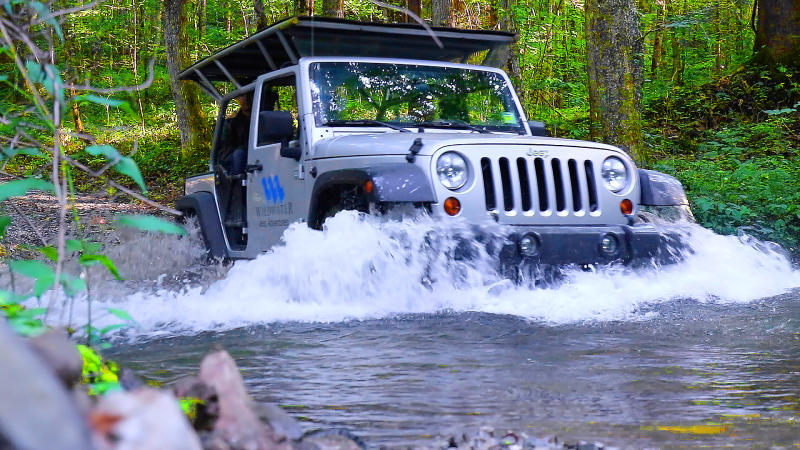 Also located along the Gorge, Wildwater is another historic Bryson City outfitter. In addition to thrilling whitewater tours, Wildwater offers Jeep tours of the Smokies, zip line adventures and lodging. Wildwater is also the only outfitter that partners with the Great Smoky Mountains Railroad to bring you the raft and rail tour, a full-day adventure that combines a scenic train ride through the mountains with the thrill of whitewater rafting.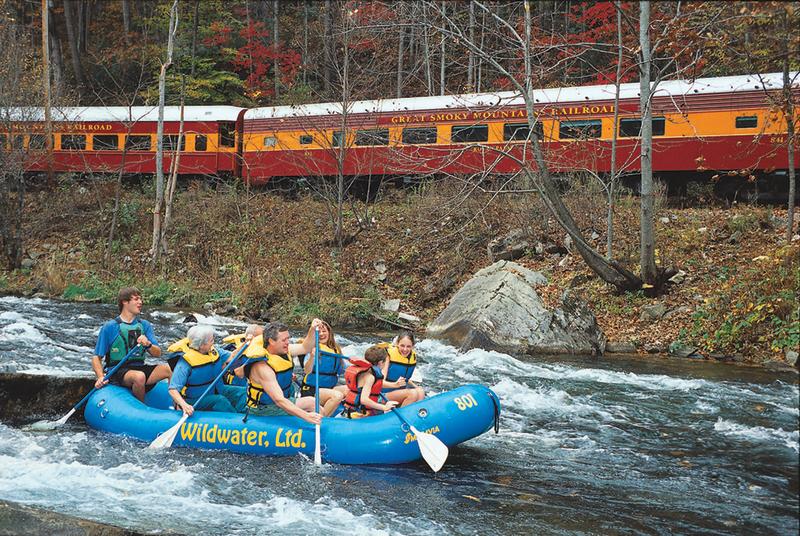 Other Bryson City Whitewater rafting guide businesses include:
You can also check out our guide to all things white water in Bryson City for more helpful planning tips!
Explore our Shores with a Guided Boat Tour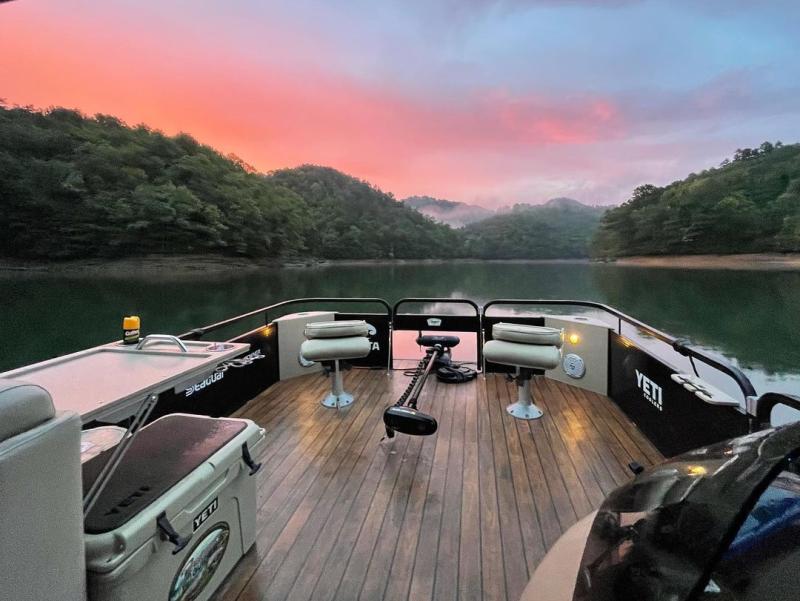 Picture this: the sun is setting after a day of adventure, the sky bursting in gorgeous reds, oranges, yellows and purples, and you're enjoying it all from Fontana Lake, cruising along its smooth surface. If that sounds like your ideal way to end a day, book a trip with one of our many boat tours! These captains know the waters of Fontana (and our other waterways) well and are here to ensure you can relax and enjoy your time on the water, whether at sunset or the height of a sunny day. Guides are available at Almond Boat and RV Park, which also offers watercraft to rent, and at Fontana Village Marina, which offers tours on Miss Hazel. You can also book tours with Fontana Guides and Sunny Day Adventure Co.
Trek the Less-Wandered Trails of the Smokies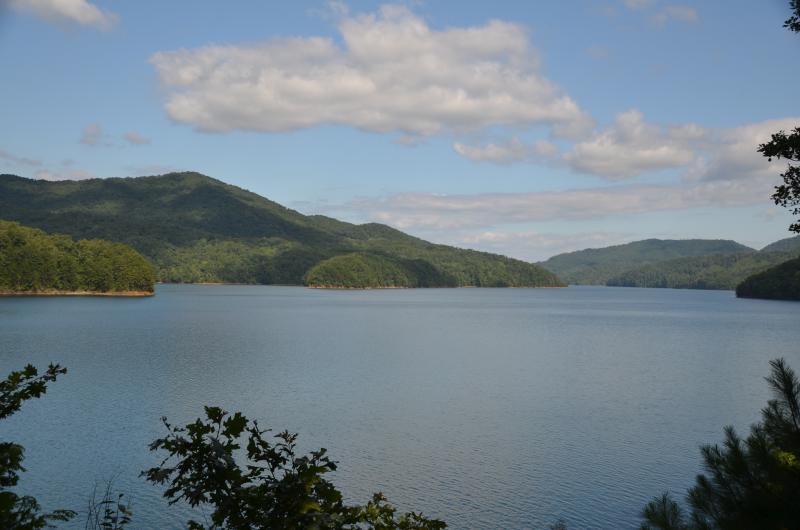 The Great Smoky Mountains National Park may be one of the best backyards anyone can ask for, covering our destination in blankets of towering trees, trickling waterways, cascading waterfalls, rolling mountainsides and more. Some corners of this expansive park are naturally more popular than others, drawing in thousands to bask in its beauty. Some, however, are special treasures, remote pockets that only a few venture to explore. Fontana Lake's North Shore is one of these hidden gems, an area only accessible by boat or on foot. This undisturbed wilderness is unique to explore, full of lush plant life, animals and waterways. Many guided tours are available to help you traverse the North Shore, offering everything from hiking trips to fishing excursions. Many of our fishing guides mentioned above, including Fly Fishing the Smokies, Fontana Guides and Smoky Mountain Outdoors Unlimited, offer tours of Hazel Creek, Eagle Creek and other North Shore waterways. You can also embark on a historic guided hike to the old town of Proctor, washed away when Fontana Lake was created during World War II. Exploring the North Shore is a wonderful way to feel truly removed from the modern world around you, and connect to Bryson City's history.
Get the Best Bryson City, All in One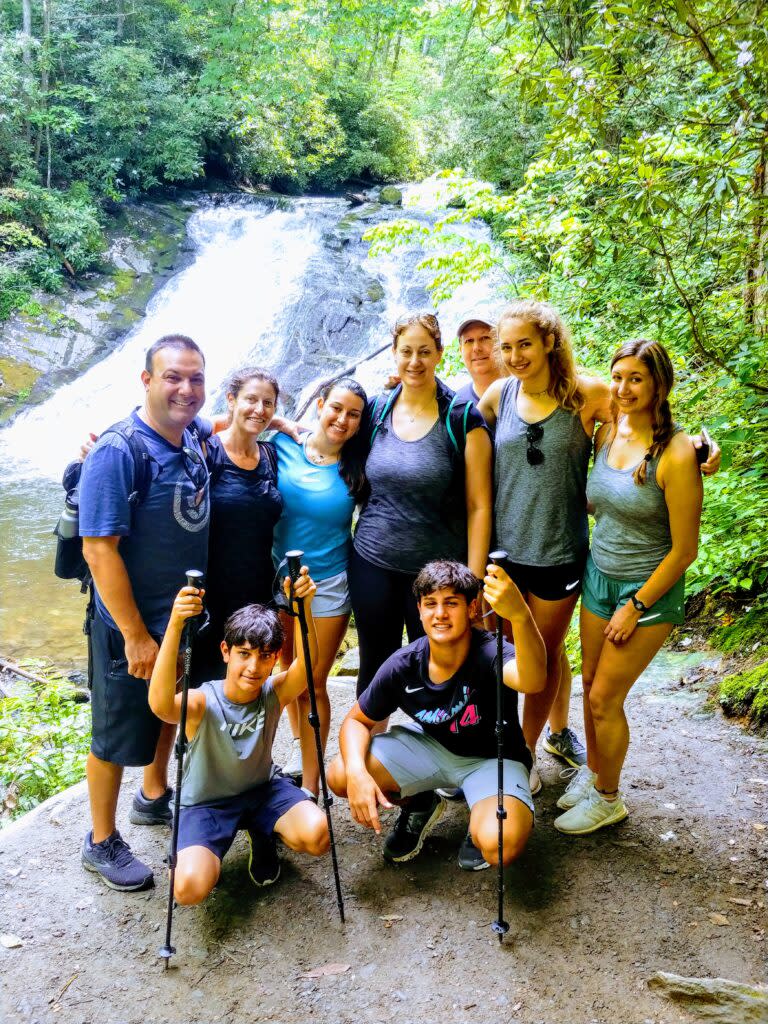 Can't decide which tour you want to explore? Why not go for them all! Carolina Bound Adventures is a one-stop-shop for any Bryson City tour you can imagine. Explore the best of the Great Smoky Mountains National Park on one of many hiking tours. Spot our area's best waterfalls with a guided trip to them all. Mix in a little spirited fun by embarking on a brewery crawl. Go zip-lining. Try whitewater rafting. Fish some of our best waterways. If you can dream it, Carolina Bound Adventures has a tour for it. Explore some of the best attractions our destination has to offer with a guide that has a true passion for its natural beauty and adventure.
No matter which guided trip you choose, our experts are here to make sure you have the best Bryson City getaway possible! Whether looking for a more relaxing activity like a boat cruise or an adrenaline-pumping whitewater adventure, we have everything you need to make planning your vacation as easy as a mountain breeze. Explore more that awaits in Bryson City: https://www.explorebrysoncity.com/.