The Nation's favorite natural playground, the Great Smoky Mountains National Park, is right at your fingertips when you vacation in Bryson City. Six nearby access points allow unprecedented access to our country's most visited national park and its many adventures. Got a weekend free and want to explore? Take a road trip to experience some of our favorite activities with our 48-hour guide to the Great Smoky Mountains National Park!
Sleep in the Smokies: Campsites in and near the National Park
First things first; find a place to stay near the Great Smoky Mountains National Park. If camping is not your thing, check out Bryson City cabins, lodges, and hotels.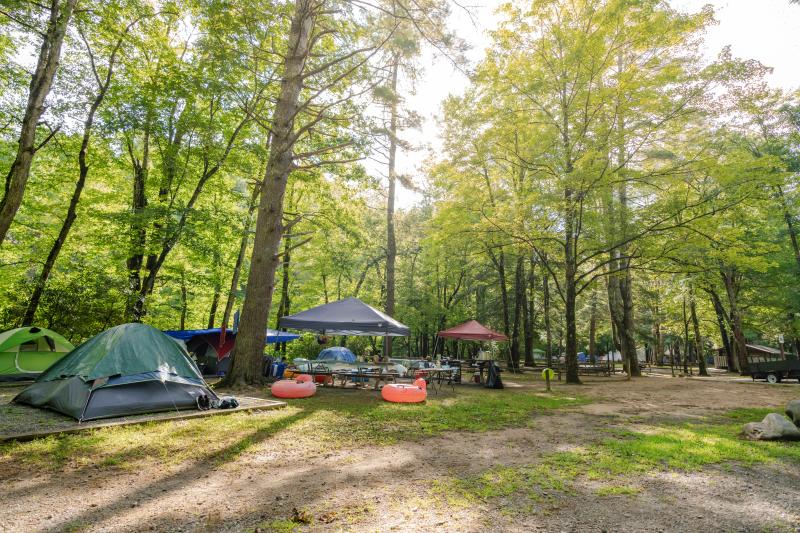 Bryson City is home to an abundance of unique accommodations that range from charming bed and breakfasts and cabins to hotels, historic inns and more that are truly perfect for any vacation. For those seeking that true outdoorsy experience, camping in and near the National Park is one of a kind. Several campsites and RV Parks can be found near some of our favorite activities for your weekend adventure. Where you decide to stay could result in changes to our itinerary suggestions. You can easily swap each day's activities based on your lodging location!
Some of our favorite campgrounds near the national park can be found near the rushing falls of Deep Creek! Deep Creek Tube Center and Campground, located just outside of this section of the park, not only has several camp and RV sites available, it also offers tube rentals, gem mining and a petting zoo. Those with RVs can also look to Big Bears RV just down the road, which boasts of being big rig friendly. You can also camp in this section at the Deep Creek campgrounds, which offers campsites, grills and more.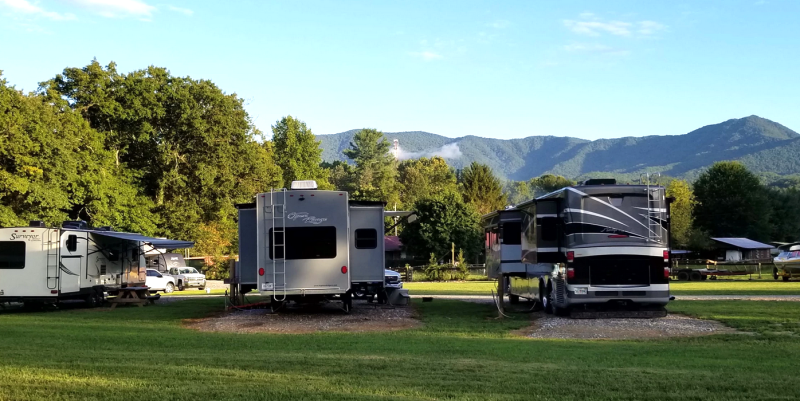 For a truly secluded camping experience, venture to the North Shore of Fontana Lake. Accessible only by boat, kayak or other watercraft, this remote area of the National Park features several campsites along the lake's edge and throughout this untouched wilderness. Camping here gives you a Smokies experience like no other, truly immersing you in the park's beauty. Sites include #87 Jerry Hollow, #78 Double Island, #73 Lone Pine, #72 Gunter Branch and #66 Lower Noland Creek. Special permits are required to camp at these backcountry locations.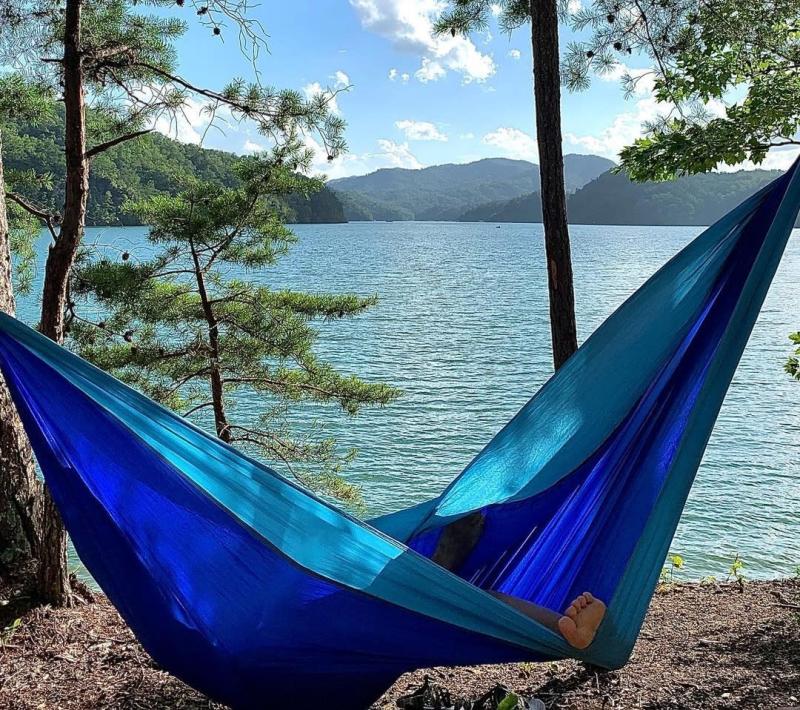 Backcountry Campsites on Fontana Lake
Another exciting National Park campsite to explore can be found just up the road from Bryson City in Cherokee! The Smokemont Campground is located next to the Oconaluftee River within the Great Smoky Mountains National Park. Sites can accommodate tents, RVs and trailers, and come equipped with fire rings and grills. Camping in this unique spot not only allows you fantastic National Park access, it also gives you the opportunity to explore some of the many historic sites housed here and try your hand at elk spotting.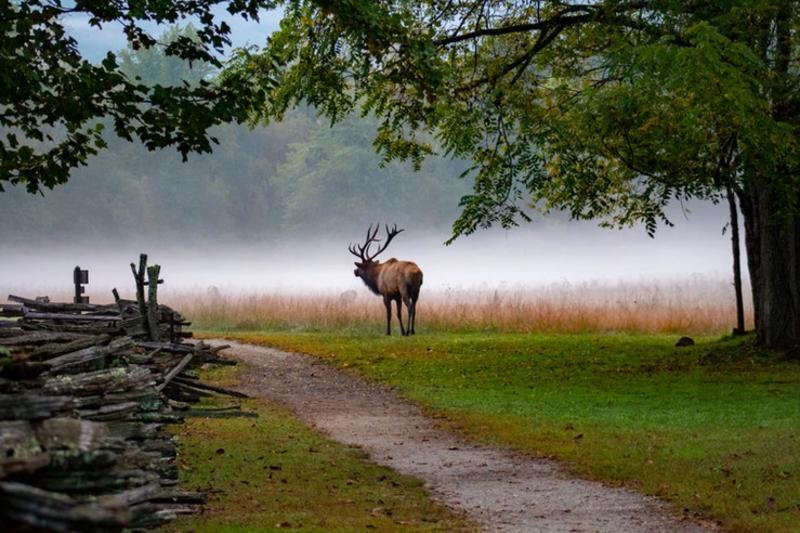 Elk viewing at Oconaluftee Visitor Center and Mountain Farm Museum
Day One: Choose Your Own Adventure Through Deep Creek, Clingmans Dome or the Road to Nowhere
You're here, you're settled into your campsite and you're ready for adventure, but where do you start? We have a few exciting options for your first day!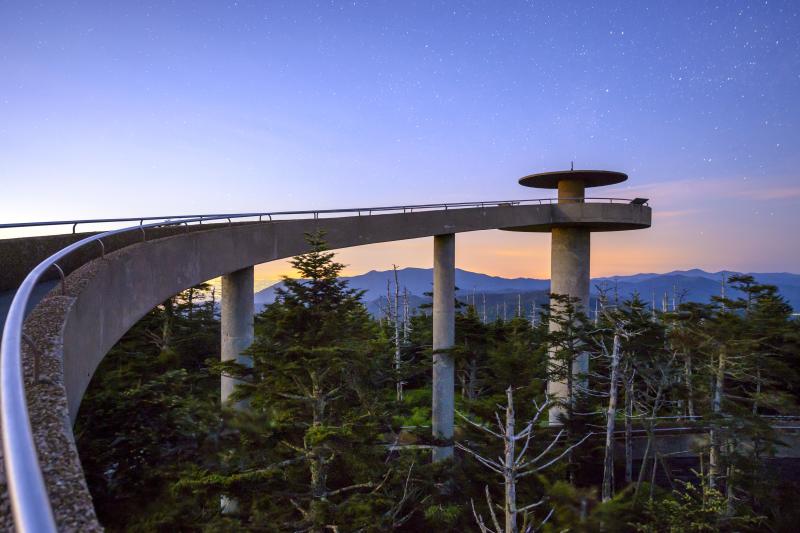 Take it Easy: If you're in the mood for a more relaxing, less strenuous way to enjoy the national park, a drive to Clingmans Dome might be just what you need! Roughly one hour away from downtown Bryson City, the drive to the Dome along US-19 and 441 is stunning. As you climb higher into the Smokies, scenic vistas appear for you to pull off, park and enjoy beautiful views. Once you reach your destination, you can soak in the awe of the Smokies' from its highest peak. Clingmans Dome features a visitors center, restrooms and an observation deck. The path to the top of the observation deck is steep, but offers 360-degree views of the national park throughout your trek.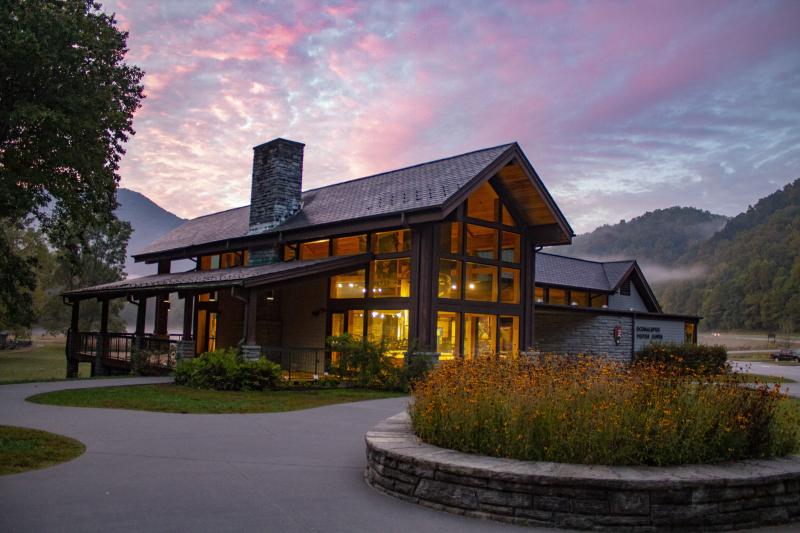 This trip will take roughly half of your day to complete, making it ideal for those planning on a midday or late afternoon arrival to Bryson City. Should you have extra room to explore on your way back to Bryson City, stop off in Cherokee to explore the national park adventures that await there. Go elk spotting through Oconaluftee or explore history at Mingus Mill and Smokemont. Stretch your legs on the Oconaluftee River Trail, one of few pet-friendly hiking spots in the national park. It's a wonderful pitstop to wrap up your day!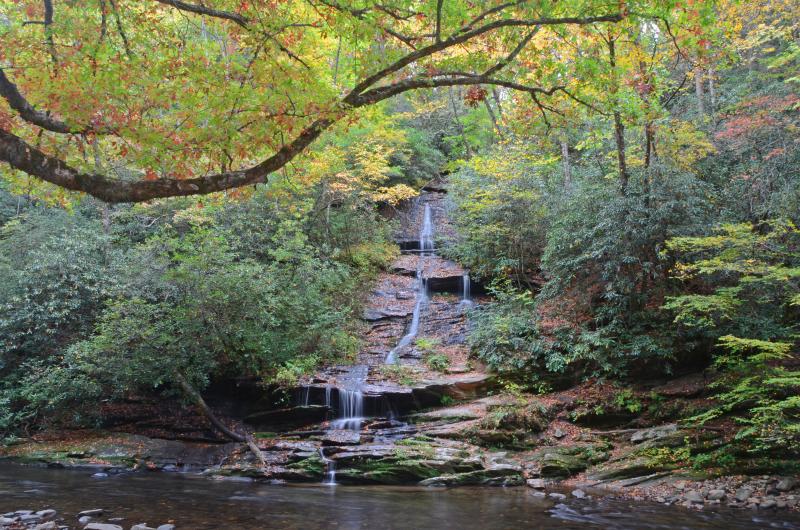 Amp up the Adventure: If your vacation is all about excitement, we have plenty of activities to make sure your first day is action-packed! Kick-off your national park escape by exploring Deep Creek, located just a short distance from our downtown. There are several ways to enjoy this section of the national park and its three beautiful waterfalls, some requiring more of your day than others. One of the most popular summer activities is tubing along the cool creek waters. Rent a tube and float through towering trees, past Tom Branch Falls, over small dips and turns. It's one of the best ways to spend your day.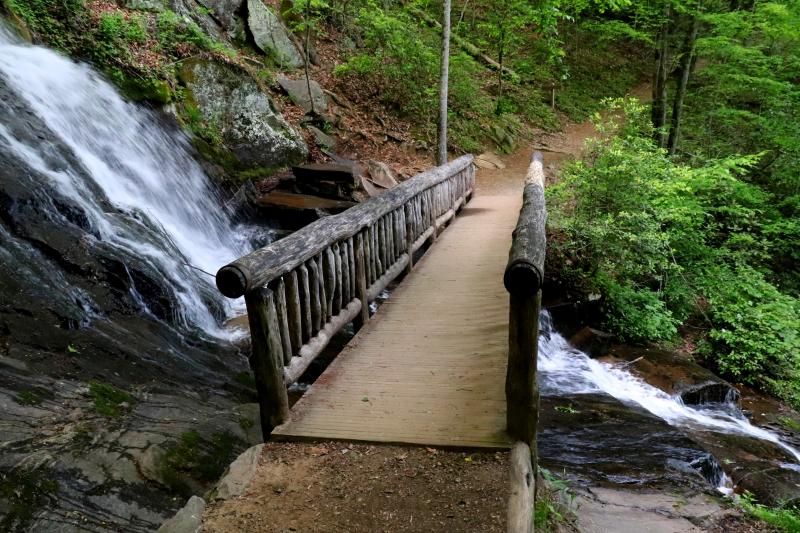 For those wanting to make sure they can squeeze in more than one stop on their first day, we recommend hiking the 2.4-mile waterfall loop trail at Deep Creek. This easy hike passes by all three falls - Juneywhank, Tom Branch and Indian Creek - and keeps room in your day for more fun! Other ways to enjoy this area are on a guided horseback tour or by casting a line into Deep Creek's rushing waters.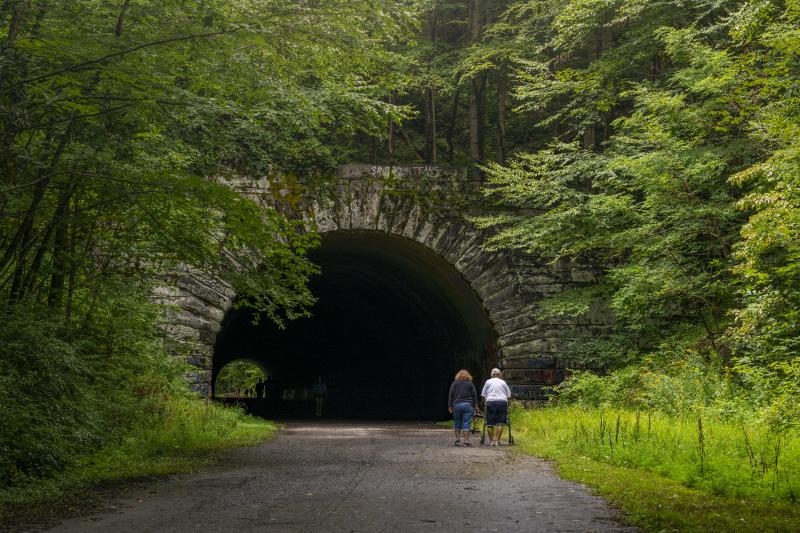 After exploring Deep Creek, use the remainder of your day to head up to the Road to Nowhere for more adventure. This scenic drive up into the peaks of the national park is steeped in history. This land was once residential, home to generations of families who gave up their homes as part of stateside war efforts during World War II. Now a protected part of the national park, this winding road up is lined with scenic vistas. At its end, a mile-long tunnel can be found, a symbol of the sacrifice made by many still living in Swain County. You can simply enjoy the drive up and walk the tunnel (with a flashlight), or wander one of the many hiking trails that branch out from the Road to Nowhere.
Day Two: Take a Scenic Drive to explore Cades Cove and Fontana Dam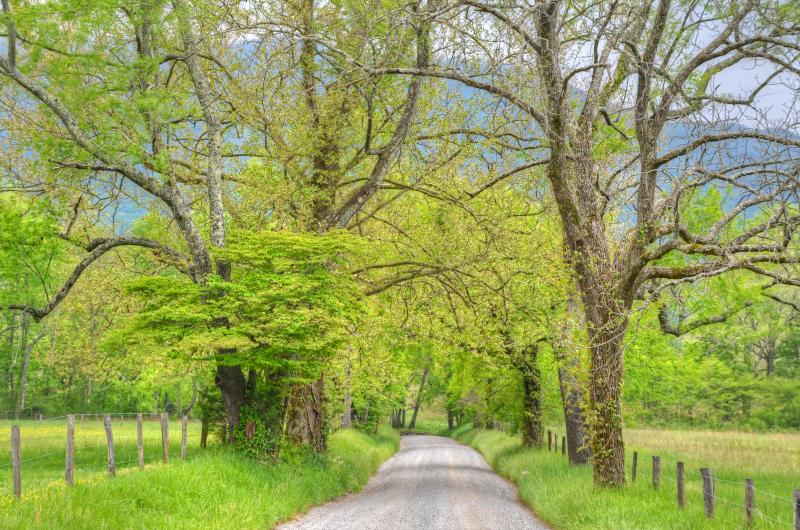 Sparks Lane at Cades Cove
After a fun-filled first day, it's time to embark on a scenic drive to one of the national park's most popular areas to explore - Cades Cove! Located two hours and fifteen minutes from downtown Bryson City, the drive out to Cades Cove can't be missed. Lined with towering trees and stunning overlooks, you'll enjoy this journey so much that you won't even realize how much time has passed.  This expansive, beautiful valley is surrounded by the towering peaks of the Smokies. Once a hunting ground for Cherokee Native Americans, it remains one of the best spots to spy wildlife, including whitetail deer, bears, coyotes and others. Park rangers encourage guests to keep a safe distance from all wildlife.
Though no major Native American settlements have been found here, several structures still stand from the days when European colonists first came to the area. Churches, a working grist mill, barns, log houses and other historic buildings can be found during your exploration. Hiking trails are also abundant at Cades Cove, with some treks stretching all the way up to Thunderhead Mountain. Campgrounds are located onsite for those wanting to extend their adventure here. From May through September, Cades Cove Loop Road is closed to vehicles on Wednesdays only, which allows pedestrians and bicyclists more access to roam the grounds. Parking is available just before the 11-mile Loop Road begins.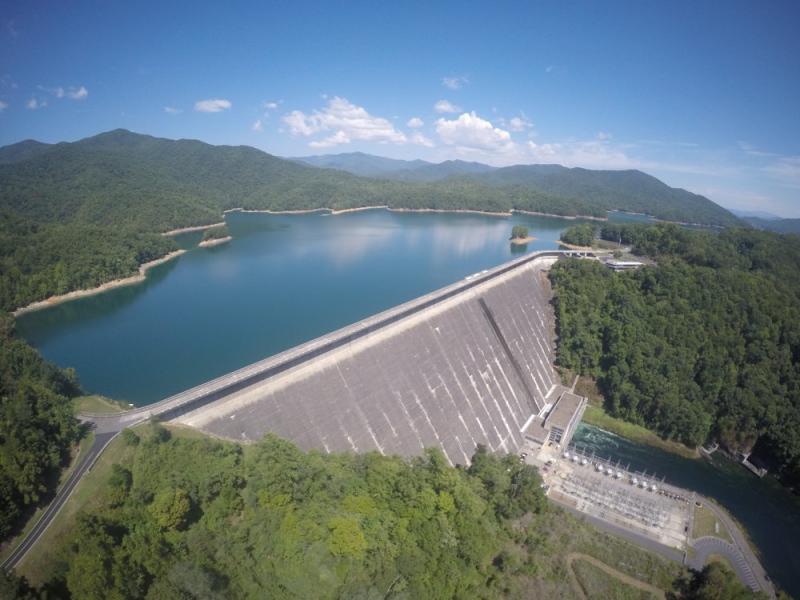 Fontana Dam
After a solid day exploring Cades Cove, it's time to take the long route home and stop by Fontana Dam. Follow Parsons Branch, a single-lane gravel road, out of Cades Cove and turn onto US 129, known better as the Tail of the Dragon. This winding road snakes up through the Smokies, with 318 curves ready to get your adrenaline pumping. From there, you'll tame the Hellbender, another twisting, turning route through the Smokies that will take you to your final destination - Fontana Dam. Drive or walk across this impressive structure, the tallest east of the Rocky Mountains. From there, you can continue to explore areas near the Dam, such as Cheoah Lake or the Fontana Village Resort, or wind back down home to Bryson City or to your own backyard.
There are so many more adventures that await you in the Great Smoky Mountains National Park. With over 900 miles of hiking trails to explore, countless waterfalls, wildlife and more, our guide is a great way to get your feet wet and get you excited for more.
Stay in touch with all there is to do in the Smokies by signing up for our newsletter.