With sparkling Fontana Lake, the streams of Deep Creek, rushing Nantahala Gorge and countless other rivers and waterways at our doorstep, cooling off is easy in Bryson City. There are seemingly endless ways to enjoy a refreshing dip here in our slice of the Smokies. Get ready to jump in and enjoy some of our favorite aquatic adventures!
Coast Atop Our Waterways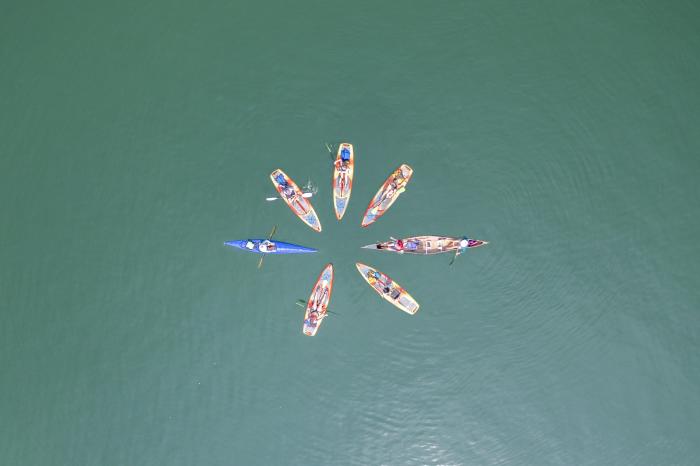 One of the most relaxing ways to enjoy our waters is a gentle ride across their sparkling surfaces. Bryson City is dotted with outfitters ready to rent you a kayak, canoe, stand-up paddleboard, boat or other watercraft for your next adventure. Although it is the largest lake in Western North Carolina, Fontana Lake is surprisingly an under-the-radar gem! Since the Great Smoky Mountains National Park and Nantahala National Forest surround and protect about 90%, or approximately 238-miles of the lake's shoreline, it remains underdeveloped and uncrowded, providing breathtaking views of the nature that surrounds you and a nice relaxing day on the water. Fish, swim or just soak in the scenery from your gently rocking boat, or tie up and splash in the Fingerlake Day Use area, a remote corner of Fontana Lake ideal for swimming. Kayaks, canoes and stand-up paddleboards are also permitted on this waterway, with select outfitters, such as Carolina Bound Adventures, offering guided tours for a unique way to explore.
Float Through Mountainside Paradise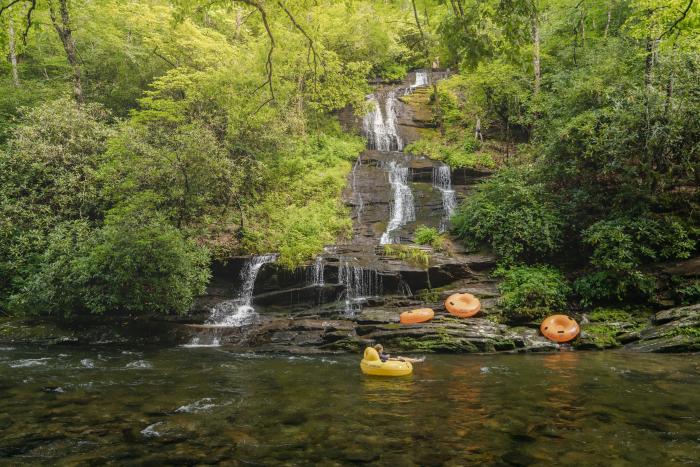 For a cool experience, both literally and figuratively, grab a tube and float through Deep Creek, one of our closest entrances to the national park. Gently drifting through Deep Creek's chilly waters is a right of passage for any vacationer to Bryson City. It's also a great way to truly immerse yourself in the scenery of the park, and is a relaxing adventure for the entire family. Float past the iconic Tom Branch Falls, and keep your eyes peeled for swimming holes that pop up along your route. Another great place to grab a tube is just up in Cherokee along the Oconaluftee River. Known for its thriving elk population, you might spy a few of our favorite wild neighbors while floating down this waterway. Tubes can be rented near either entrance of the national park and are all very reasonably priced.
Plunge into Adrenaline-Pumping Fun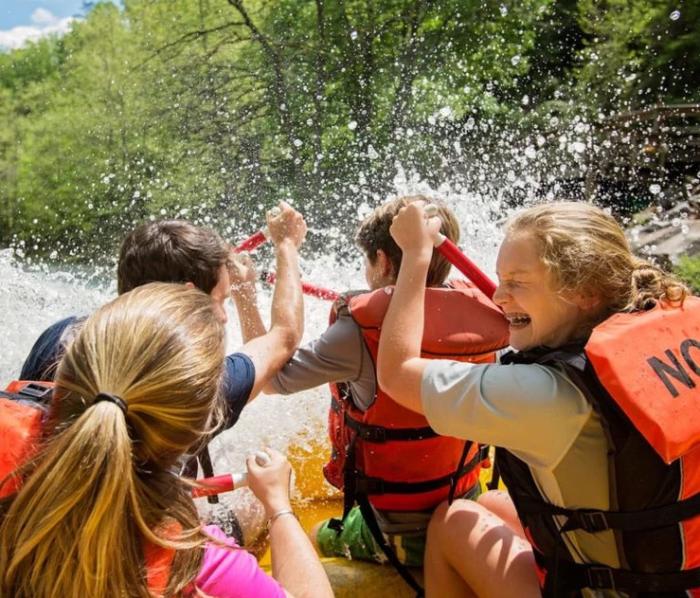 Conveniently located near four rushing rivers, Bryson City is perfect for whitewater adventurers of all experience levels. In fact, we like to say it's where modern whitewater rafting got its start! Nantahala Gorge, America's favorite rapids playground, is conveniently located just a stretch from our charming downtown. Several storied rafting outfitters can be found along this rushing waterway, ready to take you down in an adrenaline-filled ride through mountains. At Wildwater Ltd, you can add extra adventure to your journey by pairing it with a ride on the Great Smoky Mountains Railroad. The Raft and Rail package includes a gentle train ride up the Gorge and an exhilarating, guided whitewater tour back down to Wildwater's HQ. For the extra brave, Wildwater also offers inflatable ducky rentals for those ready to take on the rapids solo. Put your nerves to the test and get ready to get wet with plenty of whitewater fun!
Take Lakefront Accommodations to a New Level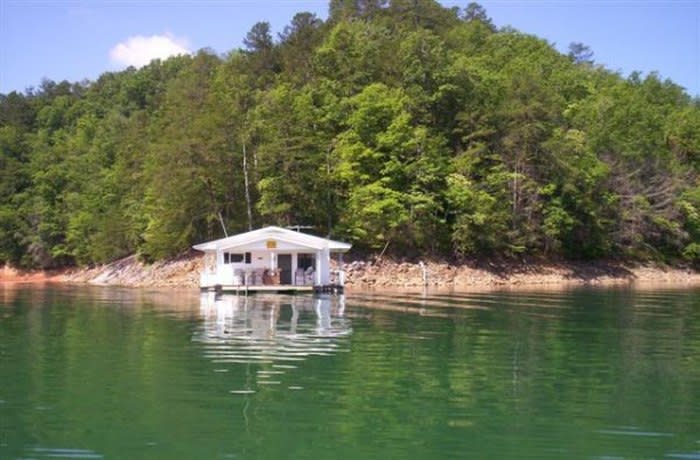 With so many ways to make a splash in Bryson City, you could spend your entire vacation on the water, even at night! For added extra aquatic fun, book your stay at one of Fontana Lake's unique floating cabins. Sleep atop these beautiful blue green waters and kayak, canoe or boat to your Bryson City adventures. It's a wonderful way to truly disconnect, recharge and enjoy the beauty of the Outdoor Adventure Capital of the Great Smoky Mountains.
Ready to dive into all of Bryson City's aquatic fun? Cool off with us on that final summer vacation. We have all of the tips, tricks and tools you need to start planning, here: https://www.explorebrysoncity.com/plan-your-visit/. Or sign up for our e-newsletter: https://www.explorebrysoncity.com/newsletter-sign-up/