One of the most common questions we get asked here in Bryson City is, "where do I find the best views?" Here are the details about one of our favorites. Stretching to an impressive 6,643 feet, Clingmans Dome is the highest point in the Great Smoky Mountains National Park. On a rare clear day, you can see 100 miles out from this peak, with trees stretching below a vast expanse of beautiful blue sky. From this point, you'll truly feel like you are on top of the world, towering above the wonder and awe of the Smokies. Visiting Clingmans Dome and peering over its observation tower is a can't-miss on your Bryson City bucket list. Our handy guide will help you plan your trip to this scenic spot!
When is Clingmans Dome open?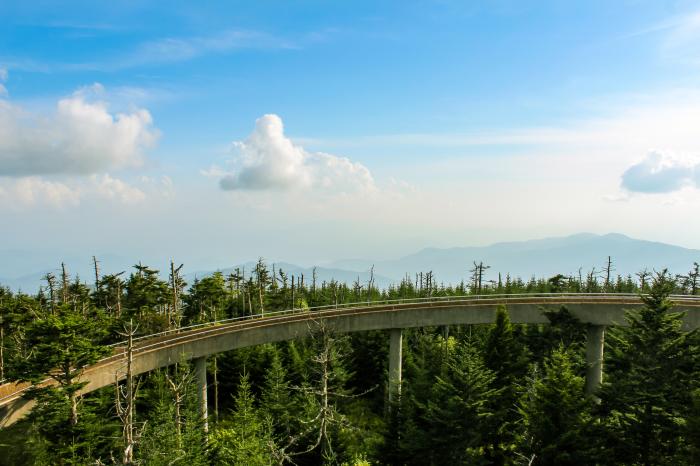 Clingmans Dome offers parking areas, restrooms, a Visitors Center and an impressive observation tower, all of which are accessible from April through November. The road leading to Clingmans Dome, as well as the restrooms and Visitors Center, close for the winter months due to inclement weather and seasonal conditions. It is still possible to reach Clingmans Dome and the observation tower on foot during this time, however that hike is lengthy and requires a round-trip hike, and is only recommended for experienced hikers.
Clingmans Dome parking lot and observation tower do not close in the evenings; it is open 24/7 unless there is inclement weather causing a closure of the road. In fact it is a popular spot for sunset photography and stargazing, including the Milky Way.
How do I get to Clingmans Dome?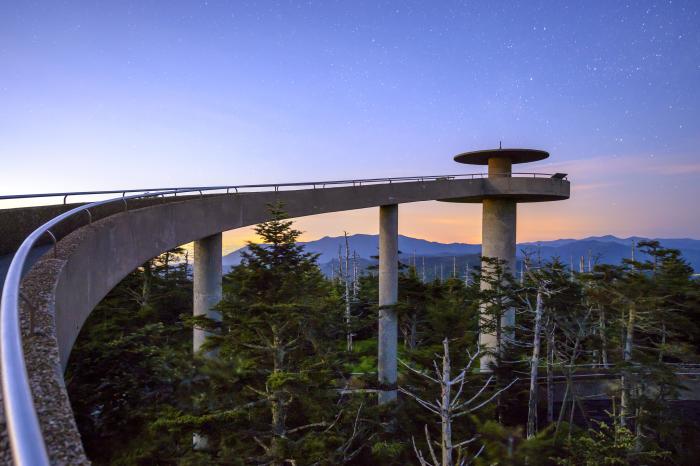 Driving to Clingmans Dome: The easiest and least strenuous option is to drive. From downtown Bryson City, turn onto US-19 towards Cherokee and follow the road for 10 miles. From there, turn left onto US-441. You will stay on this road for 17 miles. Turn left onto Clingmans Dome Road and wind your way up until you reach the parking area. From there, follow the paved path to the top of the observation deck and enjoy! This trip will take roughly one hour.
Hiking to Clingmans Dome
For those looking for a true adventure, Clingmans Dome is also accessible on foot. As the highest point along the Appalachian Trail, many avid hikers cross through here on the impressive 2,144-mile trek. Should you want to journey along the AT and reach this peak, the best place to start is Fontana Dam. The roughly 30-mile, strenuous hike is lined with spectacular overviews as you traverse through the Smokies, climbing higher and higher to reach Clingmans.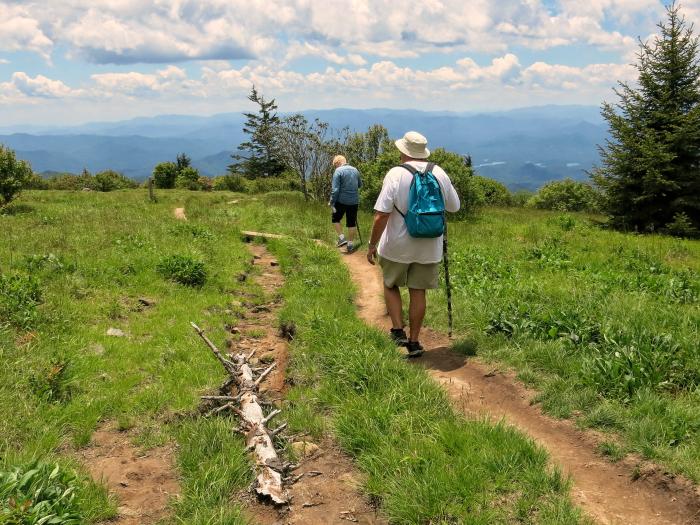 Another way to hike to the summit is by taking the Noland Creek Trail, which begins at the Road to Nowhere. Along with leading you to Clingmans Dome, this trail also connects to Forney Creek and Forney Ridge Trails, which are most known as the best route to reach Andrews Bald, another beautiful peak with awe-inspiring views that's located just two miles away from Clingmans Dome. Some of this roughly 18-mile in and out trek is easy to cross, though it does grow more difficult as the elevation increases and terrain grows rockier. To make the journey even more challenging, start this hike from Deep Creek instead, where you will journey past the area's waterfalls before hopping on the Noland Divide Trail, which later turns into Noland Creek. Both are an ideal trek for those wanting to spend an entire day immersed in our beautiful natural wonderland. The Deep Creek extension also has the opportunity to turn into a multi-day trek, with a select number of campsites lining the journey.
A few things to know before you go!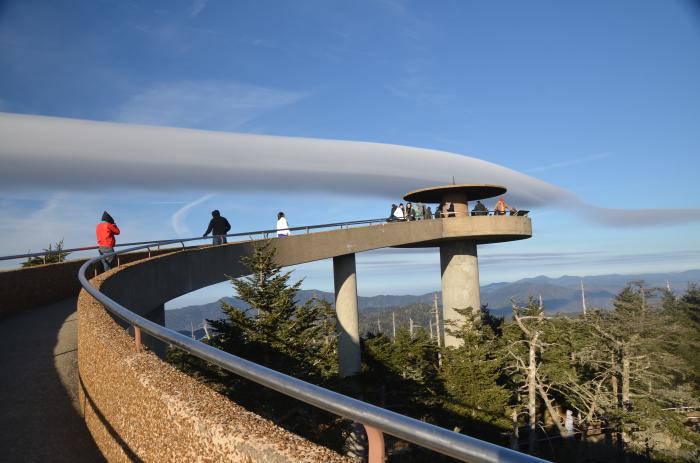 Due to its high elevation, Clingmans Dome can be up to 20 degrees cooler than Bryson City! Even in the summer months, always be prepared with at least a light jacket to help against the cooler temperatures and high mountain winds. It is also common for Clingmans Dome to see cloudy skies and light precipitation. Don't forget to pack that rain gear!
Clingmans Dome and the observation tower are not pet or bike-friendly. Due to its sharp incline, the observation tower is also difficult to navigate via wheelchair.
While the paved walking trail from the parking lot to the observation tower is steep, it is only a half mile and there are benches along the way to stop and take in the beautiful views of the Smokies.
No matter how you choose to reach our highest peak, your journey to Clingmans Dome is sure to be unforgettable. Rain or shine, this mountain is majestic to behold. Plan your next adventure and explore our other scenic hiking spots.