Experience the Appalachian Trail with a Section Hike
The Appalachian Trail is a 2,180+ mile long public footpath that traverses the scenic lands of the Appalachian Mountains. The Bryson City, Swain County, section of the A.T. rises to spectacular summits — including the 6,643-foot Clingmans Dome, the highest mountain on the A.T. — and drops into the steep walls of the Nantahala River Gorge at Wesser. Over 71 miles of the trail are located within the Great Smoky Mountains National Park.
Click here for the Appalachian Trail (A.T.) interactive map, built cooperatively by the Appalachian Trail Conservancy (ATC) and National Park Service using ESRI's Arc GIS Online mapping technology.
In our area, the Appalachian Trail can be accessed from several vantage points. Several section hikes – or day hikes - are detailed below
Wesser to Stecoah Gap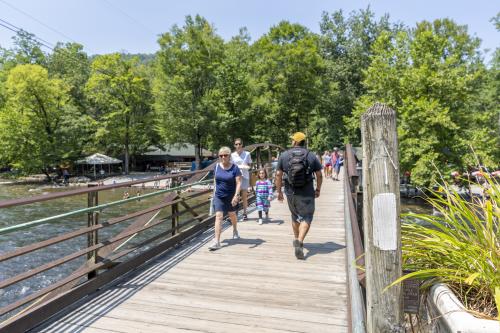 This is a 13.6 miles one way hike that takes and average of 10-11 hours and is rated strenuous. From the Nantahala River at the Nantahala Outdoor Center, a steep 8-mile uphill climb takes you to Cheoah Bald, with a descent to Steocah Gap. Parking is available at both ends of this hike, so you will either need to plan for two vehicles or find a hiker shuttle.
Stecoah Gap to Fontana Dam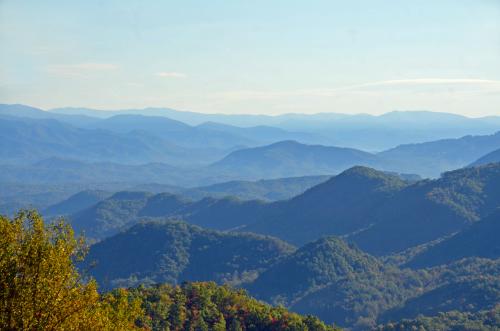 This section hike is a 15.8 mile span to Fontana Dam near the border of the Great Smoky Mountains. Make sure to arrange for a shuttle or plan a way to get back to your car, as this is a one-way hike.It can be hiked in one day if you walk at a moderate pace, however some will stretch this in to a two-day hike and stop for the night after 8 miles at Yellow Creek Gap and the historic CCC Cable Gap Shelter.
This section includes the northern most portion of the Nantahala National Forest. Hiking north from Stecoah Gap, the ascent totals 1,000 ft over 2 miles, then it's down hill past Brown Fork Gap Shelter. Follow an up and down path along the Cheoah Mountain ridge with excellent views of Cheoah Bald. Then an elevation loss of approximately 1000 feet as you approach Yellow Creek Gap, then historic CCC Cable Gap Shelter. At this point you will have hiked 8 miles.
Continue along a ridge crest and soon see Fontana Lake visible to the east, while beginning a 2,010 foot descent to Walker Gap and Fontana Dam Shelter. Also referred to as the "Fontana Hilton," this shelter on the Fontana Lake has access to showers at the visitors center, running water and restrooms. The views of Fontana Lake from this point are spectacular. You will have hiked 7 miles from Yellow Creek Gap to Fontana Dam.
Fontana Dam to the Shuckstack Fire Tower
As you cross the dam, scan the mountains towards the north and you should be able to make out the Shuckstack Fire Tower in the distance. Almost immediately after crossing the dam, you will enter the Great Smoky Mountains National Park, and begin a fairly challenging ascent The trail climbs more than 2100 feet over the course of the next 3.5 miles, with much of that elevation gained during the first 2.4 miles.
Shortly after ascending to the top of Twentymile Ridge you'll encounter a three-way intersection. The Appalachian Trail is marked with a simple white line blazed on the trees, while the path to the tower is marked with a white "T". Hikers should veer to the right here. The 60-foot fire tower is only a tenth-of-a-mile from this junction. After a climb of 78 steps of the tower you'll be rewarded with spectacular 360-degree views. You'll be able to see Fontana Dam and Fontana Lake, as well as the Smoky Mountain and Blue Ridge mountain ranges. This is an out and back hike, or for a multi-day backpacking trip, continue on to Clingmans Dome
Fontana Dam to Clingmans Dome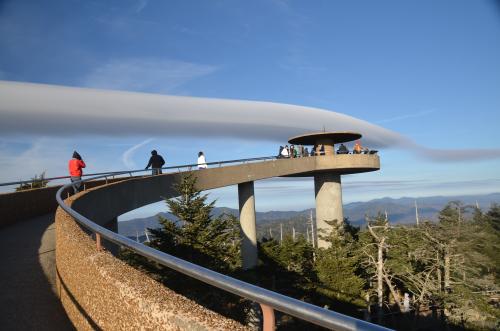 Make sure to arrange for a shuttle or plan a way to get back to your car, as this is a one-way hike. Parking at Fontana Dam is plentiful, and there are several options. One can park near the visitor center or continue across the dam and into Great Smoky Mountains National Park where a small parking area is available at the AT trailhead. Restrooms and showers can be found at the dam as well as a nice hiker shelter (dubbed the "Fontana Hilton").
This is a 33 mile backpacking hike that takes 2-3 days to complete.  Please note that permits are required for all overnight trips in Great Smoky Mountains National Park. They are available here. All of the shelters on this stretch of trail are located next to a reliable water source, and most have a privy onsite. After arriving at the top of Clingmans Dome, be sure to climb the observation tower for fantastic 360-degree views. A short 0.5-mile hike down a paved trail will take you to the road and parking area
Clingmans Dome to Newfound Gap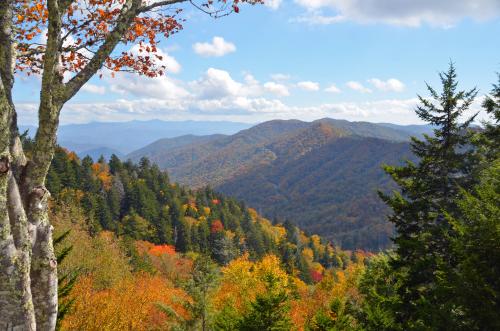 This is a popular hike that 8.3 miles one way, or as a 16,6 mile out and back trail, that can be hiked from either direction. Generally considered a challenging route, it takes an average of 9-10 hours to complete as an out and back hike. For the one-way hike, there are parking lots at both ends of this hike, and you'll need two vehicles or a hiker shuttle. The trail meanders through evergreens, ascending and descending along the ridge.
While this stretch of trail runs nearly parallel to Clingman's Dome Road, you only come close enough to see the road in a few places, and with the road closed, this doesn't take away too much from the backcountry experience. The road to Clingmans Dome is closed each winter, December 1 thru March 31.
Newfound Gap to Charlies Bunion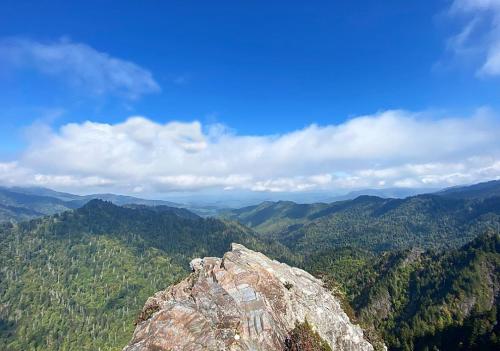 This is an 8 mile round trip hike, out and back, and rated as moderate. The hike to Charlies Bunion begins from the large parking area at Newfound Gap. Hikers will travel eastbound along the Appalachian Trail to reach this popular rock outcropping, affectionately known as Charlies Bunion. The steady climb over the course of the first two miles of this hike will quickly leave the crowds behind at Newfound Gap.. At roughly two-thirds of a mile you'll enjoy grand views of the North Carolina Smokies towards the south.
We're are happy to be able to continue offering this service to all those wanting to explore the Great Smoky Mountains and the surrounding areas! We are now offering Hiker Shuttles to trails all over western North Carolina and surrounding…
Call for availability – 828-569-6699. We offer a Great Smoky Mountains Hiker Shuttle near Bryson City, North Carolina for Appalachian Trail Hikers and more. We can carry up to 7 guests. If there are more than 7, please contact us for…