Vendors
Smoky Mountain Farmers & Artisans Market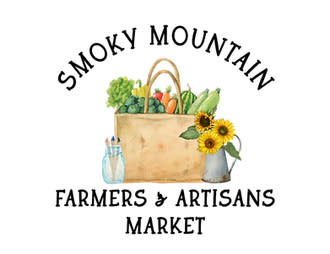 Are you involved in any activities such as gardening, farming, creating arts and crafts, growing flowers and other woody ornamentals, or beekeeping (Honey)? If you answered yes to any of these endeavors and would like to sell the "fruits of your labor" then set-up a booth and join us!
Every Friday and Saturday from May 5 - October 28, 2023
Bryson City, North Carolina
9:00 AM - 2:00 PM
For more information, please call Kerry Peek at 828-735-4914 or email. 
Potential vendors must agree to Farmers Market policies and submit an application prior to any sales:
Local farmers and authentic artisans
Picnic tables
Live music on select weekends
Pet-friendly (must be leashed)
Rain or shine event
Tuckasegee riverfront location with fishing pier and put-in.
Visit the Appalachian Rivers Aquarium and the Fly Fishing Museum of the Southern Appalachians next door - free admission.
 Location: Riverfront at 117 Island Street, Aquarium Park in Bryson City
Bryson City is home to the North Carolina four entrances to the Great Smoky Mountains…
Bryson City, NC, is home to the historic Great Smoky Mountain Railroad, an impressive…
In Bryson City, NC, our abundance of rolling greenspace and rich mountain soil make…
The Appalachian Trail winds through Bryson City and Swain County, and can be accessed…