Indian Creek Falls

 

One of nature's most majestic phenomenon is the waterfall. Whether towering miles above or gently careening down a tumble of rocks right at eye level, these beautiful, natural cascades can't help but stir a sense of wonder within. In Bryson City, nestled amongst the Great Smoky Mountains, we are surrounded by the comforting rush and stunning beauty of several waterfalls. Some are right in our backyard, while others require taking a short drive further down the road. In our handy guide, we're breaking down the best and most beautiful falls you can explore, whether nearby or a further stretch away.

 
It's Just a Stretch: Our Closest Waterfalls
Our closest set of waterfalls are found at Deep Creek, a wonderful section of the Great Smoky Mountains National Park that's just a few miles away from our charming downtown. Known in the summer months for tubing, camping and hiking, Deep Creek is home to three rushing falls - Tom Branch, Indian Creek and Juney Whank - which can all be explored by venturing down the Waterfall Loop, a 2.4-mile, easy hike that passes all three falls.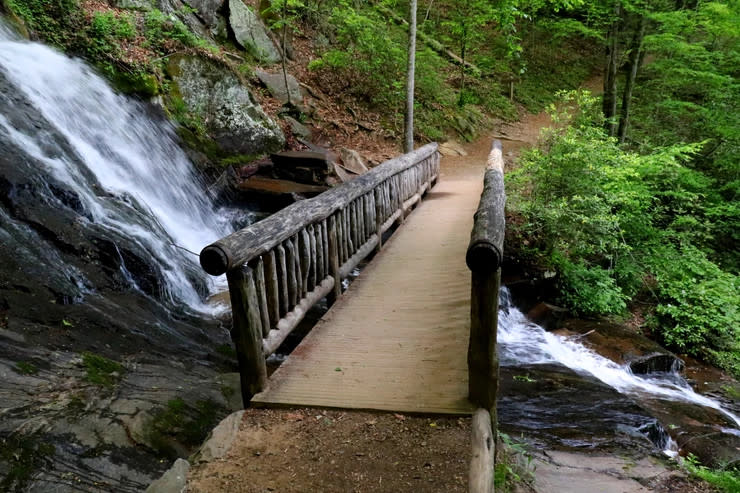 Juneywhank Falls

The first fall you reach on this journey is Juney Whank, located just a short distance away from Deep Creek's parking area. A bridge spans the width of this 90-foot cascade, allowing you to view both the upper and lower section of it.

 
Tom Branch Falls

 

The second fall on this loop is Tom Branch Falls, one of our most photographed natural wonders, whether shining on its own in the winter months, bursting with new blooms in the spring, lined with tubers in the summer months or covered in the colorful fall foliage of autumn. Benches can be found at the base of this fall, allowing you to pause and observe this towering waterfall.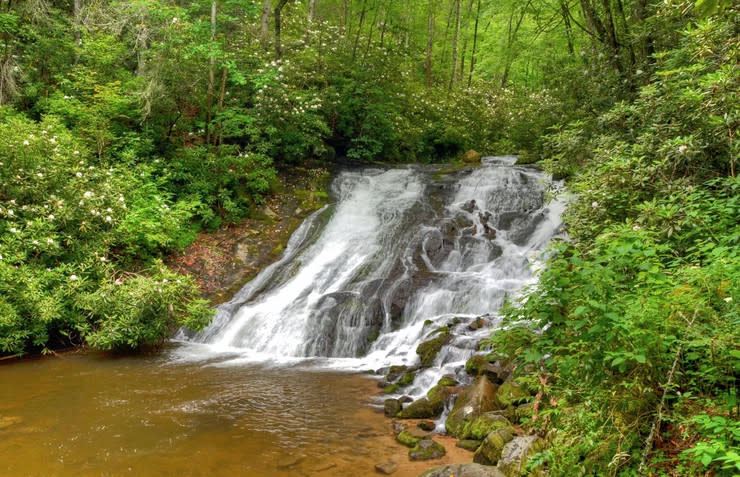 Indian Creek Falls

 

Indian Creek is the final fall before trekking back to the start. While it may be the smallest fall at 25 feet, Indian Creek is no less stunning, with large volumes of water careening over the smooth rocks that line this fall. View this final fall at a distance, or take a walk down a short trail to soak in this stunner at its base.

 
It's More Than A Stone's Throw: Falls Less than 25 Miles Away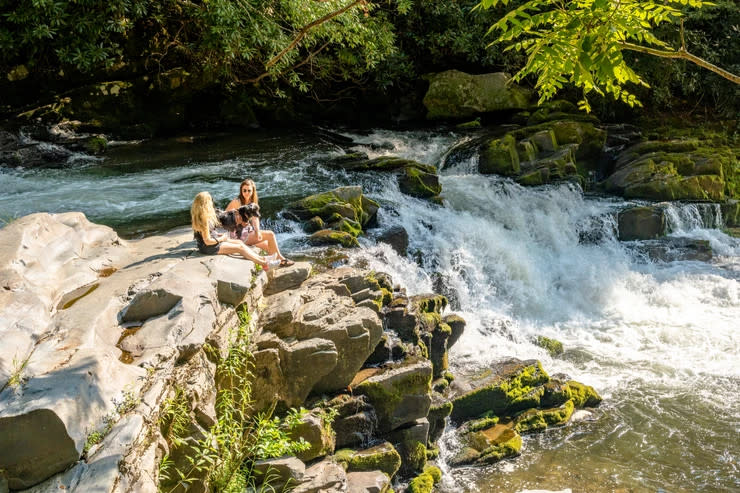 Upper Nantahala Cascades

 

Located not far from Bryson City, our next three falls are some of the most beautiful found in our sprawling backyard. Starting 1,000 feet above the Nantahala Gorge, the rocks and rushing water at the Upper Nantahala Cascades create swirling rapids that make it a must-visit spot amongst thrill-seeking kayakers and rafters. For those not wanting to dip their toes into this fast-flowing waterway, much of the Cascades can be safely viewed on foot or from your car after taking a scenic drive up to Wayah Road to reach its start.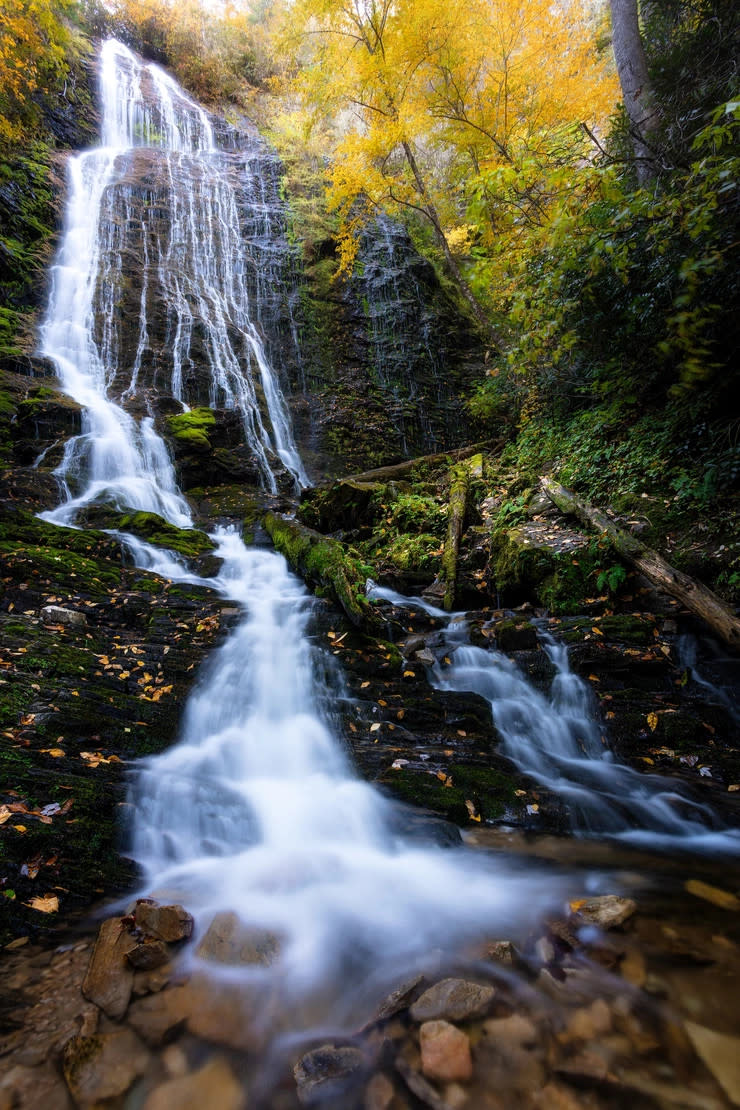 Mingo Falls

Over in neighboring Cherokee, Mingo and Soco Falls are two that can't be missed. Mingo Falls, whose name translates to Big Bear in Cherokee, is one of the tallest in the Southern Appalachian region at 120 majestic feet, a sight that's sure to leave you in awe. Soco Falls, another popular waterway in the Cherokee region, is located 11 miles east of Cherokee and just off the Blue Ridge Parkway. This natural wonder is best known for its dual cascades, which can be seen from a safe viewing platform accessed via a small road pull-off that's less than two miles from the Parkway.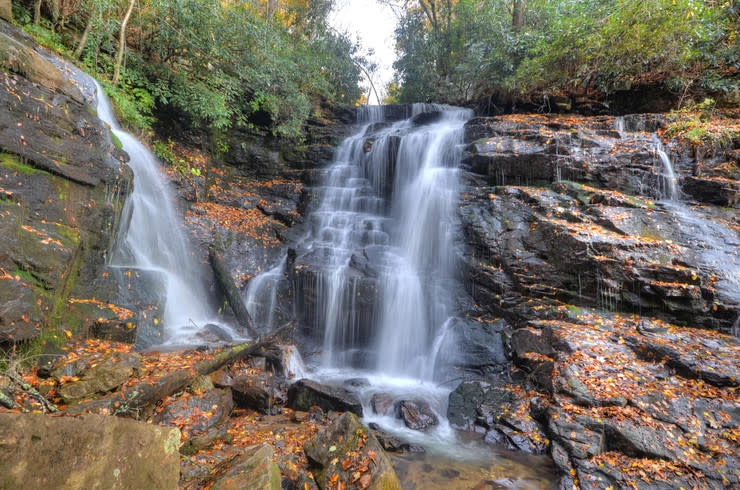 Soco Falls
It's Time to Take a Drive: Our Furthest Falls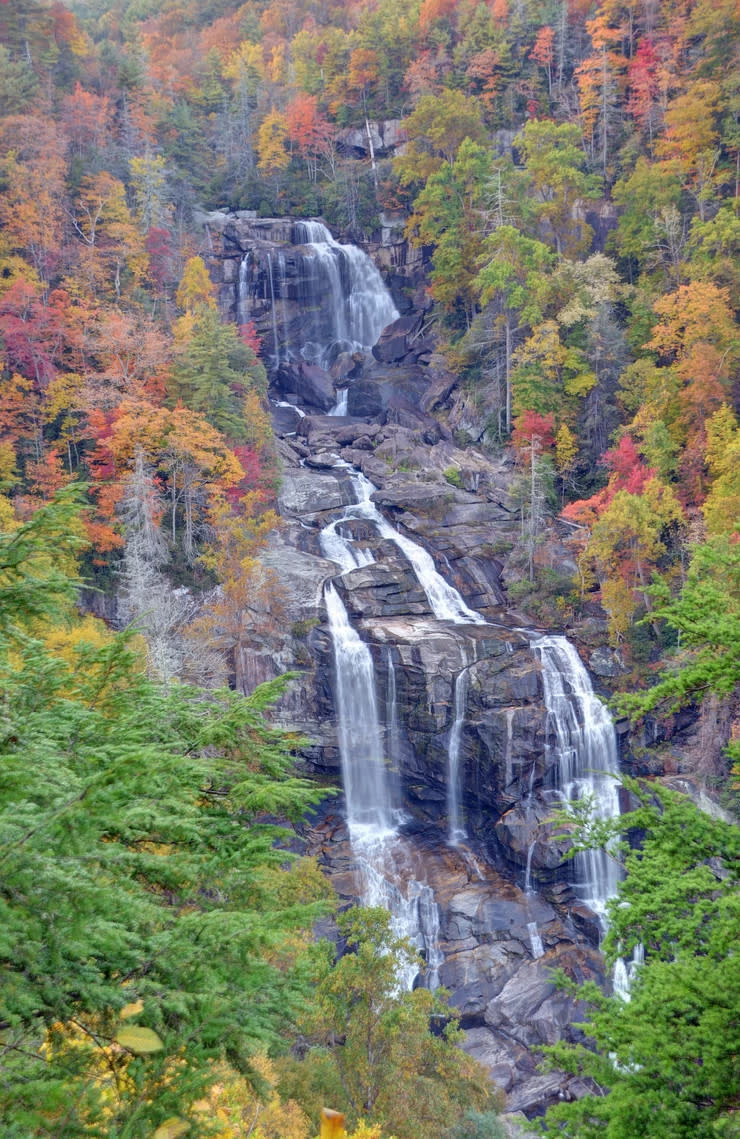 Whitewater Falls

Visiting our final five falls comes with beautiful, scenic drives along US 64, and deeper into the Great Smoky Mountains and western North Carolina. In the nearby Cashiers area, off of NC-107, you'll find Whitewater and Silver Run Falls, both of which are just over an hour outside of Bryson City. Whitewater's height is its biggest claim to fame, towering at 411 impressive feet. Silver Run is an easy-to-visit fall, located just off NC-107. This 30-foot fall empties into a sparkling, clear pool of fresh mountain water.

 
Silver Run Falls

Cullasaja, Bridal Veil, Glen, Lower Satulah and Dry Falls are all close to an hour outside of Bryson City in the Highlands area of western North Carolina. Bridal Veil and Dry Falls, located just a mile or so apart in the Cullasaja Gorge, both have walking trails that allow you to walk behind these towering cascades. Also located in the Gorge, Cullasaja Falls measures 250-feet and is easily viewable from your car, or you can trek down a short and sweet .2-mile trail to see it on foot.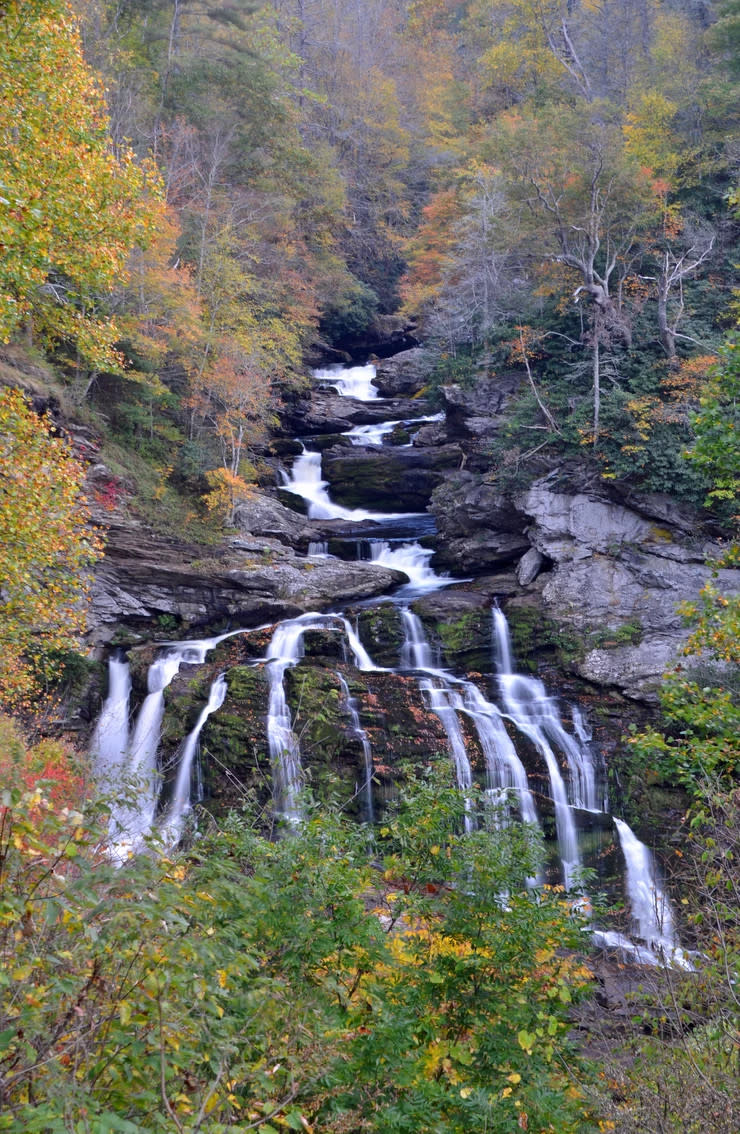 Cullasaja Falls

 

Lower Satulah is a high, yet narrow fall, which allows the surrounding forest scenery to play a standout role. For best views of the fall specifically, the best time to view is the winter months. However, to enjoy the lushness of the area, visit in the spring, summer and fall months, when the trees are alive with vibrant seasonal colors.

 

Glen Falls consists of three rushing cascades found up a winding, yet moderate downhill trail that totals a 2-miles round trip. The tallest of these free, the first along the trail, sits at 70 feet, with the middle cascade measuring at 60 feet and the final fall at 15 feet. Observation decks are available at the first and middle falls, and, when water levels are lower, you can also view the falls from atop the nearby rocks.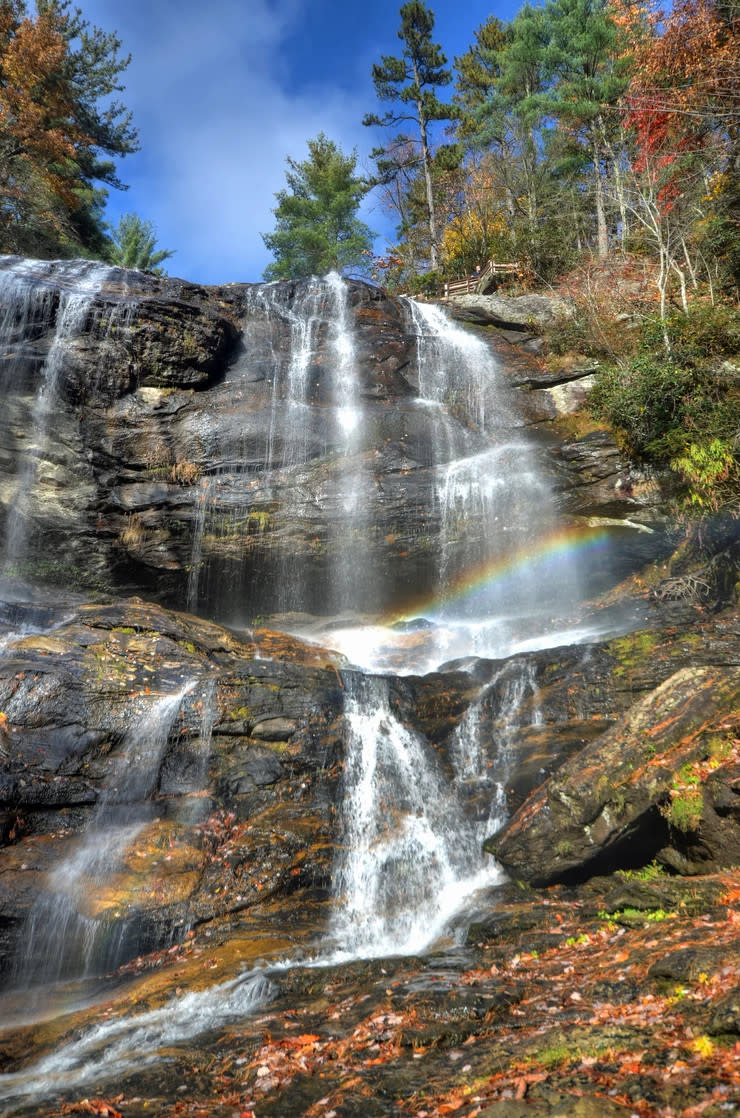 Glen Falls

 

Big Laurel Falls, the final one on our comprehensive deep dive, can be found in the Franklin area of North Carolina, more than 50 miles outside of Bryson City and close to the state line bordering Georgia. One of the easiest waterfall hikes in the greater region, this fall lies at the center of a 1.1-mile roundtrip trek through the lush wilderness, winding you through natural wonder on your way to Big Laurel.

 

With so many falls to explore, you can make a full day's trip out of this adventure, or center your whole getaway around traveling to these beautiful cascades. Whether wanting to stick to Bryson City and explore the Deep Creek falls right in our backyard, or trek down the highway to see some stunners, our mountains are overflowing with opportunities to soak in scenic wonder. "Water" you waiting for? Plan your Bryson City getaway today!