We have heard time and time again that the perfect cure for the "summer blues" is some time outdoors, but how healing can simply 'going outside' be? According to The National Library of Medicine, truly immersing yourself in a forest has proven to decrease your blood pressure, heart rate, anxiety, anger and depression, leading you to feel significantly more at ease. These studies have given light to new ways to explore and enjoy the outdoors, like forest therapy.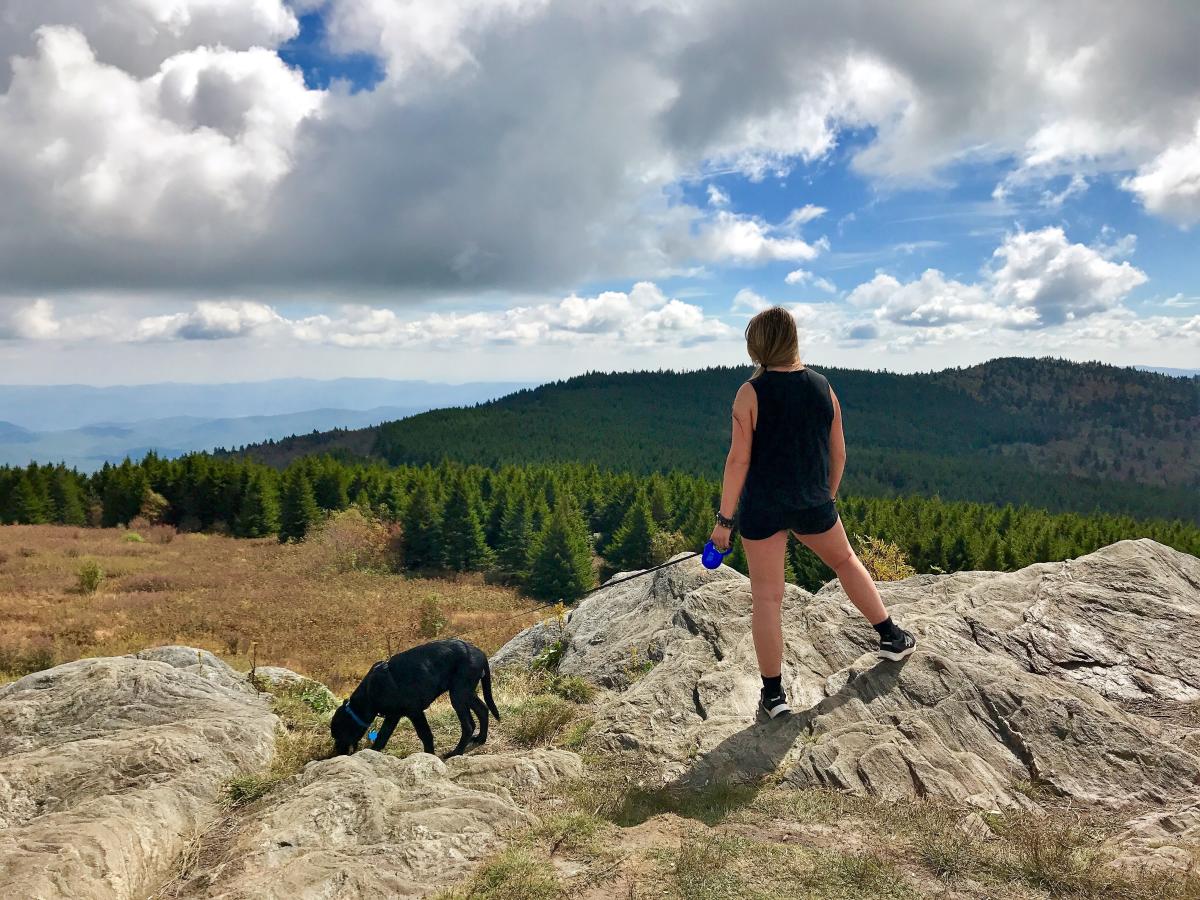 The recommended length of time for the relaxation effect of forest therapy to receive the benefits is three to five days - the perfect amount of time for a Bryson City vacation! Read on to discover ways to practice forest therapy in Bryson City's backyard:
Feel Your Stress Melt Away at the Soaking Tubs at Lakeview Fontana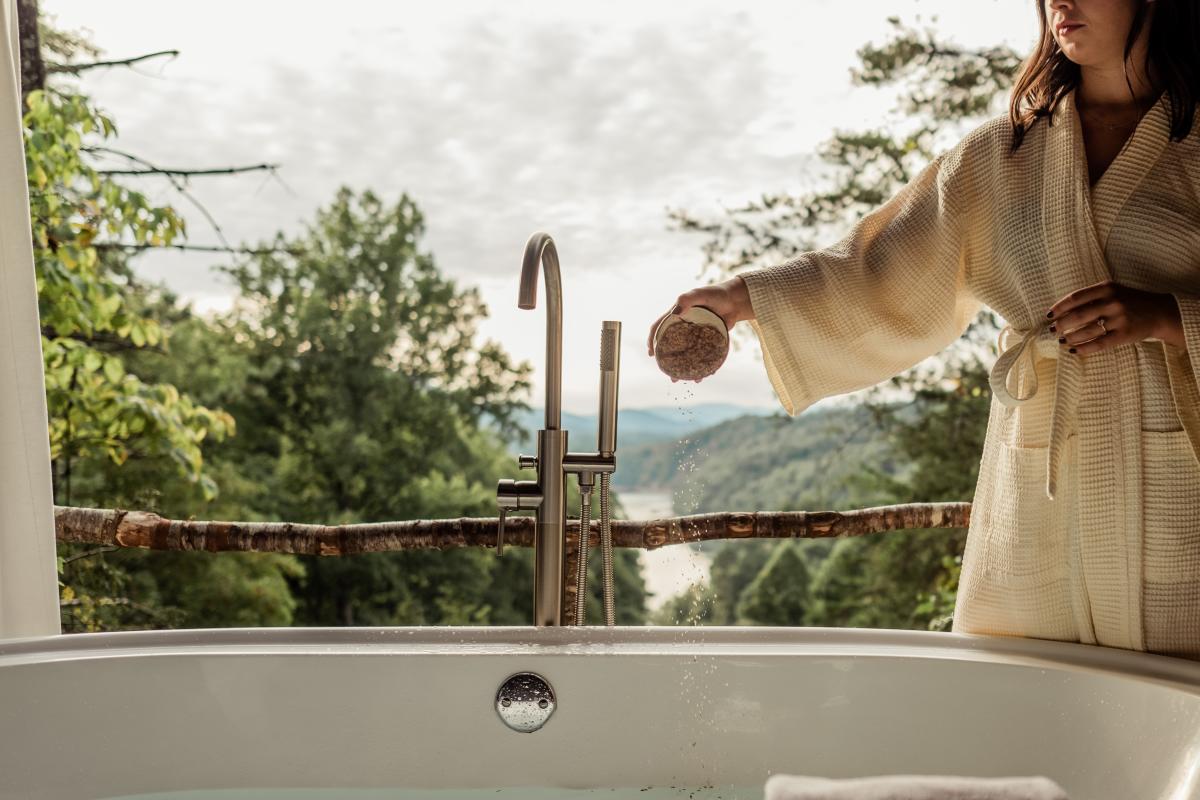 Ready for the best of both worlds? The Treetop Soaking Cabanas at Lakeview at Fontana Resort & Spa offer the perfect spot for pure relaxation. Indulge in double therapy by hiking to this mountaintop spa, then soaking away with a view of the Smoky Mountains. Immerse yourself in the forest, then admire its beauty from above for an endless day of therapy.
Ease Your Mind with the Sound of Rustling Leaves at the Joyce Kilmer Memorial Forest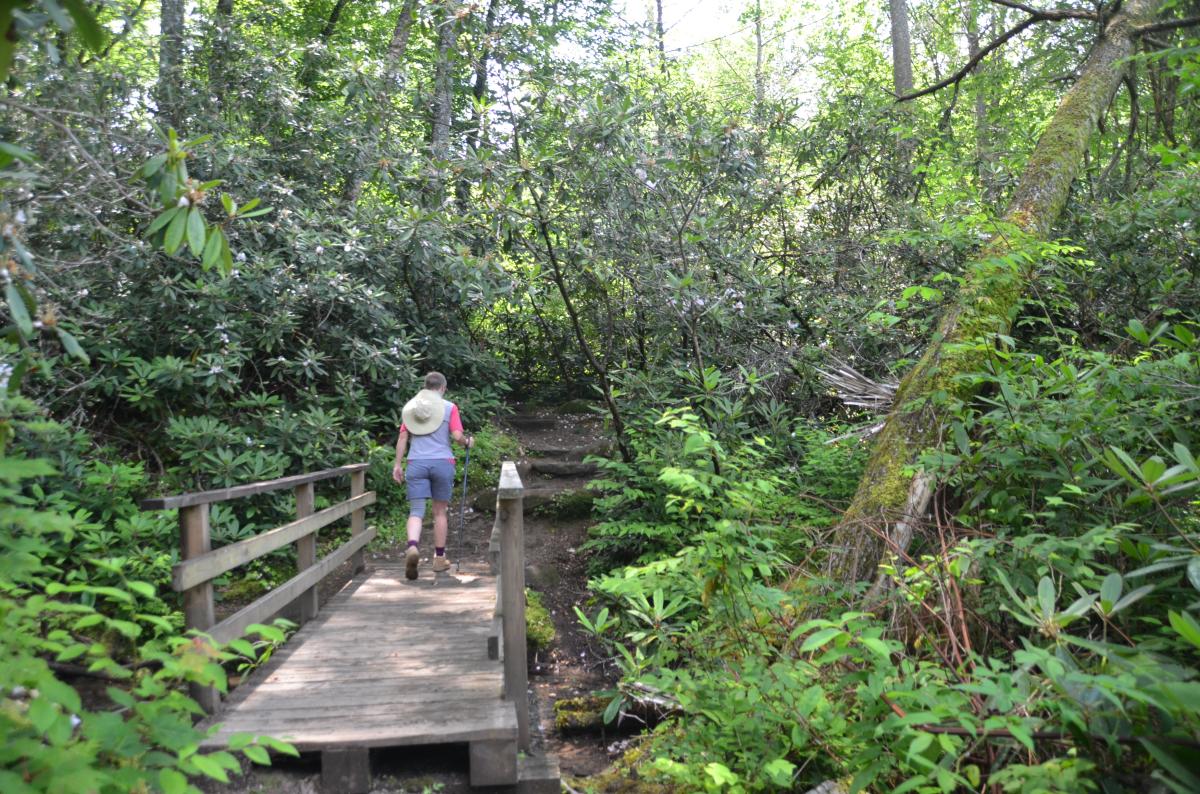 Forest therapy is done best in a quiet place with few distractions - this makes Joyce Kilmer Memorial Forest an ideal spot to practice. It can only be explored on foot and lets in a uniquely limited amount of light because of its compact trees and plants. Not only is this forest quiet, it is historical as well. The forest was named in 1936 to remember author Joyce Kilmer, who died in action during World War I. He wrote in the most relaxing writing form, a poem titled "Trees," which we recommend reading before your adventure here.
Even the trees themselves are historical with more than 100 species living here, the oldest being 450 years old. Two miles of trail offer an extended therapy session: a 1.25-mile loop to pass the Joyce Kilmer Memorial Plaque and a 0.75-mile upper look to see Poplar Cove. Relax and reset in this grove of the forest's largest trees. The abundance of oxygen from these ancient giants is sure to leave you with the clearest mind. Furry friends are welcome in this natural spa too.
Exploring the National Park - A Therapy Session that Goes on for Miles
Christine Hoyer is a certified Nature and Forest Therapy Guide who leads guided walks in the Great Smoky Mountain National Park. She loves The Smokies specifically for its diverse therapeutic resources such as tree species, waterfalls, wild animals and flowers, creeks, and lakes. The Smokies have more than a half-million acres for the perfect forest therapy experience. As Hoyer says, the Smokies themselves are your studio. Bryson City offers five entrances to the Great Smoky Mountains National Park, giving you unprecedented, quiet access to towering trees, babbling creeks and awe-inspiring cascades.
Your therapy session starts inside the National Park but reaches new heights of 6,634 feet at Clingmans Dome. Breathe in and breathe out when you reach the top at the observation tower overlooking miles of forest.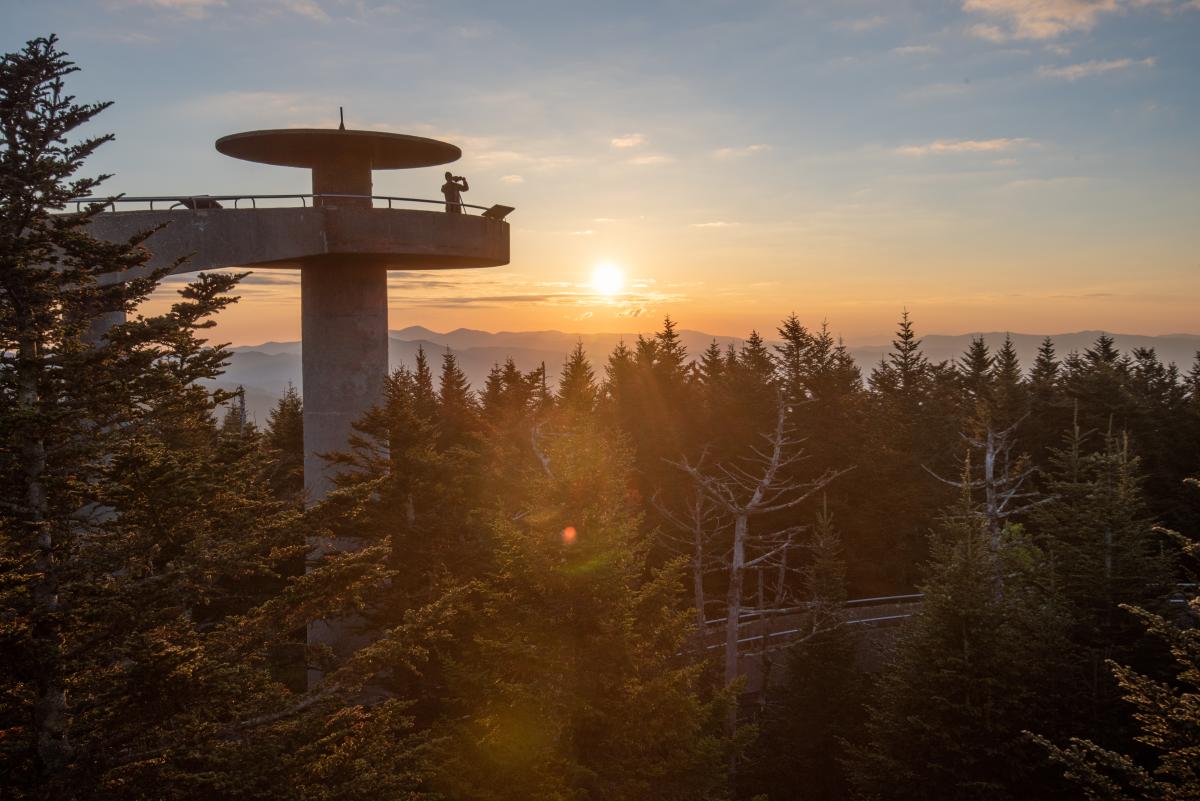 Incorporate more of nature's elements with water attractions to add a refresh to your relaxation. At Deep Creek, you'll hear the peaceful rushing of three different waterfalls - Tom Branch, Juney Whank and Indian Creek. The surrounding flora and fauna add to Deep Creek's overall ambiance, seculding you from the busy world around.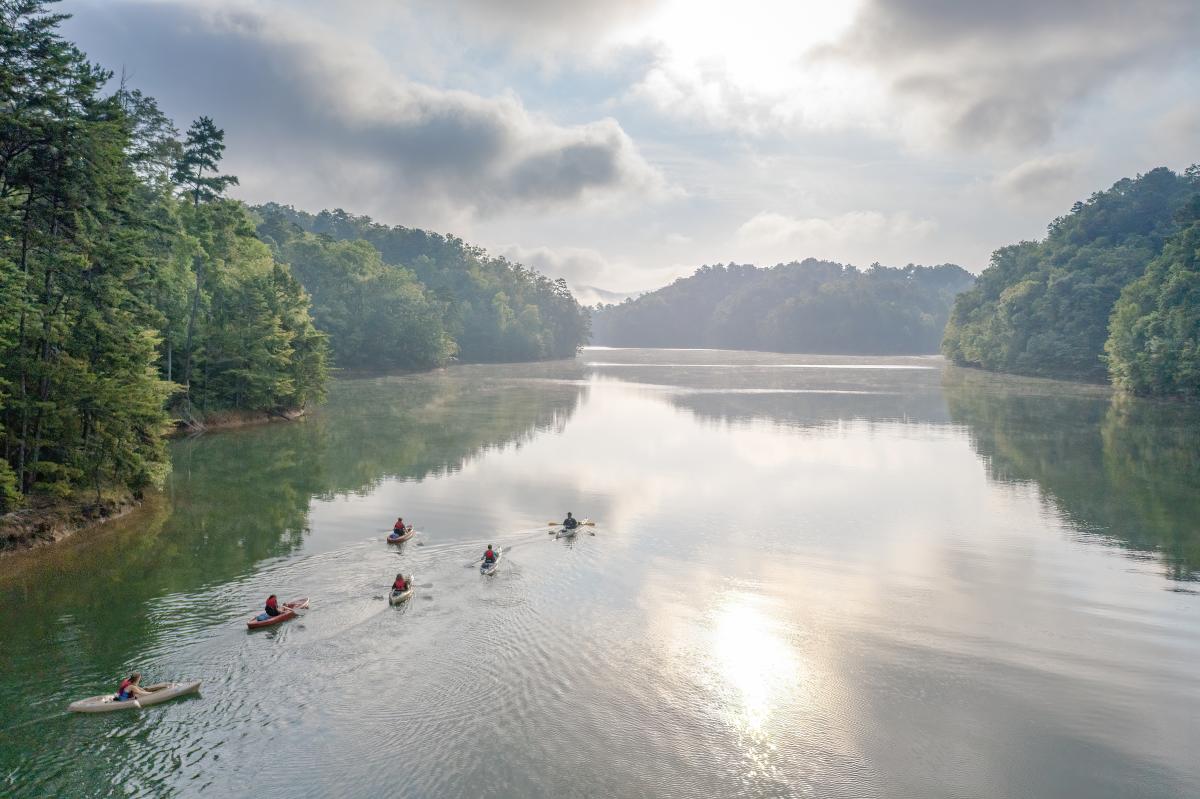 Feast your eyes and mind on the crystal blue, sparkling waters of Fontana Lake. At 29 miles long and with 240 miles of shoreline, Fontana Lake offers the remote solitude your forest therapy desires. During your journey along Fontana Lake you'll discover the North Shore, filled with remote historic and hiking areas that are only accessible via watercraft or on foot. Hazel Creek is one of these historic locations, filled with nature's swimming friends. Peace and serenity lie in the sparkling waters of the Great Smoky Mountain National Park.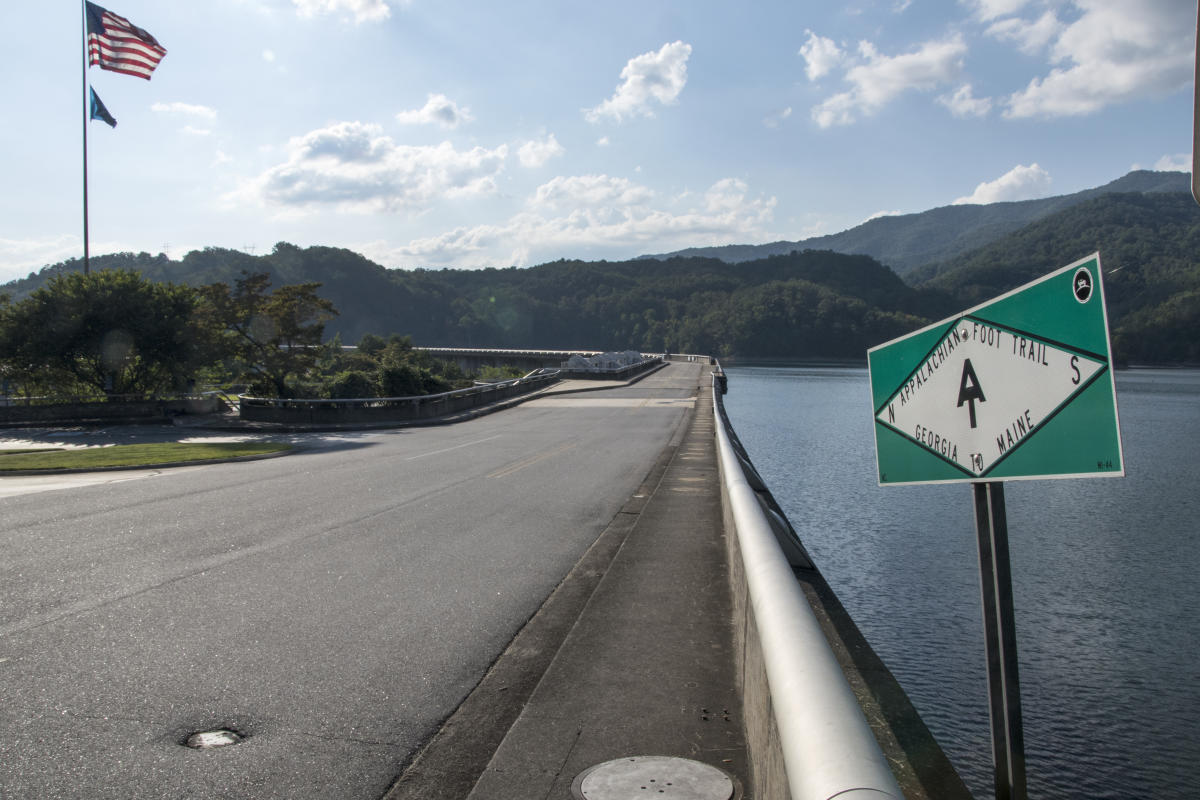 Need more quiet? More remote areas are accessible beyond Fontana Dam and along the Appalachian Trail. Find peace on top of the dam's surface with sweeping views of the untouched natural landscape.
Combining a vacation with therapy is no longer impossible with the Forest Therapy options in Bryson City. Start planning your therapeutic outdoor vacation now: https://www.explorebrysoncity.com/plan-your-visit/. It's what the doctor ordered!