Bryson City, North Carolina has long been a favorite destination for couples. Whether it's a chill weekend with your favorite plus one in a remote cabin or an active nature-based getaway, Bryson City hits the spot. Experience a new place together and turn the heat on your romance way up. So pour yourself a glass of your favorite wine, sit back, and enjoy this list while you plan your next romantic getaway
Find a Cozy Cabin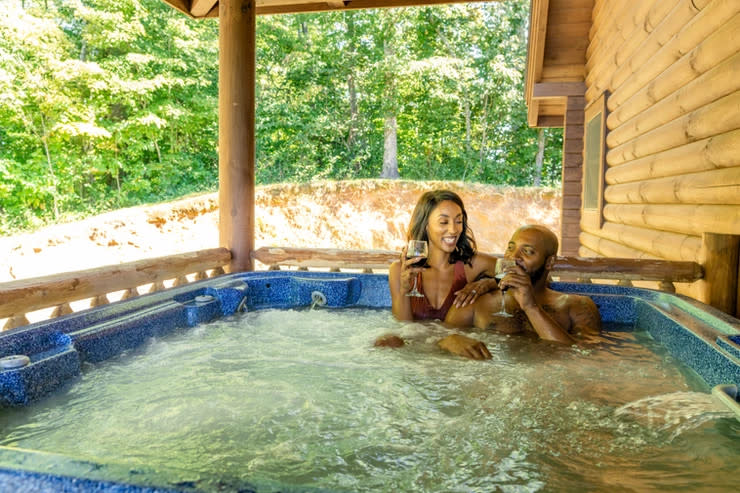 If you want to escape the hustle and bustle of everyday life, find a cozy cabin with Smoky Mountain vibes. Idyllic surroundings can range from forest or mountain views, hot tubs, fireplaces or fire pits, full kitchens so you can cook your own means, and the ambiance to make you feel right at home. Check out these Airbnb listings in Bryson City.
Indulge in a Spa Treatment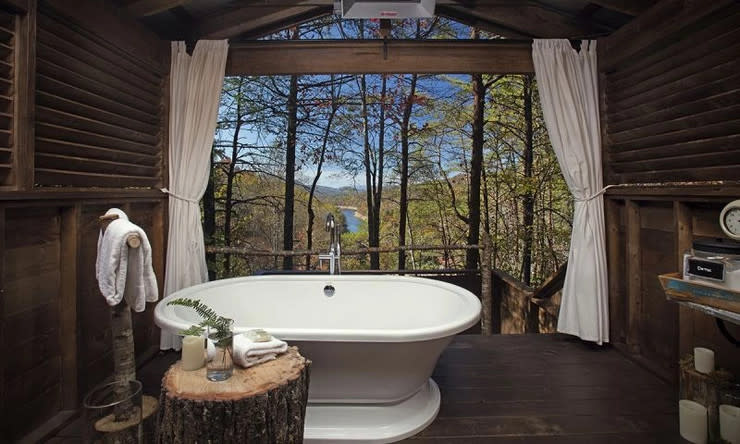 Treat your relationship to a pampering spa experience that the two of you can enjoy together; it makes for equal parts romance and self-care. Lakeview at Fontana's Tree Top Soaking Cabanas open for the 2023 season on March 31, and are available to book online. You don't have to stay at the inn to book the cabanas. The inn is generally open from April through November, when they also have other spa and massage options available.
Renewal Massage Therapy will come directly to you.
Catch a Sunset in the Smokies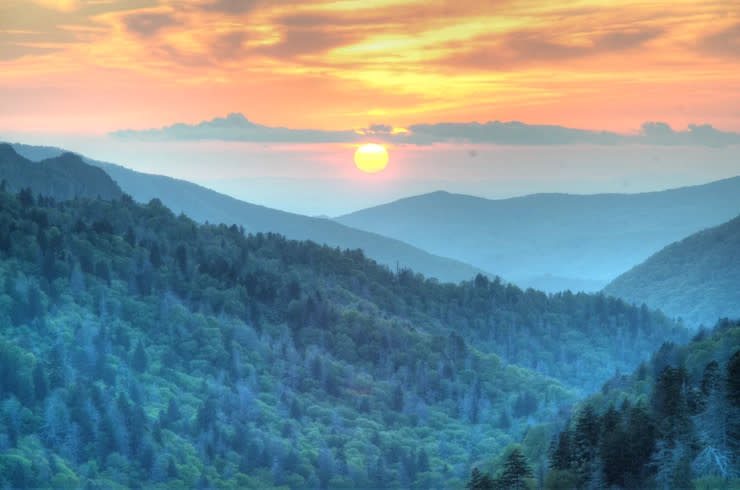 Our top 5 places to go to watch the sunset with someone special.
When planning to visit one of these sunset locations, plan to arrive at least one hour ahead of the time of sunset, especially on weekends or during the peak tourist seasons. Parking spots and prime viewing locations fill up quickly. Also, check for road conditions during the winter season:
Great Smoky Mountains National Park
Take a Hike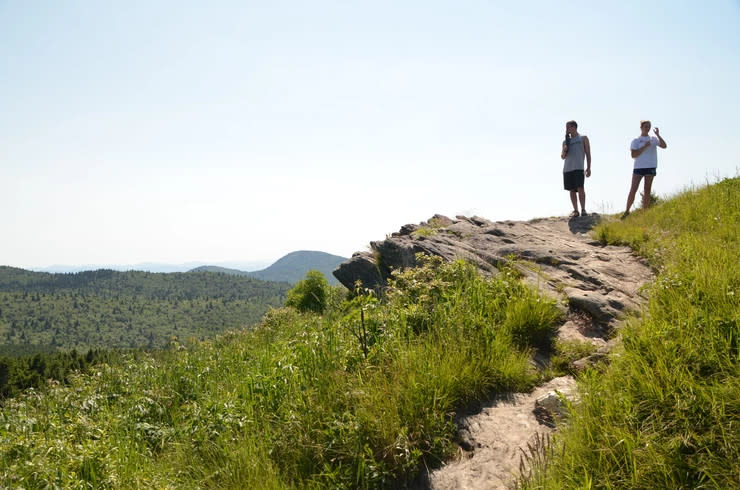 There's no better way to spend a couple's getaway than getting the endorphins going and working up a sweat. Pack a picnic lunch and head for these trails. We've pulled together the most romantic hikes we could find to make sure your trek is truly breathtaking.
Stroll our Shops, Restaurants, and Breweries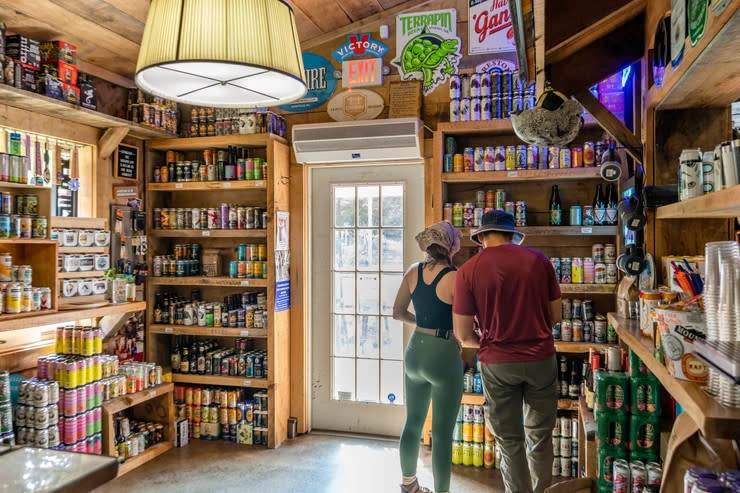 Whether you're looking for a unique gift, a good Southern meal, a brew pub with regional beers, or just a great place to people watch, you'll definitely want to visit downtown Bryson City.
Take a Scenic Train Excursion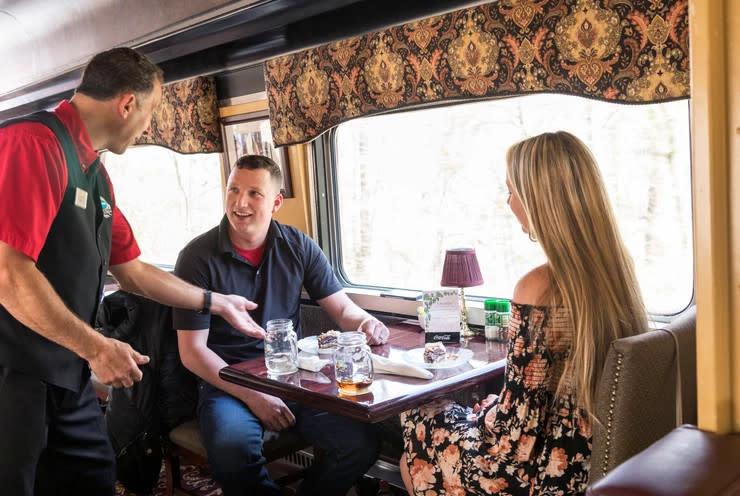 Take an unforgettable rail excursion through the Smokies with some of the most stunning views in the country. The Great Smoky Mountain Railroad departs from downtown Bryson City and offers two excursions. For an extra touch of romance, hop on board the Carolina Shine Moonshine Experience, the All-Adult First Class Moonshine Car! Or try the Uncorked Wine Excursion. This unique rail line and wine experience will fuse the adventure of railroading with the love of good wine and good company.
Take A Scenic Drive Along the Blue Ridge Parkway
Spend some quality time together discovering the best of what the Great Smoky Mountains has to offer. Nothing brings two people together quite like discovering America's favorite drive – the Blue Ridge Parkway. You'll find easy access at the Cherokee entrance to the Great Smoky Mountains National Park, mile marker 469. Travel to Waterrock Knob at mile marker 451 for gorgeous views with picnic tables and a short trail. One of our favorite sunset spots is at Cowee Mountain Overlook, mile marker 430.7.
Check for weather related closures, especially in the winter along the Blue Ridge Parkway
Lake Adventures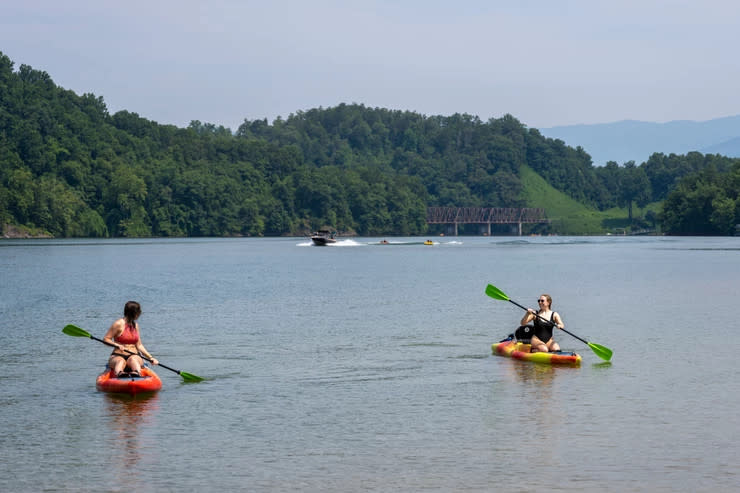 Fontana Lake is one of the most pristine and remote lakes in the country, and borders the Great Smoky Mountains National Park. In the summer months, take a lake kayak or paddleboard adventure. Rentals are available at Bryson City Outdoors (Memorial Day through Labor Day). Or catch a sunset cruise with Fontana Guides. (March through early Nov.) or Sunny Day Adventure Company.
Avoid absolutely cramming your itinerary. Nothing makes a trip less romantic than being exhausted. Give yourself breathing room to explore, wander, and linger. You might stumble upon the dreamiest corner bakery, or stunning mountain views along the way. Whether it's a summer trip or a winter break, you can find what you're looking for here in Bryson City.