Bryson City's miles of expansive natural wonderlands are home to some of the most romantic places you can imagine. With wondrous waterfalls cascading around you and towering trees stretching as far as the eye can see, or even our charming downtown when it's twinkling under Christmas lights, it's a special place to spend time with that special person you're ready to spend forever with. If you're ready to get down on one knee, we know exactly where to pop the question and get that coveted "yes!" Many of these spots are perfect for a small elopement ceremony. If you're considering any elopement location within the National Park, you'll need to apply for a special use permit.
Make the Moment Special at Deep Creek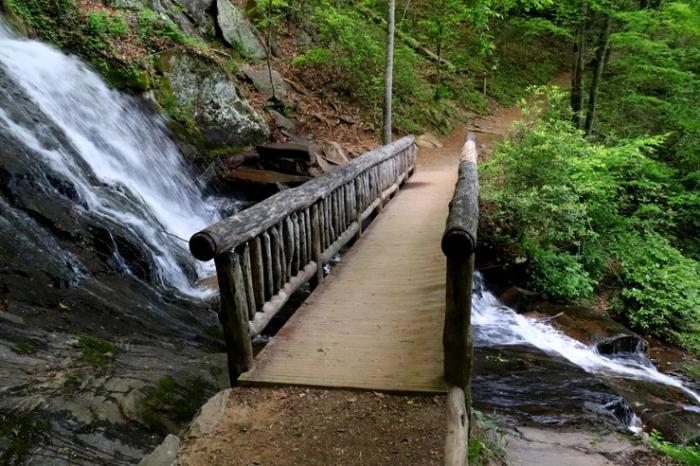 We would be remiss to not suggest one of our favorite areas as one of our top spots for a scenic proposal. Conveniently located just a few miles from downtown Bryson City, Deep Creek is home to three waterfalls, all easily accessible via an easy 2.4-mile hike aptly named the Waterfall Loop. The first fall you will come across, following a slightly steep .3-mile hike, is Juney Whank Falls. This 90-foot cascade has a bridge spanning its width, allowing for ample views of the whole waterfall - also a wonderful place to say "I do!"
If you don't want to worry about a steep hike, you can venture to the next stop on the loop - Tom Branch Falls. This is one of Bryson City's most photographed spots, with bright green hues surrounding the cascade in the summer months and colorful fall foliage dotting it in autumn. You can't go wrong with this backdrop no matter the season. Tom Branch also offers benches for soaking in the big, romantic moment.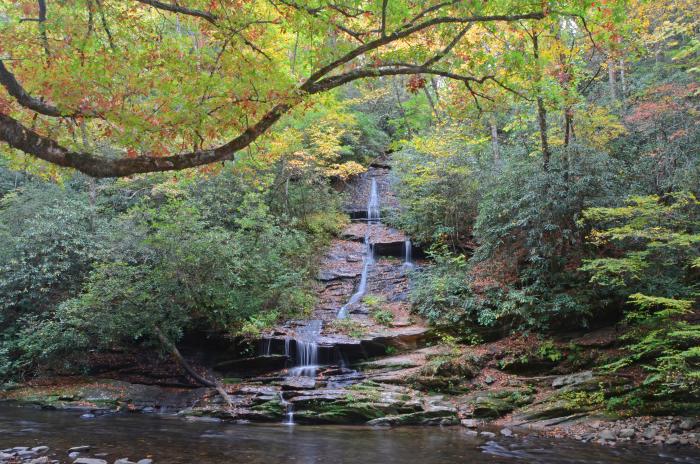 The final cascade that you will reach on the Waterfall Loop is Indian Creek Falls. Though it's Deep Creek's smallest at 25 feet, it's no less majestic. If you are looking for a special place to kneel down on one knee at Indian Creek, you can walk further down the trail and experience the falls up close and personal at its base - the perfect spot for every nature lover.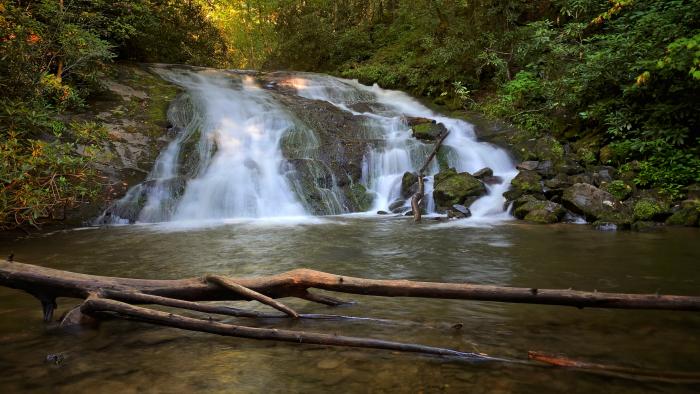 For a more private proposal, we recommend getting down on one knee in the spring and winter months. Our fall foliage can't be missed in the autumn months, and we are not the only ones who say so! It is one of our busiest times of the year as people flock to see the changing leaves. Summer also brings in happy visitors to the area, as Deep Creek is our most popular spot for tubing.
Make it a "Peak" Proposal at Clingmans Dome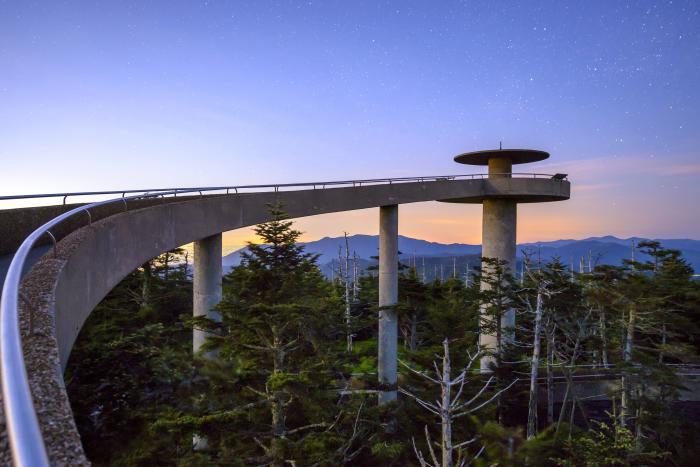 To get sensational 360-degree views as your proposal backdrop, look no further than Clingman's Dome. At 6,634 feet, this observation tower is the highest point in the Smoky Mountains. With views spanning over 100 miles on a clear, sunny day, you and your loved one will truly feel on top of the world. Open 24/7, Clingman's Dome is perfect for a proposal showered in sunshine or bathed in starlight. However, make sure to dress and plan appropriately! Due to its higher elevation, the weather can feel up to 20 degrees cooler than the rest of Bryson City. Additionally, if you are planning to propose between Dec. 1 and March 31, check out our other favorite spots as the road to the dome is closed during those colder winter months. For a more private proposal, we recommend visiting the Dome earlier or later in the day, as the observation tower is a popular spot for visitors.
Choose Your Perfect Spot Along the Road to Nowhere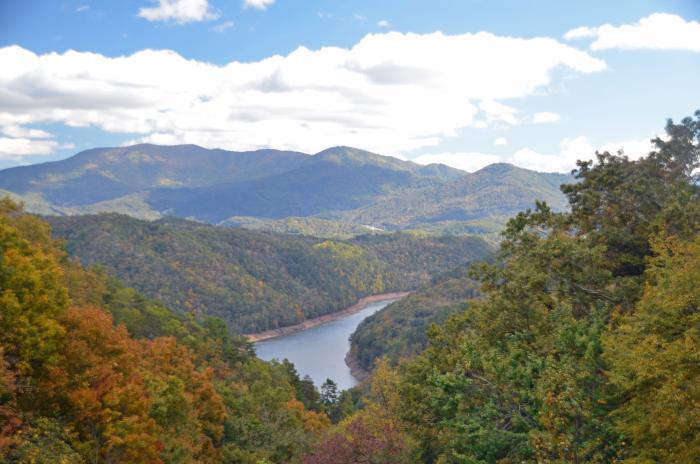 Can't decide between a secluded wooded wonder or a sweeping overlook? Head to the Road to Nowhere, where you'll find the best of both worlds. Located not too far away from downtown and filled with history and scenery, this spot can become significant to your trip in more ways than one. The half-mile tunnel at the end of the road acts as the perfect spot for any surprise proposal photos being taken, especially in the summer and fall months when vibrant greens and oranges surround the tunnel's entrance. As you drive up to the road's end, you'll also come across several spots to pull off and peer over the trees and Fontana Lake below. It's a wonderful way to enjoy our natural scenery, and help you take that first step towards wedded bliss.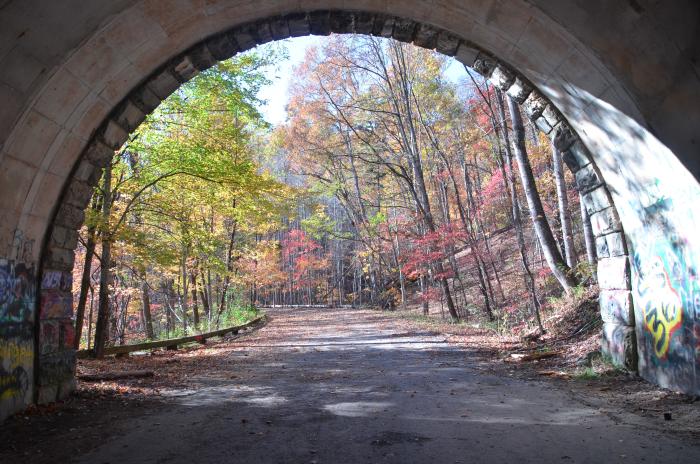 If you're a couple with a flair for outdoor adventure, the Road to Nowhere has you covered, too. Various hikes await you here, such as Noland Creek Trail and the Goldmine Loop Trail, but be warned that these are considered a couple of the more strenuous hikes Bryson City has to offer so plan accordingly! Due to their strenuous nature, taking even a short walk on these trails gives you a chance for a more secluded proposal. The Road to Nowhere tunnel and overlooks on the drive-up can often be a popular spot for other visitors to explore.
Take the Scenic Route on the Blue Ridge Parkway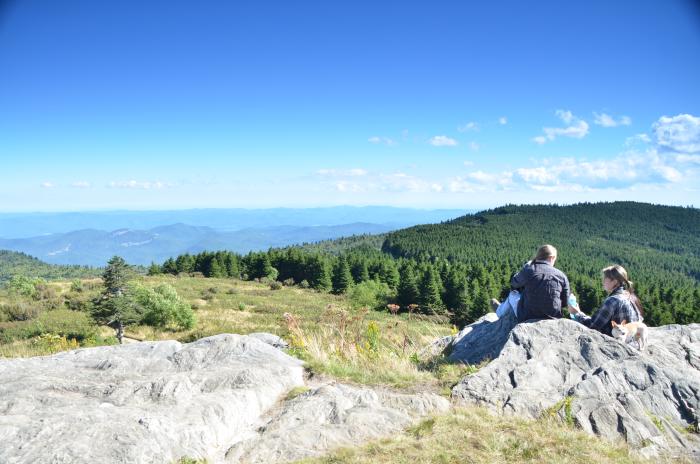 The Blue Ridge Parkway is known as "America's Favorite Drive" for a good reason. Everywhere you look along this majestic road, which stretches from Cherokee, North Carolina to Virginia, pull-off spots and overlooks entice you with rolling mountainsides stretching as far as the eye can see. It's impossible to pick a bad spot to stop and pop that ever-important question. We've narrowed down a few of our favorites, though, to help make your decision a little easier.
Black Balsam Knob is located at milepost 420.2  and a one mile hike on the Art Loeb Trail reveals a grassy, wildflower-covered mountain with 360-degree spectacular vistas. Another great spot is Waterrock Knob at milepost 451.2. From here, you can see the parkway itself twist and turn through the mountains. Not that you'll need it, but you can also add a little adrenaline to your big day by driving to Devil's Courthouse at milepost 422.4, home to a short but strenuous hiking trail that leads to panoramic views.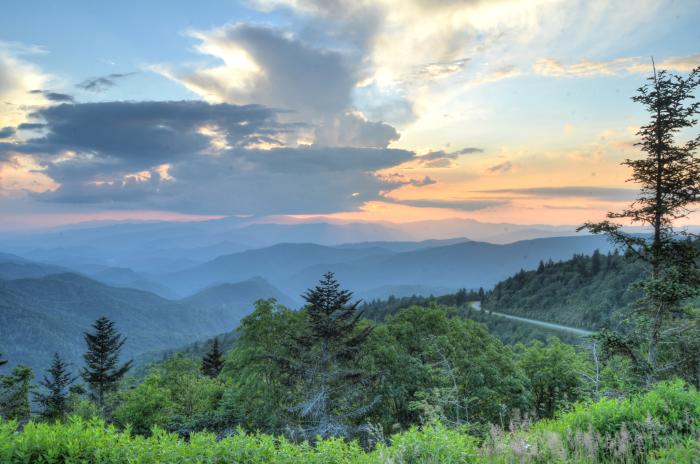 Another great way to propose along the Parkway is to simply drive to wherever the road calls you. Hop in with your future spouse-to-be and drive until you both see the vista you just can't miss. If you are planning a winter proposal, we recommend checking on road conditions before venturing out as the road regularly closes due to weather: https://www.blueridgeparkway.org/road-conditions/.
Cascade into Your Future at Nantahala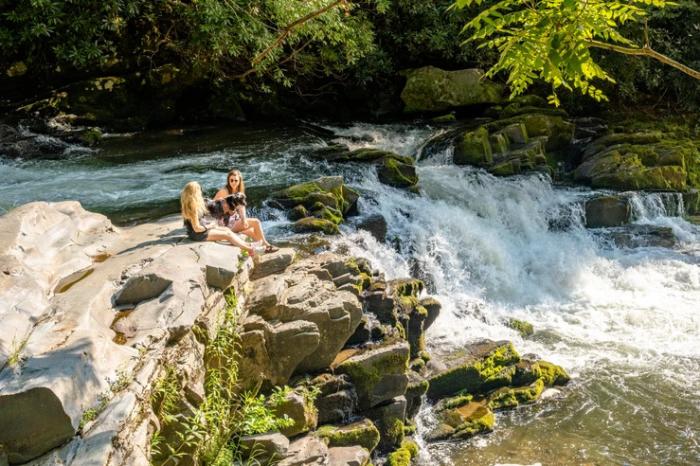 From beginning to end, your journey to propose at the Upper Nantahala Cascades will be nothing short of jaw-dropping. The drive up along the Nantahala Scenic Byway takes you along the roaring Nantahala River through the Gorge. Several picnic areas and pull-off spots line the road, offering a perfect place to relax and, in the warmer months, watch kayakers and white water rafters tame the river's swirls.
Further up, you'll reach the beautiful cascades, one of the few pet-friendly falls near Bryson City in case your furry friends want to come too! These swirling rapids are truly something magical to behold. Whether you are relaxing on the rocks after riding the rapids or viewing the cascades from a distance in your car, this spot is ideal for anyone looking for the perfect proposal spot.
Bonus: Give Your True Love the Greatest Gift in Hallmark's Best Christmas Town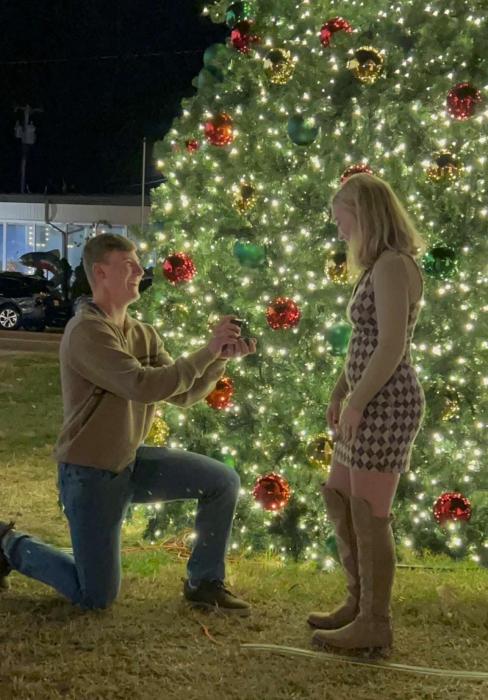 Nothing beats our downtown at Christmas. The ever-present charm gets gently turned up as our streets are lined with twinkling lights, festive window displays and towering trees. Make your holiday season extra magical by bringing your spouse-to-be to bask in Bryson City's Christmas beauty. Getting down on one knee in front of the trees outside of the Swain County Visitors Center and Heritage Museum, overlooking the Tuckaseegee River or with the Great Smoky Mountains Railroad steam train as your backdrop will make your proposal feel as though it was plucked straight from a movie. It's a memorable way to make it your best Christmas ever.
Whether you are looking for secluded wilderness, towering mountainsides, sparkling waterfalls or the charm only a mountain town can bring, Bryson City is a perfect place to give your love that special ring. No matter where you choose to pop the question, even if it's from the balcony of your cabin or the cozy confines of a tent or RV, you'll make a special memory that will begin a lifetime of happiness. Plan your romantic getaway, here: https://www.explorebrysoncity.com/plan-your-visit or sign up for our newsletter.
Serene and picturesque, the mountains of Bryson City, NC, are the perfect backdrop for you and your loved one to say, "I do".