Though mountain biking may have its roots out west, nothing quite compares to the rugged adventure that awaits in the Great Smoky Mountains. Lined with cliffs, plateaus, creeks and unique rock formations, every ride on a Smokies trail is as exhilarating as it is scenic. From bike rental spots to trail guides, we have your full overview of everything mountain biking in Bryson City. Grab your helmet and let's ride!
Where to Rent Bikes
As the Outdoor Adventure Capital of the Great Smoky Mountains, we wouldn't be doing our jobs if we didn't make sure you were equipped with everything you needed to explore. That includes bike rentals! Here are a few great places to grab some wheels:
Tsali Cycles Bike Shop and Tap Room: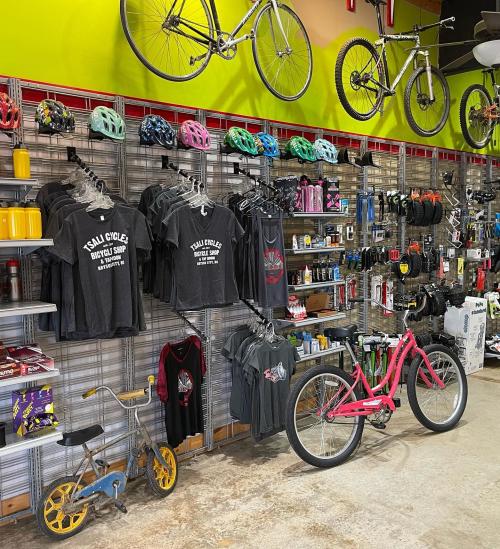 Located near the heart of downtown Bryson City, Tsali is a staple among cycling enthusiasts. The full-service bike shop can repair your broken wheels, rent you a sweet bike for your adventures and serve you a cold beer. Picnic tables also offer a great place to camp out for a bit and enjoy a quick bite picked up from one of our local restaurants.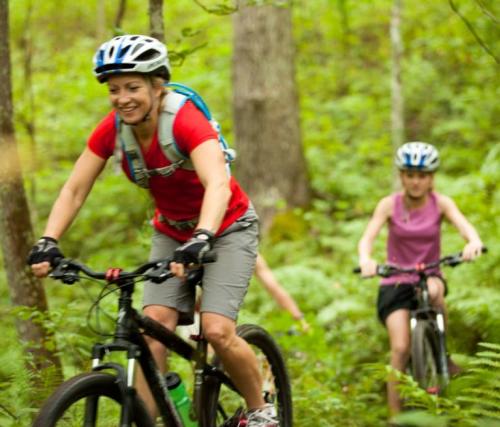 In addition to being a hub for whitewater rafters, the Nantahala Outdoor Center also offers exceptional bike rentals for those wanting to tackle the trails near the Nantahala Gorge, including the Flint Ridge Trail. Rent your wheels, take them for a spin and come back to enjoy all that this sprawling summer camp-like campus has to offer.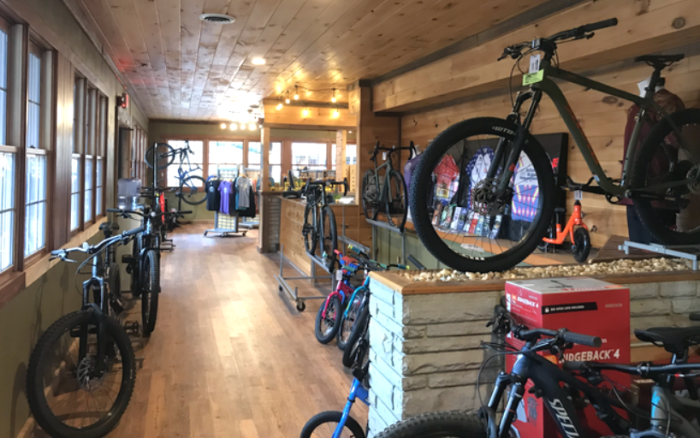 Located in Cherokee NC, Fire Mountain Outpost is planning a scheduled opening date in April 2023. Exciting options including mountain bike rentals, new bikes for sale, and plenty of outdoor gear for your biking or hiking adventures.
Where to Ride
Now that you've got your wheels, it's time to fly through the mountains. There is an abundance of designated mountain biking trail areas in and near Bryson City. Many can be explored through guided tours for those wanting an experienced rider at the helm, though all promise to be a wild adventure no matter how you ride.
Tsali Recreation Area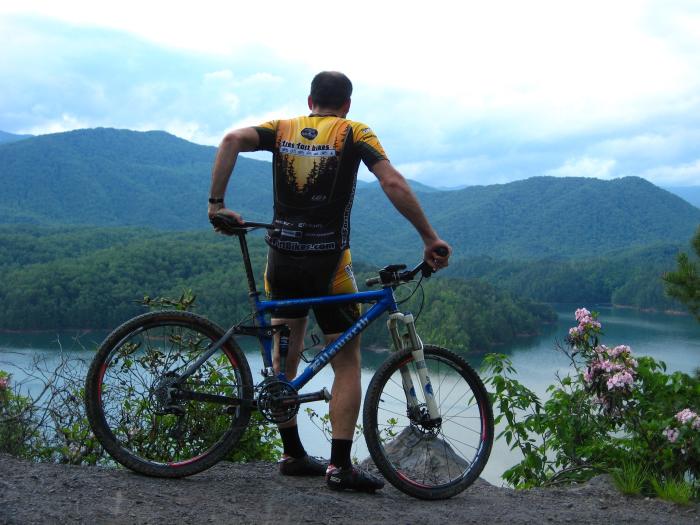 One of the most well-known mountain biking spots near Bryson City by far is the Tsali Recreation Area. Considered a top biking destination in the Southeast and one of the top 10 places to ride in the entire country, Tsali consists of four loops that total more than 40 miles of trails. Here, you can ride through a twisting labyrinth of trails that take you through trees and up to the edge of sprawling Fontana Lake, tackling trails that match your skill level.
The shortest loop is the Thompson Loop, stretching 7.3 miles across a moderately difficult single track. Mouse Branch levels up the experience with its 8.7-mile length, leading you down old logging roads from a Bryson City of a bygone age. The Right Loop, spanning 13.9 miles, consists of several smaller loops, taking you around beautiful towering trees. The Left Loop, ideal for those wanting Fontana Lake views, runs for 11.9 moderately difficult miles.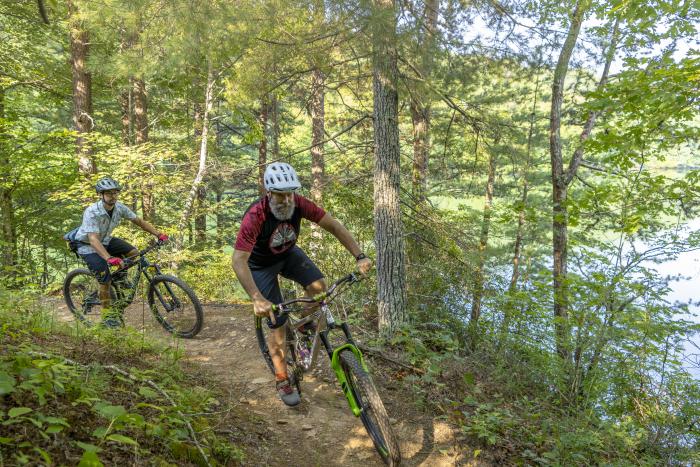 Tsali is also a popular spot for horseback riding. To accommodate both styles of rider, a trail schedule is in place, keeping horses and bikes separate. The schedule is as follows:
Jan./Feb./March/April/June/Sept./Nov./Dec.
May/July/August/October

Right Loop and Left Loop:

Horses – Tuesday, Thursday, & Saturday
Mountain Bikes –Monday, Wednesday, Friday & Sunday

Right Loop and Left Loop:

Horses – Monday, Wednesday, Friday, & Sunday
Mountain Bikes – Tuesday, Thursday, & Saturday

Mouse Branch and Thompson Loop:

Horses – Monday, Wednesday, Friday, & Sunday
Mountain Bikes – Tuesday, Thursday, & Saturday

Mouse Branch and Thompson Loop:

Horses – Tuesday, Thursday, & Saturday
Mountain Bikes – Monday, Wednesday, Friday, & Sunday
There is a per-person day-use fee for trail use. Fees can be paid at either the Tsali Bike or Horse Trailheads.
Fire Mountain Trails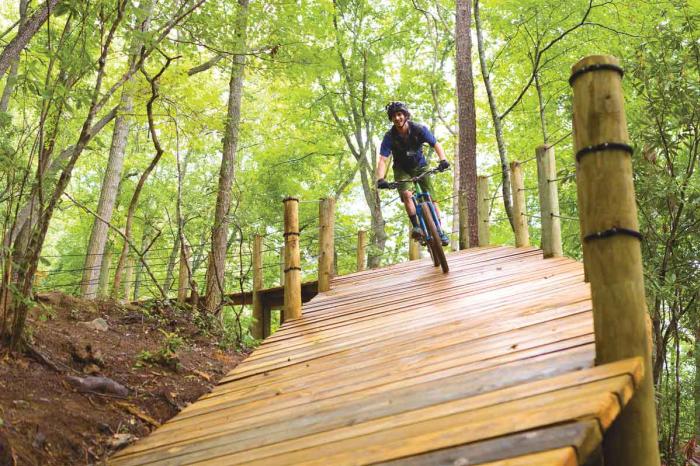 Located in Cherokee, the Fire Mountain Trails boast seven tracks covering 10 miles of multi-use trails with more to come. Perfect for beginners and experienced bikers alike, the Fire Mountain Trails are always open and free to use with entrances at the Oconaluftee Indian Village. These trails are full of fast fun, lined with berms, quick elevation hits, rock gardens and more, with both single-track and wider sections. Bryson City Outdoors, one of our favorite spots to grab any adventure gear in Bryson City, is opening up its second location just a stone's throw away from this thrilling mountain biking hot spot, too - the Fire Mountain Outpost. Soon, you'll be able to snag new helmets, pads, bikes - anything you might need - and immediately be able to hit the trails!
Nantahala Gorge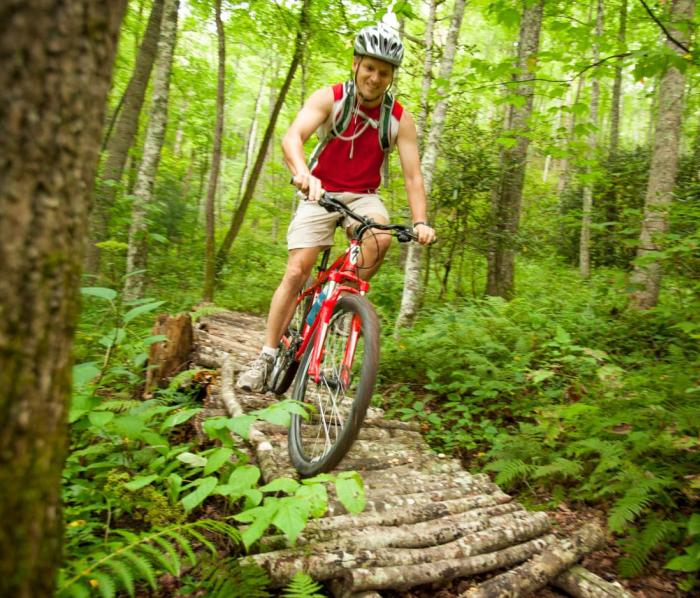 The Nantahala Gorge is an outdoor adventurer's dream, brimming with exhilarating opportunities to get your adrenaline pumping. With so much to offer, it's no surprise that great mountain biking is easy to find here. In fact, two biking areas in the Gorge are just a short drive from downtown Bryson City!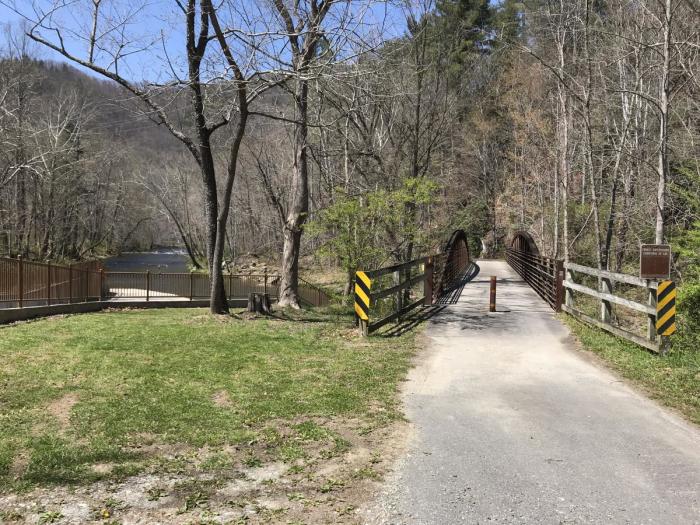 Those wanting an easy, breezy bike ride will love cycling down the 1.2-mile paved Nantahala Bikeway. Starting near the launch site for whitewater rafting excursions, the trail is also great for a scenic walk and is pet friendly..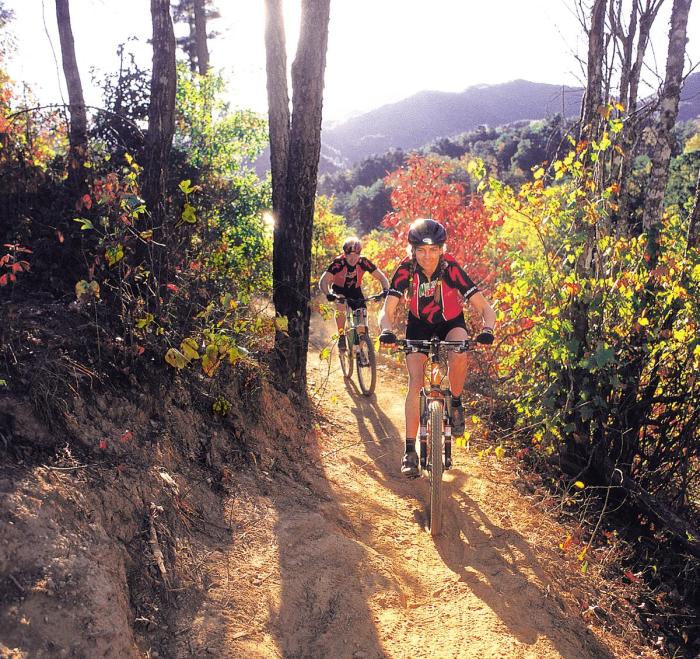 Flint Ridge Trail, which begins at the Nantahala Outdoor Center, is a 5-mile singletrack that's popular with cyclists looking for their next adventure after tackling Tsali. The first mile presents a fiercely fun challenge, with roughly nine switchbacks taking you up a steep include. Your journey to the top is rewarded with stunning views of the Nantahala River and, for the real thrill, a fast, steep downhill ride back. Though the trail is open to explore on your own, NOC offers guided tours of this area for those wanting an expert-led adventure.
Fontana Village Resort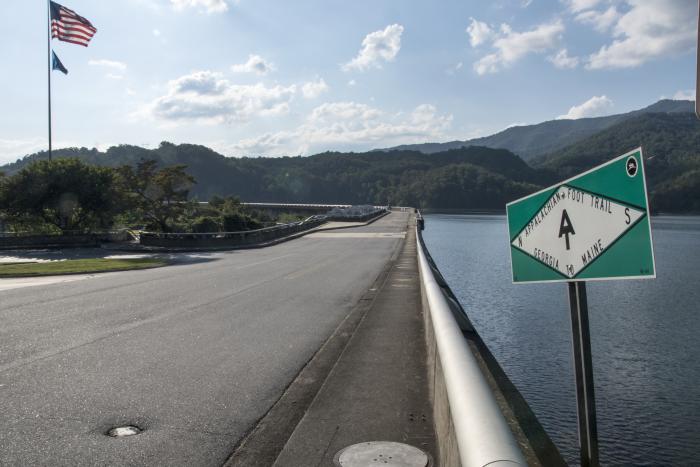 n addition to being a hotspot for every kind of water sport, Fontana Lake also boasts excellent mountain biking (and it's not just Tsali)! Fontana Village Resort maintains more than 20 miles of hiking and mountain biking trails that twist throughout the resort. Trails vary from casual, creek-side cycles to backcountry mountainous terrain. You can even access the Appalachian Trail by following these miles, which connect the Nantahala National Forest to the historic trek.
Oconaluftee River Trail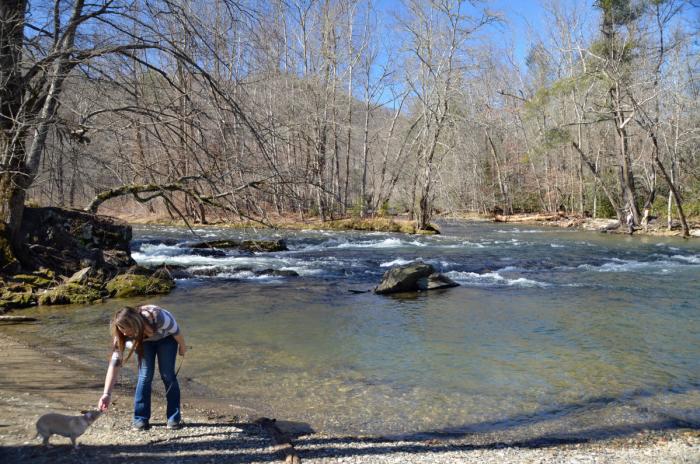 There are only two designated bike paths in the Great Smoky Mountains National Park, and one is not far from Bryson City. Also located up in Cherokee, the Oconaluftee River Trail starts at the Oconaluftee Visitors Center, also known to be a popular spot for elk-watching. The 1.5-mile trail leads one way out to Cherokee's outskirts, offering a relatively flat journey with a few small hills. Be mindful to remain at a safe distance from any elk or other wildlife you may see along this path!
Jackrabbit Mountain Bike Trail System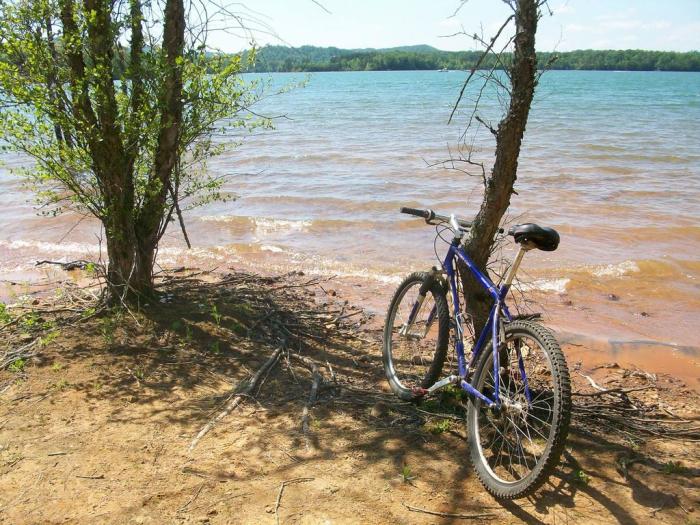 Bordering Lake Chatuge, Jackrabbit consists of an impressive 15-mile stacked-loop trail system, weaving in and out of the forest, along the water's edge and along ridge tops. The area is open May through September and features a campground not far from the trailhead. You can also find designated swimming areas, picnic tables and a lakeside sandy beach! It's a great place to spend a day enjoying the best that the western North Carolina mountains have to offer.
Cades Cove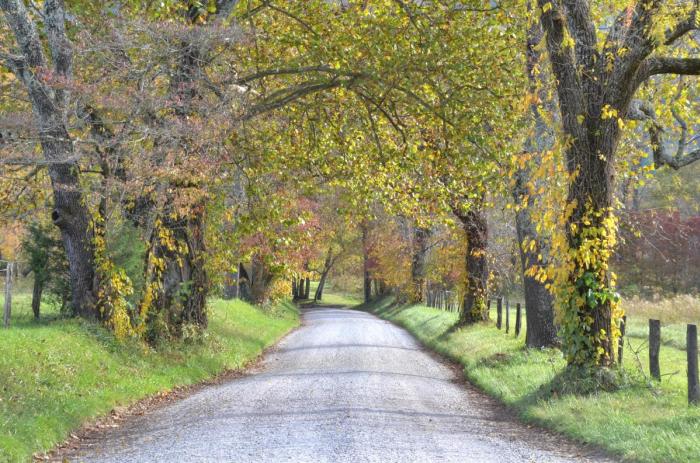 Cades Cove is a must-visit spot on any Smoky Mountain getaway regardless of your adventure style. Located one scenic two-hour drive outside of Bryson City, this picture-perfect valley is perfect for wildlife spotting, historic hiking and, of course, biking! Every Wednesday from May through September, the 11-mile loop through Cades is closed to vehicle traffic, giving you the perfect opportunity to cycle through this beautiful area.
Want Even More Mountain Biking Fun?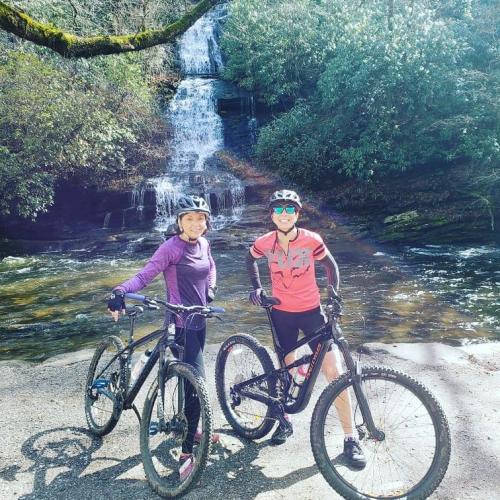 In addition to these remarkable areas, outstanding mountain biking can also be found at various spots along the Blue Ridge Parkway. Known best as America's Favorite Drive, many multi-use trails can be found along this twisting road that connects North Carolina and West Virginia. Closer to Bryson City, the Deep Creek and Indian Creek trails at Deep Creek are also accessible to mountain bikers. Cyclists can explore where the old roadbeds end, and the trail treads begin.
 Up in Robbinsville, the Santeetlah Lake Trail has two entry points: the intersection of Hwy 143 and Snowbird Road and Long Hungry Road. The entire trail spans 15 miles, with smaller loops and trails available for beginners or those wanting a shorter ride. Both Low Hungry Loop and the Connector Trail are ideal for first-time riders, offering an easy venture over short distances. Hanging Dog Recreation Area is another good place for a ride close to the North Carolina and Georgia state lines. 10 miles of bike trails now twist and turn where old logging roads once dominated, offering a moderate ride with a few thrillingly steep descents.
No matter where you turn when you're in Bryson City, mountain biking trails are ready to greet you. In fact, it's one of many reasons we are proudly considered the outdoor adventure capital of the Great Smoky Mountains! Get ready to conquer our nationally recognized trails and plan your getaway: https://www.explorebrysoncity.com/plan-your-visit/.
Learn More About Biking Trails in Bryson City
Mountain biking continues to grow in popularity, and Bryson City is no stranger to the sport.