With all the outdoor adventures to choose from in Bryson City, imagine winding down your day with a cold beer or your favorite drink on a beautiful outdoor patio at one of our many breweries or brew pubs throughout downtown, the Nantahala River, and even on a train excursion. It's the perfect way to spend the afternoon while breathing in that cool mountain air. And it's not just about drinking beer; it's about having fun and making connections. These are our favorite places with the best outdoor options to enjoy a beer or two in Bryson City:
Downtown
BCO Brew Pub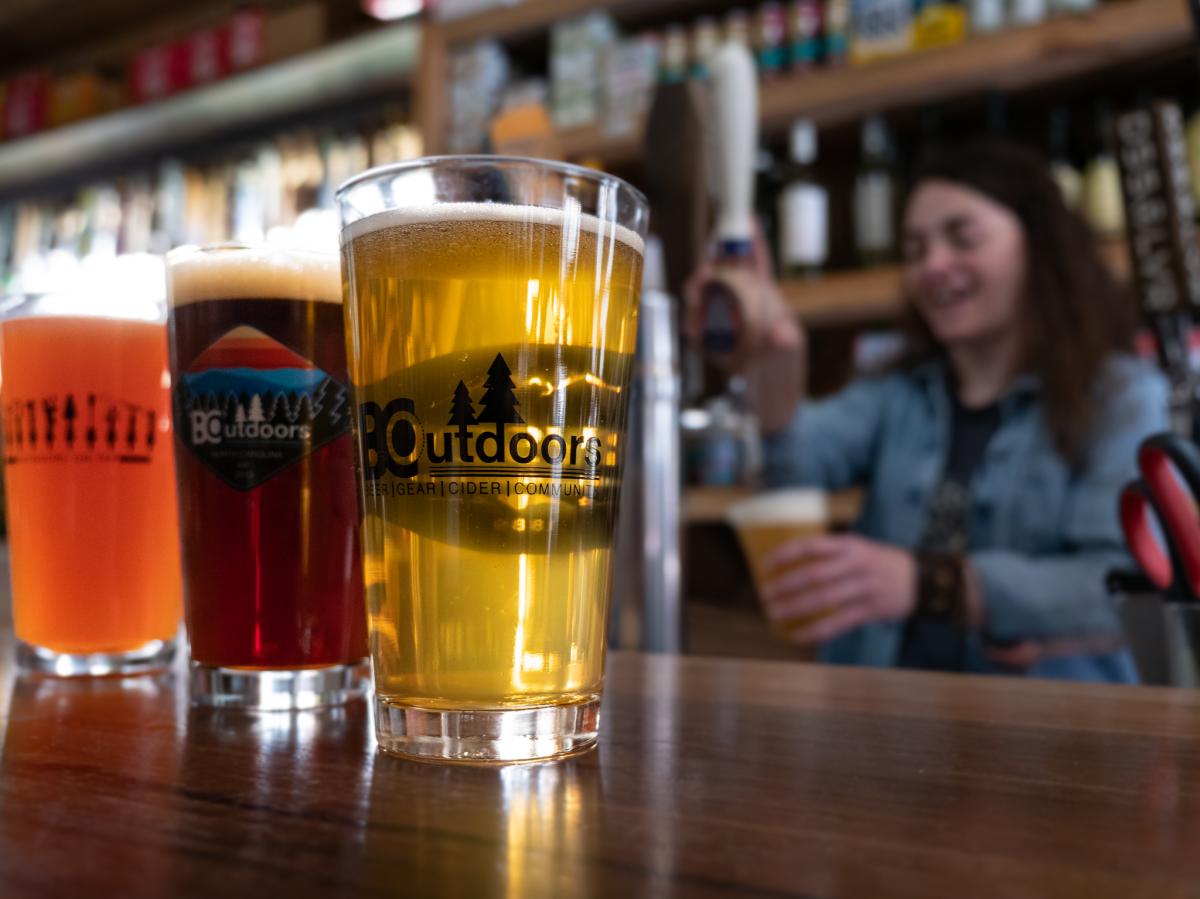 Bryson City Outdoors is an outdoor store and community hub located on the square in downtown Bryson City. Best noted for its outdoor gear, beer, wine, and cider, their Taproom & Beer Garden has a selection of more than 200 brews for you to mix and match to take to go, along with 12 taps pouring an ever-rotating selection of craft beer and cider. If what's on tap doesn't suit your taste, then choose from a select offering of cold bottles and cans. Wine is offered by the bottle and the glass, and on hot days, enjoy a frozen wine slushie!
BCO is pet friendly, both indoors and on the patio. Although it is not a brewery, It's the perfect place for hanging out and drinking beer and you can also shop for gear.  Small groups can gather around a gas fire as well and there is space to wander around. Or sit and eat some food truck noms at a picnic table on the patio.
Mountain Layers Brewing Company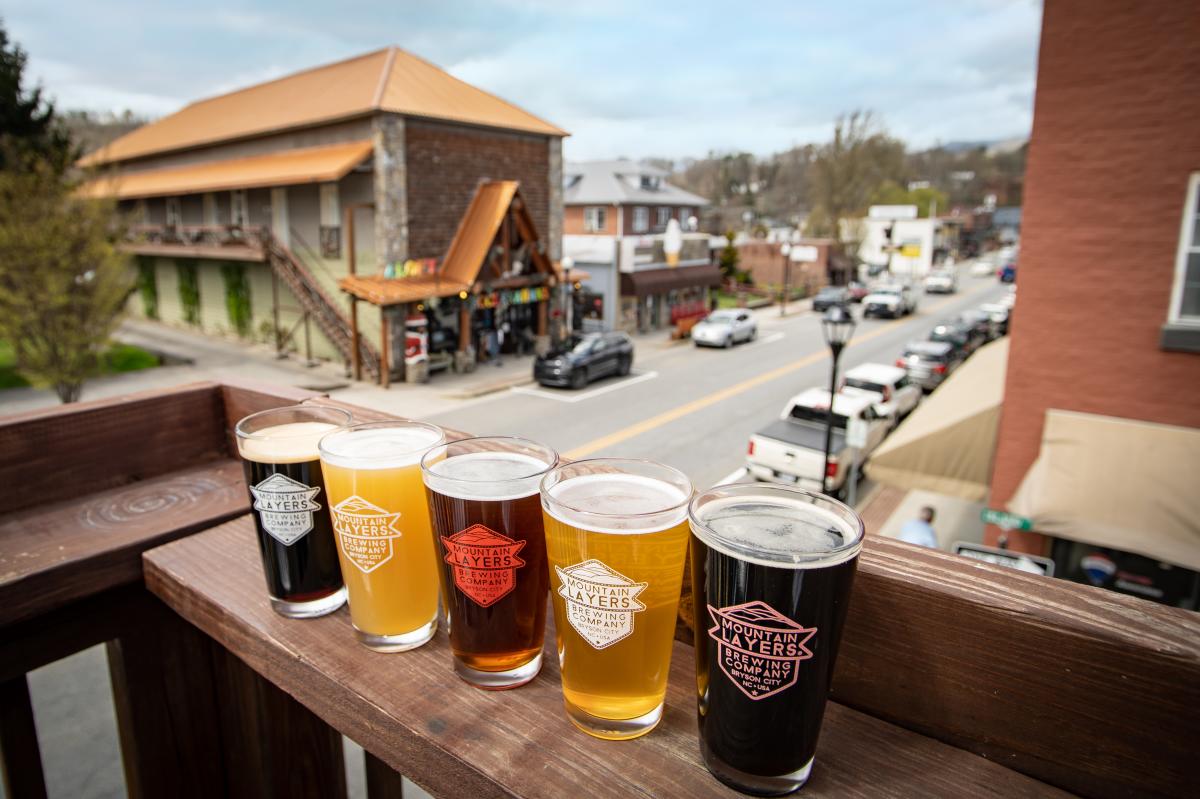 Mountain Layers Brewery and Taproom features two bars: one on the main level built around the brewhouse and another upstairs where you can drink on the outdoor deck overlooking downtown. A pet-friendly area is set up outside on the ground floor, with a food truck with tasty selections.
Make sure to visit their Honor and Remember Wall - a tribute to our military veterans and country's first responders. Mountain Layers is right in the mix of everything AND the the staff is super friendly. You'll often find live music there and there's a rooftop deck with one of the best views around.
Bryson City Brewing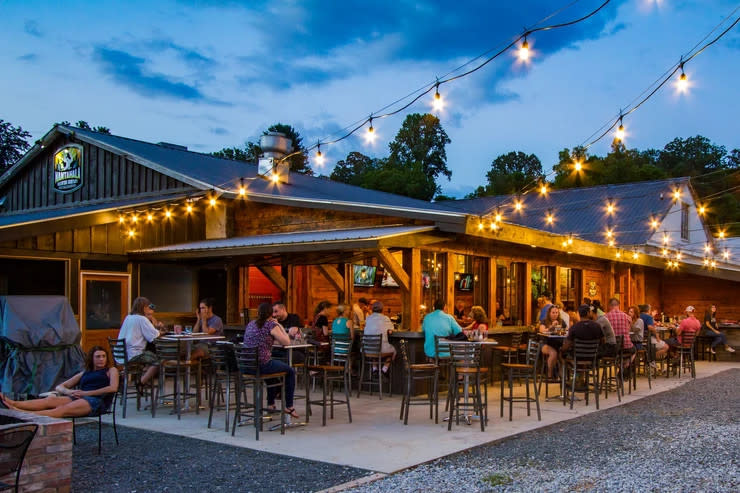 Bryson City Brewing is an awesome place to grab a beer or a unique, hand-crafted cocktail in an outdoor (or indoor) space that feels great to be in. They have 18 guest taps and a full bar with several seasonal cocktails. They are pet and child friendly with a large grassy fenced in yard.
Sports enthusiasts can watch preferred sports events on 16 TV's. A broad selection of food includes locally  sourced burgers, specialty sandwiches, barbecue, chicken, wings, salads, and chicken tenders.
Formerly known as Nantahala Brewing Burger + Bar, Bryson City Brewing is located at the north end of downtown, adjacent to the train depot – making it a great spot to watch the Great Smoky Mountains Railroad train engines come and go.
The Yard
The Yard is an outdoor venue also adjacent to the train depot, featuring food trucks, family movie nights, games for kids, frozen treats, beer, wine, and soft drinks. Days and hours are limited, so check their Facebook Page for an up-to-date schedule including live music. During the winter season, a synthetic ice skating rink is added to the venue for a holiday experience under the café lights.
Anthony's Pizza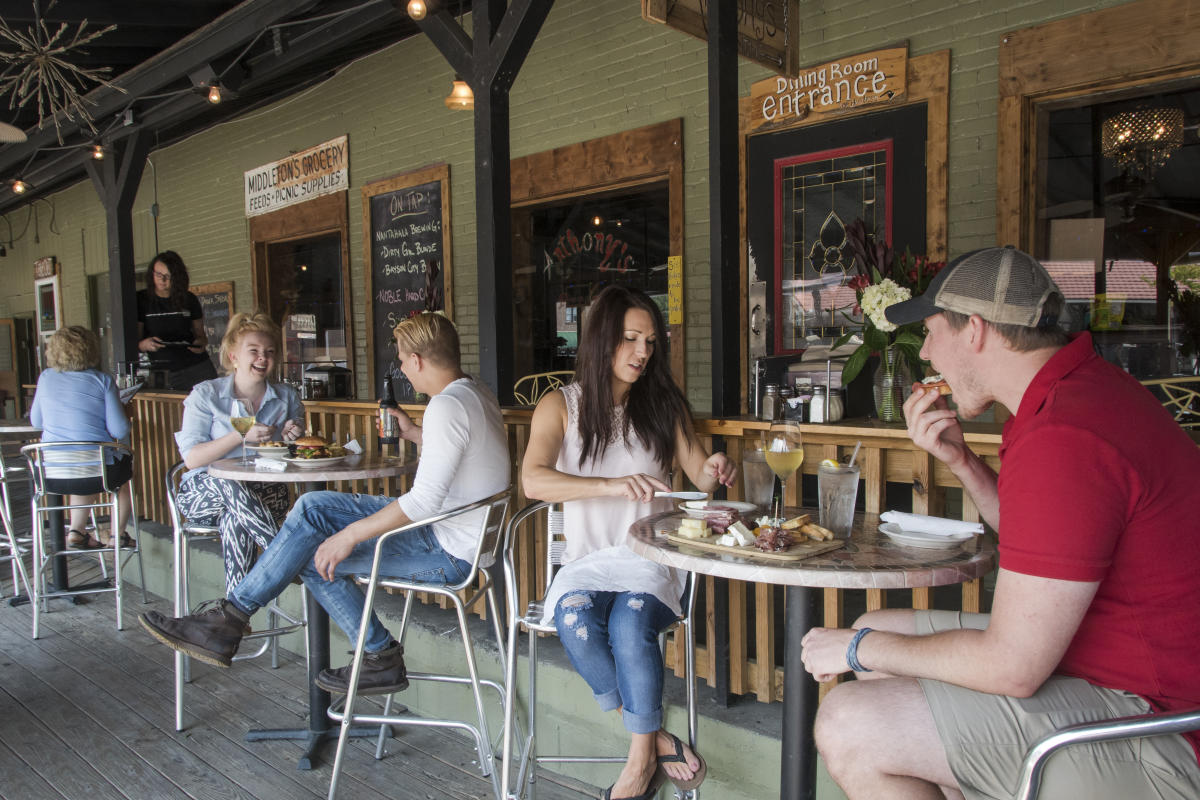 Anthony's Restaurant is right across from the train depot so you might catch the train coming into the station while you are enjoying a meal or beer on the outdoor porch, which is pet-friendly. Anthony's is a full bar with many of the locally brewed beers, and has indoor seating options as well, although not pet-friendly.
Nantahala Gorge
The Nantahala River is a world-renowned whitewater rafting destination, and its just a few miles outside of Bryson City. After a day on the water, ziplining, or hiking, you'll find four outdoor beer and brew options in the Nantahala Gorge:
Nantahala Outdoor Center
Within the campus of the Nantahala Outdoor Center, multiple food and drink options are available to choose from:
1. Rivers End Restaurant is an iconic spot for locals and visitors to enjoy spectacular views of the gorge, with paddlers passing through as they complete their Nantahala River Rafting trip. Both indoor and outdoor seating is available, and River's End is open year round. Hang out and enjoy a large selection of signature cocktails, wine, and beer, including local favorites. Breakfast is available on select days, year-round lunch, and dinner, and choose from a wide range of appetizing entrees, burgers, salads, pizza, and sandwiches.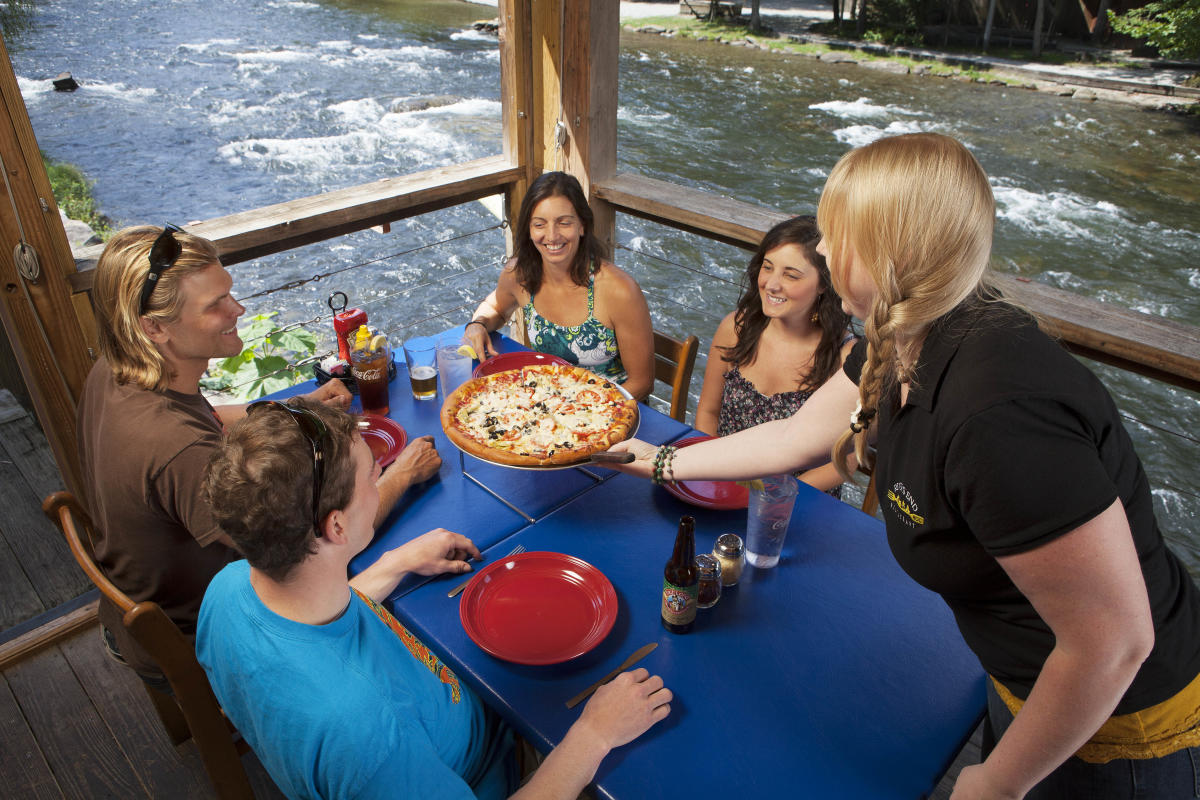 2. Switchback Taps is an outdoor venue at the Nantahala Outdoor Center that exclusively serves New Belgium craft beers and shots.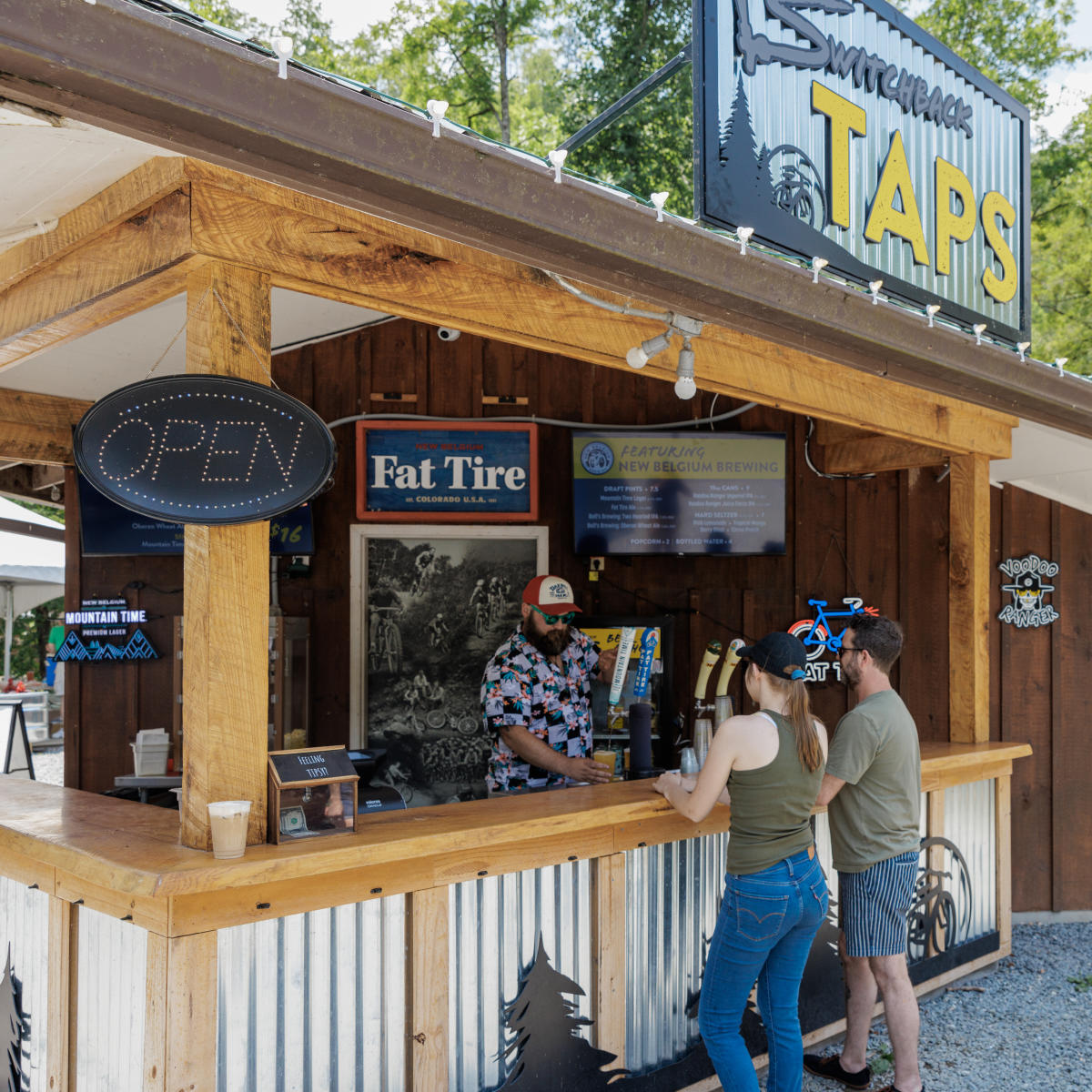 3. Big Wesser Riverside Pub is the perfect spot to dine, enjoy a cold brew, hear weekly live music, and unwind from the day's adventures complete with open-air seating, a mouthwatering menu, and a beverage menu that is tough to beat. The perfect spot for the hungry adventurer, the menu draws from NOC's southern roots and brings delicious features like burgers and fresh salads to the Nantahala Gorge. It's! Big Wesser sits along the riverbank of the Nantahala River, and it is pet-friendly.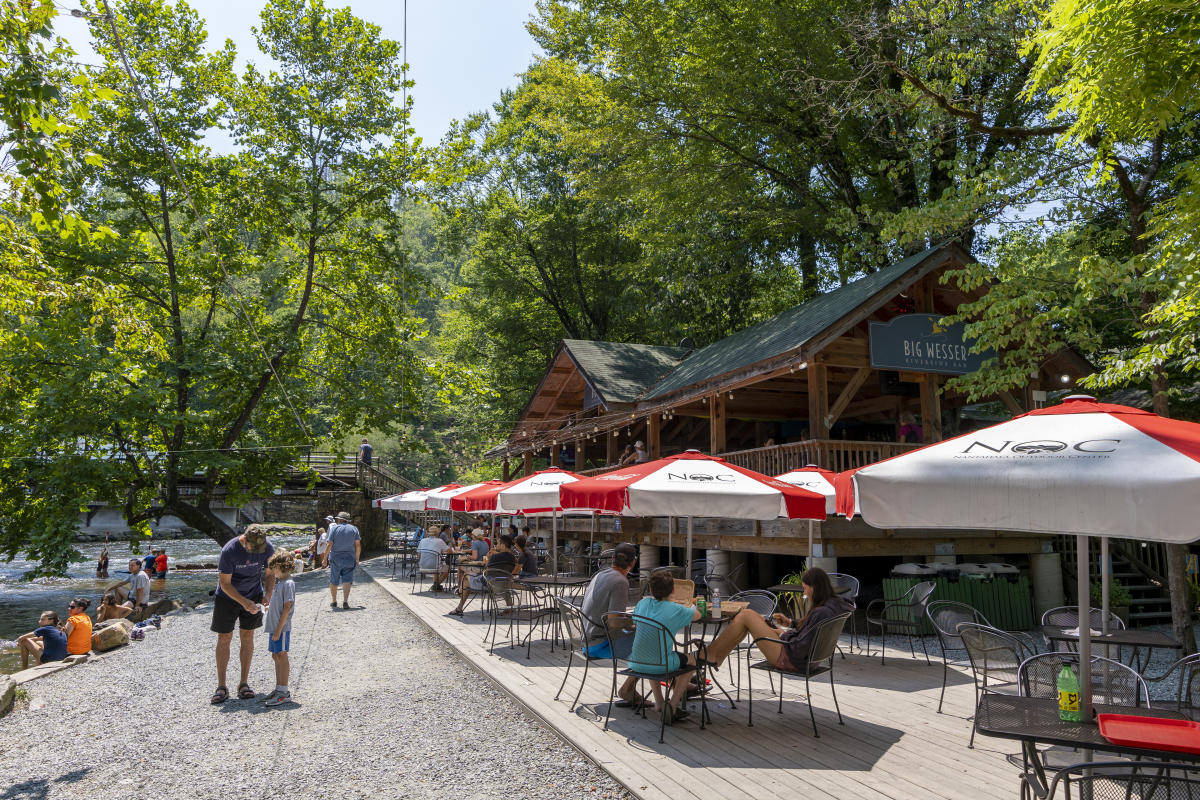 Tommy's Paradise is an outdoor venue located across from the Nantahala Village Resort. It is primarily open in the summer months, and provides beer and cocktails.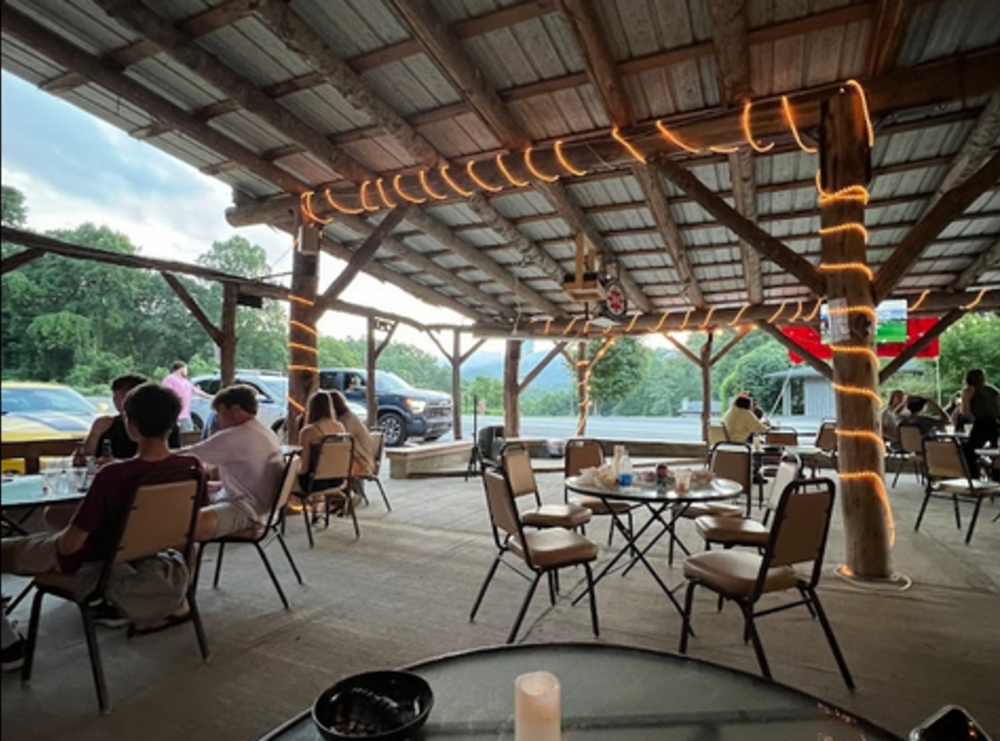 Brews on the Train
Very few experiences compare to taking a train excursion on the Great Smoky Mountains Railroad "Premium Open Air Gondola," which has limited bar service available with unobstructed views, half-height walls, and a roof above to protect passengers from the elements. Adults (21+) are served a meal by the car's attendant.  Similar service is available  in the First Class train car, which is enclosed. For all passengers, beer and wine is available for purchase in the concessions car.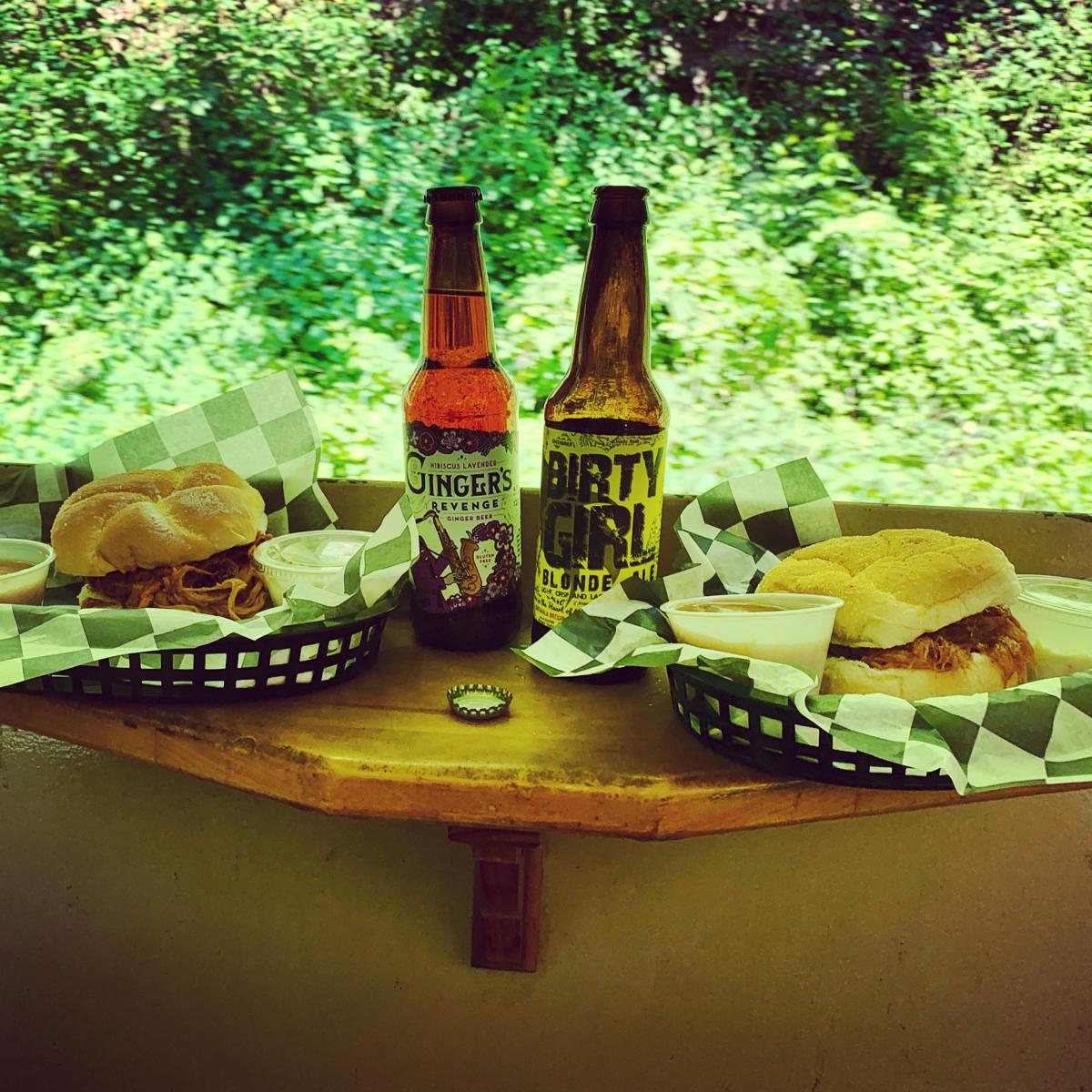 If you are riding on the Nantahala Gorge or Tuckasegee River excursion in the First Class or Premium Open Air Gondola, you may bring along an unopened bottle of wine. The wait staff will happily assist in serving your wine. There is a corking fee of $25 per bottle. For best service, call to make reservations and inform the agent of your intent to bring a bottle of wine. Otherwise, outside alcohol is not permitted.
Special train events throughout the year that feature local brews and wines include Uncorked, Smoky Mountain Beer Run, and theCarolina Shine Moonshine Experience
Keep in Mind:
There are alcohol laws in NC that retailers and consumers must abide by. You must be 21 years old to consume, possess or buy alcohol in North Carolina. Please drink responsibly.
You get the best of both on this Waterfalls and Breweries Tour with a designated driver! This ~9 hour tour visits 4 Western North Carolina waterfalls which includes some hiking, and then 5 breweries. Tour starts with a Bryson City stay location pick up at 8:00 A.M. and later drops you back off. Tour accommodates up to 7 Guests and requires a 4 person minimum booking. Food…