From miles-long pristine shoreline to world-renowned fishing to boating and swimming fun, the crystal blue waters of Fontana Lake beckon you with stunning scenery and remote solitude.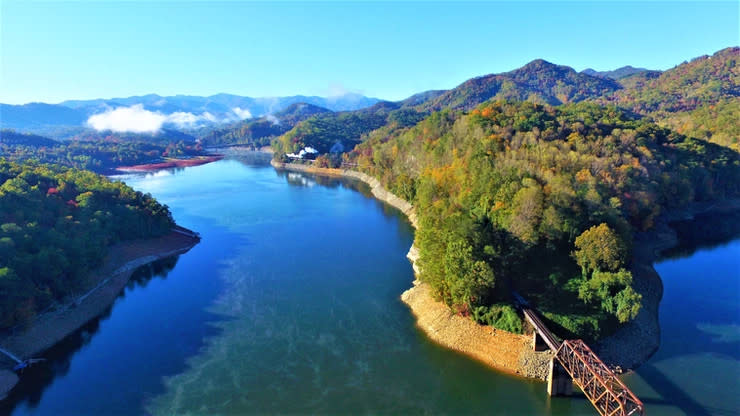 Fontana Lake is a unique recreational gem in the North Carolina Smoky Mountains. This unspoiled, scenic lake is 29 miles long and includes more than 240 miles of remote shoreline, much of it bordering the Great Smoky Mountain National Park and national forest land. The result is exceptional recreation for boating, fishing, and paddling on the lake, and for hiking and mountain biking on lakeside trails, some traversing deep in the mountains! Cheoah Lake is a smaller gem, just below Fontana Dam, to add even more options to your adventure.
Fishing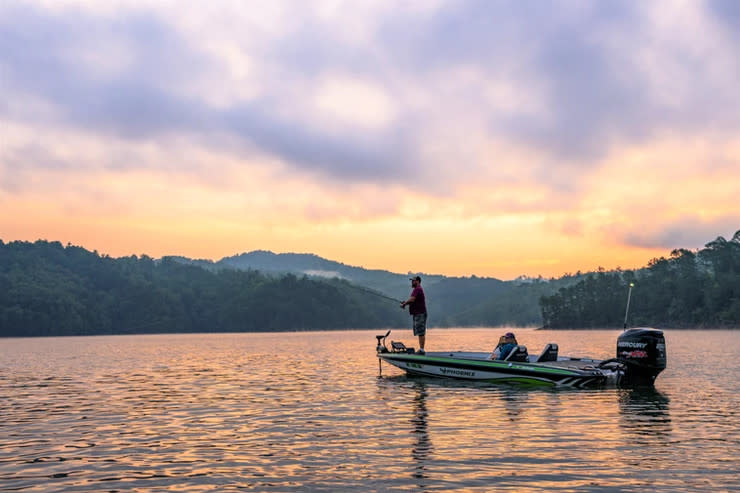 Fontana Lake and its tributary rivers and streams are an angler's paradise. At over 400 feet deep, Fontana Lake boasts incredibly diverse fish populations - including walleye, muskie, spotted bass, smallmouth bass, rock bass, bluegill, catfish and yellow perch. Bass tournaments attract anglers nationwide. Fishing access includes ample public boat ramps and private marinas. Hazel Creek and Eagle Creek are the Smoky Mountain's most storied trout streams -experience the land that time forgot. Hire expert guides or go DIY - Let's go fishing!
Boating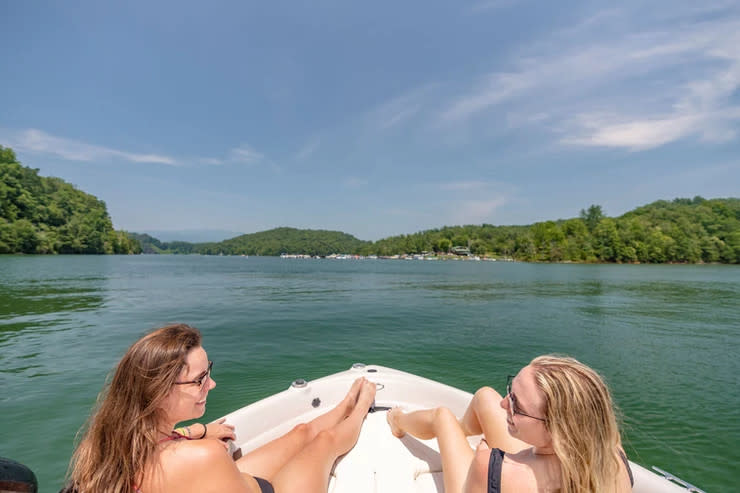 Make it a day or week of fun at Fontana Lake, and also nearby is Cheoah Lake, just below Fontana Dam. Diverse watercraft are available for rent (or dock your own) from various marinas and outfitters servicing the lake. Jet skis, motor boats, touring kayaks, pontoon boats - what's your style? Explore all the outfitters that service Fontana Lake!
Kayak and Stand Up Paddleboard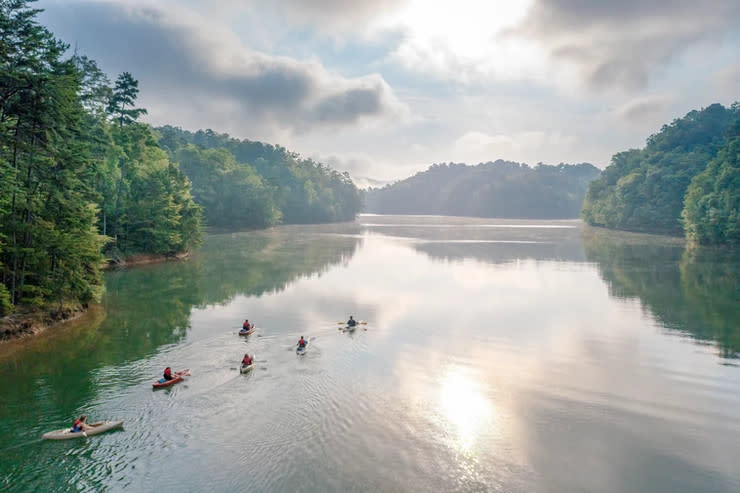 Paddle your way around Fontana Lake for active fun and incredible mountain vistas! These lakes are perfect for beginners or experienced paddlers alike. Rent or bring you own recreational kayak or stand up paddleboard. Paddle for an hour, a day or a multi-day camping trip along the distant shores by the national park. So many options! These outfitters offering paddleboard rentals, kayak rentals, and tours.
Swimming at Fontana Fingerlake Day Use Area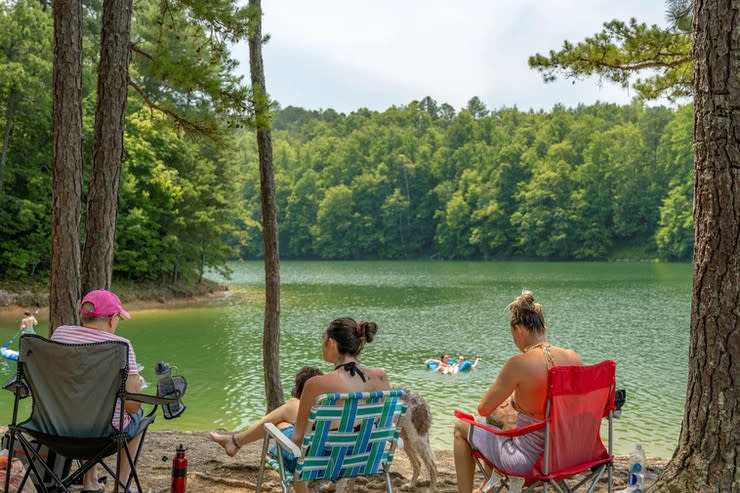 A favorite "park and play" spot for the family fun to paddle, swim, and picnic is the Fingerlake Day Use area (open April 1 - October 31) only minutes from Bryson City. It's a cut off section of the lake with no power boats allowed. Enjoy swimming, lake and pond fishing, picnicking, and non-motorized boating such as kayaks, canoes, and paddleboards. There is a vault restroom near the parking area, and a primitive boat launch ramp. Please note that there are no lifeguards on duty and this is a primitive swimming area, so swim at your own risk.
Tsali Recreation Area
The Tsali trails are rated on the top 10 places to mountain bike in the USA! Nested along Fontana Lake's shoreline, Tsali attracts thousands of riders to its flowy, 42 mile network of multi-use trails. Mountain bikers, horseback riders, trail runners, and hikers love this trail system. A campground is right there at the entrance to the trails, and a boat ramp serves double use for boaters, paddlers and bikers who often ride right into the refreshing waters to cool off and clean their bikes!
Driving Tours and Motorcycling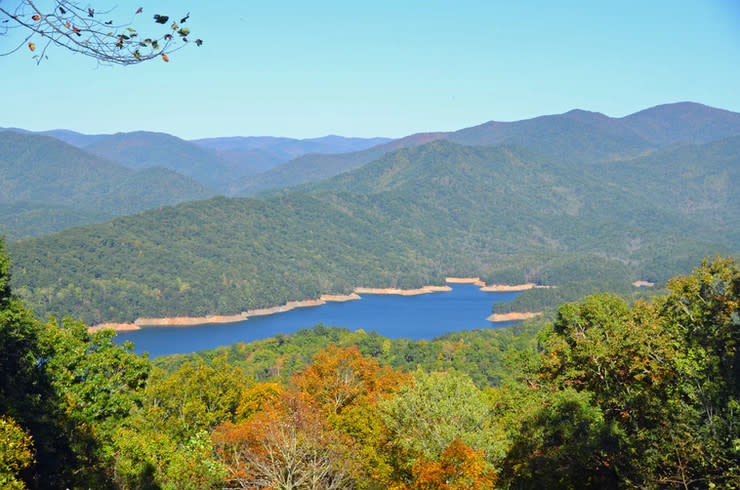 The scenic backroads along Fontana Lake and Cheoah Lake offer renowned cruising. Routes like the scenic Hellbender 28 section along Cheoah Lake and the famous curve of the Tail of the Dragon, just past Fontana Dam, offers something for everyone.
Fontana Dam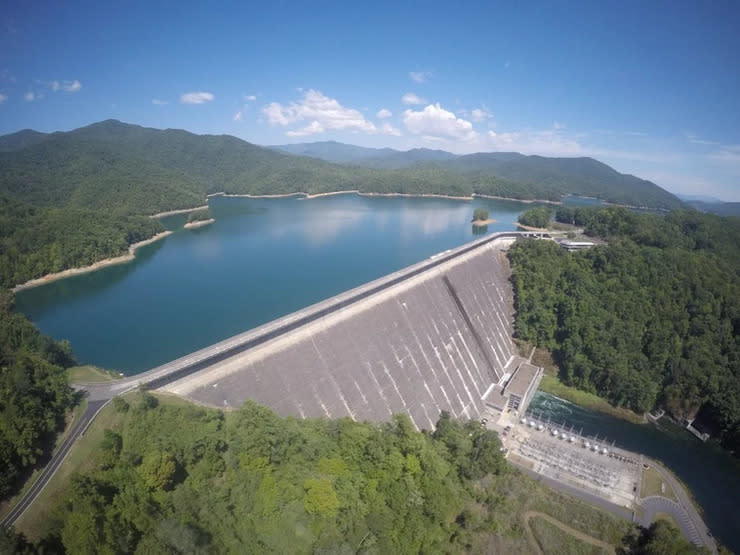 Exploring Fontana Dam is a must! This engineering marvel built by the Tennessee Valley Authority (TVA) is the highest dam in the eastern Unites States. Visitors can walk, bike or drive across the top of the dam and enjoy incredible views, which is part of the Appalachian Trail. A large grassy picnic area below the dam is perfect for outings with stunning views of the lake. Fontana Dam is a scenic 32 mile drive west of Bryson City, via US 74 and NC 28 North. The Fontana Dam Visitors Center is open daily April through October. The self-guided dam observation deck and lake public access ramps are open year round.
Wilderness Campsites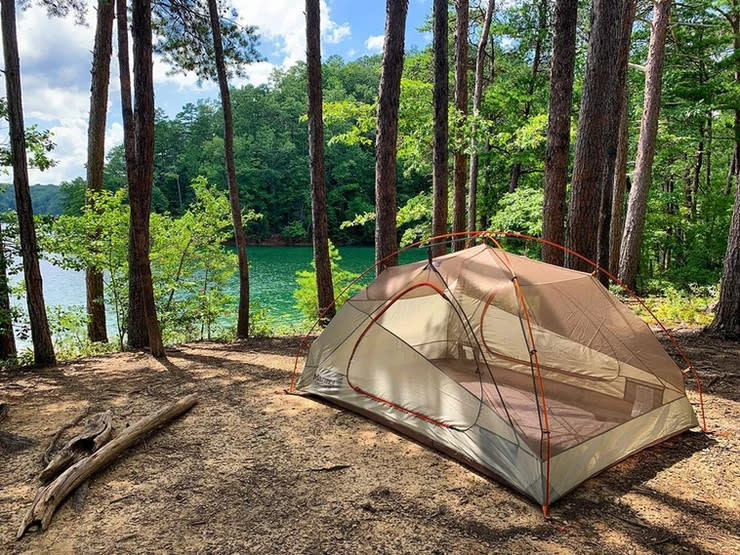 Imagine camping right on the shores of Fontana Lake. The North Shore area of the lake is a wild and scenic spot that offers a rare opportunity to enjoy backcountry camping on sites that are accessible only by boat. Here is a list of Great Smoky Mountains National Park campsites that you can paddle to:
#87 Jerry Hollow:
#78 Double Island
#73 Lone Pine
#72 Gunter Branch
#66 Lower Noland Creek
All backcountry campers are required get a reservation and a permit for their chosen site. You can get your permits at the National Park Service website. Photo by @tylerrountree
Campgrounds in the area include the Campground at Fontana Village, Cable Cove Recreation Area, and Tsali Campground.
Fontana Lake Levels
Fontana Dam created Fontana Lake and the TVA controls the lake levels. The lake is typically full in the summer and gets drawn down each fall for winter and spring flood control. No matters what the lake level is - fishing and boating are outstanding year around. It's also fun the explore the submerged road and towns that become visible at low levels. The Appalachian Trail crosses at Fontana Dam.
War History
Dam construction began in 1942 to meet the urgent need for electric power for aluminum production during World War II. TVA purchased 68,292 acres of land - including existing towns and forests that had to be cleared. The revolutionary dam design required unique engineering. The dam was finished in a record 3 years in January 1945. Nearby Fontana Village Resort was originally the housing site for the Fontana Dam workers.
Fontana Lake deserves a spot on your bucket list – or, at the very least, a considerable amount of time on your next vacation itinerary.
Fontana Lake Boat Ramps - Click here for a map.
Tsali Recreation Area
Lemmons Branch
Fingerlakes (primitive)
Flat Branch
Old Highway 288