Nothing goes hand in hand with mountain getaways and Smoky Mountain escapes quite like a good hike. Stretching your legs and spending time connected with the world around you is relaxing, rejuvenating and healing. As you breathe in the fresh mountain air around you, pause to listen to the natural music of the forest or gaze upon rolling peaks and towering waterways, you can genuinely feel the stress melt away. We all know and love our close proximity to the Great Smoky Mountains National Park, but what about the trails and hiking areas that are just outside its gates? Let's go on a journey and explore 8 areas outside of the National Park that need to be on your bucket list.
1.  Adventure Your Way at The Tsali Recreation Area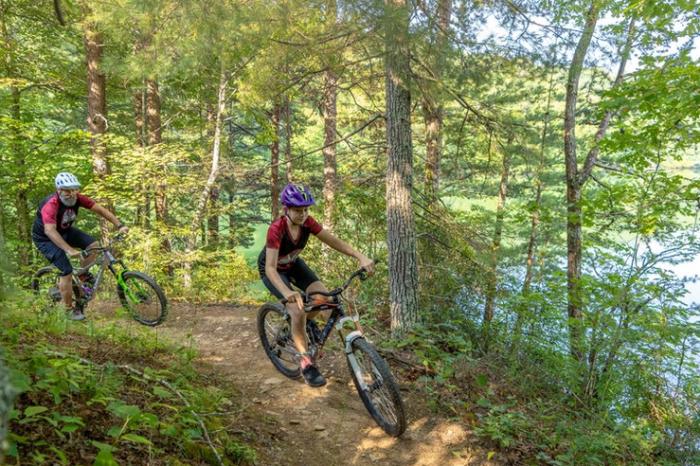 The Tsali Recreation Area is one of the most diverse hubs for outdoor activity in the South, and it's just a stone's throw from Bryson City. Known best as a top spot for mountain biking, the area also boasts horseback riding, fishing, boating, camping and more, with Fontana Lake as a glittering backdrop. A small fee is required per person for entry, which can be paid at Tsali Bike or Horse Trailheads.
Bikers and horseback riders are kept separate, with a schedule available here. Hikers, meanwhile, are free to explore specially marked trailheads:
Mouse Branch Loop #152A: A moderate trail spanning 8.7 miles along old logging roads. This is a great hike for those wanting to spot wildlife!
Thompson Loop #152: A moderate trail stretching 7.3 miles. This includes the Thompson Connector B Trail.
Tsali Left Loop #38A: A lengthy, but a moderate 11.9-mile trail. Prepare to cross trickling creeks and streams on this loop!
Tsali Right Loop #38: A moderate 13.9-mile trek that can be broken up into 4 and 8-mile loops.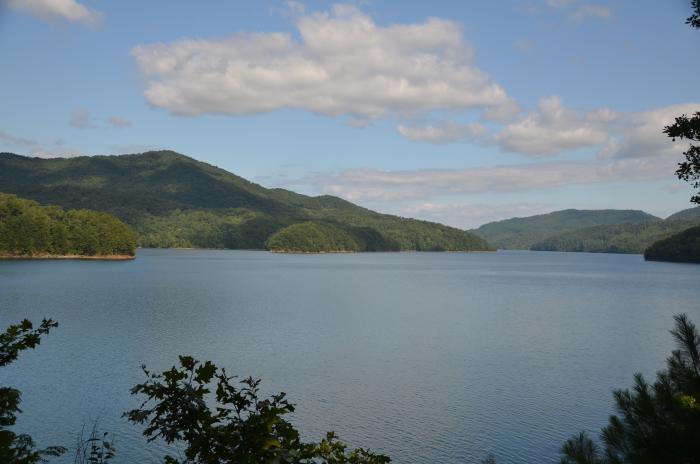 Want to get on Fontana? Tsali also has a boat ramp. Launch your kayak, canoe, stand-up paddleboard or boat from here and explore one of the most pristine bodies of water found in the Smokies. Miles of Fontana's shoreline are entirely untouched, as much of the shoreline falls within the Great Smoky Mountains National Park. It's great for watersports, fishing and a nice swim surrounded by nature.
The campground at Tsali is open from April through October each year. The 42 campsites are first come, first served and come with a fire ring, picnic table and lantern post. Small campers are permitted, but hookups are not available. Accessible flush toilets, hot showers and drinking water are available. Campers pay fees at the campground fee station.
2. Get Waterfall Fix at the Upper Nantahala Cascades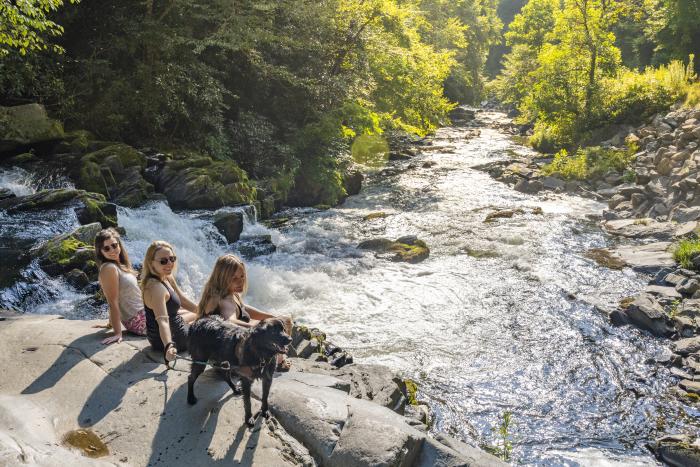 Is there anything more peaceful than stopping to listen to the rush of water as it cascades down a sparkling waterfall? At the Upper Nantahala Cascades, you can soak in all of the waterfall's natural beauty, with the added fun of watching thrill-seeking kayakers and rafters tame its swirling rapids. This area is also pet-friendly!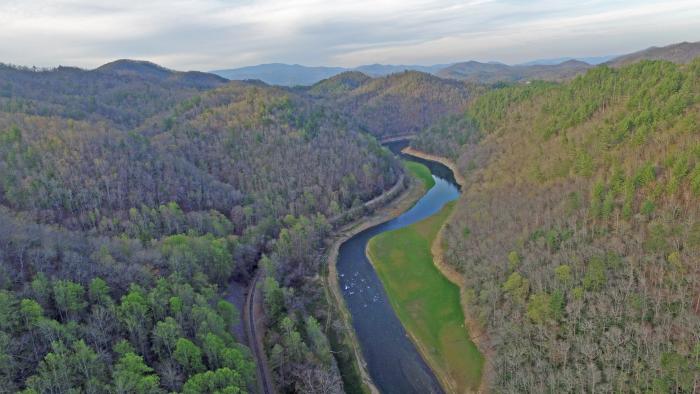 Reach this waterfall by taking a drive through the Nantahala Gorge along a scenic byway, which stretches through the entirety of the Nantahala National Forest. There are several beautiful spots to pull off and have a picnic, fish, watch rafters and enjoy the scenery of the river. The Nantahala Outdoor Center can also be found along this drive for those wanting a longer pit stop. As you continue north, you'll reach Wayah Road, a popular spot for rapid launches. Turn here to reach the Cascades, where you can gaze at its beauty from inside or outside of your car.
3. Climb Above the Clouds at Waterrock Knob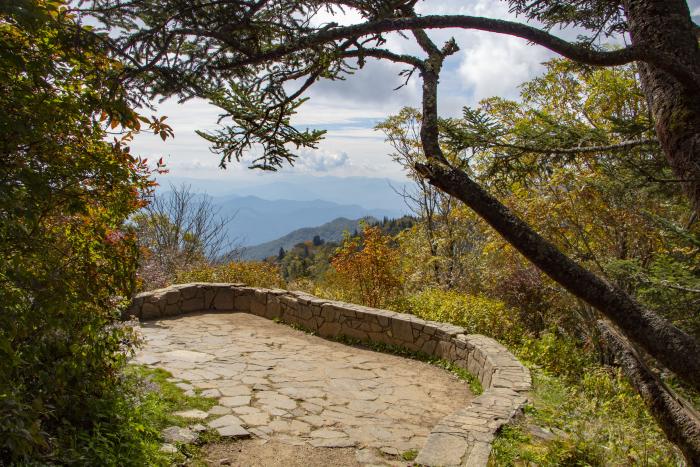 Located at 5,820 feet in elevation, Waterrock Knob – mile marker 451.2 - is the Blue Ridge Parkway's highest visitor center. Known for its beautiful long-range, 360-degree views of several major mountain chains in the Appalachians, Waterrock is one of the best spots to soak in a sunset or sunrise. Open seasonally, the Visitors Center offers restrooms, picnic areas and a hiking trail.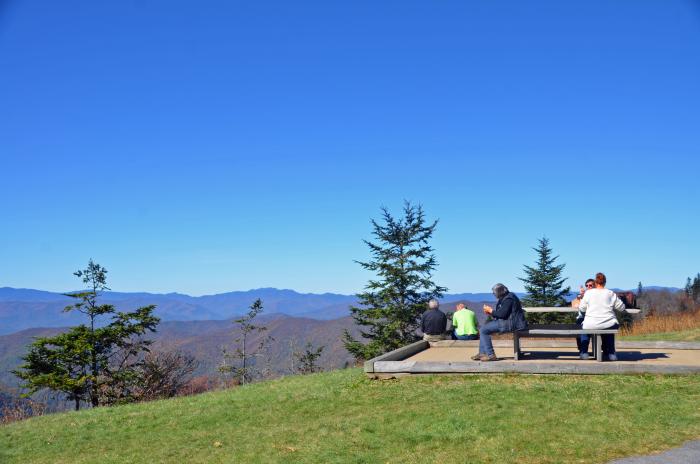 Though it's a shorter trail at 1.2 miles roundtrip, the steep walk from the parking lot to the top of the Knob is sure to get your blood pumping. Once you trek to the top, you'll be sitting at a staggering 6,273 feet, the highest point along the Blue Ridge Parkway. Due to its high elevation, Waterrock is typically a few degrees cooler than Bryson City. Be sure to pack appropriately!
4. Explore Forested Wonder at Joyce Kilmer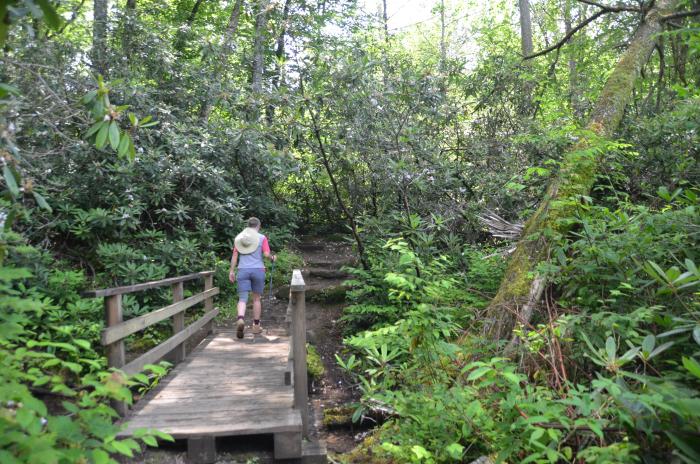 Just up the road in nearby Robbinsville lies the beautiful Joyce Kilmer Memorial Forest. Wandering through this 3,800-acre forest, you will feel as though you've stepped back in time. Trees here date back generations, with some as old as 450 years. They also tower at staggering heights, with some tulip poplars reaching as high as 100 feet tall. The floor is carpeted with wildflowers, ferns and moss-covered logs from fallen giants, further preserving the forest's primitive state.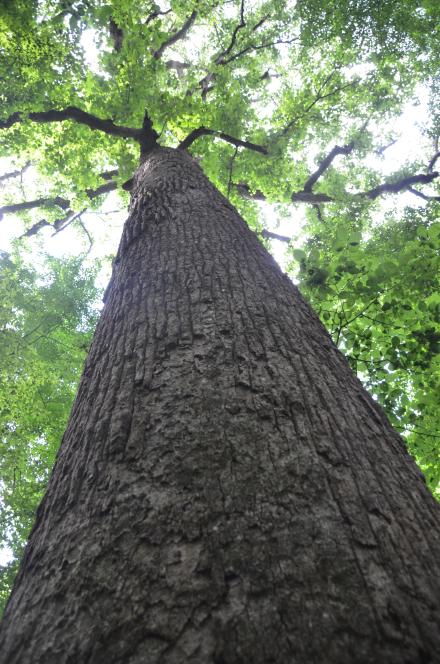 The only way to see the impressive memorial forest is on foot. The figure-eight Joyce Kilmer National Recreation Trail covers two miles and has two loops. The 1.25-mile lower loop passes the Joyce Kilmer Memorial plaque, and the upper 0.75-mile loop swings through Poplar Cove—a grove of the forest's largest trees. The trailhead parking area has restrooms and picnic tables. It's a beautiful place for a day hike, especially for those traveling with four-legged friends!
5. Tower at Wesser Bald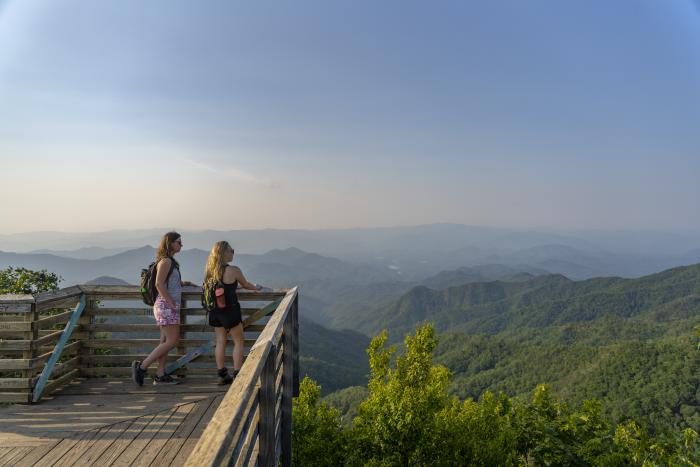 Those wanting to check part of the Appalachian Trail off their list will love hiking to Wesser Bald and its fan-favorite lookout tower. At 2.8 miles roundtrip, this trail is generally considered to be a moderate challenge, with its 718-foot elevation gain giving you a good workout. The area is also popular with birding enthusiasts, campers and backpackers eager to hike one of the country's oldest and most well-known hiking trails. Dogs are also permitted here on leash.
Once you reach the summit of Wesser Bald, you just need to climb a few steps higher to enjoy truly picture-perfect 360-degree views. The historic tower here has a wooden observation deck at its top, overlooking the Nantahala National Forest and Great Smoky Mountains National Park. The trail can be accessed from Tellico Gap, off Wayah Road in the Nantahala Gorge.
6. Test Your Limits on Cheoah Bald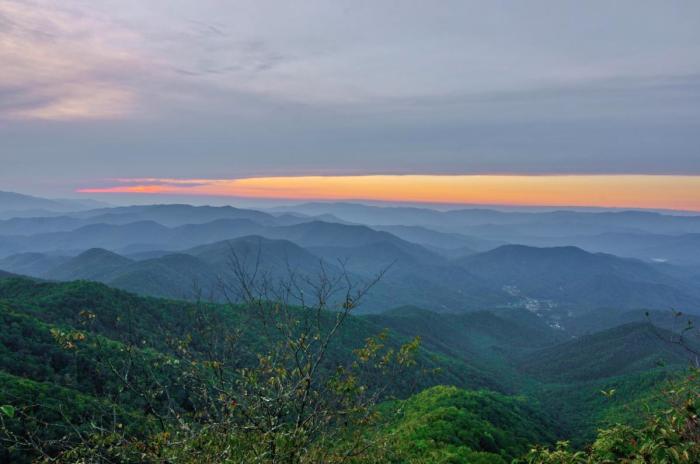 Another great Appalachian Trail hike to explore near Bryson City is the trek to Cheoah Bald, located in the Nantahala National Forest. Considered a challenging route, with a lengthy journey and steep elevation gains. The Bald itself towers at an elevation of 5,062 feet, a full 3,000 feet above the Nantahala Gorge below.
AT hikers love Cheoah for its scenic, grassy campsite, which overlooks a stunning expanse of wilderness on the Bald's south side. You can access the Bald via three different trails:
Approach from the North via Stecoah Gap entrance to the Appalachian Trail (possibly an overnight hike)
Approach from the South from the Nantahala Outdoor Center entrance to the Appalachian Trail. (possibly an overnight hike)
Hike to Cheoah Bald via Bartram Trail in the Nantahala National ForestSpeaking of the Bartram Trail
7. Speaking of the Bartram Trail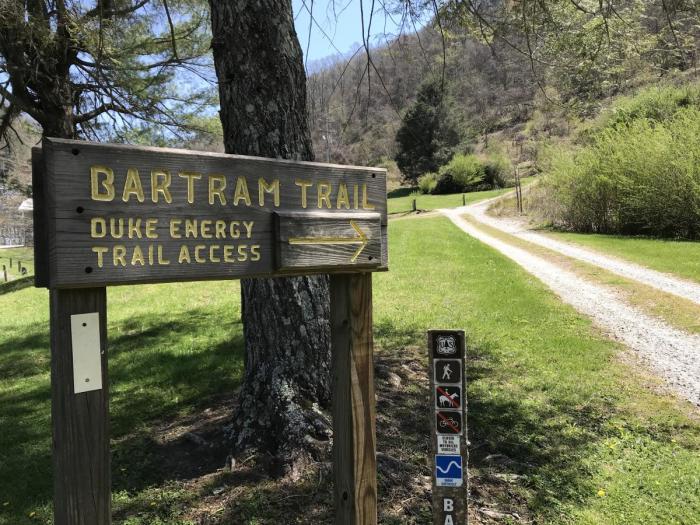 The Bartram Trail stretches for 80+ miles from Georgia up through the mountains of Western North Carolina. Completing its full length is an impressive feat for the avid hiker, and even its hikes near Bryson City are no small task. Portions of the Bartram Trail that are closest to our destination originate in the Beechertown area, near the Wayah Road in the Nantahala Gorge, joining the Appalachian Trail at two points and ending on Cheoah Bald.
The hike along Bartram to Cheoah is a challenging 9.2-mile out-and-back with roughly a 3,500 elevation gain. Adventurers should plan four to six hours to complete the trek. The trailhead and parking are located 0.85 miles from Wayah Road. The climb out of Nantahala Gorge is unrelenting for miles as the Bartram Trail first climbs above Ledbetter Creek and then follows it upstream crossing over numerous times. You'll pass by Bartram Falls and continue following the creek before a steep climb to Bellcollar Gap on your way to Cheoah.
8. Speed Through the Flint Ridge Trails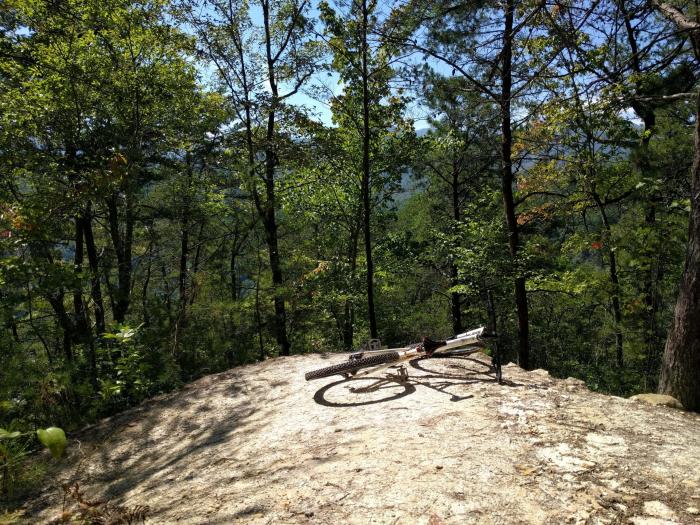 The younger cousin of the Tsali Recreation Area, the Flint Ridge Trails are ideal for mountain bikers, though hikers are also welcome. Starting at the Nantahala Outdoor Center, the 5-mile single-track roundtrip hike starts with a steep incline lined with switchbacks. The payoff makes it all worth it, though, as the way back is speedy, thrilling trek downhill. NOC offers guided bike tours of the area, and rents mountain bikes for those who want to explore solo. Guided tours are suited for all skill levels.
These are just a few of the many trails that await you near Bryson City. Whether exploring the National Park or other forests nearby, all outdoor enthusiasts are sure to love adventuring in our mountains. Ready to grab your hiking boots and get going? Plan your hiking adventure, here: https://www.explorebrysoncity.com/plan-your-visit/ or sign up for our enews.