Soaring through twisting mountain roads astride a roaring motorcycle is one of the best ways to immerse yourself in the true beauty of the Great Smoky Mountains. No stranger to adventure, Bryson City is an ideal home base to access some of the most beautiful, daring and awe-inspiring rides in the country, no matter which season you visit. Grab your helmet and get ready for the ride of a lifetime!
Scenic Drives with a Slower Pace: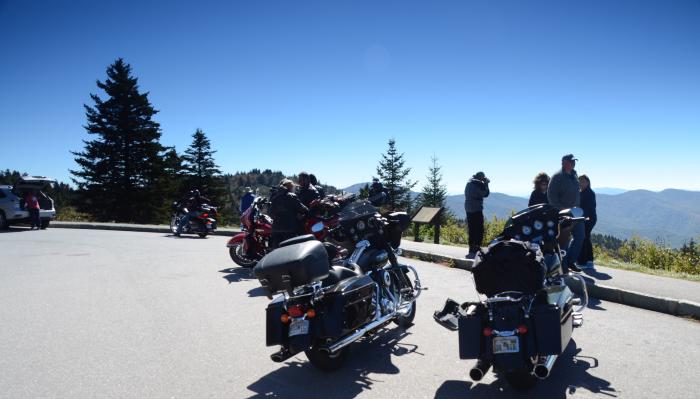 Bryson City is conveniently located near two of the country's most popular roadways. The Blue Ridge Parkway, which is lovingly referred to as America's favorite drive, is located just a short distance from downtown in neighboring Cherokee. Access this fan-favorite road and enjoy unparalleled views of the rolling Smoky Mountains. Head over to Richard Balsam, the highest point on the parkway, for gorgeous scenery and, for those wanting to stretch their legs, accessible hiking trails that lead to stunning overlooks. The Parkway is also a great way to soak in the beautiful fall foliage found in the Western North Carolina Mountains, with many stops along the way to pull off and enjoy your surroundings.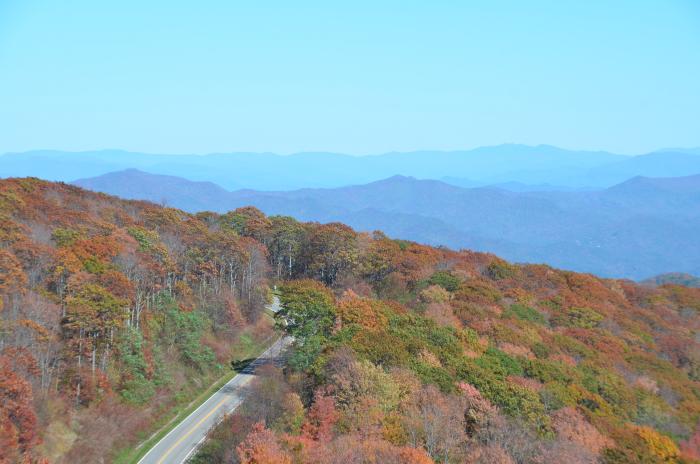 Another gorgeous drive near Bryson City is the Cherohala Skyway, which connects North Carolina and Tennessee. This incredibly beautiful and rarely seen part of the southern Appalachians offers spectacular views, vibrant landscapes and great hiking and picnic spots. Through the Cherokee and Nantahala Forests, the Skyway reaches 5,300 feet in elevation before plummeting to 800 feet at Tellico, Tennessee. Enjoy a slow, beautiful ride across state lines on this National Scenic Byway.
For adrenaline-pumping thrills: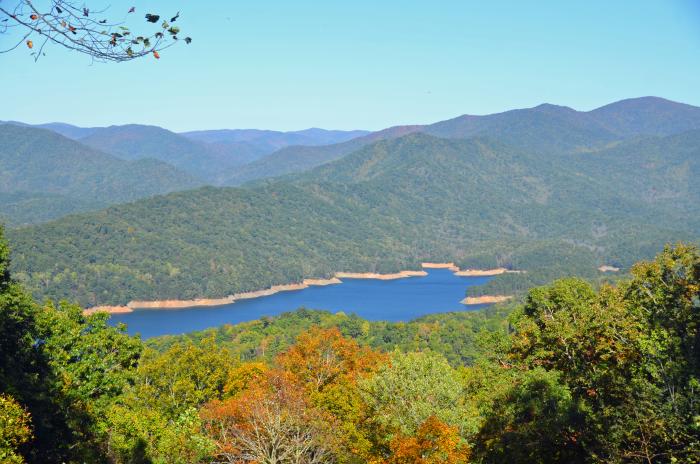 If you've got a taste for adventure, we have the roads for you. One of our most-known twisting streets is the Hellbender 28. Easily accessible from downtown Bryson City, the North Carolina Highway 28 N twists and turns its way through the Smokies and near Fontana Lake. Lined with hairpin turns, drop-offs and stretches of narrow roadway, this hair-raising drive isn't for the faint of heart. From this road, you can access one of the area's most popular overlooks, Fontana Dam, the tallest dam east of the Rockies.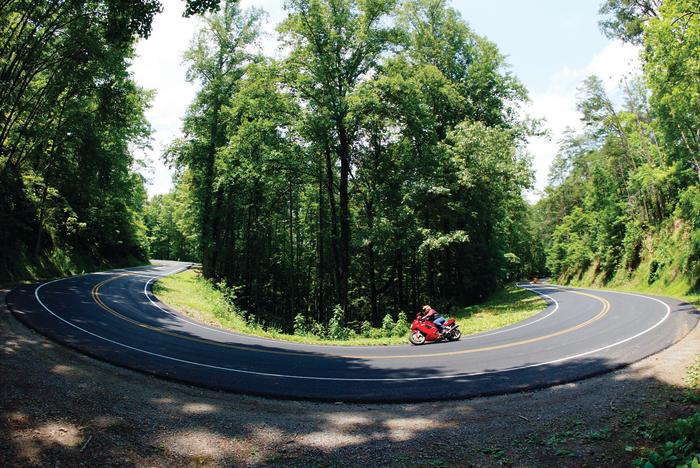 Another drive that will test your bike bravery is the Tail of the Dragon, a thrilling ride that takes you through 318 curves in just 11 miles. Though not as scenic as others, this road is on many motorcyclists' bucket list due to the nature of its curves. Gift shops mark the beginning and end, selling merchandise that celebrates your achievement in taming this Smokies beast. This road is fun, but can be tricky for new riders, so watch your speed and prepare for the ride of your life.
For stunning National Park views:
With six entrances to the Great Smoky Mountains National Park at our doorstep, it's near impossible to skip one of its many perfect motorcycle rides! Those wanting just a quick trip will love traveling down (or should we say up) the Road to Nowhere. This short path, located not far from downtown Bryson City, is a fixture of local history. As part of war efforts during World War II, residents of a now-flooded town were made to give up their homeland to create Fontana Lake. They were promised a road back to familial sites, that, due to environmental issues, was never finished. The Road to Nowhere now stands as a monument to the past, as well as a place to soak in the National Park's natural beauty.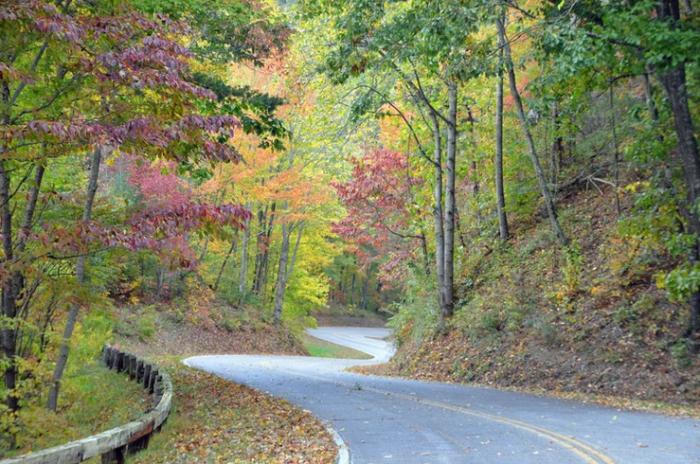 Another road to ride through the National Park is Clingmans Dome Road, which winds you all the way up to the highest point in the Smokies. Located just off Newfound Gap Road, this seven-mile drive is the easiest way to access Clingmans Dome's Observation Tower, which offers 360-degree views of the Great Smoky Mountains.  The road to Clingmans Dome is closed each winter, December 1 thru March 31.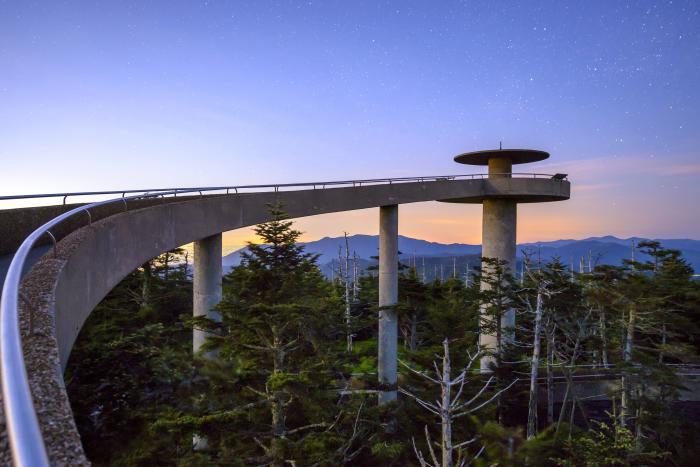 Speaking of Newfound Gap Road, not only is that drive picture-perfect, but it's also your gateway to plenty of other great spots to ride! Newfound Gap leads you deep into the National Park, with many stops to pull off along the way. One of the most popular is Morton Overlook, which offers stellar views any time of day, but is a prime spot to catch a sunset. Newfound Gap also leads you to Little River Road, a beautiful forested drive that heads straight into Cades Cove. Cades Cove Loop is closed to motorists on select days of the year but is no less beautiful to explore on foot.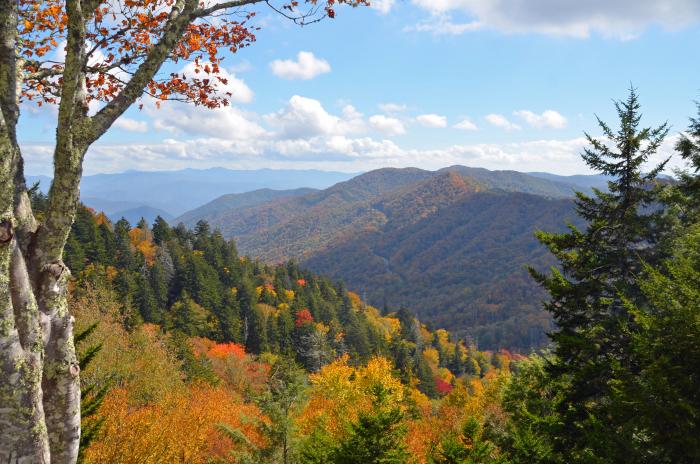 For those who need a ride:
Bryson City is home to several local businesses that rent slingshots, side-by-sides and other rentals to get you on the road. Appalachian Adventure Rentals offers luxury vehicles for you to tackle any drive, including Corvettes and Cadillacs. Bryson City Razor Rentals, meanwhile, specializes in providing those comfortable, small open-air rides, perfect for on or off-road. In addition to rentals, GTR Adventures offers guided tours for a well-curated experience.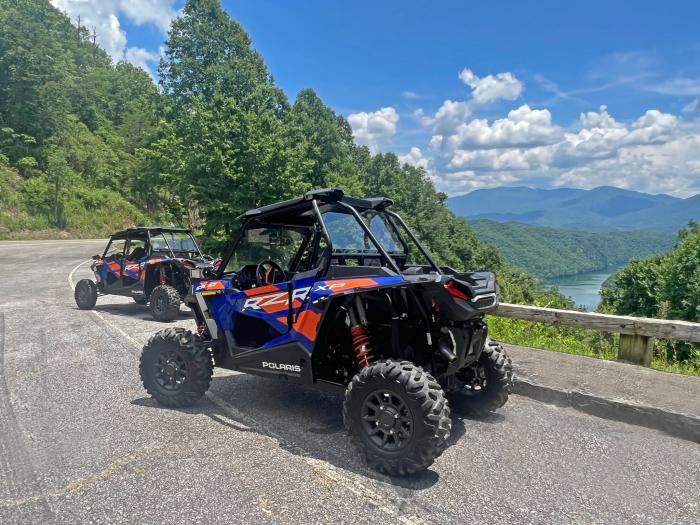 Are you ready to ride? Discover all of the outdoor adventures that await at each scenic stop, here: https://www.explorebrysoncity.com/things-to-do/outdoors/.