Spending a nice cool morning letting your line fly on the waterways that dot Bryson City is truly one of the most tranquil experiences available in our mountainsides. Whether soaking in the scenic ambiance and quiet blue-green waters of Fontana Lake, or casting into one of our rushing rivers or creeks, nothing beats our fishing experiences. With our handy guide, you'll be reeling in impressive fish in no time! It's time to get hooked on fly fishing in the Smokies.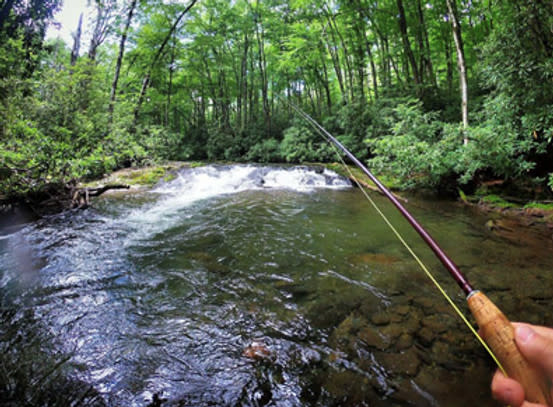 Our many rivers, creeks and, of course, sparkling Fontana Lake make Bryson City and the Great Smoky Mountain National Forests some of the most diverse fishing habitats in the world. Fishing fanatics will find a variety of prize-winning trout in the forest's waterways and in mighty rivers like the Nantahala and Tuckasegee. Bass, crappie, walleye and the fierce muskie also call our area home. Record-size muskie and walleye have been caught in the depths of Fontana Lake, making it a shining jewel among enthusiasts. Along the Tuckasegee, fishers can anticipate reeling in spectacular trout, but with a few restrictions. 2.2 miles of this waterway have been designated as Delayed Harvest Trout Water, limiting fishing to certain times of the year.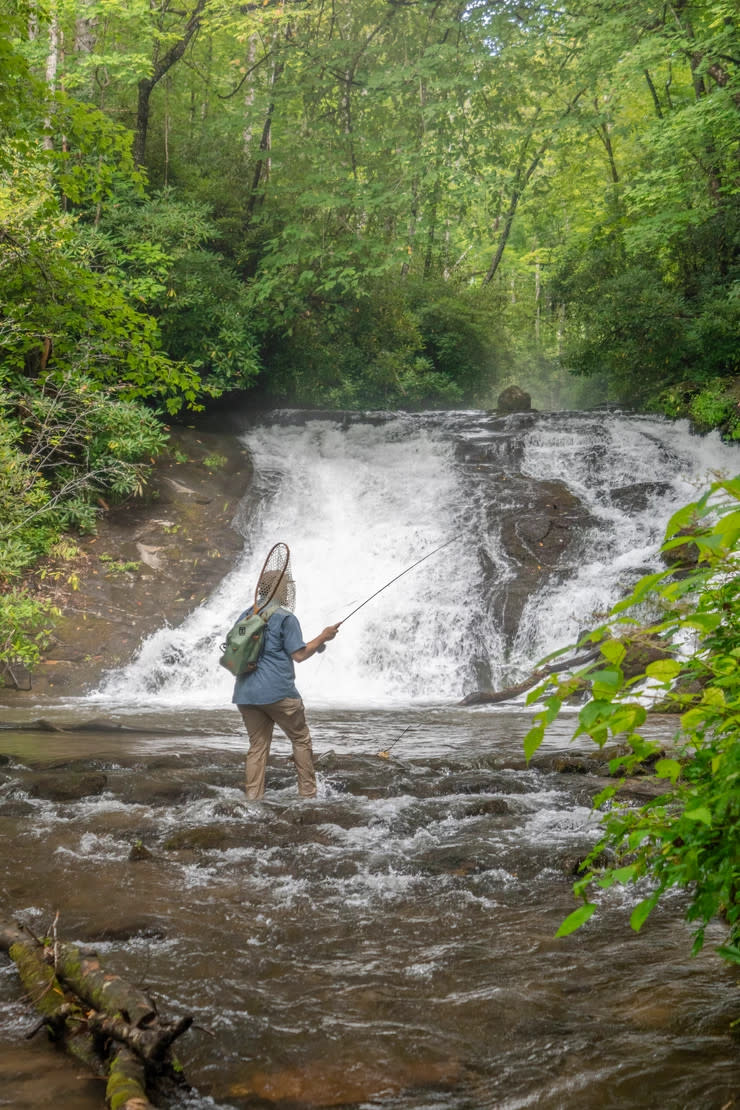 Indian Creek Falls, Deep Creek, Great Smoky Mountains National Park
Not sure how to catch that prized trout? Never fear! Bryson City is home to many expert fly fishing guides, such as Fly Fishing in the Smokies, named best Fly Fishing Guide in 2020's Best of the Blue Ridge awards. In addition to offering a variety of fishing tours, this outfitter also has a full bait and equipment shop located in downtown Bryson City. Guided fly fishing tours are also available through Fontana Guides, Carolina Bound Adventures, Tuckaseegee Fly Shop, and more. Other available guides can be found here:
For those who are ready to fly solo, our town is home to a plethora of shops stocked with everything you'll need for a day on our waters, like Simonds Bait and Tackle. Located right along the Tuckaseegee, this locally owned store stocks live bait and many well-known brands of rods, reels and tackles. It also offers fishing and hunting licenses. A fishing license is required to cast your line in North Carolina waters.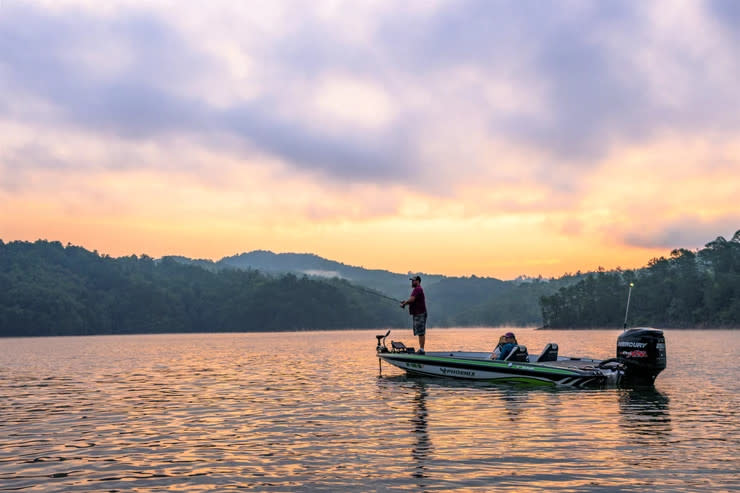 Fontana Lake, Bryson City, North Carolina
Our history with and connection to fishing runs so deep that we have commemorated it with the Fly Fishing Museum of the Southern Appalachians. Located along Main Street, this museum is dedicated to the Southern Fly Fisherman. The many exhibits in this unique space outline the history of the Southern Appalachia's Trout Waters, accessible in North Carolina, South Carolina, Maryland, Virginia, West Virginia, Kentucky, Tennessee, Georgia, Alabama; the Qualla Boundary, home of the Eastern Band of Cherokee Indians; the Great Smoky Mountains National Park; and the Blue Ridge Parkway. Just a few steps away from the museum lies the Appalachian Rivers Aquarium, another one-of-a-kind attraction swimming with many of the aquatic creatures that call the Southern Appalachia region home.
We can't wait to see what memories you'll make as you catch and explore what lies beneath our beautiful, diverse waterways. Experience the best fishing the Smokies have to offer, and connect with a longstanding history that goes back generations. Don't forget to share your prize-winning catches along the way! Tag us on Instagram using the hashtag #YesBrysonCity for a chance to be featured on our social media pages. We can't wait to see you on our waterways!
For more information, visit our fishing page.
Fishing Guide to Bryson City
Bryson City and the Great Smoky Mountain National Forests are some of the most diverse fishing habitats in the world, with waterways…