Have you dreamed of saying your vows at the base of a majestic waterfall? Of tying the knot atop a towering overlook of rolling mountainsides? How about celebrating your best day ever in a rustic cabin surrounded by towering treetops? If you said yes to any or all of the above, Bryson City might be the perfect place for you to say I do. With the wooded wonderlands waiting right in our backyard, including the awe-inspiring Great Smoky Mountains National Park, and a number of charming venues, there are many places to host the biggest event of your year.
Say "I Do" with National Park Views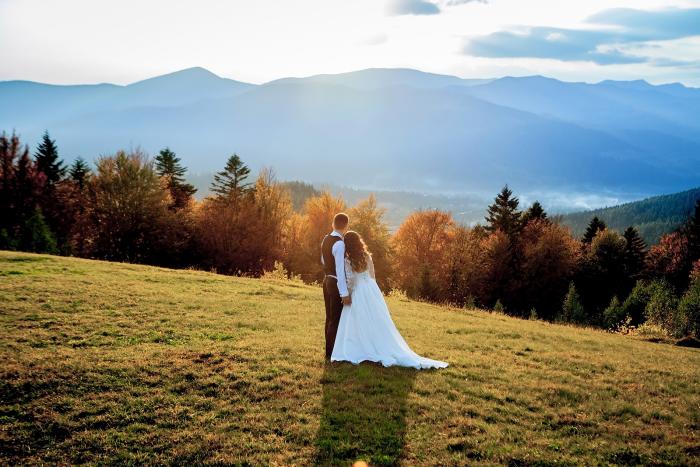 When the mountains of western North Carolina tower at every corner, why get married anywhere else but in the great outdoors? One of the most unique places to exchange vows in Bryson City is right in the Great Smoky Mountain National Park itself! A select number of locations close to the heart of downtown can be your backdrop. Deep Creek, Mingus Mill, Smokemont Church Rock Wall Curve and the Collins Creek Picnic Pavilion are all approved spots for weddings within the park. Reserving your wedding in these or other park locations requires special permitting, which must be filed and approved a minimum of 14 days prior to the event. Learn more about special event guidelines and application requirements, here.
Host the Waterfront Wedding of Your Dreams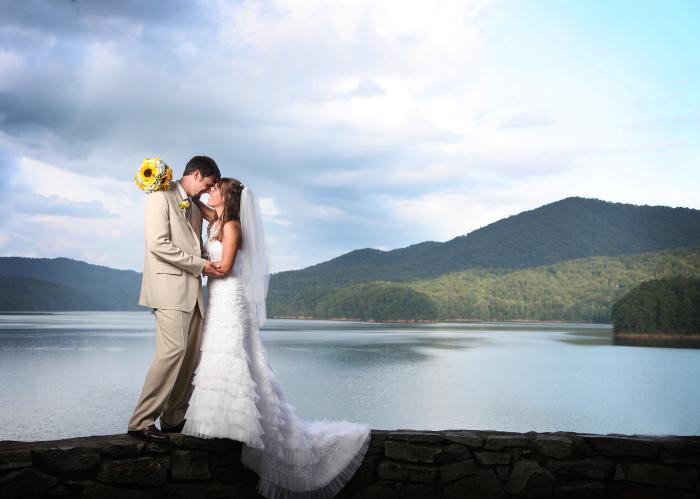 One of the most serene and picturesque places to celebrate your love is Falling Waters Resort by Wildwater. Nestled atop the Nantahala Gorge, stunning blooming florals surround this outdoor venue, while a gently moving creek provides a touch of mountain ambiance as it spills into a larger pond. The entire resort can be rented for your nuptials, which includes this scenic space, the yurt villages and additional lodging that can accommodate up to 60 people total. A reception hall is also included, which can hold up to 200 guests.
Another scenic spot to say "I do" is along Fontana Lake, Bryson City's sparkling crown jewel. At Fontana Village Resort, you and your entire wedding party can enjoy cozy accommodations, dining and an unforgettable ceremony, all with stunning Fontana Lake and the Great Smoky Mountains as the backdrop of it all. Fontana Village Resort also has on-site wedding planners who will help take the stress out of your big day!
Enjoy Matrimony the Micro Way
One of the biggest trends for weddings is the micro wedding, where smaller guest lists result in a more private, intimate and special celebration for the bride, groom and families. Bryson City is home to a number of wonderful venues ideal to host the small ceremony - or even elopement - of your dreams! One of many charming spots is Harmony Hall, a rustic, beautiful lodge that opens to a picturesque mountain meadow. Harmony Hall, part of the Land's Creek family of log cabins, comes equipped with a large fire pit and stone fireplace outdoors, as well as an impressive open kitchen and outdoor grill. A small playground also makes this venue ideal for those with young ones attending. Harmony Hall can hold up to 70 guests.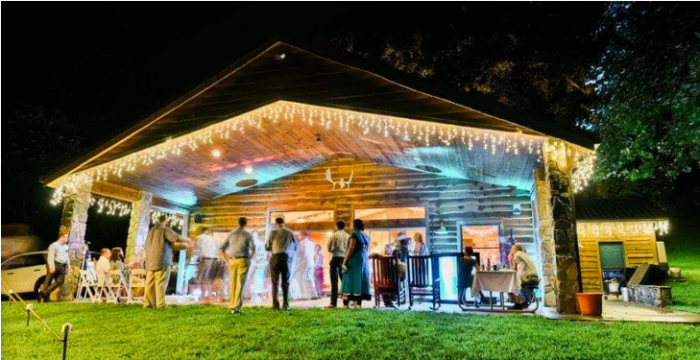 Another beautiful venue to host your micro-wedding is the Sabbath House, an eight-bedroom, eight-and-a-half-bathroom lodge that can comfortably accommodate up to 20 people. In the heart of the Smoky Mountains, the Sabbath House boasts a panoramic balcony that overlooks miles of rolling mountainsides. Reconnect with your loved ones in this picture-perfect space as you begin your life with the person of your dreams.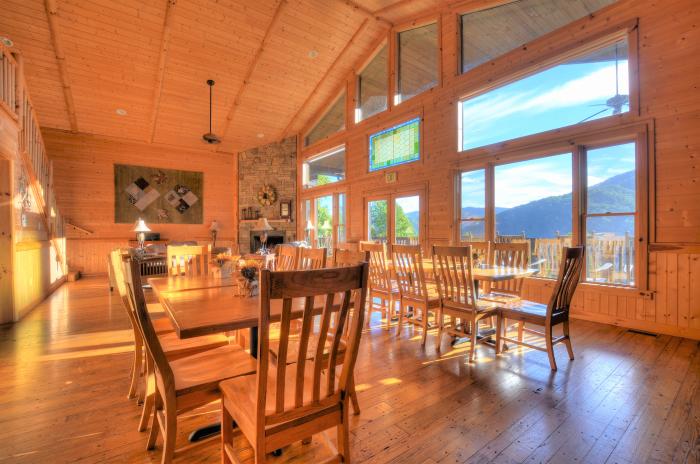 On our mountainsides, you'll find these and other dreamy venues, where anything you choose is sure to create the perfect Smokies backdrop. Our destination also offers relaxing accommodations for you and your guests as well as florists, photographers and caterers. With so many diverse offerings in Bryson City, you and your betrothed can truly make your special day unforgettable. Start planning your destination wedding, here: https://www.explorebrysoncity.com/weddings/.