What's a good vacation without a little retail therapy? Here in Bryson City, our many locally-owned boutiques, specialty stores, outfitters and markets offer some of the best small-town shopping found in the western North Carolina Mountains. Find unique, one-of-a-kind goodies, clothes and gifts to take home as you shop local through our streets. Let's virtually shop through some of our favorites!
Make It Unique at Our Boutiques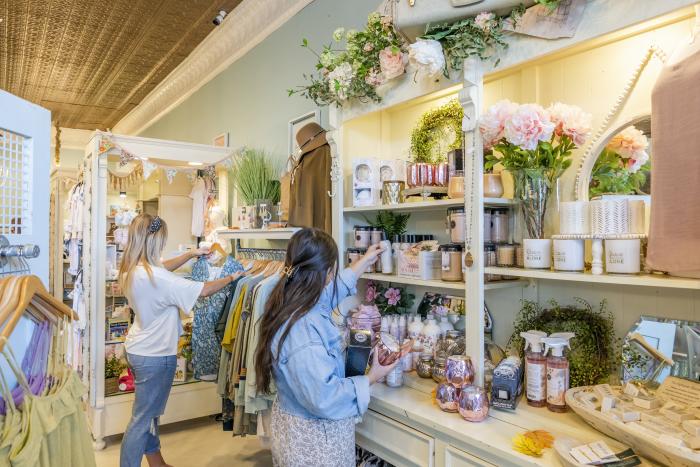 Become the envy of those back home with a chic wardrobe update from one of our fantastic locally-owned boutiques, all located in the heart of downtown! Our boutiques offer on-trend, brand-name clothes, shoes, accessories and other fun mementos. The best part is - they're all locally-owned, too!
For must-see fashions with compassion, pop into Humanite Boutique. In addition to offering the trendiest styles, Humanite also prides itself on giving back to communities in need. 10% of all profits are donated to Heart for Africa and other global charities. Humanite is also available to shop online. Another great local boutique is Madison's on Main. Shop the latest styles for all ages, even babies, at this adorable store. Madison's also carries select home goods items both in-person and online.
Looking for a new purse? Swing on into Pursenality, where your new arm candy awaits! For a little farm flair, stop in Smith's Dry Goods. This family-owned store stocks everything from boots and cowboy hats to outwear, field-ready clothes and more. Housed in one of Bryson City's oldest buildings, the character of this store can be found down every aisle.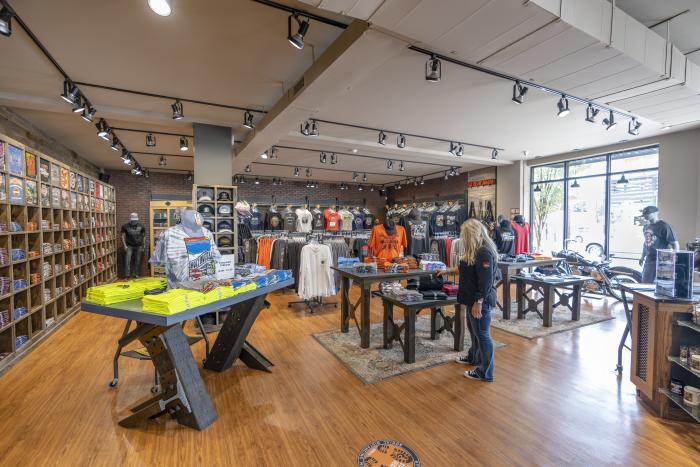 Other fun and unique clothing stores include the Harley Davidson Store, Loose Moose, Uncle Bunky's T-Shirt Shop and Southbound Marketplace, a mobile boutique selling select fashions and goods. 
Stock up for Adventure at Outfitters Galore
Any good explorer knows there's no sense in heading into the Great Smoky Mountains National Park without proper gear. We wouldn't be the Outdoor Adventure Capital of the World if we didn't make sure you were prepared for those adventures! Our many outdoor adventure outfitters are here to guide you through and get you everything you need to explore our wilderness.
At both Tsali Cycles Bike Shop and Bryson City Outdoors, you can add a little hop to your adventure by grabbing an ice-cold brew. Tsali Cycles, located on the shores of the Tuckaseegee River, is a full-service bike shop, offering everything you need to get out and ride the many trails near Bryson City (including the namesake Tsali Trail). From gear to rentals, you can find it all in Tsali. The locally-owned shop also has a small taproom, serving up to four local craft beers at any time. Food is not sold here, but guests are welcome to bring their own to eat in designated areas.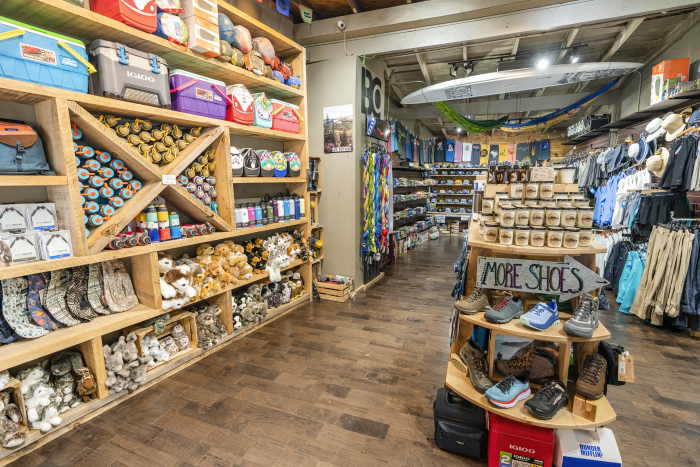 Bryson City Outdoors, over in the heart of downtown, carries a variety of gear for hiking, fishing and other outdoor activities, as well as cases and cases of craft brews. The shop's taproom boasts a wide variety of beer and cider from around the region. Pick up a case to take with you, or buy it by the glass and enjoy it on the shop's spacious patio. Local food trucks frequently park just outside, making it a great place to fuel up and stock up.
At Tuckaseegee Fly Shop and Fly Fishing the Smokies, you can add a little aquatic fun to your shopping. Both stores offer an impressive array of gear to get you ready to cast your line in our rushing waters. They also offer several guided fly fishing tours. Let an expert lead you across our waterways, or just get advice from people who know our rivers best.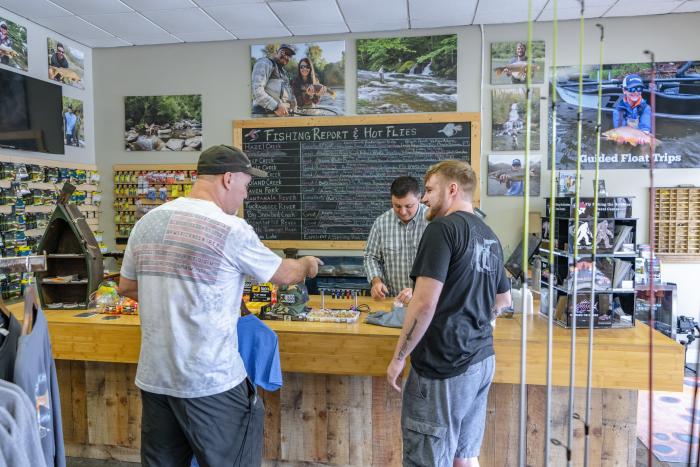 One of our area's biggest outfitters can be found at the Nantahala Outdoor Center. Known best for its group white water rafting tours, zip lines, ropes courses, dining and sprawling campus, NOC also boasts an impressive outdoor store. From kayaks and paddling gear to footwear and more, it's the perfect stop to gear up before your adventure. Other great outfitters include Great Smoky Mountain Bait and Tackle, Simonds Bait and Tackle and Bear Springs Armory. 
Join the Hunt at Abundant Antique Stores
Whether searching for something old, new, borrowed or gently used, you're sure to find treasures untold at Bryson City's antique and thrift stores, many of which are found in our picturesque downtown. Shop through the past, Bryson City style!
One local favorite is Calby's Antiques and Gifts, located in the Historic 1905 Bennett's Drug Store. Calby's offers a unique blend of antiques, collectibles and gifts; specializing in china, silver, glassware and decorative items, as well as jewelry and small furniture. Keep the history of Bryson City alive at this unique store.
Another great spot to find your next conversation piece is Charleston Station. This Main Street staple specializes in unique antique furniture, handmade quilts, home decor, woodcarvings, crafts and more. Walk across the street to browse through the vintage goods, collectibles and more at Buttermilk Farms, another Main Street must-see.
Bryson City is also home to a select number of thrift and consignment stores, including Paws Thrift Store, St. Joseph Catholic Thrift Shop and Sweet Lemon Consignment.
Bring Bryson City Charm Home
In addition to boutiques, outfitters and antiques, we also boast many locally-owned specialty stores for you to explore. Bookstores, sweet shops, wine stores, and even holiday and Christmas stores - we truly have a little bit of everything in our slice of the Smokies!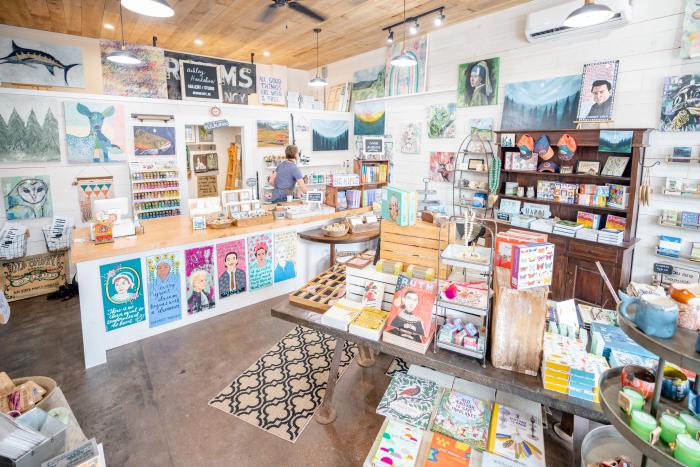 Readers are sure to love browsing the selections at One Twenty Main, the Swain County Visitors Center or the Friends of the Library Used Bookstore. Each offers a unique selection of books to cozy up with by the fire. One Twenty Main offers fun art selections along with their catalog. The Visitor's Center is one of two locations of the Great Smoky Mountain Association Bookstores, with shelves stocked with educational tomes about the sprawling park and its many wildlife. Friends of the Library specializes in selling gently read, but no less loved books, along with puzzles, movies and more.
It's impossible to visit Bryson City without satisfying that sweet tooth. Sample little bits of hand-dipped magic at the Chocolate Shoppe, or bring home treats for the family at Heavenly Fudge. Want something truly unique? Grab a bag (or two) of gourmet, flavored popcorn from Pop N Jacks! If savory is more your flavor, you can also pick up a fun snack from the Beef Jerky Outlet. All are conveniently located steps away from each other downtown.
Foodies are also sure to love the selections available at Artsy Olive, a gourmet boutique that's stocked with artisan olive oils, local BBQ sauces, regional vinegars, herbs, salts and more. Round out these accents with a nice bottle of wine at Bryson City Wine Market, which offers tasting classes in addition to selling a variety of local beers and wines.
Other must-visit specialty stores include Rita's Hallmark, Uncle Bunky's Christmas Cottage, the Harley Davidson store, The Wild Fern Artisan Market and Appalachian Mercantile, which has been described by locals as an "art gallery meets BBQ sauce store." For unique souvenirs and home decor, you should also stop by West End Country Store, MRKT on the Square, McClanahan's or Clampitt Old Store.    
Soak in Appalachian Culture at Our Art Galleries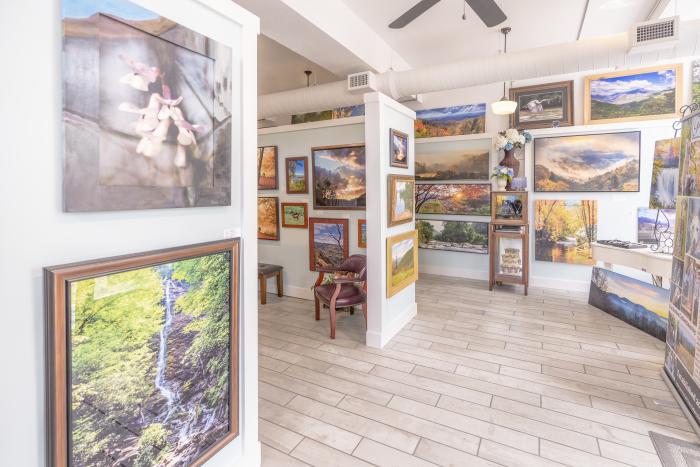 Art lovers are sure to adore the many art galleries found throughout Bryson City. In addition to the displays at One Twenty Main, you can also wander through the Elizabeth Ellison Gallery or Gallery Zella, both of which feature beautiful show rooms full of unique paintings and landscapes.
At Gingko Feathers, you can see an eclectic mix of prints, paintings, pottery and crafts, including the beautiful gourd creations made by local artist Joan Glover. Fans of her work can also pick up unique pieces to take home at select markets in Bryson City, such as the Smoky Mountain Farmers and Artisans Market. Pottery is also on display at the Wild Fern, Handmade Pottery, Stecoah Valley Center and Qualla Arts and Crafts. 
Ready to get your Smoky Mountains shopping started? Start planning your Bryson City getaway and book your next stay, here: https://www.explorebrysoncity.com/places-to-stay/.