Nothing pairs quite as well together as the Great Smoky Mountains and a rustic, charming cabin. Something about those balconies overlooking our rolling peaks, the smell of chlorine from a hot tub and inviting fireplaces make a mountain getaway even more inviting. In Bryson City, North Carolina's gateway to the Great Smoky Mountains National Park and all of its scenic glory, we have an abundance of fantastic cabin rentals ready for your vacation, ranging from cozy spots perfect for couples and small groups to spacious abodes ideal for families, friends and more. We've rounded up a few of our favorite places to enjoy a relaxing getaway!
1. Enjoy the Comforts of Today with a Smoky Mountain Modern Escape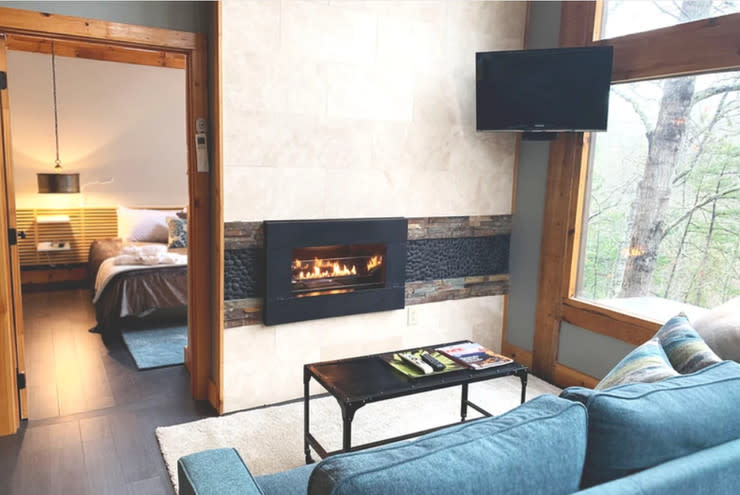 Woodland Lofts
Smoky Mountain Modern's spacious rental cabins infuse the beauty of the traditional cabin with the modern amenities and sleek, clean designs current with today's trends. These beautiful homes range in size to fit your party's needs. The smallest units are the Woodland Lofts, a series of one-bedroom bungalows tucked away in a canopy of towering trees. Perfect for couple's getaways, these new, beautiful homes are complete with a king-sized bed, living and dining area, small kitchen and private deck overlooking the wooded scenery. A shared community space connects the three lofts, offering a firepit, grills and more. Larger groups can also rent all three bungalows for a unique stay that offers opportunities to connect with each other and retreat to private spaces.
The largest home available through Smoky Mountain Modern, Sunset Falls, is a three-bedroom, three-bathroom home perched atop one of our towering peaks with panoramic views of Nantahala Gorge. Winding up to this beautiful spot, you'll pass through wooded wonderlands and breathtaking waterfalls for a scenic drive that can't be beat. This gorgeous property has an outdoor firepit, floor-to-ceiling windows overlooking the mountains, a full-size kitchen and more. Two of the three bedrooms also feature their own private patios.
These are just a few of the many gorgeous properties available with Smoky Mountain Modern! Explore their diverse offerings and enjoy a stylish escape to Bryson City.
2. Keep Downtown at Your Fingertips at Bryson Village
At Bryson Village, located just a few blocks away from Main Street, you can experience all the joys of cabin living while only just a walk away from our downtown shops, eateries, breweries and the Great Smoky Mountain Railroad depot! In addition to being so close to our quaint streets, Bryson Village's location is also central to a number of our outdoor activities, like the adventures awaiting at Deep Creek. Properties in the charming Bryson Village community range from newly constructed one-bedroom cabins, cozy one and two-bedroom cottages that evoke the feeling and comfort of home and a spacious, restored historic house with three bedrooms and enough room to sleep up to 10.
Many of the properties available also feature their own hot tubs and decks that overlook either the mountains, water features or our scenic downtown. Here, you can keep the charms of downtown and the excitement of the Outdoor Adventure Capital of the Great Smoky Mountains right at your fingertips. Sleep in the heart of all of Bryson City's fun at Bryson Village!
3. Soak in the Majesty of Fontana Lake at Lakeview at Fontana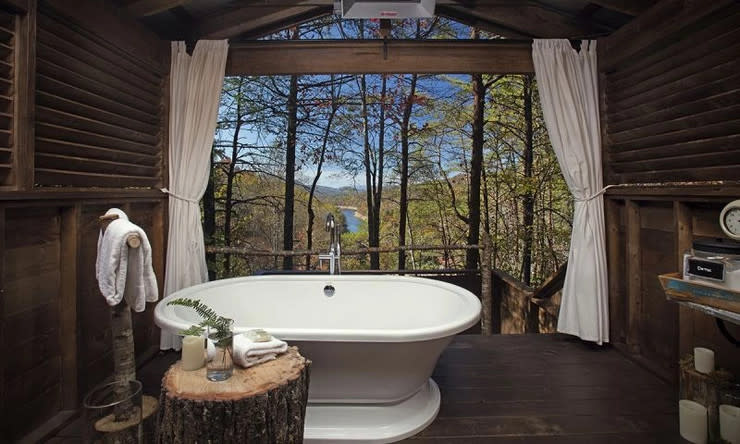 Have you ever enjoyed a luxurious soak, stretched out in a tub of steaming hot water that's full of restorative essential oils, overlooking rolling mountainsides and glittering waterways? This moment of true relaxation awaits at Lakeview at Fontana, named one of USA Today's 10 Best Southern Mountain Resorts and Inns. Nestled among the treetops along beautiful Fontana Lake, this dreamy resort offers a unique chance to immerse yourself in nature with fabulous accommodations and the ever-popular Treetop Soaking Cabanas.
The rooms and suites at Lakeview offer an open, spacious place to rest amongst the natural backdrop of the Great Smoky Mountains, with one, two and three-bedroom properties available to rent. TV and Internet are not available in any of the accommodations as Lakeview is focused first and foremost on helping you disconnect and unplug from the world around you. The Treetop Soaking Cabanas offer a wonderful one-of-a-kind experience, with the open-air spaces allowing you to enjoy the wonder of our great outdoors while totally relaxed and undisturbed in a restorative, hour and a half long soak. Rooms are available seasonally April through November, and the soaking cabanas are ready to greet you with fresh mountain air from February through November. Soak in the beauty of our natural wonderland at Lakeview at Fontana.
4. Add Whimsy to Your Getaway with a Unique Airbnb
In Bryson City, we are no stranger to the Airbnb craze! Our mountainsides are dotted with a variety of rental properties, ranging from more traditional homes and cabins to wonderfully fun offerings like a renovated train car, vintage camper, tiny houses and more. Airbnb's and similar rentals offer you a plethora of options to browse through, allowing you to ensure you book a space ideal for your party's needs. These properties also offer unique touches and décor themes and can be found throughout downtown, tucked away in our mountainsides, along waterfronts and just about any and everywhere else in our charming town! Get lost browsing for your favorite spot when you search through the many Airbnb's available here.
With so many wonderful accommodations in our slice of the Great Smoky Mountains, it's hard to narrow down just which place to choose! In fact, our abundance of cozy spots might just warrant a repeat vacation so you can try them all. No matter where you choose to rest your head, though, you're sure to have an unforgettable stay in any of the wonderful cabins available throughout Bryson City. Start planning your next Bryson City getaway, book your stay and explore our other accommodations offerings at https://www.explorebrysoncity.com/.