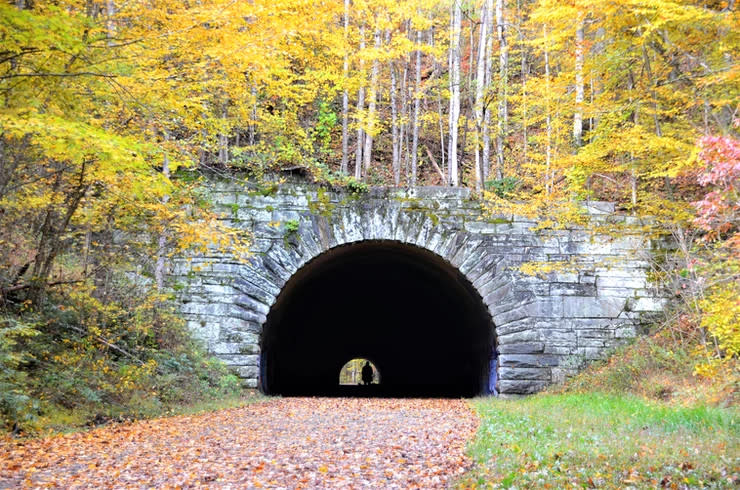 Once the crisp air of autumn hits the Great Smoky Mountains, our natural wonderland comes to life in rippling, vibrant shades of red, orange, yellow and gold. Bryson City, our quintessential, charming mountain town looks its best when awash in the bright hues so lovingly associated with the splendor of fall. It's a sight that can't be missed, and we've put together the perfect guide to help you discover the colors that truly make us a North Carolina gem.
When do the leaves change?
Due to our differences in elevation, the leaves begin their seasonal grand finale at varying times throughout the months of autumn. This means you will be able to see beautiful fall foliage no matter when you visit, with certain times requiring a bit more of a drive or hike up our mountains to reach "peak" color. At areas of higher elevation (5,000+ feet), you can begin to see fall colors peep through the trees as early as the end of September and into October. Starting there, the autumnal shift works its way down the mountainsides over the course of the next five to six weeks, with our lowest points in elevation seeing leaves change as late as the end of October. Other factors can play a role in color changes, too. Temperature, the quantity of rain and other unpredictable elements can result in leaves changing earlier, later or falling from the trees entirely before colors begin to transform. Check out our Leaf Color Guide for more detailed information.
If you arrive in Bryson City and are unsure just where to go leaf-peeping, just head to the Visitors Center, where our team of leaf experts will guide you to the perfect spots!
Where can I see the leaves?
With the Great Smoky Mountains National Park and the Nantahala National Forest right at our doorstep, our charming mountain town is awash in opportunities to immerse yourself in the beauty of fall, ranging from hikes to casual strolls, scenic drives to train rides and more! No matter your comfort level for adventure, we're sure to have the perfect activity for you to enjoy. Our Leaf Color Guide can help you find the best fall colors during the time you plan to travel.
Hiking:
Some of our best spots to venture during the months of fall are our wonderful hiking trails, which criss cross through the forest, by waterfalls and up the mountains. Those wanting to get a peek at fall leaves early should head to overlooks like Waterrock Knob, home to the highest Visitors Center at 5,820 feet. Known for being a wondrous spot to view the sunrises and sunsets, this peak features beautiful long-range viewing spots of many mountain chains. The top of Waterrock Knob begins in the visitors center parking lot and is a 1.2-mile round trip - perfect for those wanting a short and sweet tour of the changing leaves. The summit will perch you at 6,273 feet, the highest point on the Blue Ridge Parkway, so don't forget your camping chairs to set up and enjoy the amazing, shifting views.
One of the most unique places to explore is the Road to Nowhere, a trek that is partially accessible by car. A route steeped in history, the winding path up will give you early glimpses of the splendor to come as you twist and turn to your final destination. There are many spots to pull off and see the beautiful changing leaves above Fontana Lake as you climb up or down. Once you near the entrance to the Road to Nowhere's tunnel, the legwork begins. Trek on foot to and through the tunnel to see bursting hues on either side, but be sure to bring a flashlight as the quarter-mile-long tunnel is very dark. The Road to Nowhere also acts as an access point to several other hiking trails such as Noland Creek Trail, the Goldmine Loop, Forney Creek and Lakeshore Trails.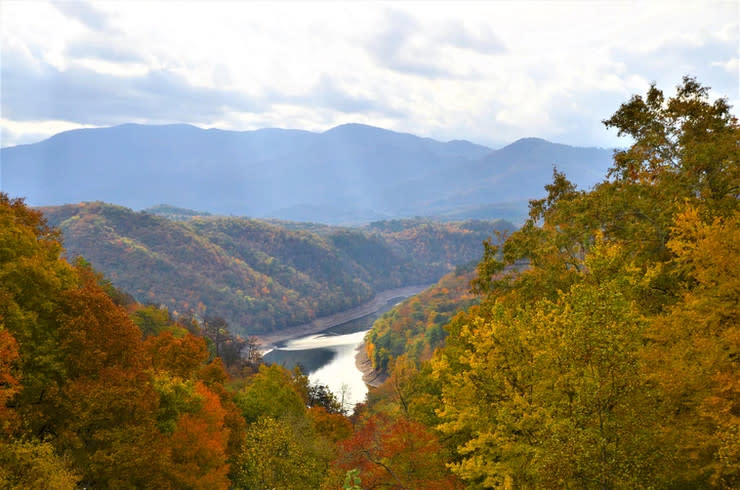 Another favorite scenic venture is Clingmans Dome, which can be accessed on foot for experienced hikers or can be reached partially via car. At 6,634 feet, Clingmans Dome is the highest point in the Smokies, meaning fall foliage is visible here before it is most other places near Bryson City. Those who want to access this peak and observation tower on foot can do so by trekking through the long stretch of the Appalachian Trail that passes through Swain County. Due to length and elevation change, this route is recommended more for seasoned hikers. Those who drive can park at the base of the observation tower and walk the half-mile, steep incline to reach the overlook. A park visitor center and restrooms are available. Several other hiking trails can be accessed from this point as well, including the Forney Ridge Trail that leads to beautiful Andrews Bald.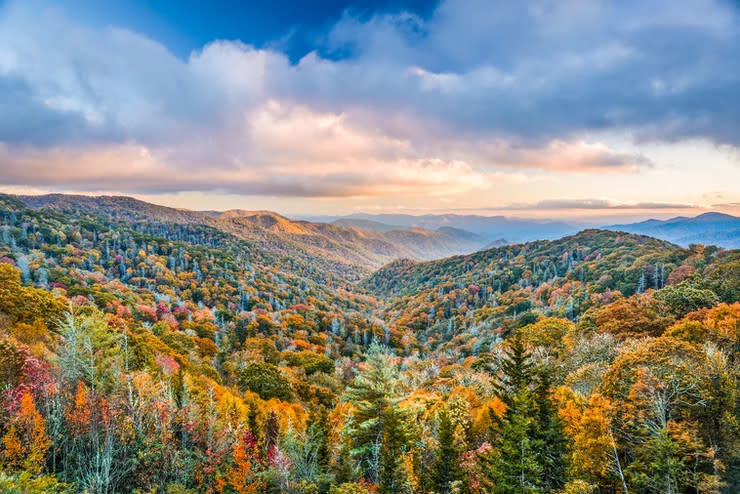 Black Balsam Knob, the summit of the Art Loeb Trail, is another great spot to get early 360-degree views of fall hues. The trail begins in a dense grove of balsam fir trees, the tree for which the summit gets its name, but moves into a wide, rocky landscape covered in wildflowers, perfect for an autumnal hike. You will be able to walk nearly three miles before returning to the forest.
Much loved in the summer months for its crisp, cool waters perfect for tubing, Deep Creek becomes a leaf peeper's paradise in the later months of fall. Due to its lower elevation, leaves do not begin to change in this popular section of the Great Smoky Mountain National Forest until closer to or in November. However, once the trees begin their seasonal shift, the trails and waterfalls of Deep Creek come alive in autumnal wonder. Enjoy a casual stroll up to Tom Branch Falls, one of the first waterfalls you'll find near the entrance of Deep Creek, or hike through the area to spot each of the three beautiful falls. Other popular hiking spots include Graveyard Fields, Black Balsam Knob and Waterock Knob, which generally start their fall color show in early October.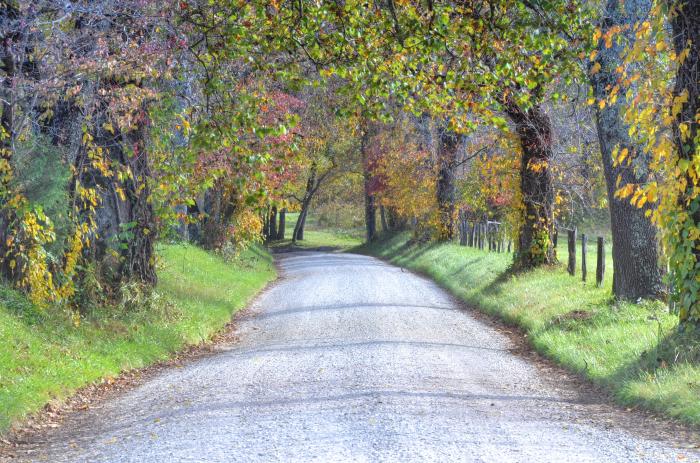 Wanting to add another scenic drive to your leaf hunting trip? Take a trip out to beautiful Cades Cove, an expansive valley surrounded by towering Smoky Mountain peaks. While it is one of the best places to spot wildlife, it also provides amazing views of the changing season. Great trees and stunning overlooks accompany you along the two-hour journey to Cades Cove and promise nature at its finest. Once you arrive, you can either head straight onto the 11-mile loop or check out some of the phenomenal variety of historical buildings. There are a variety of hiking trails that start at Cades Cove if you are looking for a day filled with autumnal views and a sensational outdoor experience.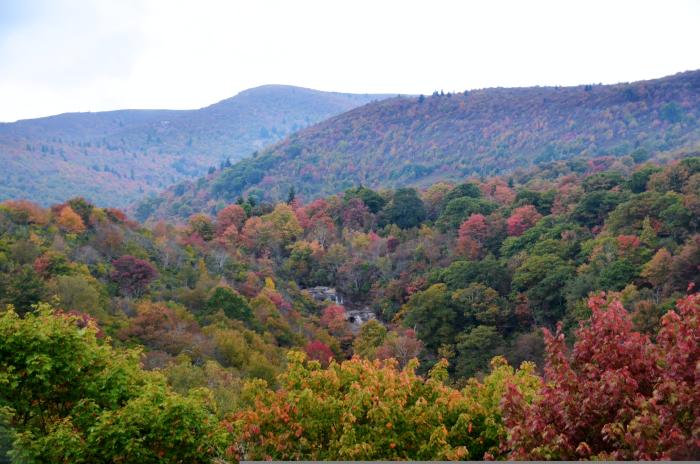 Add some pet-friendly waterfall fun to your leaf-peeping trip by stopping by Graveyard Fields! This hike takes you to two beautiful cascades: multi-tired Second Falls and the tall cascades of the Upper Falls. The sensational fall colors can be seen through the thickets and mountain flora as well as over the wildflower fields that grace your path. A choice awaits you as you come to a T in the path - head left on a 3.3-mile round trip through moderate Upper Falls or choose the right to head towards stunning Lower Falls.
Driving: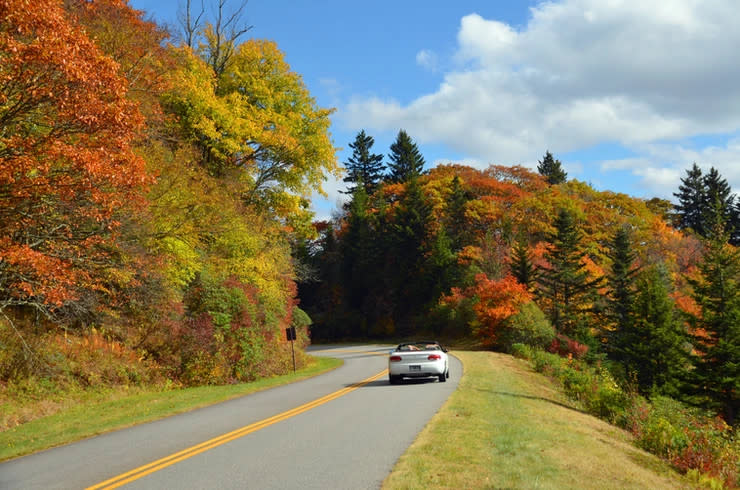 Here in Bryson City, our unique proximity to scenic roadways such as the Blue Ridge Parkway make us a great home base for relaxing drives through the Smokies and beyond. The Blue Ridge Parkway, one of the country's most scenic drives, stretches from our corner of the Smokies up through Shenandoah National Park in Virginia. Another beautiful mountain drive close to Bryson City is the Cherohala Skyway, which stretches the opposite direction into the mountains of Tennessee. Due to the changing elevations along these roads, you're guaranteed to spot a variety of fall shades no matter how far you drive up either of these beautiful parkways.
Wanting to stay a little closer to your home base in Bryson City? Look no further than Fontana Dam - the tallest dam east of the Rocky Mountains, and only a few miles from our charming downtown. Jaw-dropping views can be seen across the Dam's surface, whether walking or in your car. Please note that the Fontana Dam Visitor Center is only open until the last Sunday in October, but the yellow-orange tinge in the leaves is still welcoming for those seeking out the last of the fall weather.
The Great Smoky Mountains Railroad: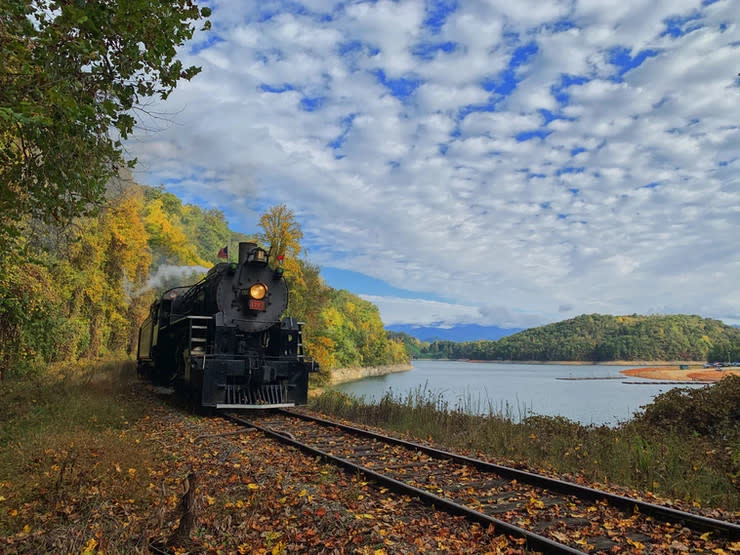 One of the most unique offerings we have for avid fall fanatics is the Great Smoky Mountains Railroad, which operates a variety of exciting uniquely themed rail excursions, many with onboard dining options. Perfect for the fall, the Leaf Looker excursion takes guests up through the Nantahala Gorge to view stunning natural backdrops dotted with changing leaves. It's a four and a half hour round trip journey filled with picture perfect moments. The Railroads' other regular excursions operate throughout the fall, as well, some of which include access to unique expeditions such as zip lining, Jeep tours and whitewater rafting. Each offers their own exciting way to experience the rush of fall.
You can also soak in the beauty of fall and enjoy all the charm of small mountain town life by strolling through the streets of our downtown. Stop into any of our charming shops such as Humanité, pick up something sweet at places such as The Chocolate Shoppe, or enjoy outdoor dining with a view and a brew at restaurants such as Nantahala Outdoor Center's Big Wesser (open seasonally from May-October), a secondary location of the NOC's dining offerings located in the Nantahala Gorge, approximately a 20 minute drive from downtown Bryson City.
There are a plethora of ways to enjoy all of the fun of fall, and soak in every one of its vibrant shades here in Bryson City. Don't hesitate to book your getaway today! Discover more about our mountain escape by signing up for our e-news.