Stop. Listen closely. Hear the rush of thrilling waters as they churn down the Smoky mountainsides. The rivers of Bryson City are calling, and we know the best way to answer - a whitewater journey through our natural wonderland. Four rivers that crisscross through our mountainous backyard provide whitewater opportunities that guests of all ages can enjoy, and our many outfitters are ready to get you splashing through that clear, cool Smoky Mountain Water. Our handy guide will help you decide which adventure is best for you!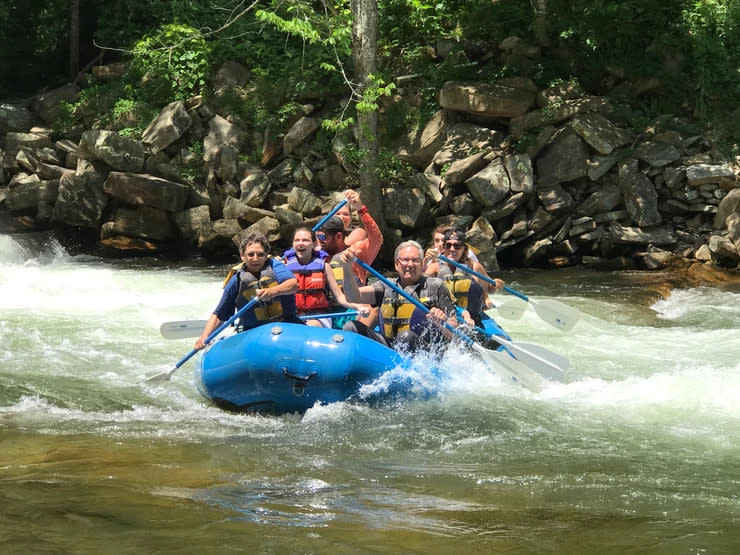 Select Your Waterway
Here in Bryson City, we're fortunate to be conveniently located near four rushing rivers that are all perfect for whitewater adventurers of any experience level. One of the closest - and most prominent - to our town is the beautiful Nantahala River, named Best Paddling River by Blue Ridge Outdoors. This sparkling waterway attracts more than 200,000 paddlers to its Class II and Class III rapids each year, making it an ideal waterway for families to explore. Children who want to race down these rapids must be 7 years of age or older and weigh a minimum of 60 pounds. Those who venture down the Nantahala may also spot a few whitewater kayakers on their journey. The river is a well-known training spot for professional and Olympic-level kayakers!
Another nearby waterway is the Tuckasegee, which flows for 40 miles through North Carolina, cutting directly through Bryson City's downtown. The Class I and II rapids on this gentler river offer a more calming experience than others, with children as young as four able to strap in and enjoy the paddle downstream.
Other rivers that can be reached from Bryson City include the Cheoah, a narrow waterway with controlled releases that offers only a select number of whitewater adventures throughout the year, and the Ocoee, home of the 1996 Olympic Whitewater Championship. Both require a bit more of a drive to reach but provide higher class rapids sure to get the adrenaline pumping.
Find Your Guide
Now that you've selected your perfect river, all that's left is to find the right guide! Bryson City is dotted with a plethora of outfitters and trained professionals, all who are ready to take you on an aquatic Smoky Mountains adventure.
One well-known outfitter is the WildWater-Nantahala Gorge Adventure Center. Opened in 1971, this family-owned business offers guided whitewater tours, inflatable kayak and raft rentals, zipline adventures through the treetops, Jeep tours and onsite lodging! One of WildWater's most popular tours is their Raft and Rail excursion. Guests ride up with a certified guide to the Nantahala Gorge on the Great Smoky Mountain Railroad. Once at the top, guests and their guide will strap on their life jackets and head to the launch site to ride the Nantahala River rapids back down.
Another recognized outfitter is the Nantahala Outdoor Center. Though NOC has multiple raft locations throughout the Southeast, their main campus is located here in Bryson City! Spread out on both sides of the rushing Nantahala River, this impressive facility is a haven for outdoor enthusiasts, and will mark 50 years of operation in 2022. Guests can check just about everything off their outdoor adventure to-do list at NOC, with the 500-acre campus offering everything from whitewater guided tours and watercraft rentals, to ziplining, hiking, biking, dining options, cabin rentals, shops and more. Guests can also walk a few paces on the historic Appalachian Trail, which cuts through NOC's camp-like facilities.
For a truly unique rafting adventure, book one of the whitewater excursions available with Carolina Bound Adventures! Owner Mark Van Osdal is an outdoors pro through and through, and offers multiple exciting tours that will have you exploring all corners of the Smokies. This includes several whitewater tours, some of which even combine experiences, such as the zipline and whitewater tour.
Our rafting season runs from April to October, and all of our outfitters are equipped to provide safety gear, such as life jackets, and many provide wetsuits and paddling jackets for those adventuring in the cooler months. No matter who you raft with, it is recommended that you come prepared by wearing secure shoes, towels and appropriate clothing. Bathing suits and/or shorts and a t-shirt are advised for warmer months, while those rafting in cooler months should be prepared to layer. Any loose items such as watches or jewelry should be left behind.
Spring, summer or fall, you're sure to have a ball paddling through the rapids of Bryson City's rivers. As you make these splashing memories, be sure to tag us in the fun! Share your whitewater adventure snaps on Instagram with the hashtag #YesBrysonCity for a chance to be featured on our social media pages.
Other Bryson City Whitewater Rafting Companies: