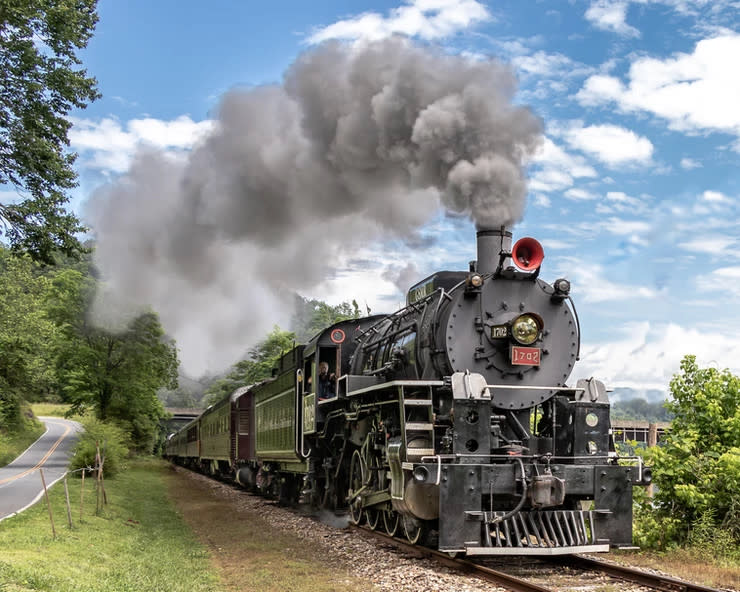 There is something comforting about hearing the whistle of a locomotive as it churns through the center of town. It brings a sense of nostalgia for childhood and days past, as the billowing plumes of steam fill the mountain air and people stop to watch it gently pull into the station. Here in Bryson City, the Great Smoky Mountains Railroad provides that and more - this train is one you can ride! The Railroad's many excursions, available on both steam and diesel engine locomotives that offer air-conditioned or open-air cabins, will take you on gentle turns up our mountainsides, through tunnels and mountain valleys, over sparkling waterways and, of course, with beautiful views of the Great Smoky Mountains National Park. Grab your ticket and hop aboard. Let's explore six ways you can ride our historic rail line!
1. Take the "Gorge"-uos Route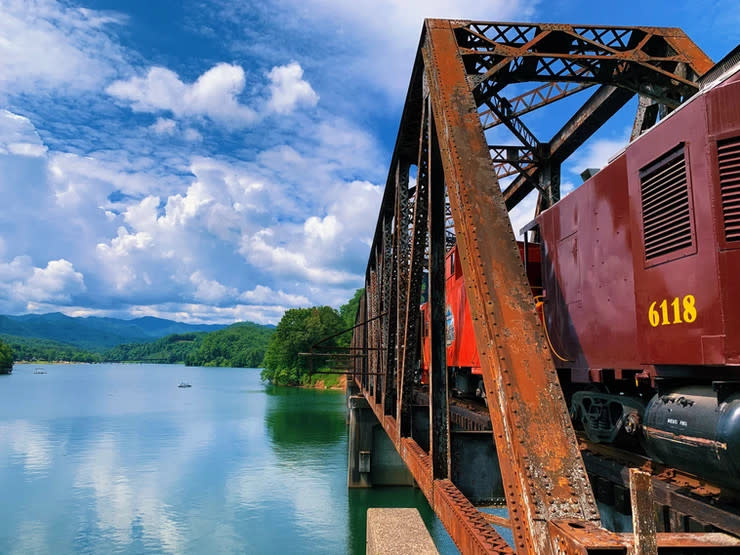 One of the most scenic ventures you can take on the Great Smoky Mountains Railroad takes you right along the rushing Nantahala River. The Nantahala Gorge Excursion departs from Bryson City, heading north through the treetops, across the historic Fontana Trestle bridge that spans its namesake lake, reaching the top of the line at Nantahala Gorge. A stopover at the Nantahala Outdoor Center provides many opportunities to explore this sprawling camp-like campus where whitewater rafters and kayakers careen through the river's rapids, while those venturing on dry land can shop, eat, zipline and more before the return excursion to Bryson City. Several seating selections are available in a variety of cabins, ranging from open-air to first-class, an enclosed, climate-controlled cabin that offers various in-ride dining options.
2. Package it Up!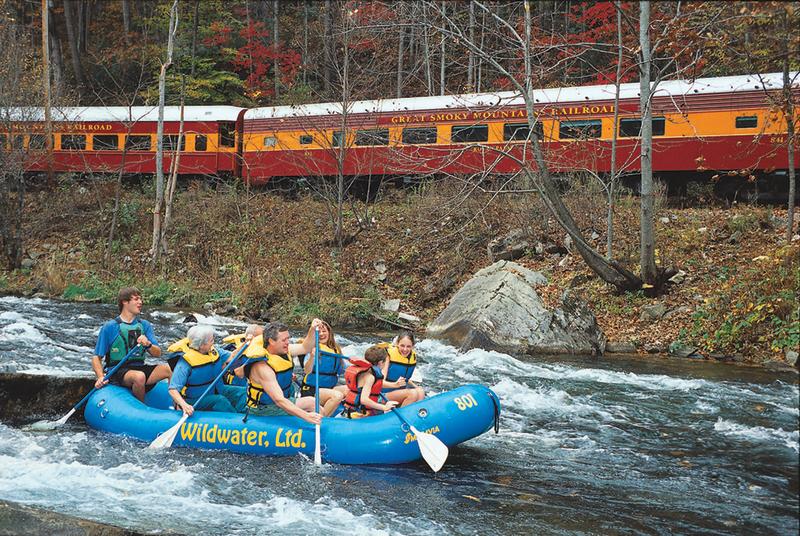 For those who want to add a little thrill to their Railroad experience, select the Raft and Rail, Rail and Trail, and Tarzan Train are available to book from April through October. Convenient, inclusive and simple, the raft and rail adventures take you to the top of the Gorge with a specially trained rafting guide with Wildwater Adventures. Once at the top, you and your crew will depart to ride the rapids back down on a thrilling 8-mile journey through the sparkling Nantahala River. Transportation back to Bryson City is included in this adventure. Wildwater also offers a Jeep excursion through the railroad, taking you on a two-hour Jeep expedition through the Smokies after reaching the Gorge via train, as well as a zipline excursion charmingly named the Tarzan Train.
3. Toast to a "Spirited" Ride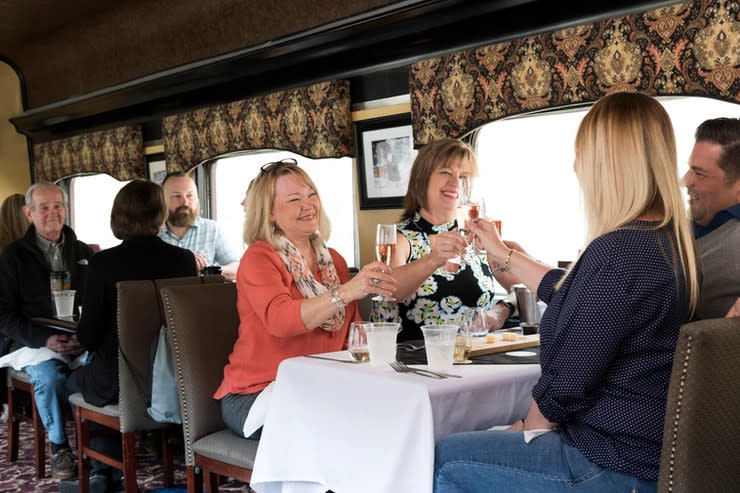 The Great Smoky Mountains Railroad offers several dining and beverage excursions, promising a luxurious ride through natural paradise as you sip and sample the many flavors of our region. Uncorked, an experience offered on select Nantahala Gorge excursions, is hosted in the train's first-class, climate-controlled cars. Reserved for adults only, you and your party will be treated to a delicious four-course meal as a sommelier presents and pours a specially curated selection of wines, sharing deep knowledge about each glass. All of this takes place amongst a backdrop of towering trees, rushing waterways and all the beauty the Smokies have to offer. Following the adventure, guests receive a souvenir wine glass to commemorate the occasion. Due to the limited seating aboard this cabin, tickets for Uncorked are limited and sell quickly.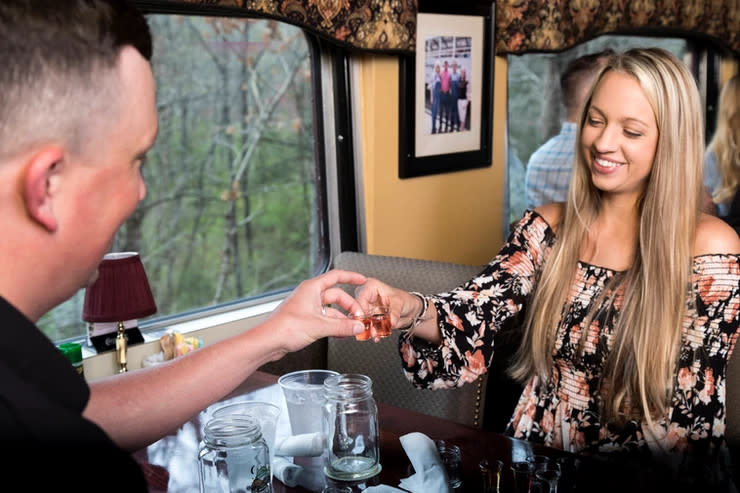 Another spirited adventure is the Carolina Shine Moonshine Experience. 'Shine and dine from the comfort of the Carolina Shine, a specially renovated first-class cabin with copper-lined walls filled with the history of Carolina Moonshine. As you travel up the Nantahala Gorge, you will learn about the unique history of moonshining in our state and sip on samples of apple pie, blackberry, blueberry and peach flavored moonshine, among other flavors, all made from North Carolina distillers. Moonshine cocktails are also available to purchase, and tickets come with a commemorative jar. An adults-only experience, the ride also comes with a tasty BBQ meal, with select morning rides in October featuring breakfast items. Tickets for this limited offering are available nearly every day from June through October. Check the schedule
4. Experience the Holidays with Polar Express!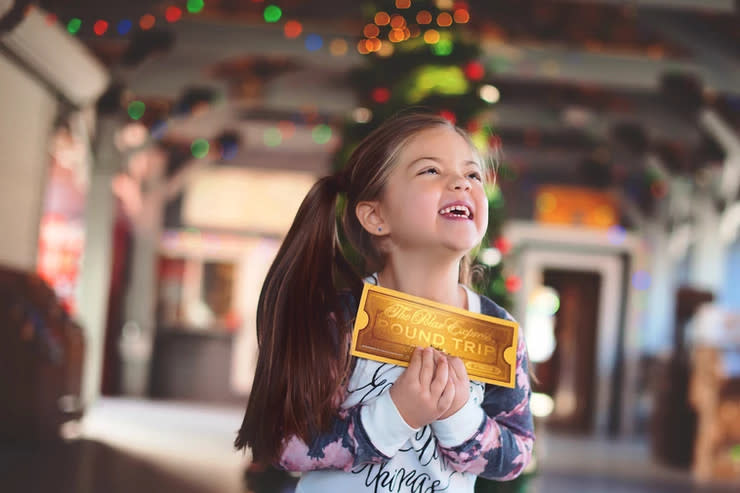 The enchantment of the Christmas season comes to life in the Great Smoky Mountains aboard the Polar Express. On select nights through November and December, the Great Smoky Mountains Railroad trains are transformed into the famed holiday locomotive, complete with festive decor, music from the hit film and, of course, plenty of hot chocolate. Let the colorful crew of attendants and hot cocoa connoisseurs entertain you with stories and songs all about Christmas as the Polar Express winds through the mountains, straight for the North Pole! Santa himself will even make an appearance to greet everyone on the nice list. Tickets for this seasonal event sell out quickly, so don't wait to secure your golden ticket!
5. Relax and Unwind on a Venture Through the Countryside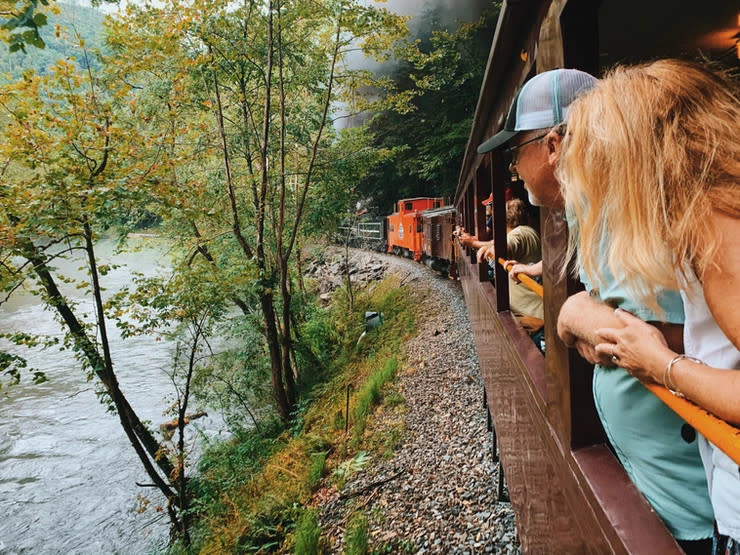 The Tuckasegee River Excursion is one of the more relaxing rides available on the Great Smoky Mountains Railroad. Starting in Bryson City, this gentle ride travels through Western North Carolina's countryside with sites set on Dillsboro, our neighboring town full of charm. An hour and a half layover gives you plenty of time to wander through this historic town, full of shops, restaurants and a locally-owned craft brewery, where you can arrange tastings of their delicious brews. Keep an eye out as you embark on this round-trip journey - a set from the classic movie The Fugitive can be spotted from your train car! Similar to other excursions, the Tuckaseegee rides all come with a variety of seating options in open air or enclosed cabins.
6. Make Unforgettable Memories on a Private Ride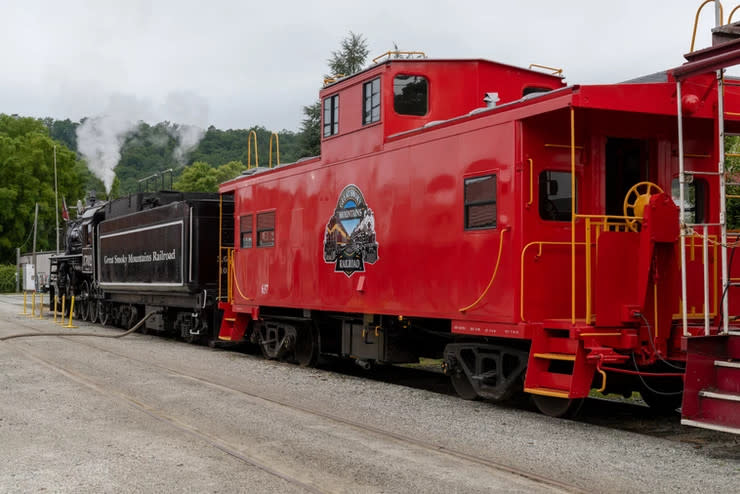 Make your Great Smoky Mountains Railroad experience one you and your group won't soon forget by booking a private caboose ride on a diesel or steam train. This unique offering, available on both the Nantahala Gorge and Tuckaseegee Excursions, can accommodate up to 15 people, making it perfect for large parties and families. Each caboose comes equipped with heat for the cooler winter months, windows that can allow for airflow during warmer months and open-air vestibules on each end that offer beautiful, unobstructed views of our wilderness.
All excursions include same-day admission to the Smoky Mountains Train Museum, an exhibit sure to spark the childlike wonder in you once again. Home to 7,000 Lionel model train engines, cars and accessories, as well as an impressive and expansive layout zipping with trains and a children's activity center, you're sure to be charmed by this unique attraction in Bryson City.
Book your ticket to ride the Great Smoky Mountains Railroad today, and every season that you visit our natural wonderland. You're sure to have a unique experience immersed in our seasonally changing landscape every time you ride. Select your perfect adventure, here: https://bit.ly/train-booking.