Lakeview Drive - Road to Nowhere - Road Closure
Lakeview Drive - Road to Nowhere - Road Closure
Great Smoky Mountains National Park officials announced that Lakeview Drive will be closed from August 14 to November 14, 2023 for reconstruction funded by the Great American Outdoors Act. Also known as the "Road to Nowhere," the road will be closed to all public access, including foot traffic, bicycles, horses, and vehicles. Hikers and visitors will not be able to access the Noland Creek Trail, Lakeshore Trail, Goldmine Loop Trail, Benton MacKaye Trail, Lakeview Drive Tunnel, or the Tunnel Bypass Trail from the road during the closure.  Explore alternative hiking trails and scenic drives.
This project provides significant enhancements to ensure their preservation and provide opportunities for recreation, education, and enjoyment for current and future visitors. Work will include the complete reconstruction of the 6.5-mile-long road, replacement of all guardrails, construction of ADA accessible parking spaces, new road signs, drainage repair and other miscellaneous work. Although we are disappointed that these enhancements will temporarily close our visitor's and local's access to a very popular area of the Park, we look forward to the improvements to the road making it a much improved drive for vehicles, bicycles, and motorcycles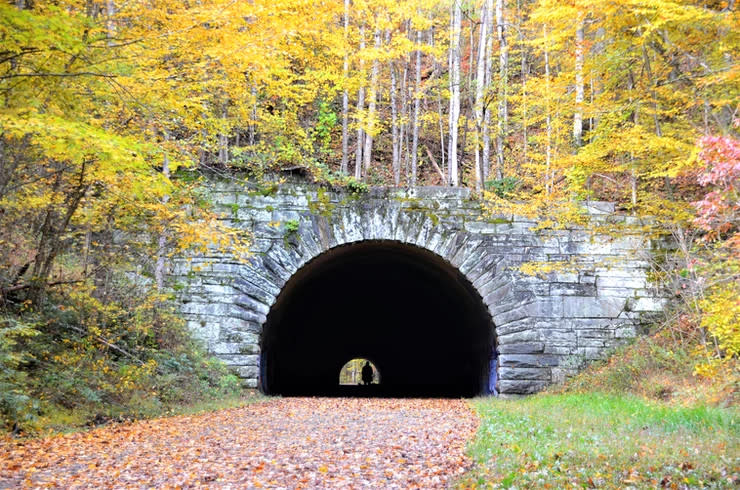 Here in Bryson City, we are fortunate to be home to many entry points to the Great Smoky Mountains National Park, each offering unique access to the stunning wilderness of Western North Carolina. Many stories could be told about these paths that lead you to adventure, but there is one in particular that we hold dear. Lakeview Drive, a scenic mountain highway just a few miles from downtown, not only provides you with beautiful overlooks, lush seasonal foliage and ample hiking opportunities, it is also a path that is steeped in history, with a story that locals will still recall to this day. This is the Road to Nowhere, a broken promise that has found new life in preserving the past and providing outdoor adventure for all.
Getting Here:
To access Lakeview Drive, or the Road to Nowhere, from the Swain County Visitors Center and Heritage Museum, turn on to Everett Street and head towards Island Street. Follow Everett as it turns into Fontana Road. Continue down this road until you reach Lakeview Drive, beginning your journey along the Road to Nowhere. As you drive, there are a number of spots to pull off, park and soak in overlooks of Fontana Lake. A lot sits at the top of this winding road, allowing you to park close to the Road's popular tunnel and access hiking trails. The drive is easy, however, those wanting to make the journey on a bicycle should be aware of steep elevation gains.
The History: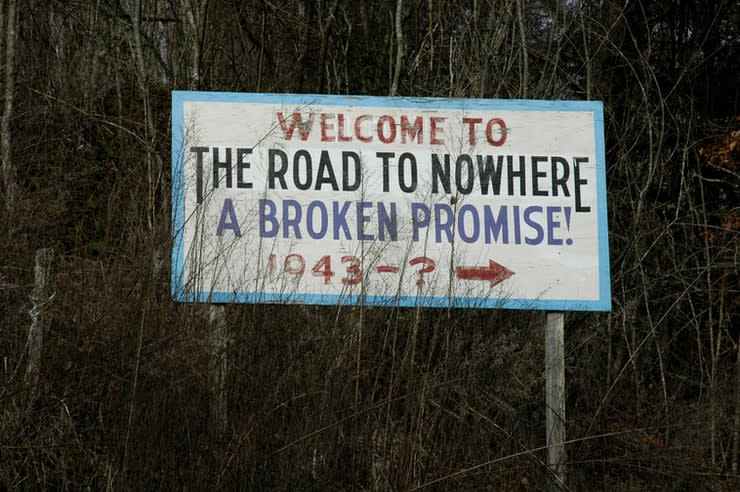 As you drive down this winding road, you will encounter a large sign, spelling out the well-established nickname for Lakeview Drive - "The Road to Nowhere - A Broken Promise," a potent nickname with a strong, emotional story still felt among locals to this day. This area was once home to many Smoky Mountain communities and farmsteads, with Old Highway 288 connecting residents to each other and to nearby Bryson City. In the 1930s and 1940s, Swain County gave this private land over to the Federal Government to construct Fontana Dam and seal Fontana Lake as a reservoir, channeling this waterway to power an electric plant used during World War II.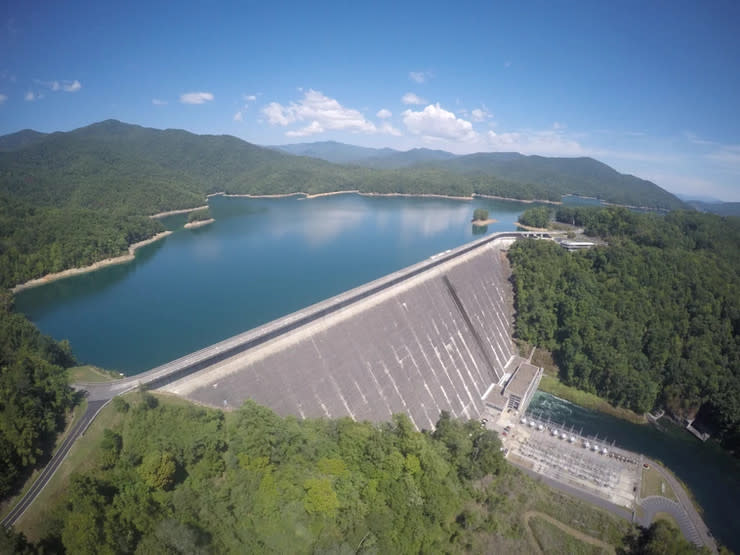 This new use of the land, as well as its 1940 establishment as a National Park, resulted in hundreds having to leave their longstanding family homes and communities. The government promised to reconstruct the now-flooded Old Highway, allowing those displaced by the federal use and protection of this land to reach their family cemetery plots and other important sites. In original plans, Lakeview Drive was designed to extend beyond the tunnel that stands today, winding through the woodlands and along Fontana Lake. During construction, however, environmental issues permanently halted the construction of the new road, with only six miles fully paved and completed. As a result, the Road to Nowhere was born, an unfinished highway that now stands as its own kind of monument to the history of Swain County.
Exploring Today's Road to Nowhere: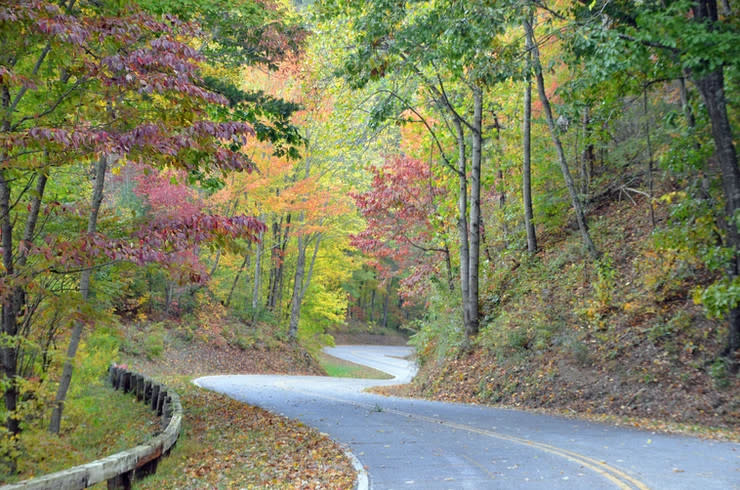 The Road to Nowhere sits now not only as a pillar of Swain County's past, but as a gateway to the many activities that await in the Great Smoky Mountains National Park as well. The road itself is a favorite among those looking to take a scenic drive that keeps them close to downtown, especially during the months of fall when the area is bursting with fall foliage. The half-mile-long tunnel at the road's end is another popular spot among explorers, and is heavily covered in art and graffiti. Be sure to have a flashlight handy as you travel through as many points of the tunnel are very dark and, especially after long stretches of rain, can be fairly muddy. The tunnel is often a stop on horseback expeditions through the National Park, too, making flashlights useful for yet another important reason.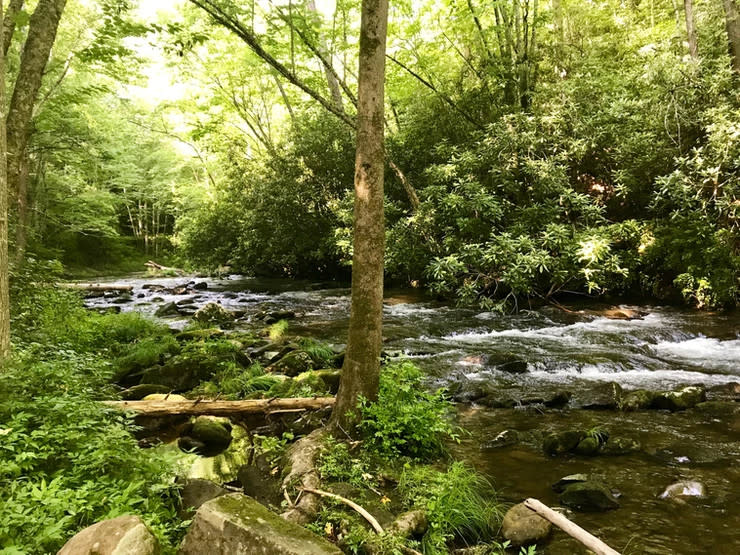 Several hiking trails can be accessed from the Road to Nowhere, ranging in difficulty from easy to strenuous. The longest and most difficult hike found here is the Lakeshore Trail. Spanning an impressive 33.5 miles, this trail starts at the Road to Nowhere tunnel, stretching through the National Park until it reaches Fontana Dam. From the parking lot, travel through the tunnel or take the .4-mile long Tunnel Bypass trail to access its starting point. From there, your journey will take you deep into the National Park, twisting your way higher, passing by Forney Creek Trail, a variety of campsites, Hazel Creek and more as you travel to the Dam. It's an adventure that's perfect for those looking to spend a full day hiking.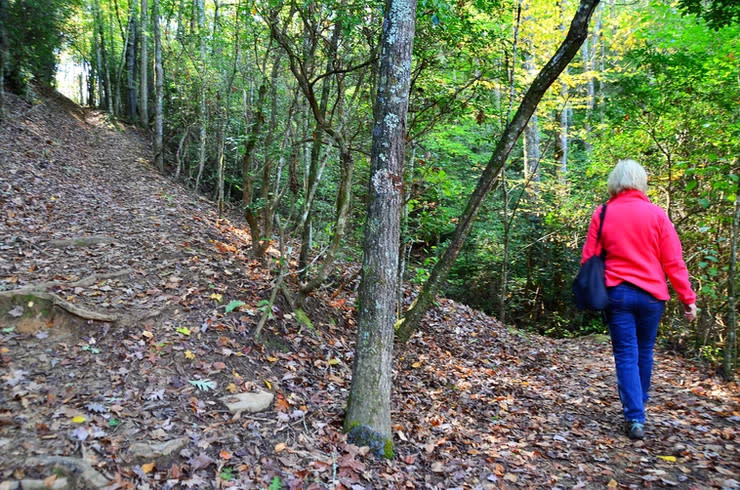 Goldmine Loop Trail
Branching off of Lakeshore Trail, the Goldmine Loop is one of the more popular hikes among guests seeking a simple wooded stroll. The Loop spans three miles, with an elevation change of around 700 feet at its highest point. There are two ways to access the Loop. From the end of the tunnel with the parking lot at your back, head just over half a mile down the Lakeshore Trail, where you'll see signage on your left directing you to the Goldmine Loop. Your journey will loop you right to the shores of Fontana Lake, with remnants of old farm homes visible from the trail. It intersects with the Tunnel Bypass leading you back to the parking lot, which can also act as an entry point to the trail depending on how you prefer to start and end your hike.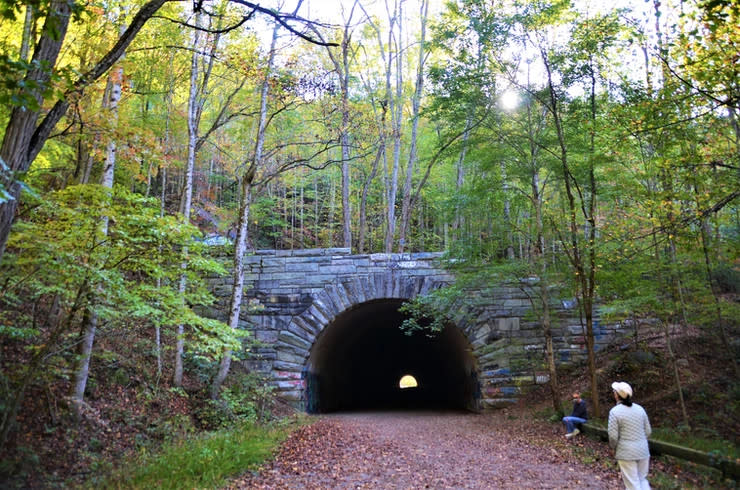 Lakeshore Trail
Just before the tunnel, you'll find both branches of the Noland Creek Trail, which are separated by the road and easily accessed from a parking area. Noland Creek North Trail is 8.4-miles in and out, steadily progressing upward as you head north for an easy to moderate hike. A wooden bridge spans the length of the creek, and many old farmsteads can be spotted as you climb. This trail can lead you to other hiking in the area should you choose to follow it further. Noland Creek South Trail is 2 miles in and out, leading you down towards Fontana Lake for a very easy hike. Because of its unique access to Fontana Lake, the South Trail is also a popular spot to try your hand at fly fishing!
More than just an access point to the Great Smoky Mountains National Park, The Road to Nowhere is a beautiful area to explore that puts you up close and personal with a powerful part of Swain County history. Pondering its past as you hike through its many trails and trek the famous tunnel is something all should experience on their visit to Bryson City. Plan your vacation and explore this and other historic sites in our region by visiting https://www.explorebrysoncity.com/.