Nantahala Gorge, Fun for all Ages and Activity Levels!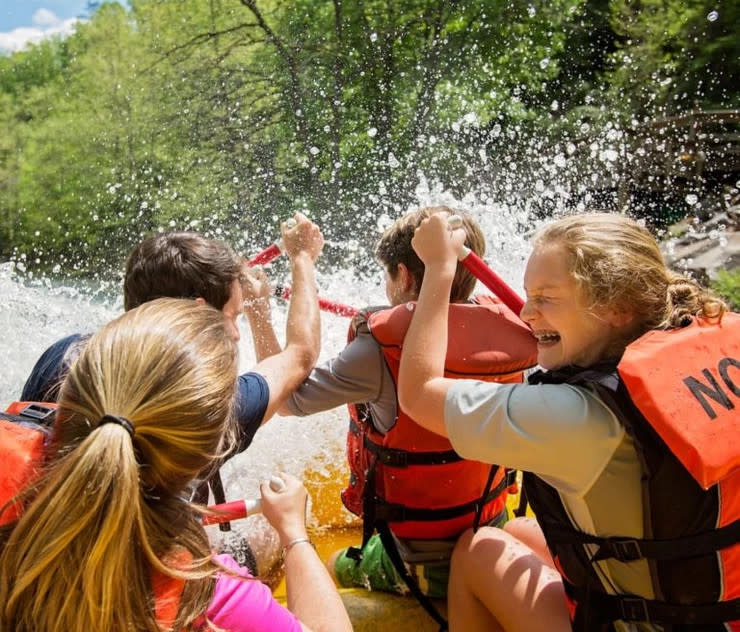 There are exciting activities for all ages and experience levels here in Nantahala Gorge. Active to easygoing adventures include: whitewater rafting, kayaking & canoeing, zip lining, hiking, biking, fly fishing, horseback riding, jeep tours, gem mining, picnicking, waterfalls, and riverside trail walks. Watching paddlers play on the river is highlight for many visitors - from the freestyle wave at the Nantahala River takeout - site of the 2013 World Freestyle Championships - to the many picnic areas and pullouts along the scenic Nantahala Gorge. The Great Smoky Mountain Railroad travels up the Nantahala Gorge from Bryson City, and rafting and train trip combo packages are an outstanding way to both experience and see the wonders of the Nantahala Gorge.
Whitewater River Rafting - The #1 Activity in The Nantahala Gorge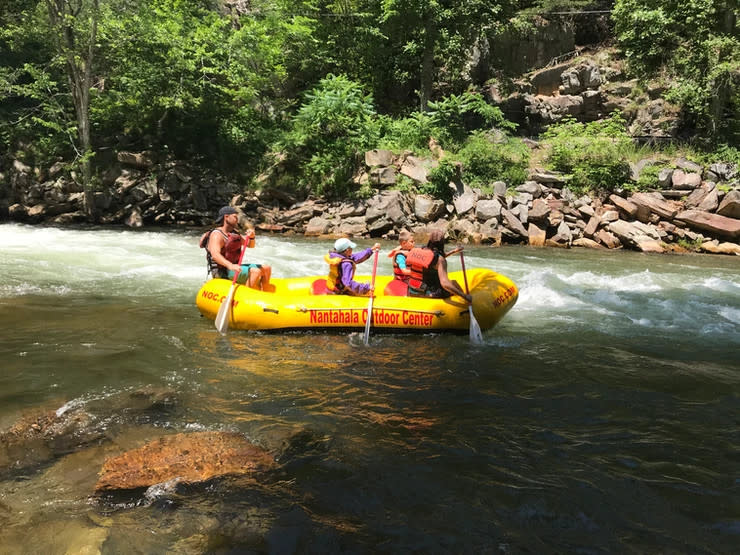 The Nantahala Gorge is where hugely popular whitewater rafting in the Great Smoky Mountains started, way back in 1972! Home to world class paddlers and friendly outdoor enthusiasts - the Nantahala Gorge welcomes thousands of happy adventurers on exciting and relaxing vacation getaways.
The Nantahala River is the perfect introduction to whitewater rafting fun. Eight miles of bouncy Class 1 and Class 2 whitewater rapids ending with the exciting Class 3 rapid, Nantahala Falls. Outfitters offer fully guided trips and rentals for rafts and inflatable kayaks (also called duckies). It's so much fun, many make it an annual river trip tradition! No experience is needed for fully guided trips, some experience is encouraged for rentals. Great for first timers, kids as young as 7 years old and 60 pounds, and multi-generational families. Scouts, camps and church groups love this river too!
Whitewater Kayaking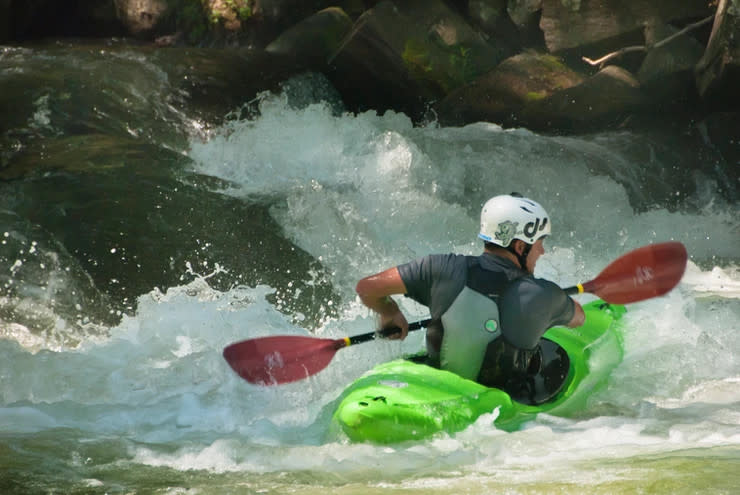 The Nantahala Gorge is home to some of the best whitewater paddling and canoeing schools in the world. Try a new sport and meet awesome fellow adventures. Clinics and camps are available for kids and adults. There is no age limit, only interest and general fitness required.
Pet Friendly Hiking Trails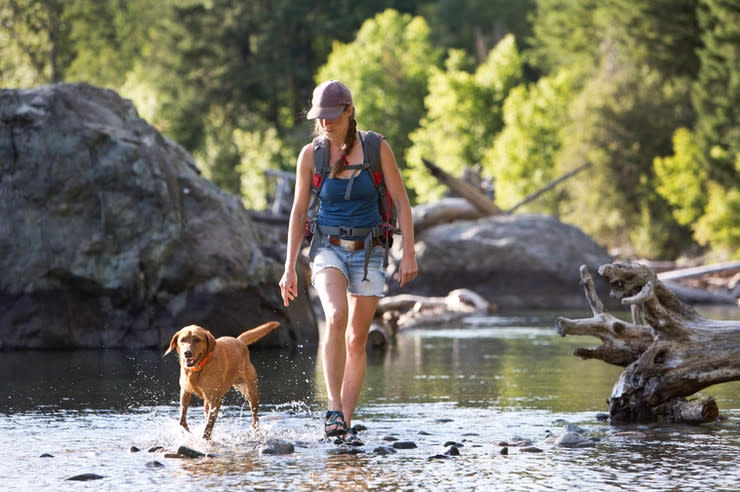 Hiking in the Nantahala Gorge and surrounding Nantahala National Forest offers terrific trails and varied challenge levels. The best part? All trails welcome dogs, unlike in the Great Smoky Mountain National Park where pets are not allowed, so bring along your furry companion!
Favorite insider hiking trails include:
- Appalachian Trail
- Wesser Creek Trail & Wesser Bald Fire Tower
Ziplining & Canopy Tours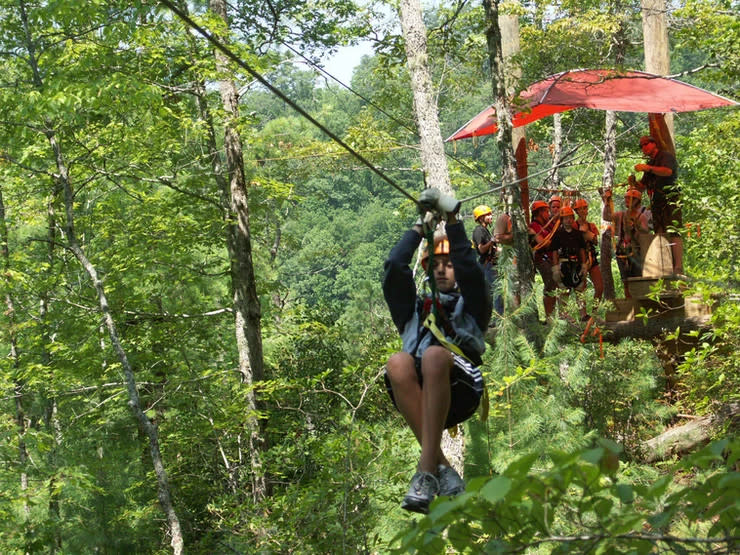 Fly through the trees on exhilarating Ziplining courses & canopy tours in Nantahala Gorge. Fast, long zips, skybridges, and kids zips for as young as 4. Take in stupendous views of the Smoky Mountains, Nantahala River and Fontana Lake from high in the treetops.
Fly Fishing in the Nantahala Gorge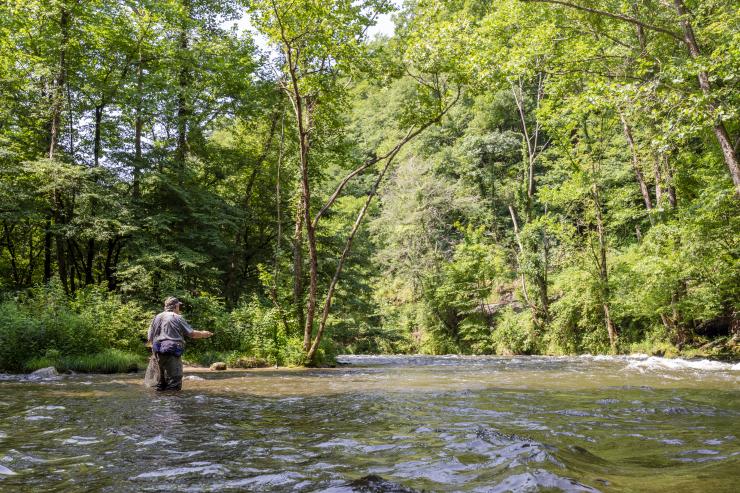 The Nantahala River is a premier southern trout stream. Anglers wet wade only the Delayed Harvest Trout Waters of the Upper Nantahala, above the rafting put-in. The lower Nantahala (where rafting happens) is a Hatchery Supported Trout Waters for wet wading and float trips. Fun Fact: the lower Nantahala is 1 of only 2 rivers in the state where trout fishing at night is allowed!
Jeep Tours, Horseback Riding and Waterfalls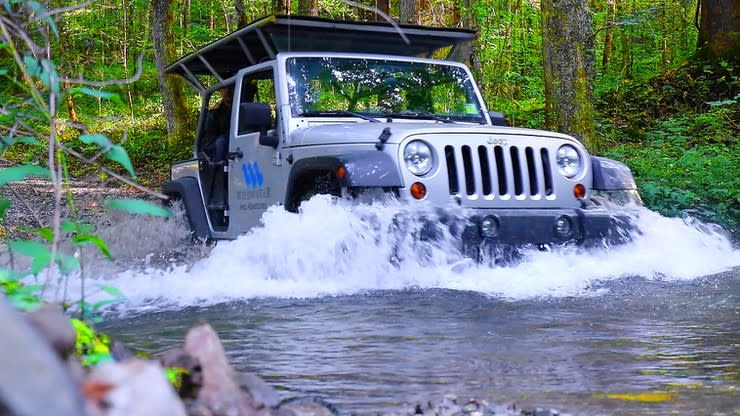 Jeep Tours and horseback riding tours show you the back-roads and forests of the Smokies. Great for all ages. The Cascades on the Upper Nantahala is a stunning roadside waterfall that is a lovely picnic spot. On special river release dates, you can watch expert kayakers paddle the falls!
Nantahala Gorge Outfitters