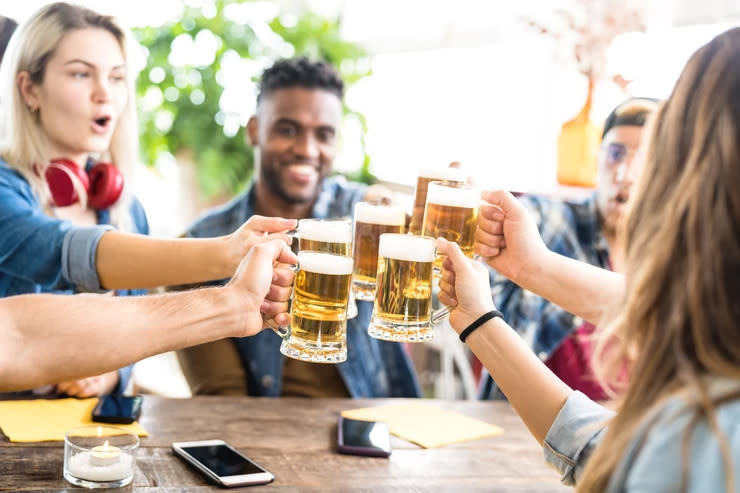 Nothing quite beats a nice, frosty and cold brew after a long day of exploration, a perfect end to any adventure trekking through the Great Smoky Mountains National Park. In Bryson City, our mountainside wonderland is home to several locally owned, unique craft breweries and pubs that are sure to have your new favorite on tap, all in a relaxing and unique atmosphere. Check out our handy guide and learn how you can tour your next "hop"-py place.
Wind Your Way Down to Nantahala Brewing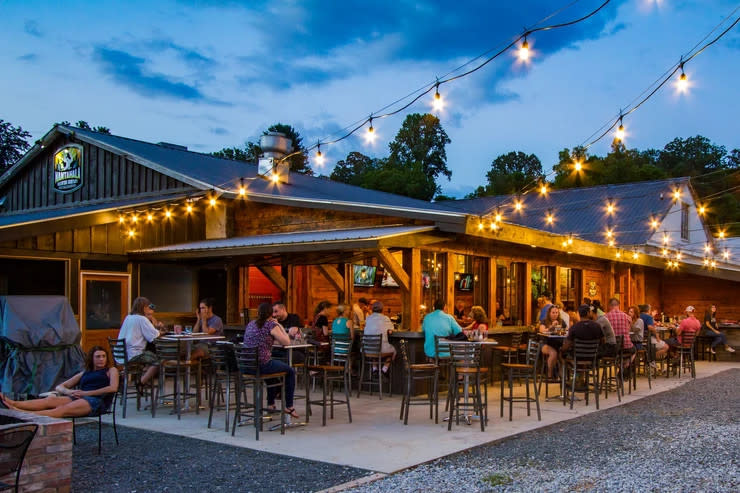 Sharing its name with one of our best waterways, Nantahala Brewing's Burger and Bar offers ample amount of space to spread out and enjoy lunch, dinner or just a nightcap (or two) with family and friends. Founded in 2009, Nantahala Brewing's craft beers are brewed in downtown Bryson City. This Bryson City staple took its inspiration from its namesake waterway, and the surrounding Great Smoky Mountains, seeking to bring a laidback, natural feel to its sprawling brewery. Whether sitting by the fire on Nantahala's beautiful lawn or cozying up to the bar inside, you're sure to enjoy the variety of tasty brews and delicious dining options available at this much-loved spot. Nantahala also offers a rotation of live local music acts.
Hours:
Sunday - Thursday: 12 p.m. - 9 p.m.
Friday - Saturday: 12 p.m. - 10 p.m.
Address:
116 Ramseur St
Bryson City, NC 28713
Website:
https://www.nantahalabrewingburgerbar.com/
Unwind at Unplugged
Unplugged Pub, tucked between Main and Everett Streets is not only a wonderful spot to enjoy a cold beer, glass of wine or perfectly mixed cocktail, it's also a great space to enjoy a variety of live local music acts. Newer to our downtown scene, Unplugged offers a regular lineup of bands, playing genres ranging from good old rock n' roll to the sweet tunes of true Appalachian Bluegrass. Select your favorite domestic brew, or try one of North Carolina's own, as you groove and enjoy one of our best spots to catch live music. Food trucks are nearby on select nights in the summer, but customers are encouraged to explore other eateries nearby during off-season months to grab a bite before popping into Unplugged.
Hours:
Monday, Wednesday - Friday, Sunday: 4 p.m. - 11 p.m.
Saturday: 2 p.m. - 11 p.m.
CLOSED Tuesdays
Address:
25 Everett St. (Rear)
Bryson City NC 28713
Website:
Soak in Sweeping Views at Mountain Layers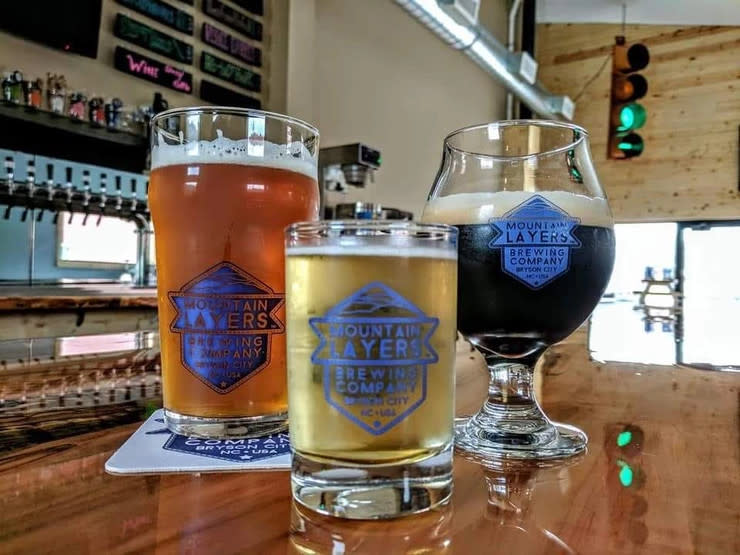 If you're looking for the best views this side of the Tuckasegee, look no further than Mountain Layers Brewing Company, a delightful and locally owned brewery with both an indoor bar and an impressive rooftop deck that overlooks our charming downtown. In addition to slingin' its own housemade brews, Mountain Layers also serves wine, and has a permanent food truck, the Rice Wagon, parked and serving up delicious, tasty dishes. Mountain Layers offers weekly happy hour and drink specials, making it easier than ever to sample their robust menu. Swing by and sip a cold one as you watch the sunset over our beautiful destination, or pop in on a live music night to catch a great local act.
Hours:
Sunday: 12 p.m. - 8 p.m.
Monday - Saturday: 12 p.m. - 9 p.m.
Address:
90 Everett Street
Bryson City, NC 28713
Website:
https://www.mountainlayersbrewingcompany.com/home
Shop and Sip at Bryson City Outdoors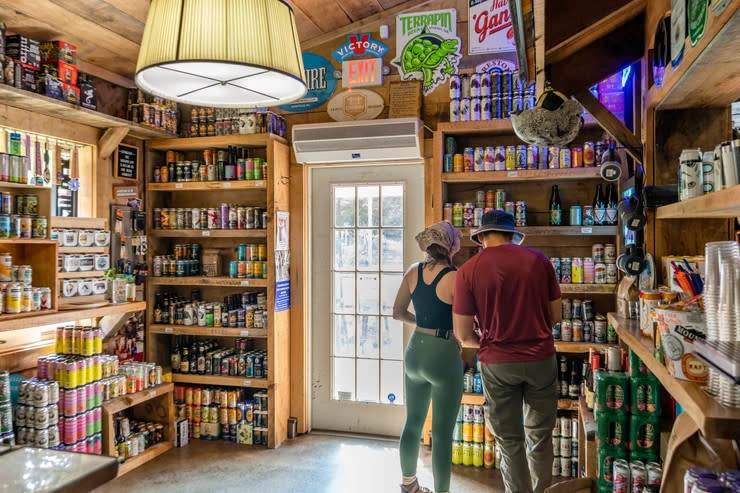 Bryson City Outdoors combines two must-need products for a Smokies adventure - outdoor gear and cold beer. This shop stocks everything from hiking boots, bags and tents to more than 200 craft beers, ciders and wines. In addition to having so many delicious beverages for sale, they also have 12 taps that rotate through a consistent selection of local beers and ciders. Bryson City Outdoors also sells wine by the bottle and the glass for those who aren't in a bubbly mood! In the summer months, food trucks can be found parked near the outdoor patio, offering seasonal dining options.
Hours:
Monday - Thursday, Sunday: 10:00 am - 6:00 pm
Friday - Saturday: 10:00 am - 7:00 pm
Address:
169 Main Street
Bryson City NC 28713
Website:
https://www.brysoncityoutdoors.com/taproom
Pedal on Through Tsali Cycles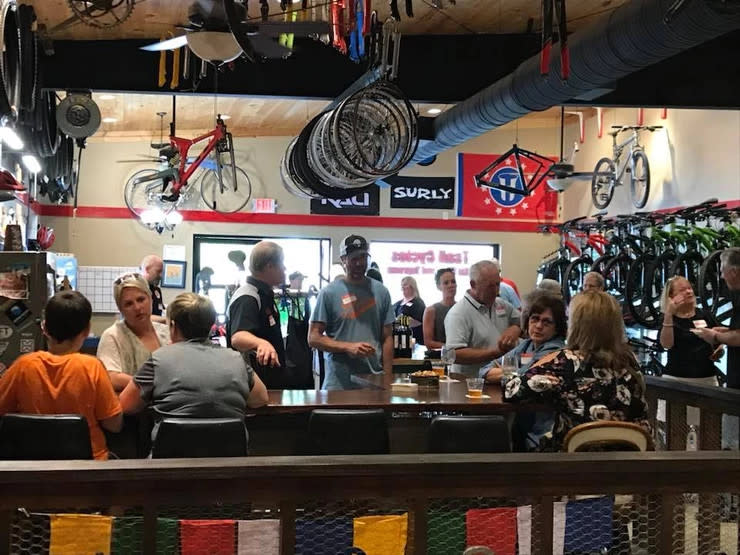 At Tsali Cycles, not only can you rent wheels to explore our many biking and mountain biking trails, but you can also grab a nice cold beer! This wonderful shop is a great place to unwind after a day of exploration and enjoy wonderful community among fellow cyclists and friends. Its many shelves are also stocked with all the gear you need for an exciting day pedaling through the Smokies. Food is not served here, but Tsali Cycles encourages guests to order food locally and bring it with them to dine inside or at the outdoor picnic tables.
Hours:
Monday, Thursday - Friday: 10:00 a.m. - 5:00 p.m.
CLOSED Tuesday, Wednesday and Sunday
Address:
35 Slope Street
Bryson City, NC 28713
Website:
https://www.tsalicycles.com/beer
Bring Your Brews Back Home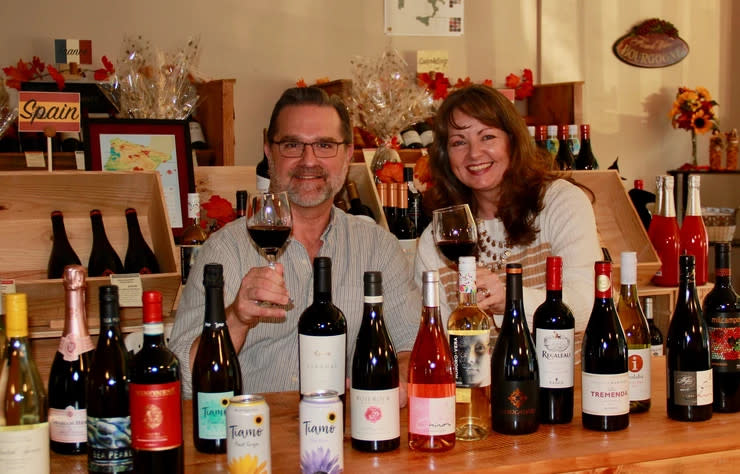 In addition to many of our breweries selling six-packs of their best beers, Bryson City Wine Market, located along Main Street, offers a diverse selection of locally made beers, wines, meads, cocktail mixers, cigars and more, giving you ample opportunity to bring your favorite beverages back home. The Wine Market also offers wine tastings, sake courses and other unique events, and has local art on display. This charming shop is perfect for those on a romantic getaway, or just enjoying a vacation with their closest girlfriends.
Hours:
Monday - Thursday: 11 a.m. - 6 p.m.
Friday - Saturday: 11 a.m. - 8 p.m.
CLOSED Sundays
Address:
1161 Main Street
Bryson City, NC 28713
Website:
https://www.facebook.com/BCWineMarket/
Trek and Tap into Our Breweries and More on a Brewery Tour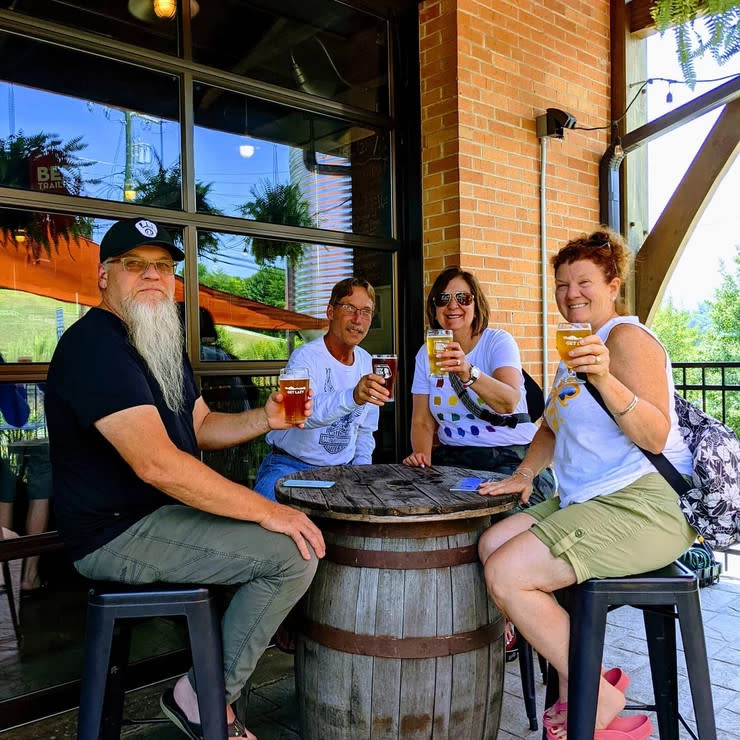 Not sure where to start? Want to mix adventure into your brewery hopping? Why not take a guided tour through the many breweries both in Bryson City and in other neighboring Western North Carolina destinations, complete with a designated driver! Carolina Bound Adventures, known for being Great Smoky Mountains experts, also offers brewery tours along with its regular adventures, one that takes you to five breweries across Bryson City and two other mountain towns, and a second that incorporates a little adventure into the mix, with a tour of several nearby waterfalls mixed into the brewery hopping.
With so many options to explore, you're sure to find the perfect spot that you'll return to time and time again on your many visits to Bryson City. Use our handy guide as a checklist to cross off every locally loved spot in our beautiful mountains. Paradise and a cold beer await. Start planning your Bryson City escape today!