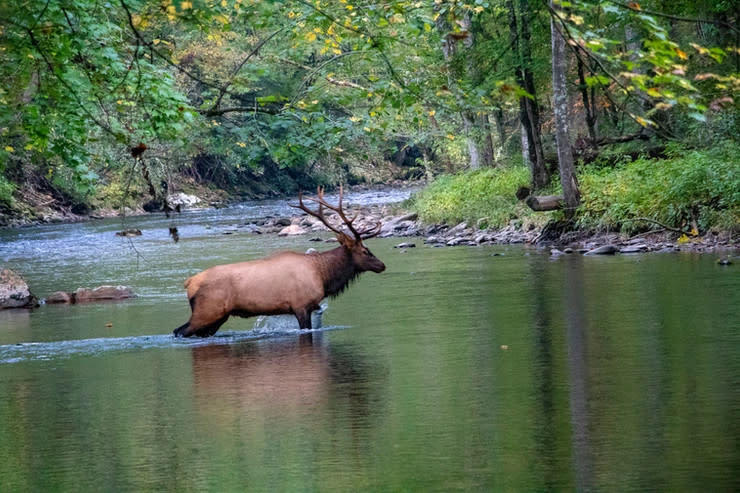 Many centuries ago, the range we now call the Great Smoky Mountains was full of roaming, majestic elk. Most closely resembling deer in appearance though much larger, these creatures were hunted to nearly the point of extinction through the 1900s. In 2001, a small number of elk were introduced back to the Smokies, in both a region of the park that stretches between Kentucky and Tennessee as well as Cataloochee, North Carolina. Today, these animals can be found all over the National Park. Going elk spotting is not only a much-loved pastime for our residents and frequent visitors, it's also a perfect Bryson City bucket list item for your first vacation. We've put together a handy guide to help you spy our favorite neighbor.
About the Elk: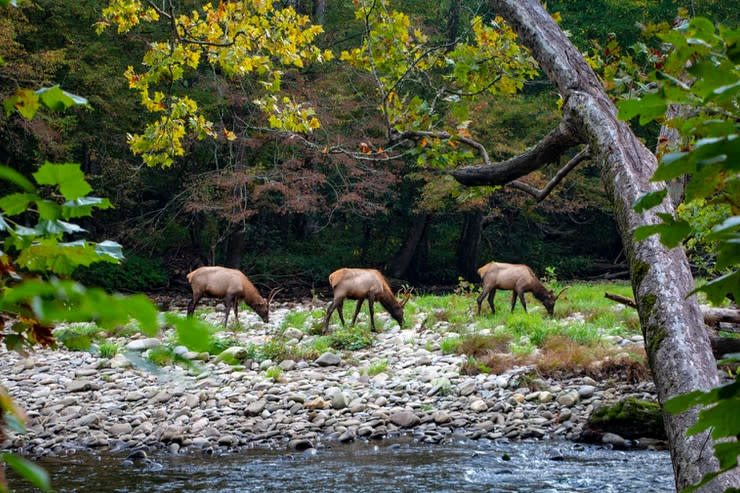 No longer facing the threat of extinction, elk now roam our landscape in impressive numbers. Fully grown male and female elk are large animals, surpassing the size of many bears. Male elk, known as bulls, have large antlers that reach widths of up to five feet. Female elk are known as cows. When born, calves, or baby elk, are 35 pounds and begin growing almost immediately, reaching weights of up to 700 pounds for bulls and 500 for cows. All elk have sharp eyes and a powerful sense of smell, helping them stay safe from predators that may be lurking in the trees. Elk are also all vegetarian, eating everything from tree bark to grass and acorns.
How do I safely watch for elk?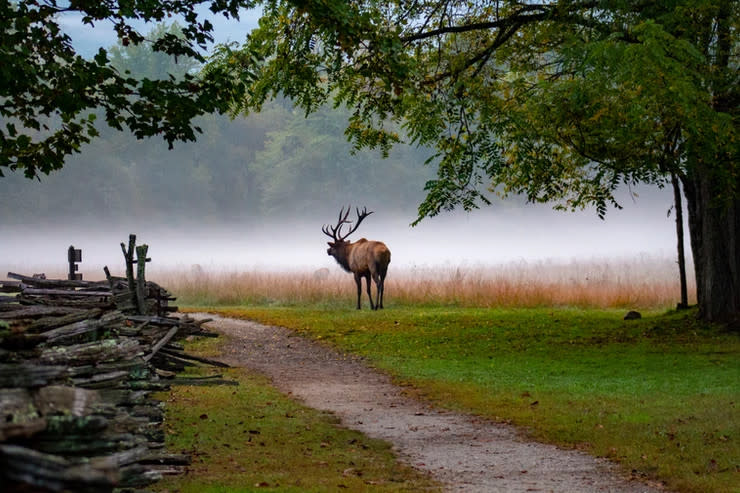 Bulls often perceive others, even humans, as challengers, and will attempt to meet their perceived opponent in a defensive duel. Female elk are also very protective of their young calves and can be known to charge if they feel their offspring are threatened. Mother elk often leave their young to feed as well. While it may appear as though the calf is abandoned, that is typically not the case, and mom is just a few yards away. For these reasons, elk should be viewed at a safe distance of 50 yards away or more, and those spotting should remain quiet and calm. The National Parks Service also forbids using elk calls or spotlights and does not allow visitors to feed the wildlife or leave the park with elk antlers.
When should I go elk spotting?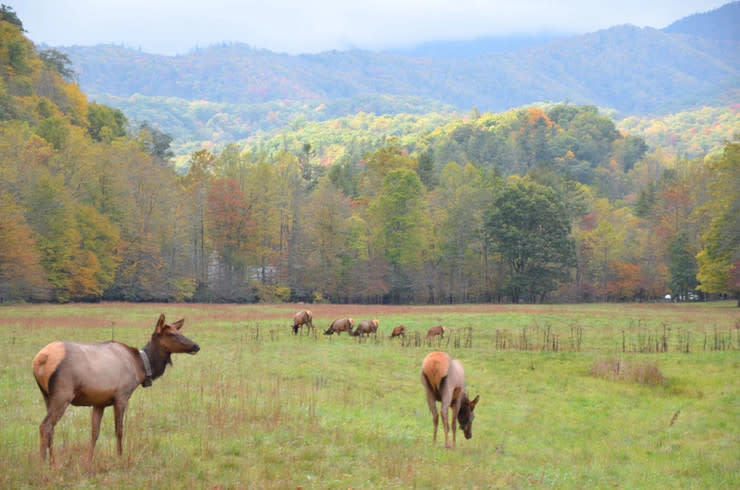 Regardless of the time of year, elk are most active in the mornings and evenings, per the National Parks Service. During the summer months, they may also be spotted roaming around on cloudy days or emerging just before or after a summer storm. In the winter months, the bulls retreat to higher peaks in the mountains, leaving the females and calves to roam more freely and openly. Bulls are most commonly spotted in the spring, summer and especially fall. During the fall, bulls, attempting to find a mate, are frequently traversing our area, bellowing out their mighty call or bugle. This phenomenon, known as the fall rut, is memorable to witness, but viewers should keep in mind the possible aggression males can demonstrate to others while seeking or protecting their mates. Always view at a safe distance, using binoculars to get the close-ups.
What's the best place to spot an elk?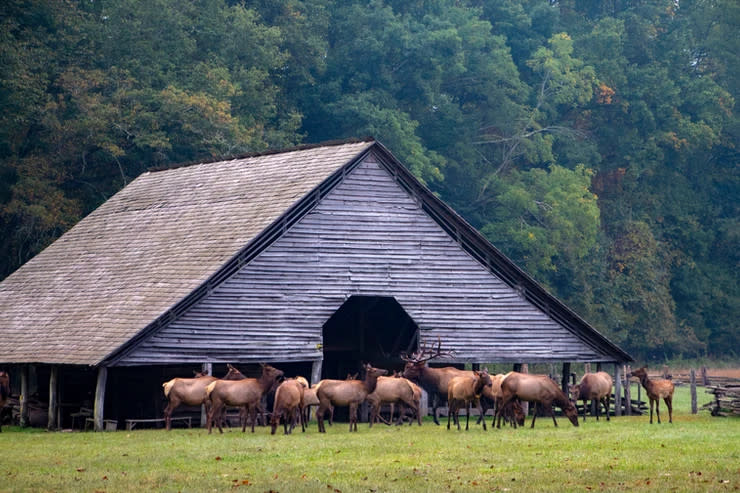 Mountain Farm Museum at Oconaluftee Visitor Center

 

Close to Bryson City, the Oconaluftee Visitor Center and Mountain Farm Museum is a popular spot to find large numbers of elk. Located in Cherokee, this sprawling area is home to a campsite, trails and historic buildings, with elk wandering around just about all of it - in the waterways and streams, along the trails and especially in the low-lying fields.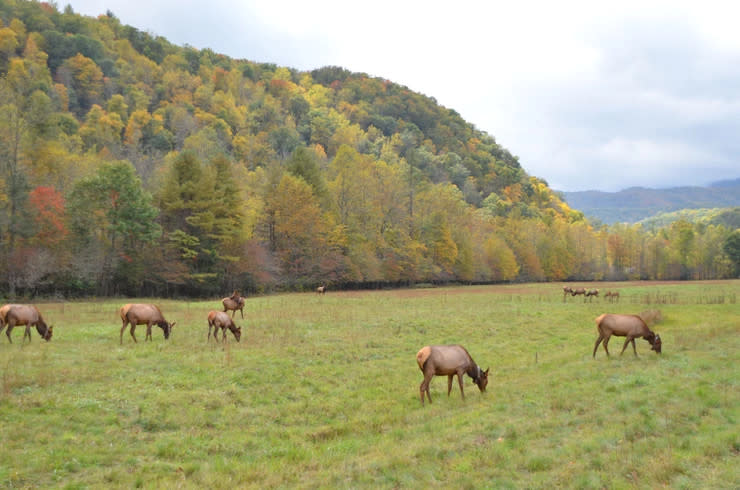 Cataloochee Valley

 

The Cataloochee Valley is an isolated spot in the Smokies, surrounded by peaks that tower up to 6,000 feet. The area, once a settlement, is now preserved as both a historic time capsule of the early 1900s and a reservation for the namesake elk. A number of buildings have been preserved in the valley, with churches, a school and other markers of the former settlement available to explore. This is also the gathering spot of large numbers of our western North Carolina herd of elk.

 

On a rare, special occasion, you may even spot these majestic creatures wandering through our own streets in Bryson City! We love sharing our space with these mighty beings, whether it be on Main Street or in our impressive, sweeping Smoky Mountains. Take these tips and cross this once-in-a-lifetime experience off your travel bucket list. Good luck, and happy elk spotting!

 
Listen to the Bugle of the Elk at Oconaluftee Visitor Center: