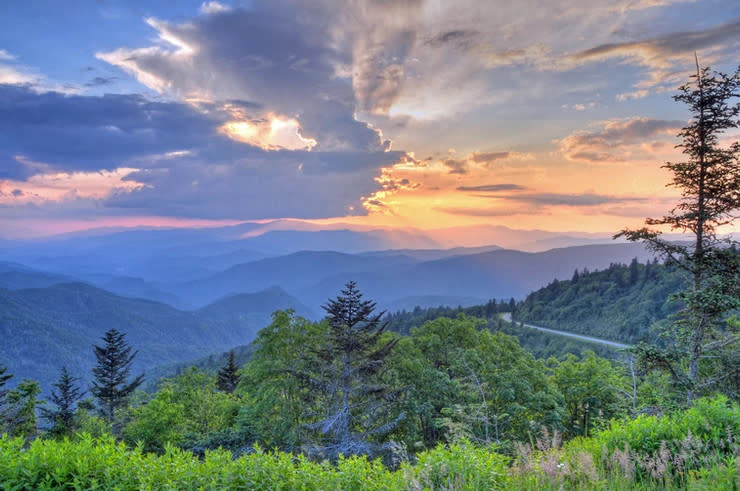 Embarking on a Great American Road Trip is a quintessential vacation experience. Piling in the car with your closest friends or family, stocking up on your favorite snacks and taking a long drive through the winding roads of our wilderness is one of the best ways to explore the Smokies. Here in Bryson City, we're fortunate to be a great home base for some of the best scenic drives in the Carolinas - and the South as a whole. From our charming downtown streets, you can access many winding, beautiful roadways that twist through the beautiful Smoky Mountains. Grab your pals and take a drive, it's time to explore our open roads!
Wind Your Way Up the Hellbender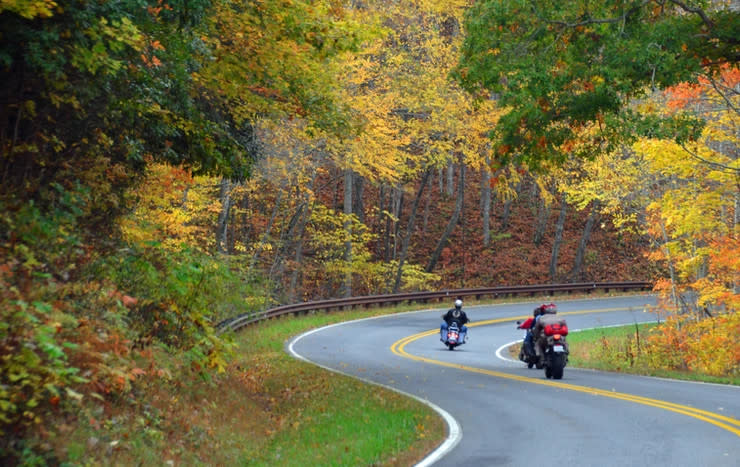 Easily accessible from downtown Bryson City, the North Carolina Highway 28 N twists and turns its way through the Smokies and near Fontana Lake, with its hairpin turns, drop-offs and narrow roadway earning it the nickname the Hellbender 28. Popular among motorcyclists, you can access this hair-raising stretch of roadway by turning out of Bryson City and onto US-74. After 8.2 miles, you'll make a right turn and begin your trek up curvy NC-28-N. Need to get out and stretch your legs? 20 miles into this drive, you'll come across Fontana Dam, a towering structure that impounded and created Fontana Lake in World War II. Walk or drive across the Dam's surface to enjoy sweeping views of the surrounding, untouched natural landscape. Another nearby spot to explore along this drive is Fontana Village, a beautiful resort not far from the Dam and right along the lake that has comfortable accommodations, two dining options, a marina, mini-golf and more.
Tame the Dragon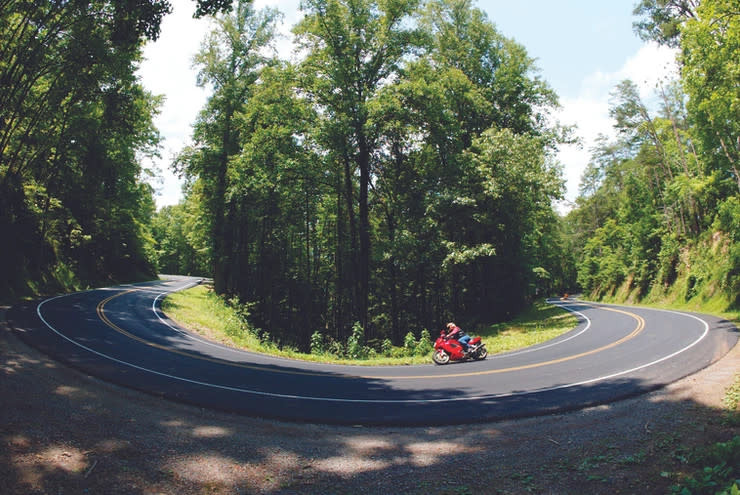 Mastered the Hellbender and chasing your next adrenaline-pumping drive? Test your wheels on the Tail of the Dragon, a thrilling drive with 318 curves in just 11 miles that stretches from Swain County to the borders of Tennessee. Motorcyclists and sports car enthusiasts are often spotted putting their skills to the test on the many tight, sharp turns of Highway 129 North, which can be accessed from Bryson City via US-74 and NC-28-N.
While some claim that his road is less scenic than the others, it is a drive that will get your heart pumping as it travels through the forested mountain sides.
Take the Waterfront Route Along Scenic Nantahala Byway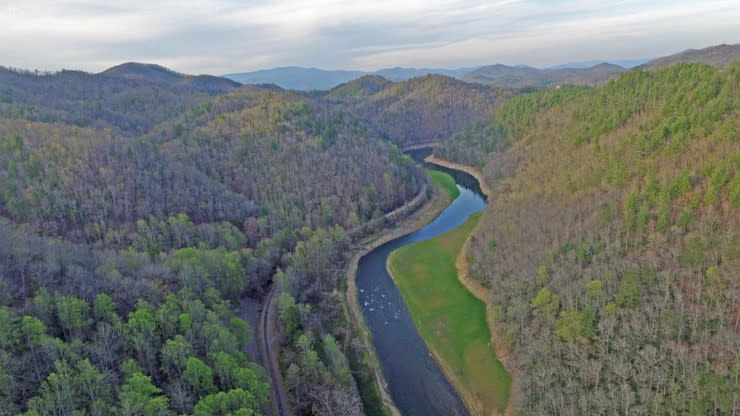 The Nantahala River is a beautiful, rushing waterway that streams through our stretch of the Smokies. It makes us a haven for adventure enthusiasts looking to white water raft or kayak in our beautiful gorge and creates a beautiful, easy to access drive along this sparkling river. As you travel up your scenic route, accessed from US-74, you can find quirky roadside attractions like the Nantahala River Gem Mine; thrilling adventures like the canopy ziplines at Wildwater,  Nantahala Rafting & Canopy Tours; and dining spots like River's End at Nantahala Outdoor Center's sprawling adventure campus. Further upstream (about eight miles to be exact), you'll come across a two-mile walking path, just off Wayah Road, and the Upper Nantahala Cascades, which follows Old River Road, a dirt path with waterfalls and a number of beautiful overlooks. It's the perfect drive for those who have sensitive stomachs, but still want to enjoy a little roadside sight-seeing!
Travel Through History on the Road to Nowhere
The Road to Nowhere is more than just a scenic highway. Traveling six miles into the Great Smoky Mountains National Park, this winding road, officially titled Lakeview Drive on your standard map, is lined with beautiful spots to enjoy sweeping views of nearby Fontana Lake, making it a perfect spot for leaf-peepers in the fall and for those seeking the lush greens of the summer months. As you reach the end of the pavement, you'll meet a quarter-mile-long tunnel that now stands as a symbol of a long-broken promise. As part of World War II war efforts, residents of our area gave up longstanding family land to create Fontana Lake, with the promise of a rebuilt highway, once on the horizon, never fulfilled. Now, this historic roadway acts not only as a memory and important historical touchpoint of our community, but it also serves as one of our most popular places for people to drive, bike and hike, mixing our past with our present. Noland Creek, the Goldmine Loop, Forney Creek and Lakeshore Trails are all accessed from the Road to Nowhere, with parking available at the end of your scenic drive up.
Cherohala Skyway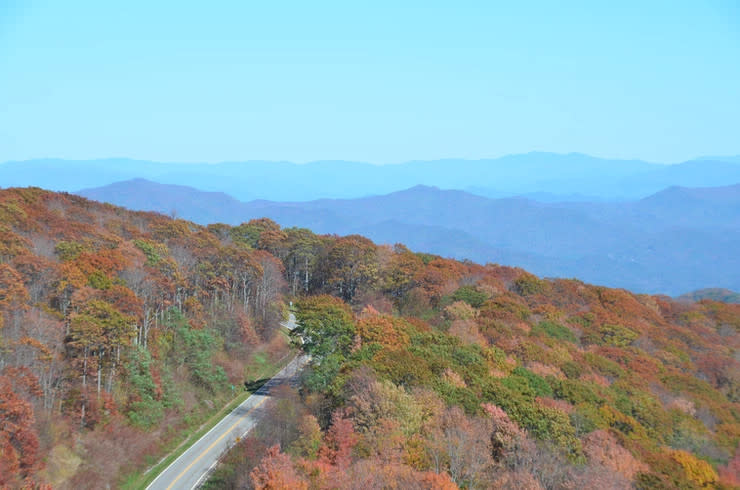 In addition to these beautiful roadways, you can also easily access the Cherohala Skyway, a scenic byway that connects Tellico Plains, Tennessee and Robbinsville, North Carolina, passing through the Nantahala and Cherokee National Forests. It offers a tamer, but no less scenic drive than its nearby companion, the Dragon, with 15 scenic overlooks winding through its varying elevation points. This drive can be accessed via US-74 and NC-28-N.
Blue Ridge Parkway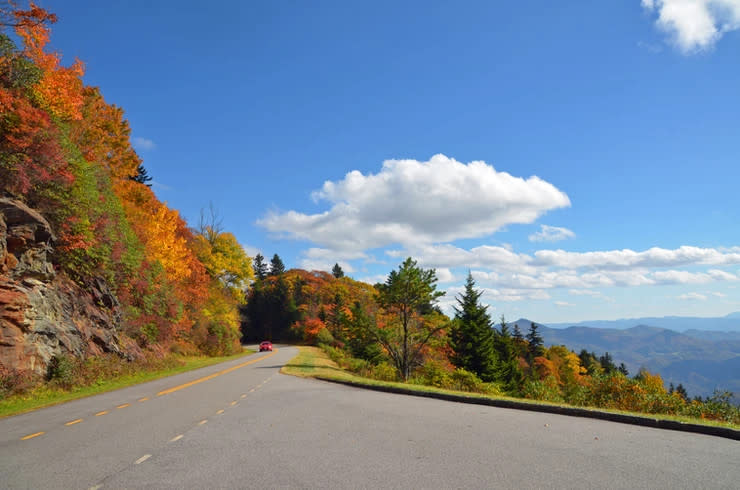 Another beautiful drive you can access from Bryson City is the historic, nationally renowned Blue Ridge Parkway. Stretching through North Carolina and up to Virginia, the parkway has several access points near Bryson City, including the one near the entrance of the Great Smoky Mountains National Park at milepost 469.1. Whether just taking a day trip up to Balsam Gap or Mt. Pisgah, or using Bryson City as the first stop on the full 469-mile drive, you're sure to enjoy unparalleled views of the natural wonderland we're fortunate enough to call our backyard.
The Great Smoky Mountains National Park - Newfound Gap Road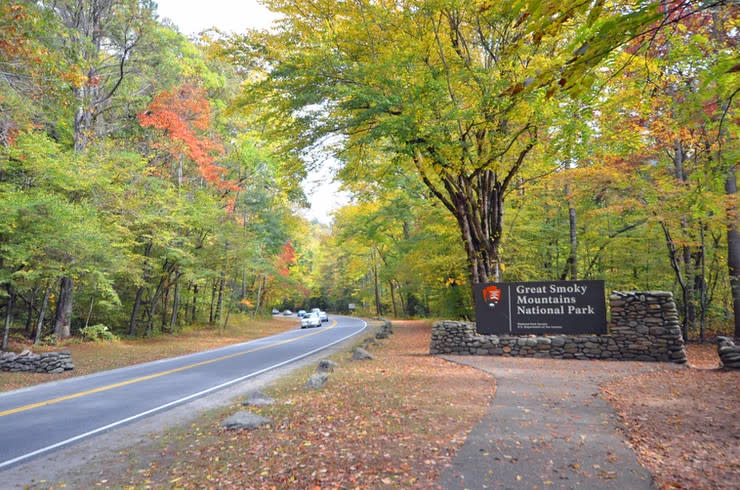 Newfound Gap is the only fully paved road in the Great Smoky Mountains National Park that travels directly through the center of the park from Cherokee, North Carolina, to Gatlinburg, Tennessee. The 31-mile road winds through forested mountainsides, rising to an elevation of 5,046 feet of incredible mountain landscapes. It's highest point - Newfound Gap - intersects with the Appalachian Trail, including the state line that separates North Carolina from Tennessee. Mile markers make it easy to locate sights such as the Mingus Mill (mile marker 29.9) and Newfound Gap at mile marker 14.7. Other points of interest include the Oconaluftee Visitor Center and Mountain Farm Museum at mile marker 30.3, the Smokemont Campground and Nature Trail at mile marker 27.2 and the Web Overlook at mile marker 17.7.
Heintooga Road - MP 458.2 of the Blue Ridge Parkway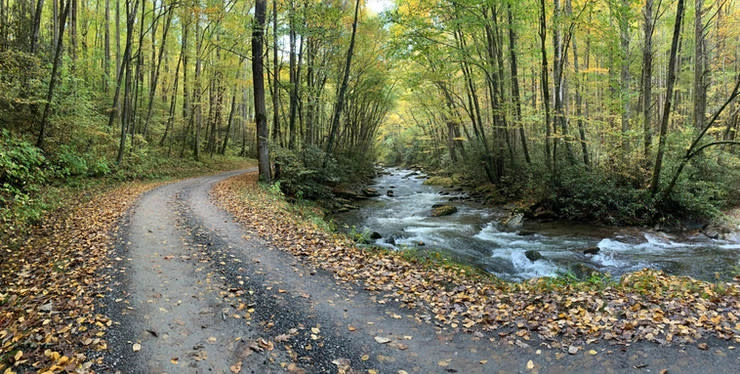 The Heintooga Spur Road, also known as Balsam Mountain Road is a 9-mile paved spur road just 11 miles from the Cherokee entrance to the Blue Ridge Parkway. Considered "the road less traveled," Heintooga Road has overlooks with gorgeous views of the surrounding mountains and valleys, hiking trails, picnic areas, and opportunities to see elk. For the first four miles you are within the Blue Ridge Parkway boundary. As you reach Black Camp Gap you will leave the Parkway and enter the Great Smoky Mountains National Park. When you reach the end of Heintooga Spur Road (at 9 miles in,) there is a picnic area with picnic tables and restrooms. While here walk down the Flat Creek trail just a short way you will come to the Heintooga Overlook with benches to relax and enjoy the view of the Great Smoky Mountains. You can continue to Heintooga-Round Bottom Road, marked by a large brown sign where the pavement ends. This is a narrow, gravel, one-lane, mountain road and will bring you out near the Qualla Cherokee Indian Boundary. This route is not suitable for RV's or trailers, is 14 miles and one way only. Heintooga is open from mid-May until the end of October.
With so many scenic drives leaving from Bryson City, there are plenty of opportunities to explore the best views the Smokies have to offer. Ready to start planning your picture-perfect trip to Bryson City? Grab your keys and get started, here: https://www.explorebrysoncity.com/.