A Great Alternative to Gatlinburg
We'll let you in on a little secret - Bryson City is the best place to vacation and explore the vast beauty of the Great Smoky Mountains National Park, our country's most popular National Park. Bryson City has more entrances to the Great Smoky Mountains National Park than any other destination or town that borders this national treasure. With an outdoor adventure vibe and small town friendliness, Bryson City is a great alternative to the crowds and noise found in Gatlinburg, Pigeon Forge, and Sevierville, on the Tennessee side of the Park. If you're looking for the "road less traveled" with amazing access to the most visited National Park, then Bryson City, North Carolina is a great destination to explore.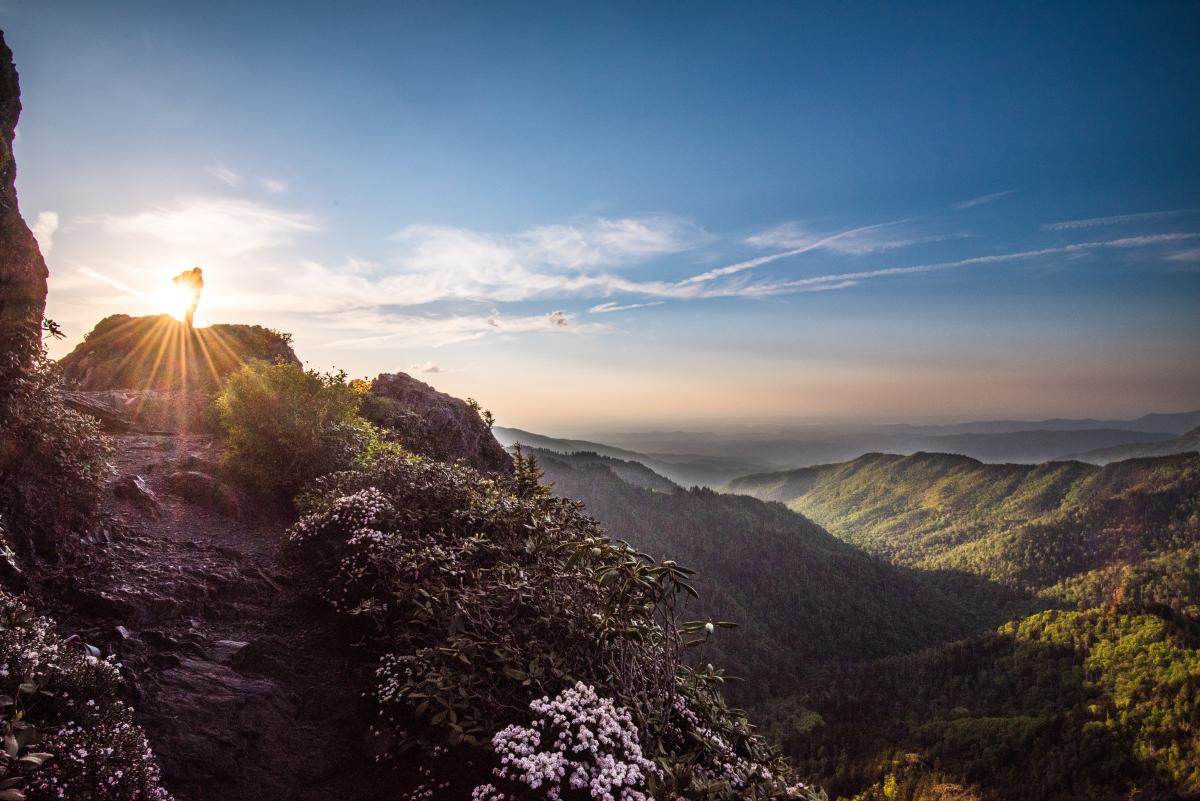 As the Outdoor Adventure Capital of the Great Smoky Mountains, Bryson City is conveniently located near five unique entrances to the National Park, each of which gives you access to various park activities and adventures. Whether you want to see towering waterfalls, spot wildlife or feel completely connected to nature, we've got you covered! Let's break down each national park entrance, below.
Deep Creek: Our Closest Entrance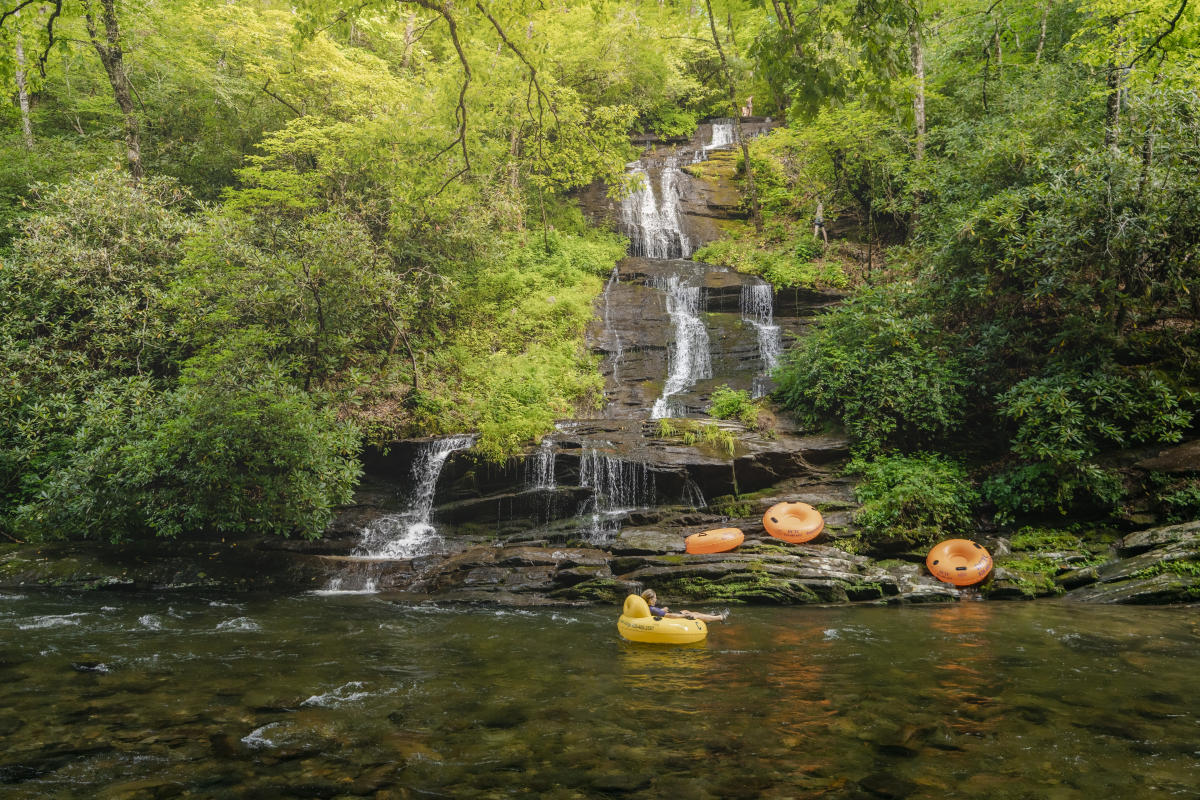 Our closest entrance is also by far the most popular. Located just a few minutes from downtown, the Deep Creek entrance and area of the national park is a hub of activity and fun. Deep Creek's star attractions are its three beautiful waterfalls, Tom Branch, Indian Creek and Juney Whank Falls. All three can be viewed via the Waterfall Loop Trail, an easy, 2.4-mile roundtrip hike. You can also access several lengthy, more strenuous hikes from here, including the Thomas Divide Trail and Lonesome Pine Overlook.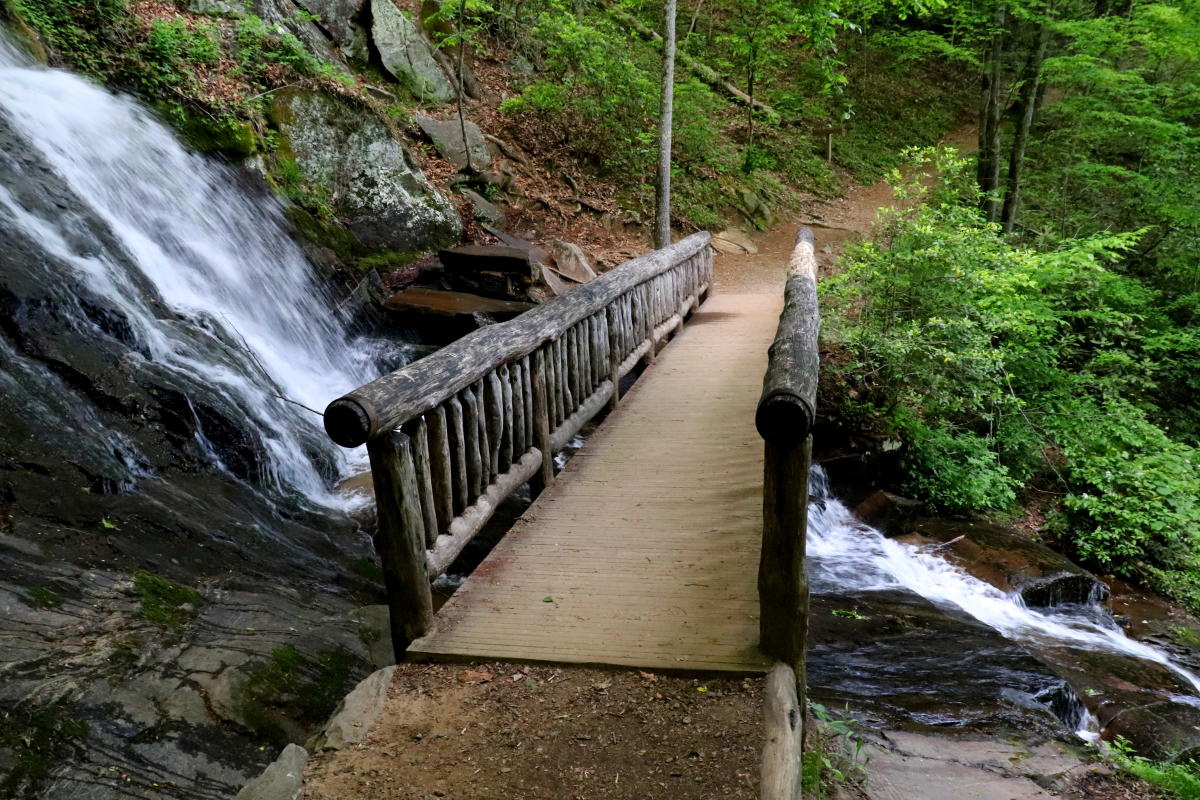 In the summer months, Tom Branch Falls is one of many beautiful backdrops along Deep Creek's tubing path. From Memorial Day through Labor Day, tubing businesses open up shop just outside of the park entrance, offering multi-colored, vibrant tubes for rafters to take a leisurely trip down Deep Creek's cool waterway. Although you can float in your tube anywhere along the creek or picnic area, the best and most popular float requires you to carry your inner tube upstream along the Deep Creek trail, just past the first bridge.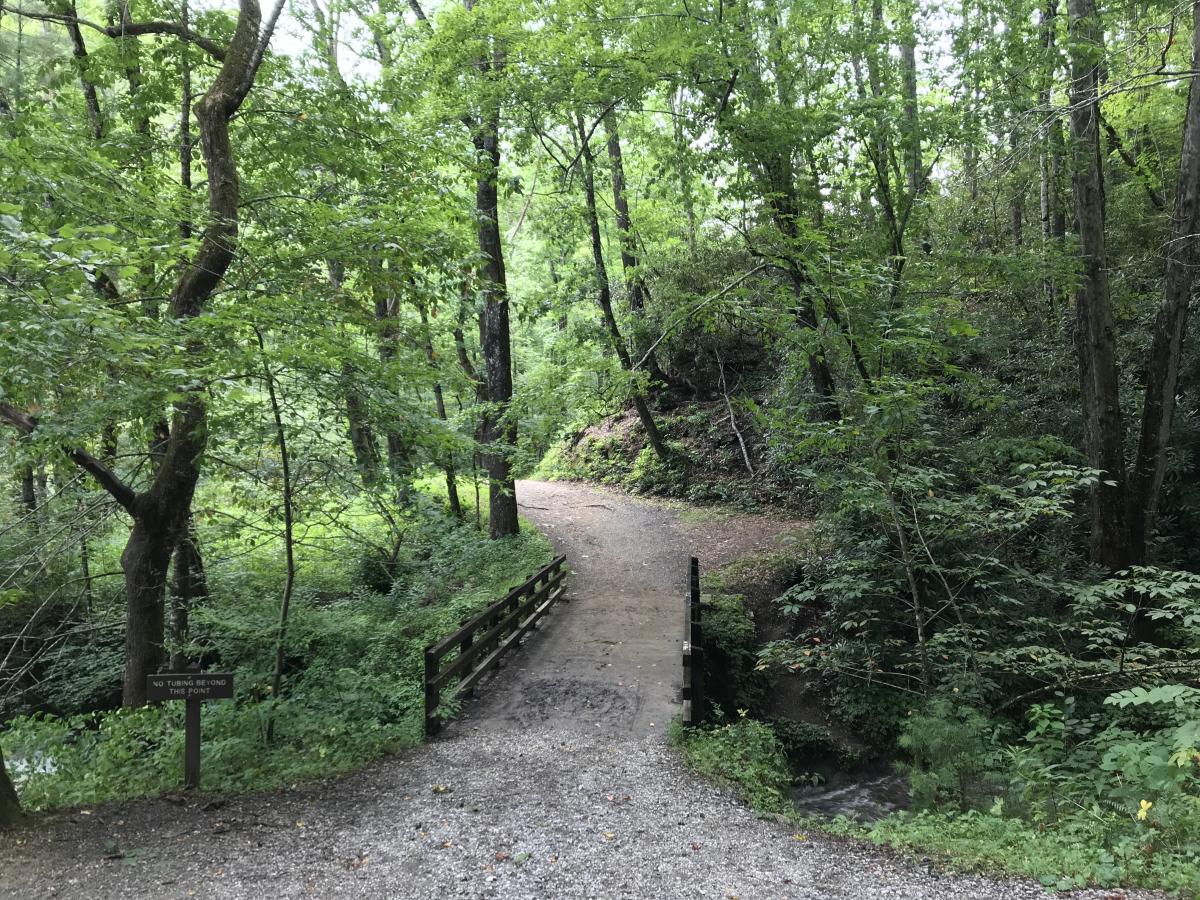 In addition to hiking and tubing, Deep Creek is also an excellent spot for fishing, with the creek full of a variety of trout. Horseback riding, mountain biking and enjoying a good old-fashioned picnic are also popular activities in the Deep Creek area. Campgrounds are also available for those who want to sleep as close to the fun as possible!
 Oconaluftee at Cherokee:
Our next closest entry point is just up the road in nearby Cherokee. The Oconaluftee park entrance can be found just past the access point to the Blue Ridge Parkway. From here, you can tour unique historic buildings, hike through wooded wonder, spot elk and access scenic roads that lead to the Tennessee side of the Great Smoky Mountains National Park.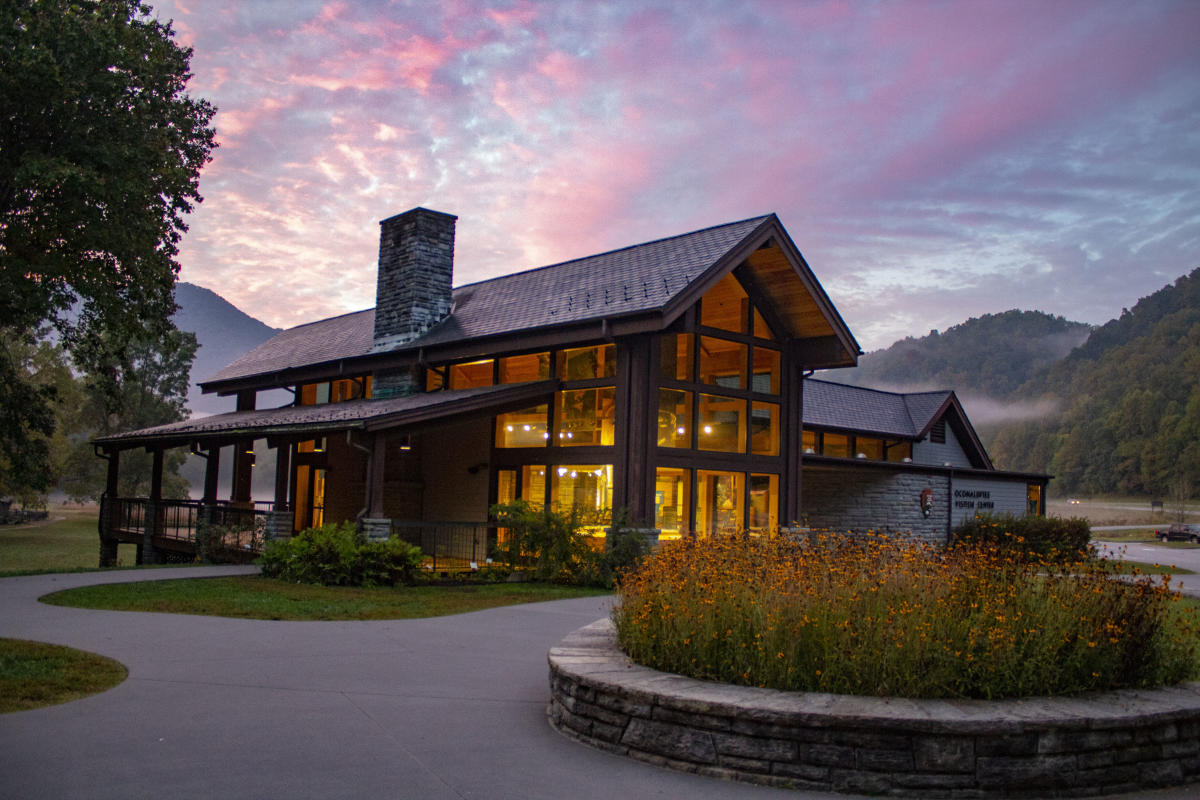 Located right at the entrance, the Oconaluftee Visitor Center welcomes all to this adventure-filled section of the park. Exhibits inside the visitor center tell the story of Native American life and early European settlements and walk visitors through the local history up until the development of the national park. Outside, a vast field is often dotted with plenty of majestic elk, making this a great place to spot and admire these wild creatures- from a safe distance. Next to the field, you'll also find a collection of preserved and restored log cabins, barns and other structures that make up the Mountain Farm Museum. The Oconaluftee River Trail connects the center, field and museum, stretching beyond into the woods and along the namesake river.
A short drive up the road from the Visitor Center, you'll find both Mingus Mill and Oconaluftee (Lufty) Baptist Church, two historic structures that have been standing for more than 100 years. Mingus Mill was built in 1886 and is still an active, working grist mill to this day. It's impressive to witness the power of water, especially during seasonal live demonstrations! Lufty Baptist Church, meanwhile, was built in 1912 for a congregation first formed in 1836. The restored and preserved church is no longer active and can be toured year-round at the Smokemont Campground.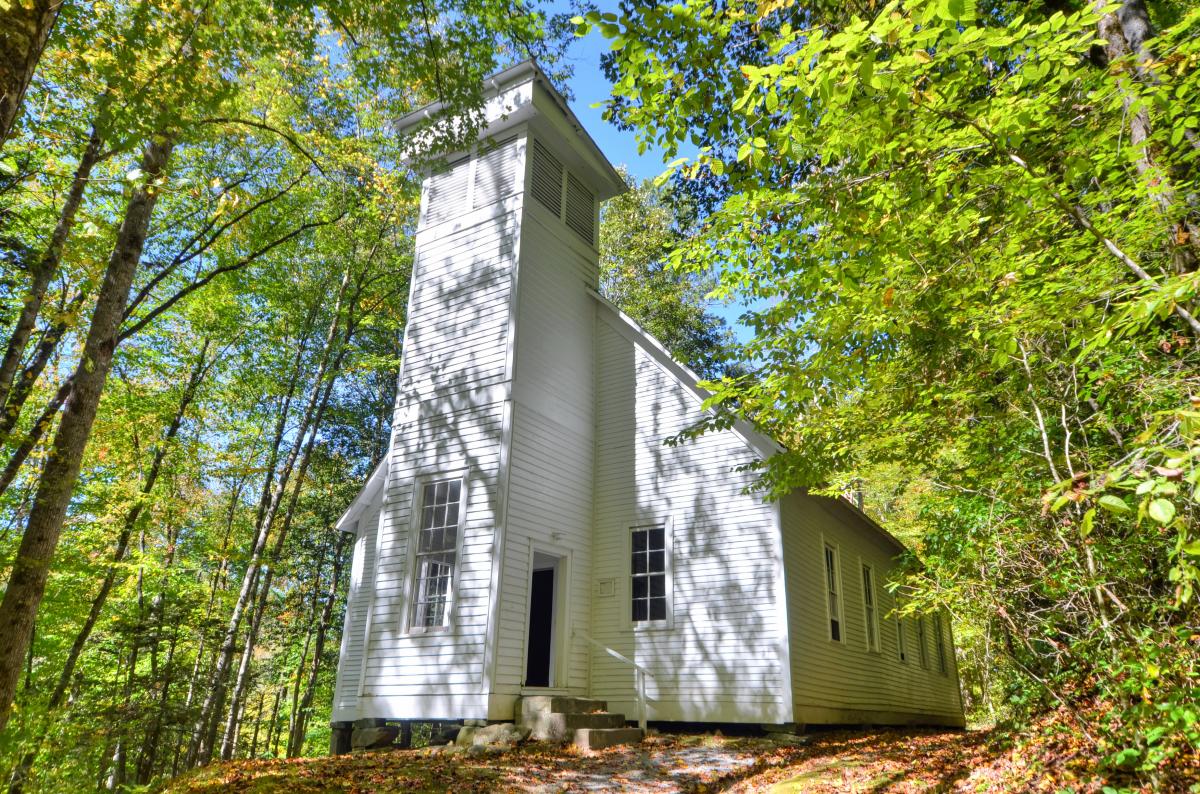 In addition to touring the church, you can also horseback ride and hike at Smokemont! One of many trails to explore is Chasteen Creek, which is connected to the Bradley Fork Trail. After following Bradley Fork, you will come to a path break that allows you to continue to Chasteen Creek, which ends in a beautiful waterfall. This route is also accessible via a guided horseback tour with Smokemont Riding Stables.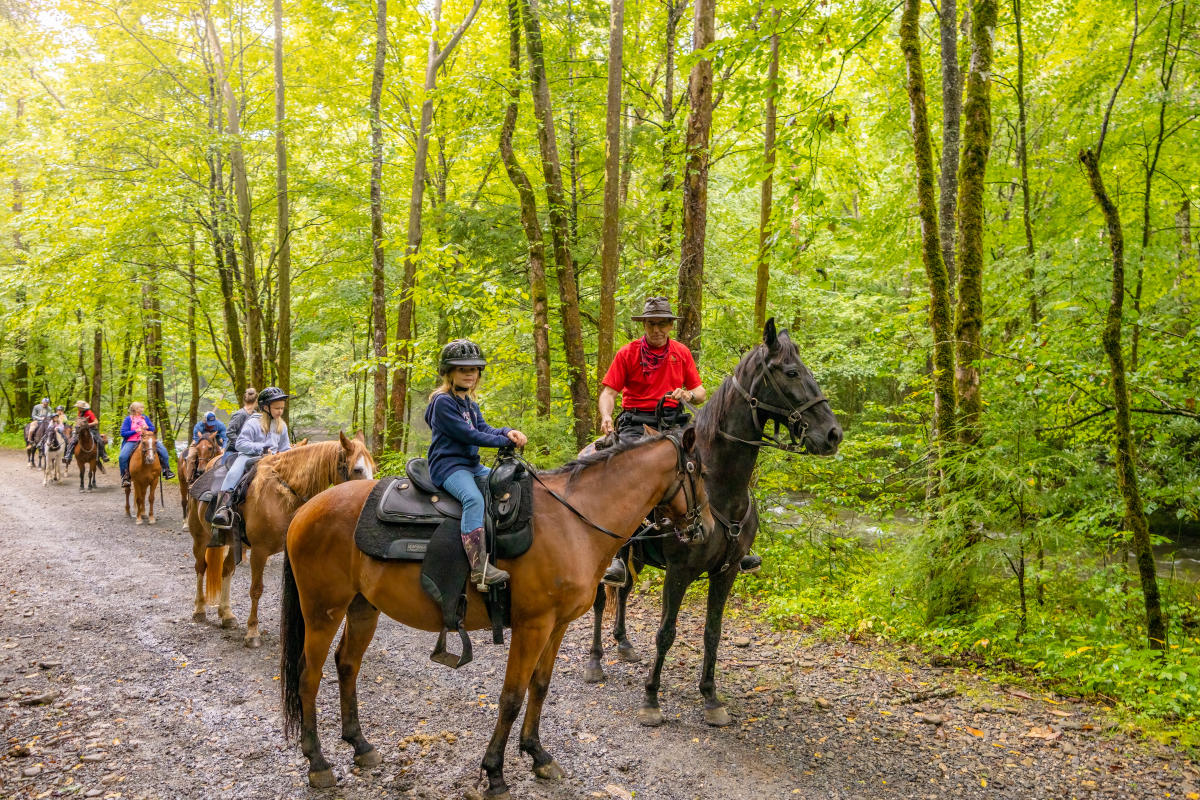 As if that is not enough, the Oconaluftee entrance also puts you on Newfound Gap Road, one of the most beautiful and scenic roads in the national park. Follow it to your heart's content and enjoy several stops to pull off and see panoramic mountain views along the way. You can read more about those overlooks, here: https://brys.onl/3Lb5iqx.
Fontana Dam: A Legendary Connection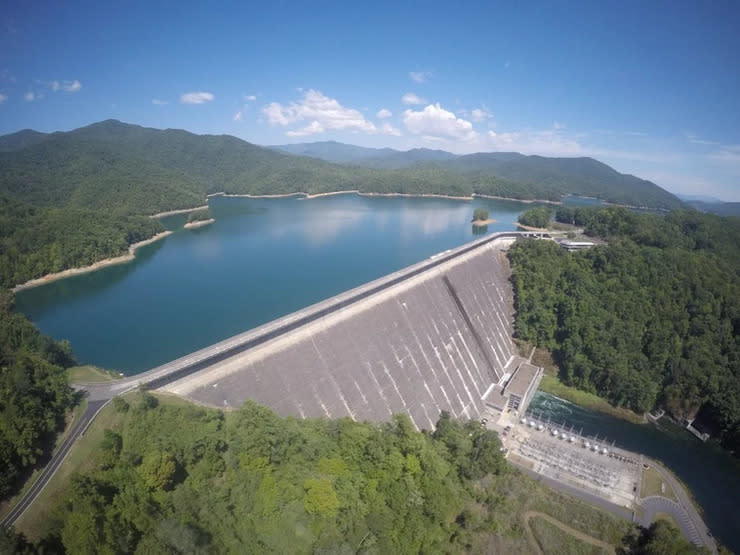 Fontana Dam is an impressive structure, known both as the tallest Dam east of the Rocky Mountains and as the smallest town in North Carolina! Accessed via NC-28-N (aka the Hellbender), this dam has a wonderful visitors center, restrooms and a small overlook area that gives you 360-degree views of the dam and lake. The Fontana Dam Visitor Center is open from 9 a.m. to 7 p.m. April through August, and 9 a.m. to 6 p.m. September and October. The center will close on the last Sunday in October.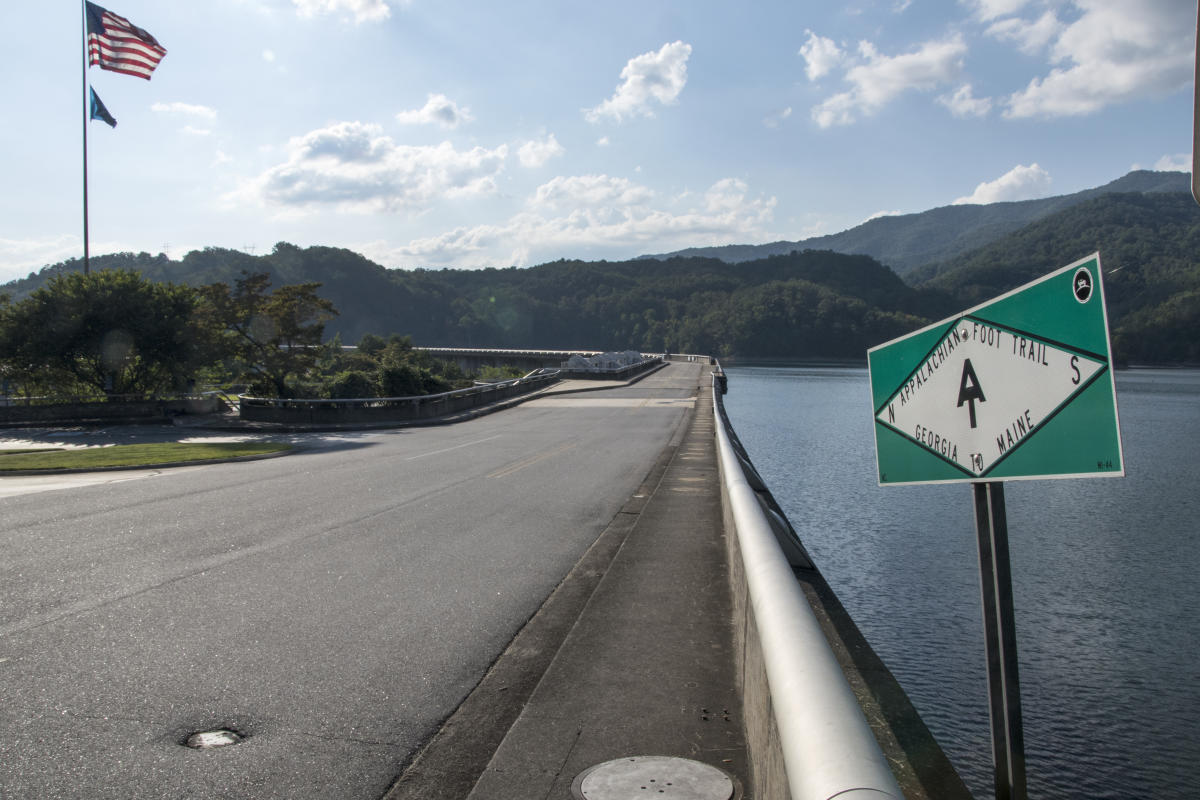 On top of the dam itself, you can peer out over the lake, the Great Smoky Mountains National Park and the surrounding, natural landscape. The dam also serves as an access point to the Appalachian Trail, a legendary hiking path that draws in the boldest adventurers on a multi-week trek from Georgia to Maine and actually crosses over the dam before entering the National Park. Hiking here, you can access truly remote, untouched and often uncrowded hiking trails that lead you to the lake's shore, fire towers and beautiful overlooks. Most notably, this entrance is one of two ways to access the Lakeshore Trail, which, through offshoots, can lead you to key fishing areas along the lake's shore, Hazel Creek and Eagle Creek.
North Shore: The Remote Entrance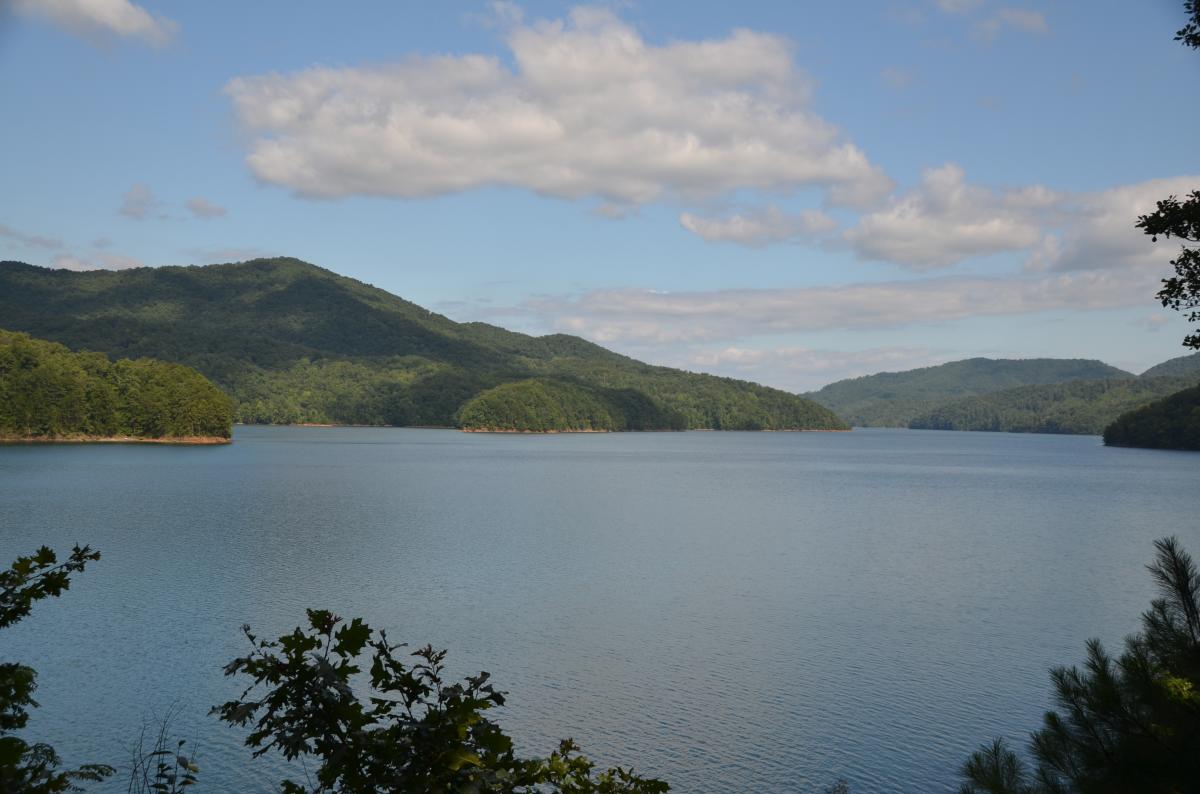 Another Fontana Lake entry point, the North Shore entrance requires advance planning to access, but the destination makes the journey well worth it. The North Shore area is a remote portion of the national park that borders Fontana Lake with no road access whatsoever. Those wanting to reach the North Shore by hiking in, can hike the Lakeshore trail from either end (Road to Nowhere or Fontana Dam). Another option is to arrange for a guide to take you there from Hazel or Eagle Creek. You can also rent a boat or kayak in nearby areas such as the Fontana Village Marina and make the trek yourself by water. Once there, you can relax at campsites, explore remote hiking trails, fish, and splash in the lake - the possibilities are endless! It's truly a unique section of the park, showcasing nature at its best and most untouched. Here, you can truly feel as though you're connected with the woods, the wildlife and Fontana's beautiful emerald-blue waters.
Road to Nowhere: Access History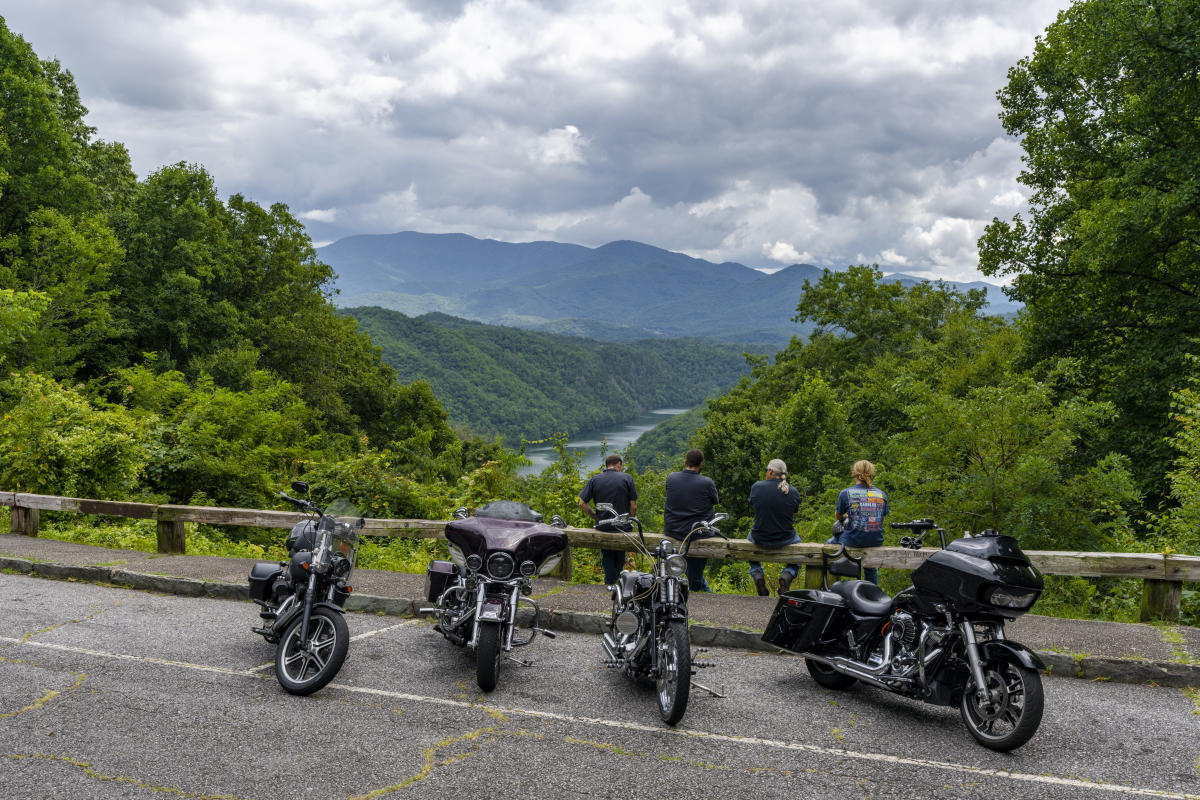 Also known as Lakeview Drive, the Road to Nowhere is a national park entrance steeped in Swain County history. Accessed from downtown Bryson City, the road itself is a scenic, winding six-mile path through the mountains and into the national park. This journey is lined with scenic overlooks that give you a panoramic look at Fontana Lake and the national park.
At the end of the road, you'll find a mile-long tunnel, a symbol of a promise broken long ago and an access point to the beauty of the Great Smoky Mountains National Park's untouched wilderness. When Fontana Dam was built in the 1940s, residents of towns in what is now Fontana Lake were displaced. They were promised that for their sacrifice, a road would be built to connect them back to their family land, gravesites and other vital cultural spots.
The tunnel was once meant to be just another part of Lakeview Drive. However, construction halted, the road was never finished and the tunnel now marks its end. A promise was broken.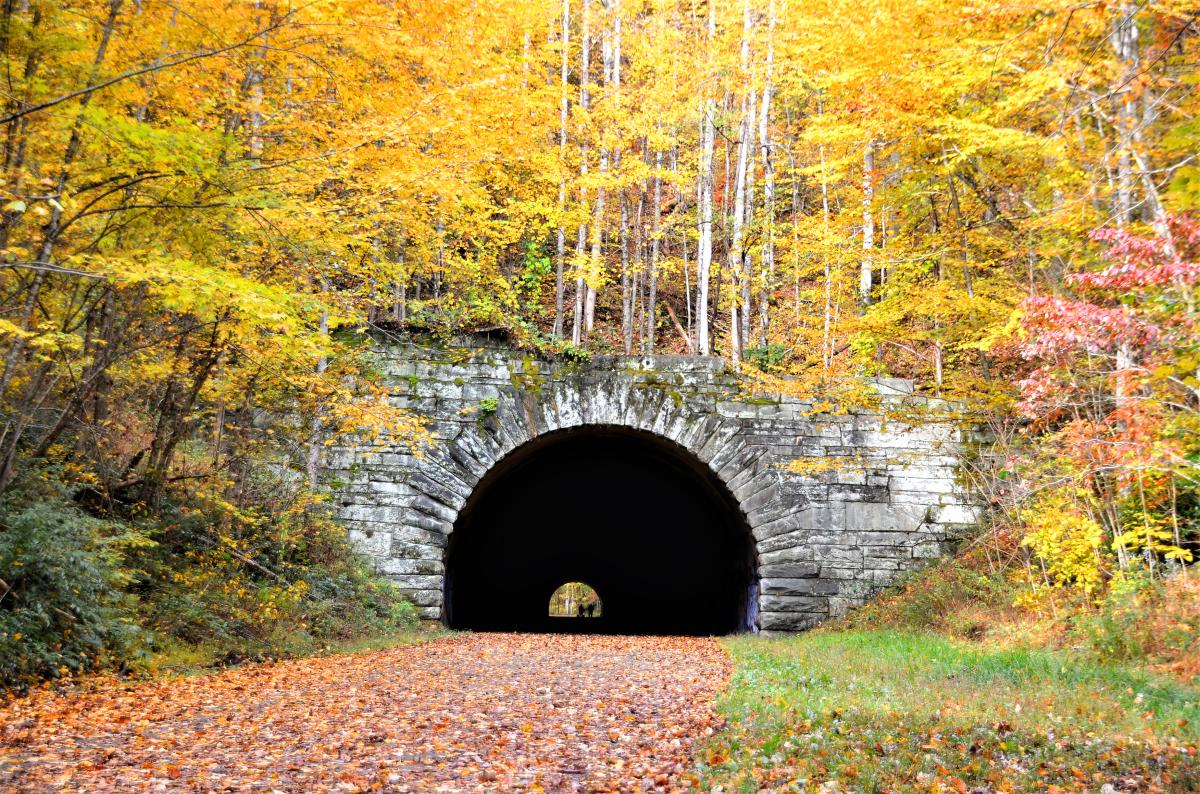 Today, you can walk through the tunnel (with a flashlight). On its other side, you'll replace the concrete road with well-worn natural paths, forking off into several directions leading you further into the woods, down to Fontana Lake and beyond. These paths include the Lakeshore Trail, Goldmine Loop and a short loop trail that leads around the tunnel instead of through it. The North and South sections of the Noland Creek Trail can also be accessed from here just before you reach the tunnel.
With so many entry points to the Nation's most visited national park, there are endless opportunities for outdoor fun! Whether you want to learn more about the rich history of our mountains, go elk spotting, cool off on a hot summer day or hike to your heart's content, planning your mountain vacation in Bryson City gives you unprecedented access to these adventures and so much more. Come explore the Outdoor Adventure Capital of the Great Smoky Mountains. We promise it will be a summer vacation you'll never forget https://www.explorebrysoncity.com/plan-your-visit/.
Settings within the Great Smoky Mountains provide amazing opportunities for breathtaking…