Experience a true holiday wonderland in Bryson City, North Carolina.
THE POLAR EXPRESS™ Train Ride comes to life as the train departs the Bryson City depot for a journey through the quiet wilderness for a special visit to the North Pole. Thousands of twinkling lights come to life on the downtown streets of this enchanting mountain town. Holiday hayrides, a Christmas Parade, Letters to Santa, Christmas Caroling, and a whole lot more await you in Bryson City!
THE POLAR EXPRESS™ Train Ride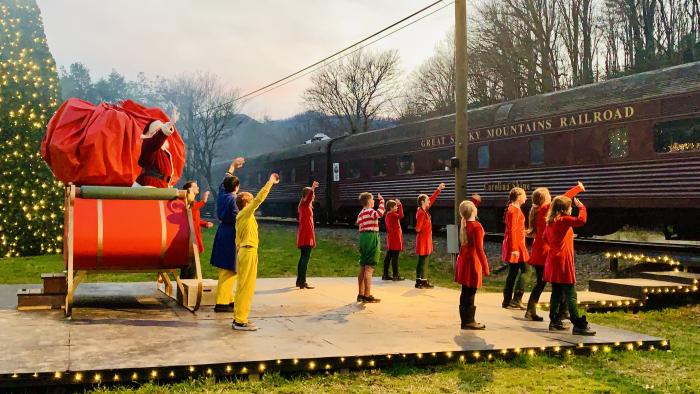 Nothing truly marks the start of the holiday season in Bryson City quite like that first night that the Polar Express pulls into the train station. A beloved Christmas tradition, this special Great Smoky Mountain Railroads ride is the only way to reach the one and only North Pole from our side of the western North Carolina mountains, with magical excursions leaving our depot regularly from November through December. Ready to get your golden ticket? We've rounded up everything you need to know to plan your perfect Smoky Mountain holiday adventure!
Prepare for True Christmas Magic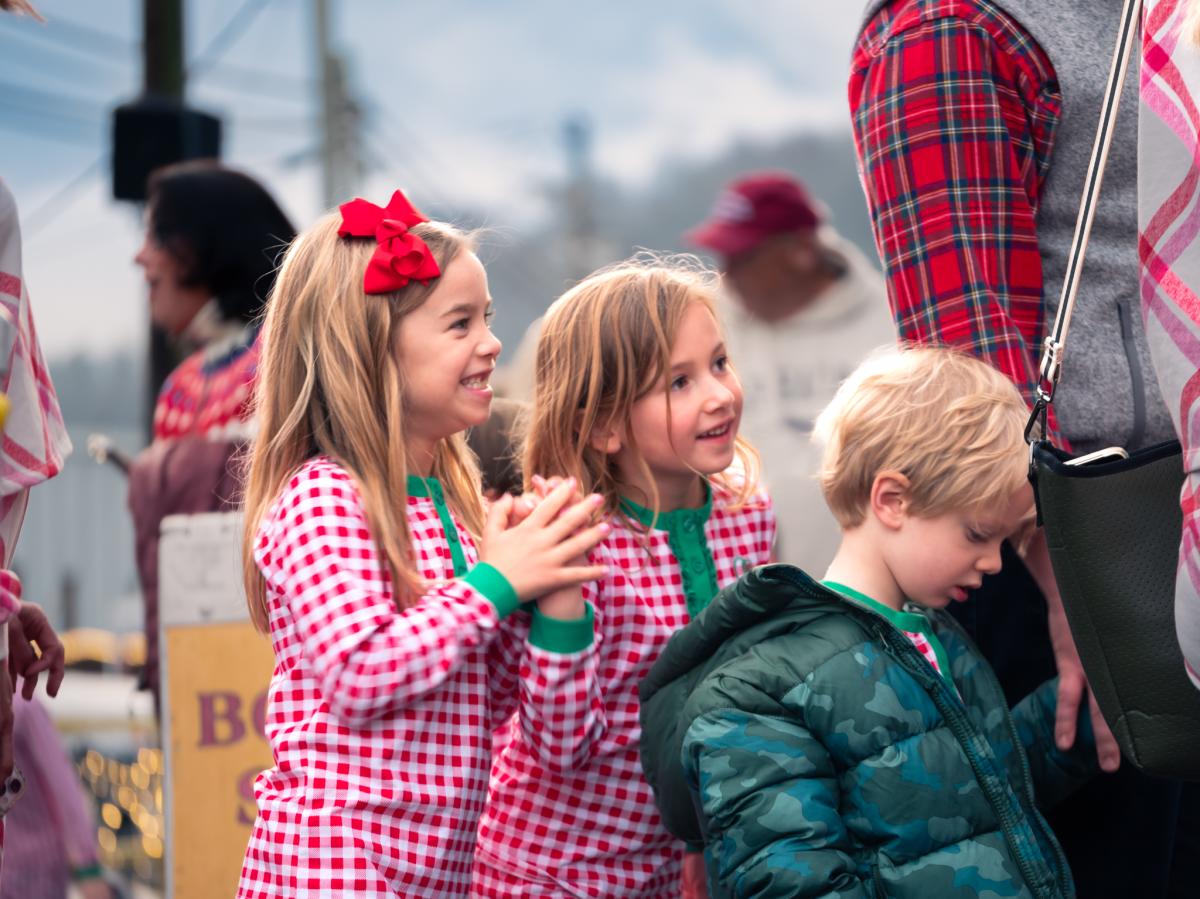 The evening excitement begins as soon as your train pulls into its station, with that signature train whistle letting you know that your Polar Express journey will be one you won't soon forget. As you board, you'll be greeted by cheerful ticket takers, holiday music from the much-loved film, a train car decorated with sparkling streams of tinsel, presents to take to Santa's Workshop, and more. The train will soon gently leave the station, chugging along through our quiet wilderness as you travel to the North Pole. Along the way, Santa's elves dance, sing and, of course, serve out delicious hot chocolate. You'll also hear a whimsical retelling of the storybook that started it all.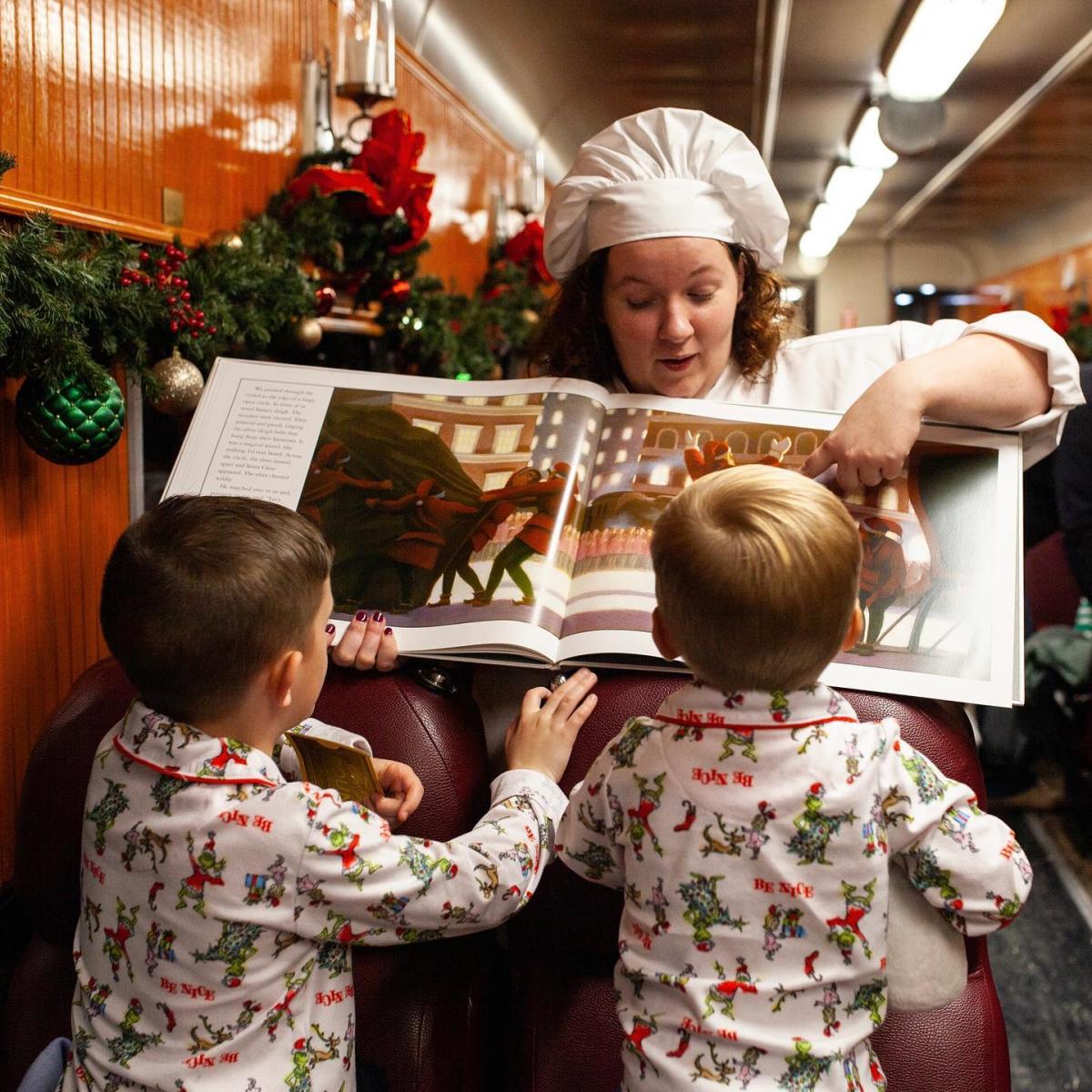 As your train nears the North Pole, you'll begin to see a Christmas Village emerge before your eyes. Spot the Post Office where Santa receives his letters. Wave hello to elves tinkering away at the workshop. Try to find Santa's reindeer, who are all getting ready for their big trip on Christmas Day. Your train will soon slow to a stop to allow for the best surprise of all - Santa will board your train to greet all of the good children aboard! As you make your way back to Bryson City, Santa will pass through each train car to say hello and give everyone a special Christmas bell to commemorate their time at the North Pole. Once you return to the Depot, he will stop and snap photos before he whisks back to finish presents before the big day. It's truly a magical journey from start to finish that will delight both the young and the young at heart. We recommend arriving at the Bryson City Depot an hour before your train embarks to check in, snap photos, and prepare for your ride.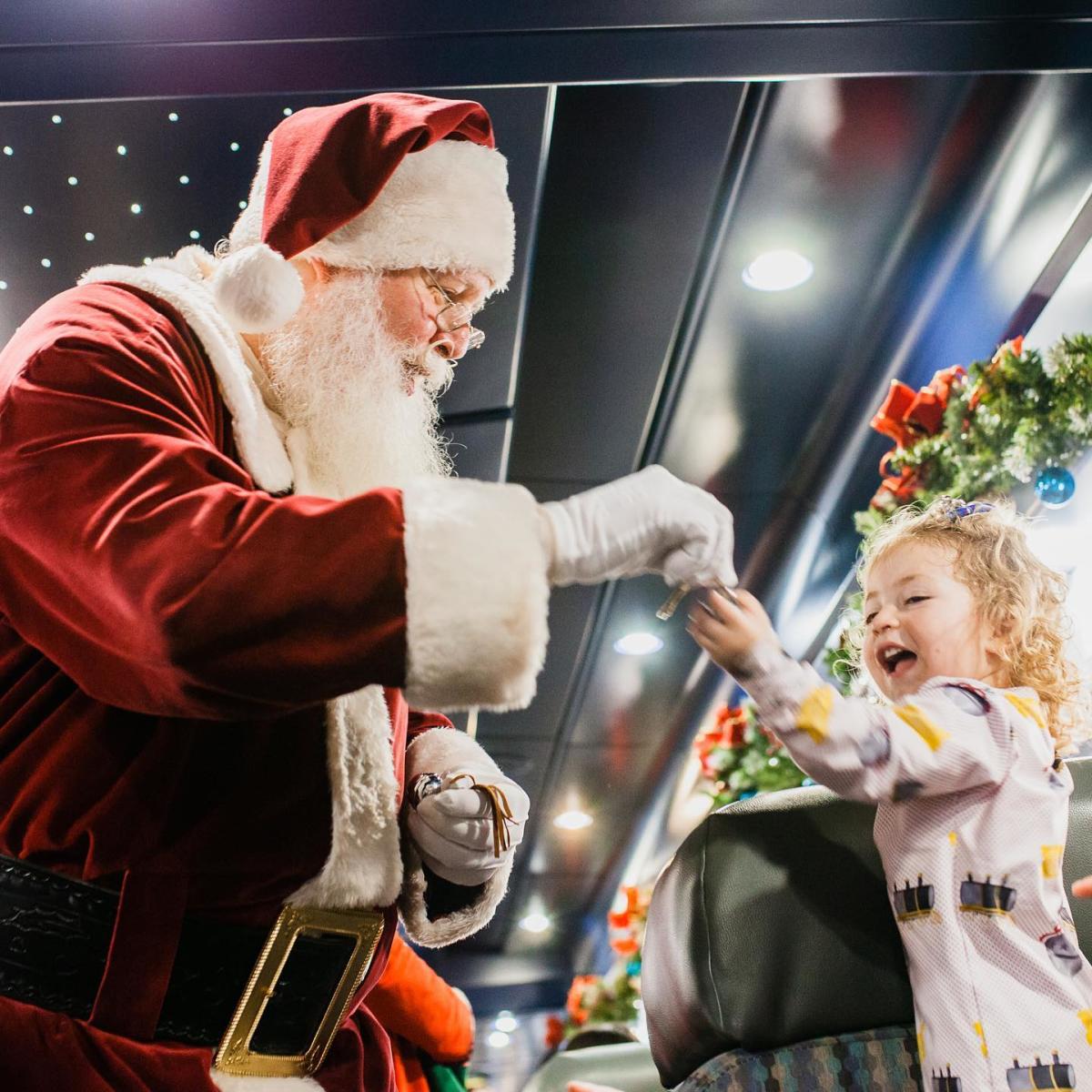 While you wait, you can browse for merchandise at the Depot's gift shop and tour the Great Smoky Mountains Railroad Model Train Museum, one of the best and largest collections in the South.

Grab Your Golden Ticket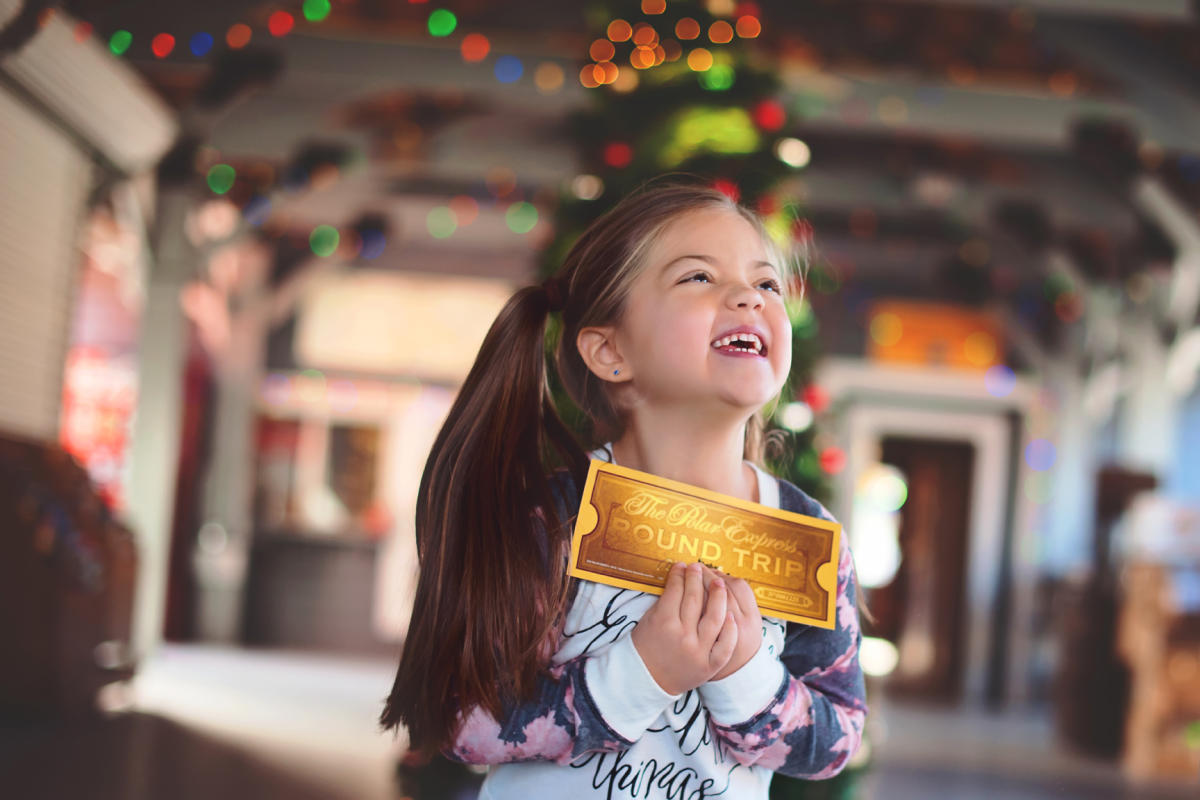 The Polar Express begins its seasonal excursions on Thursday, November 9, 2023, running three rides per evening most days of the week. There are no rides on November 13,14, 23, and 27. Starting in December, train rides are available daily excluding Christmas Day, following the same three rides per evening schedule. Trips are rarely canceled due to weather, but it does happen on occasion.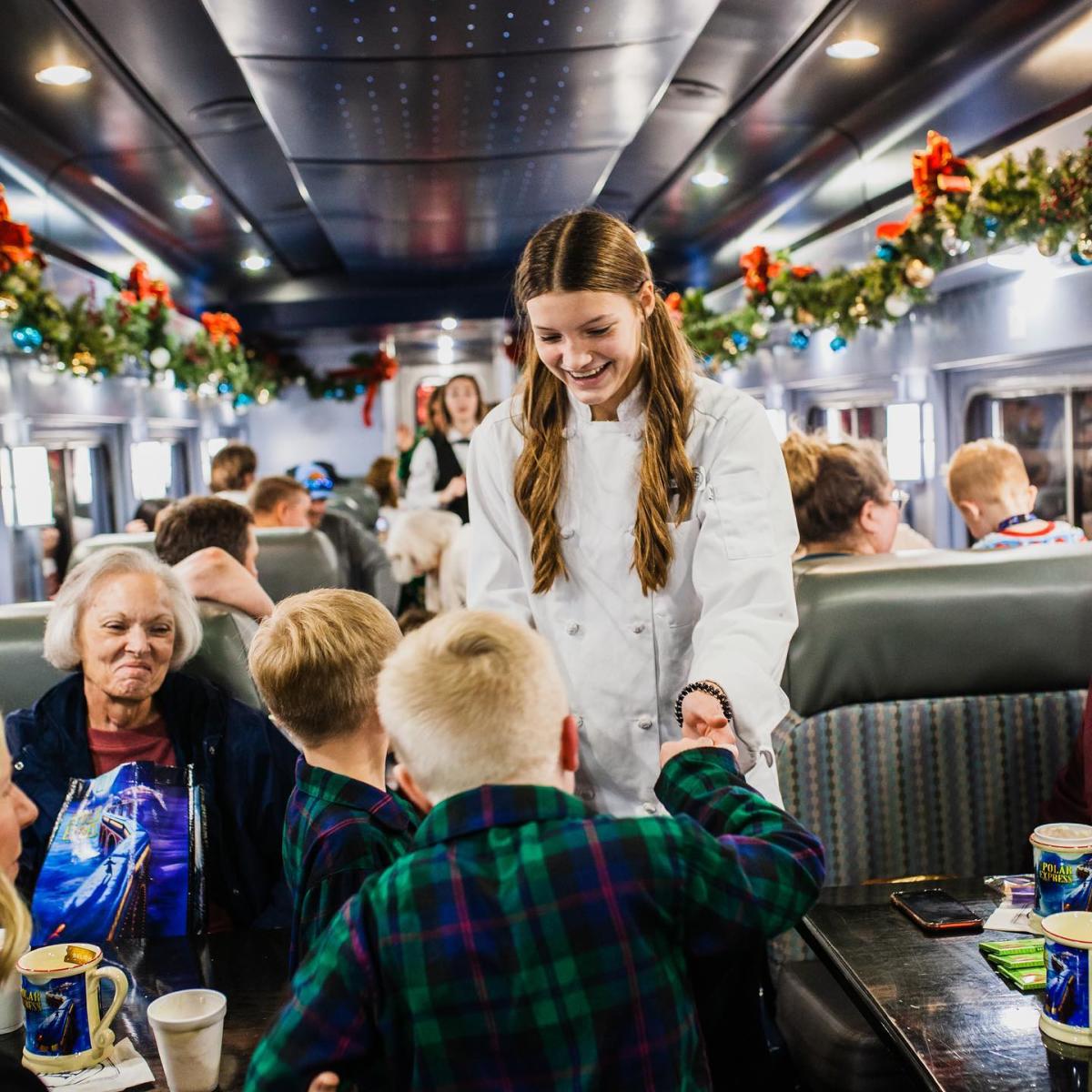 Seats can be purchased in Coach, Crown, Premium Crown, or First Class. Prices vary based on class, the age of the rider, and the time of the season. Children are cheaper than adults, while ticket prices for babies are even lower. Off-peak rides in November are also typically cheaper than December trips. Regardless of seat class, all riders get to meet Santa, enjoy hot cocoa, sing along to classic Christmas carols, and soak in the magic and storytelling of this holiday spectacular. Tickets can be purchased, here: https://brys.onl/polar-tickets
Ice Skating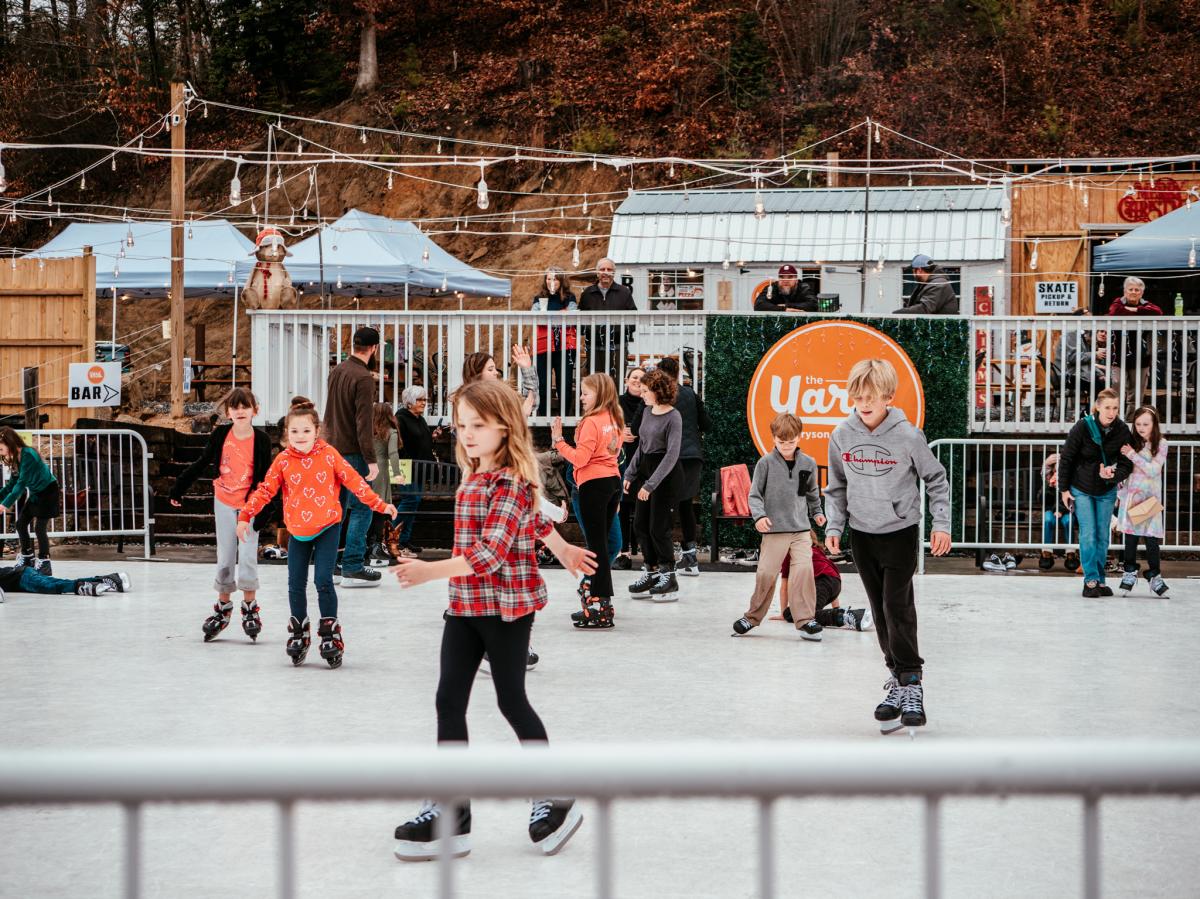 Nothing says wintertime quite like grabbing a pair of skates and hitting the ice. The Yard Ice Skating Rink opens for the holiday season and provides plenty of family fun until winter ends. Located near the Great Smoky Mountains Railroad Train Depot, you can watch and wave at passing trains as you skate along this outdoor rink. On-site food trucks provide tasty bites, drinks, and snacks. Tickets are $20 per person and include one hour of skate time, skate rentals, and a hot chocolate.
Soak in the Season in Bryson City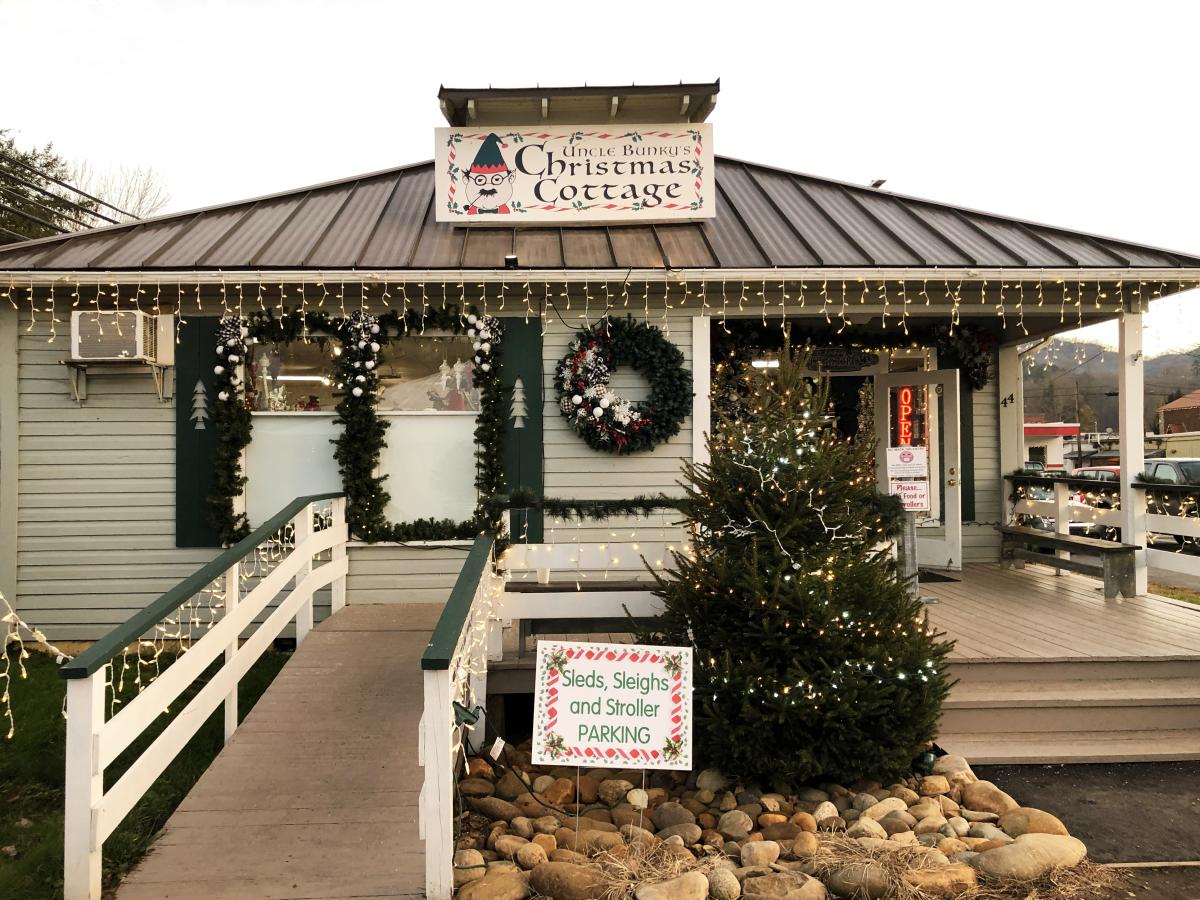 In addition to those memorable trips to the North Pole, Christmas magic can also be found around every corner in downtown Bryson City. Every year, our mountain town turns into a picturesque holiday Hallmark postcard, complete with a 20-foot decorated Christmas tree, streets lined with twinkling lights, storefronts adorned with decorations and wreaths, and sparkling snowflakes hanging from street poles. Wander our idyllic streets and shop for everyone on your nice list at boutiques such as Humanite. Enjoy only the sweetest flavors of the Smokies by picking up artisan candies and chocolates from the Chocolate Shoppe. Starting on November 9, 2023, those who stop by the visitor's center can also get an extra treat as Santa's best helpers hand out hot cocoa and cookies while you write and mail off your letter to the big man himself.
Other Can't-Miss Holiday Events in Bryson City:
Tree Lighting Ceremony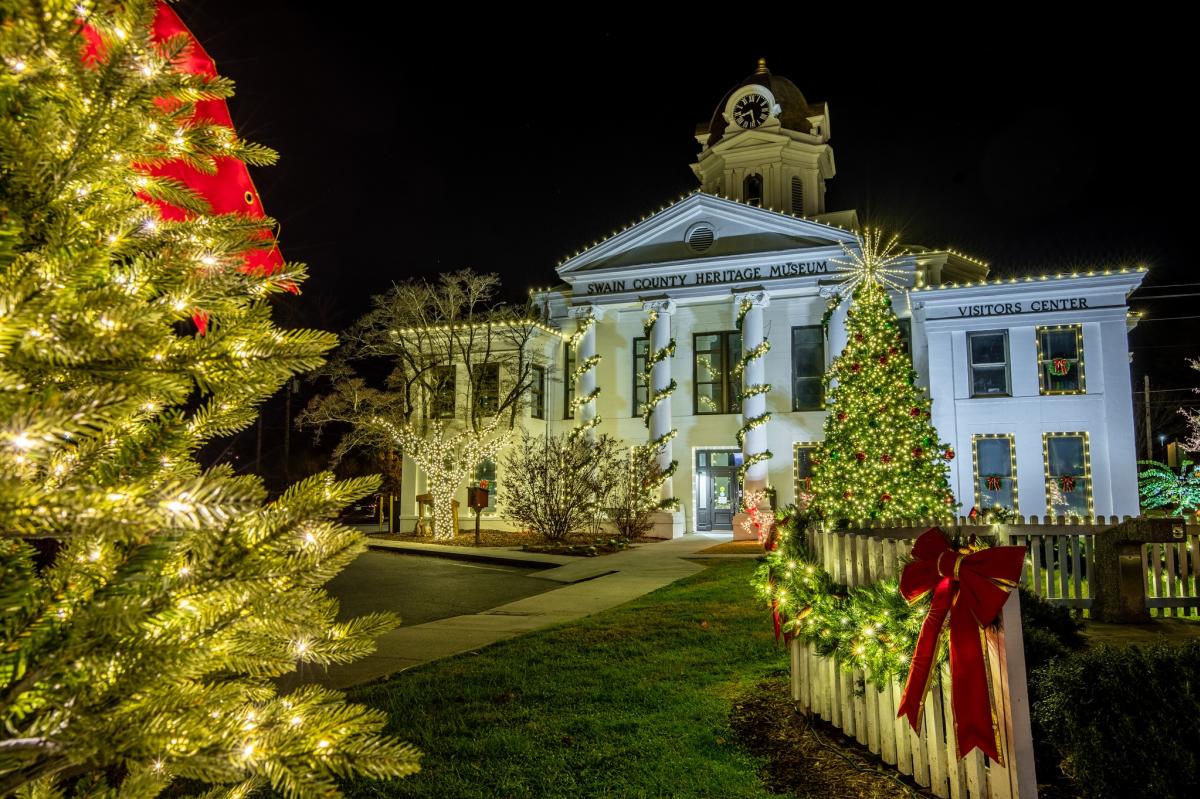 Join us at the Visitor Center and Heritage Museum for our downtown Tree Lighting Event on November 25, 2023. Christmas caroling and live nativity start at 5:00 PM. Complimentary hot cocoa and cookies. Kids can write their letters to Santa and put their letters in the mailbox. At 6:00, the mayor of Bryson City will light the 24-foot Christmas trees on the front lawn. In the true Spirit of Christmas bring a canned good to donate to the local food pantry or a new unwrapped gift for the local toy drive!
The Annual Holiday Market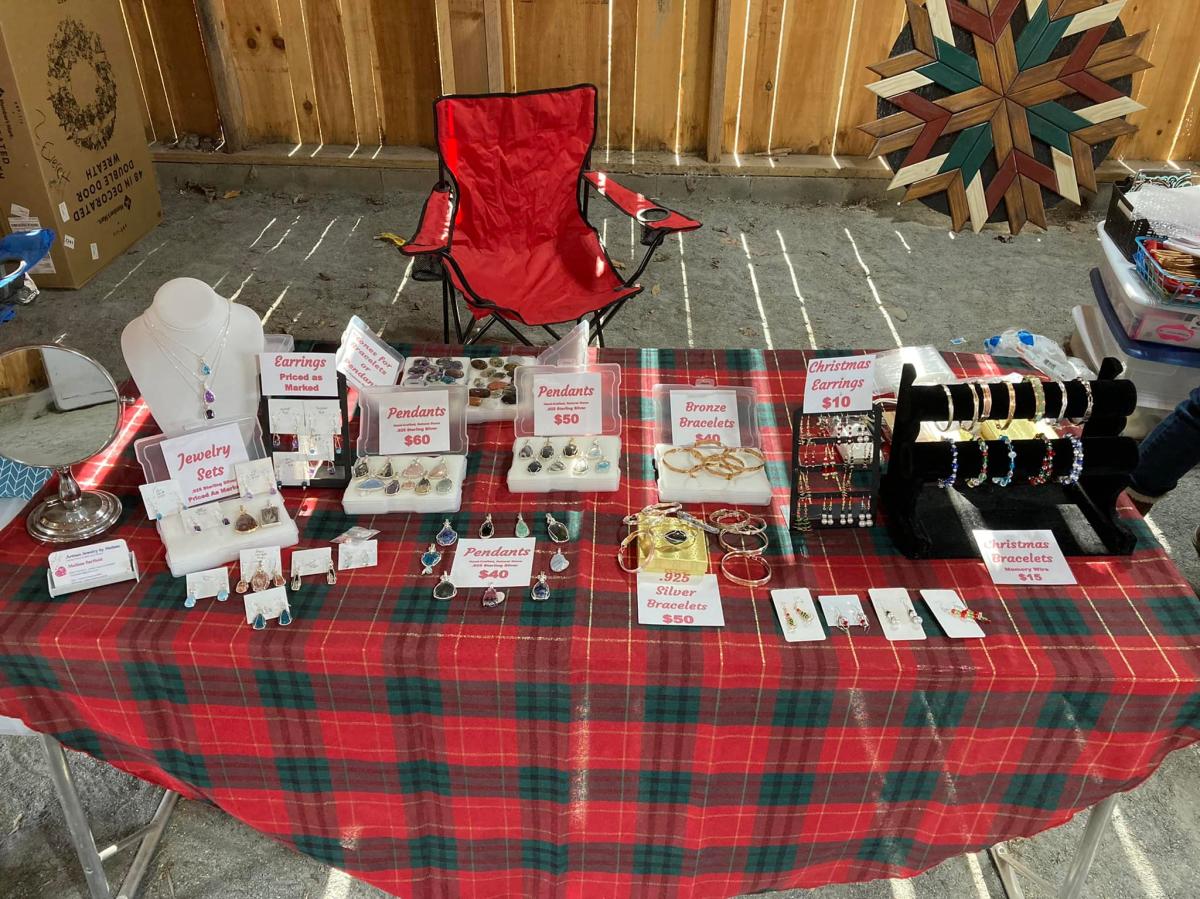 Local artisans and craft makers also come together every holiday season as our downtown hosts one of the best Christmas markets this side of the mountains. The market takes place on select dates in December. The fun takes place at Aquarium Park. 2023 Dates Include the Following Fridays and Saturdays:
Merry Market With Santa:
On December 9th and 16th, the Nantahala Outdoor Center will be hosting the charming Merry Market with Santa! Prepare to find precious handmade treasures and embark on a festive experience!
The Bryson City Christmas Parade:
Wave hi to Santa and Mrs. Claus as this spectacle parades through our downtown streets on December 2, 2023.
Christmas Hayride: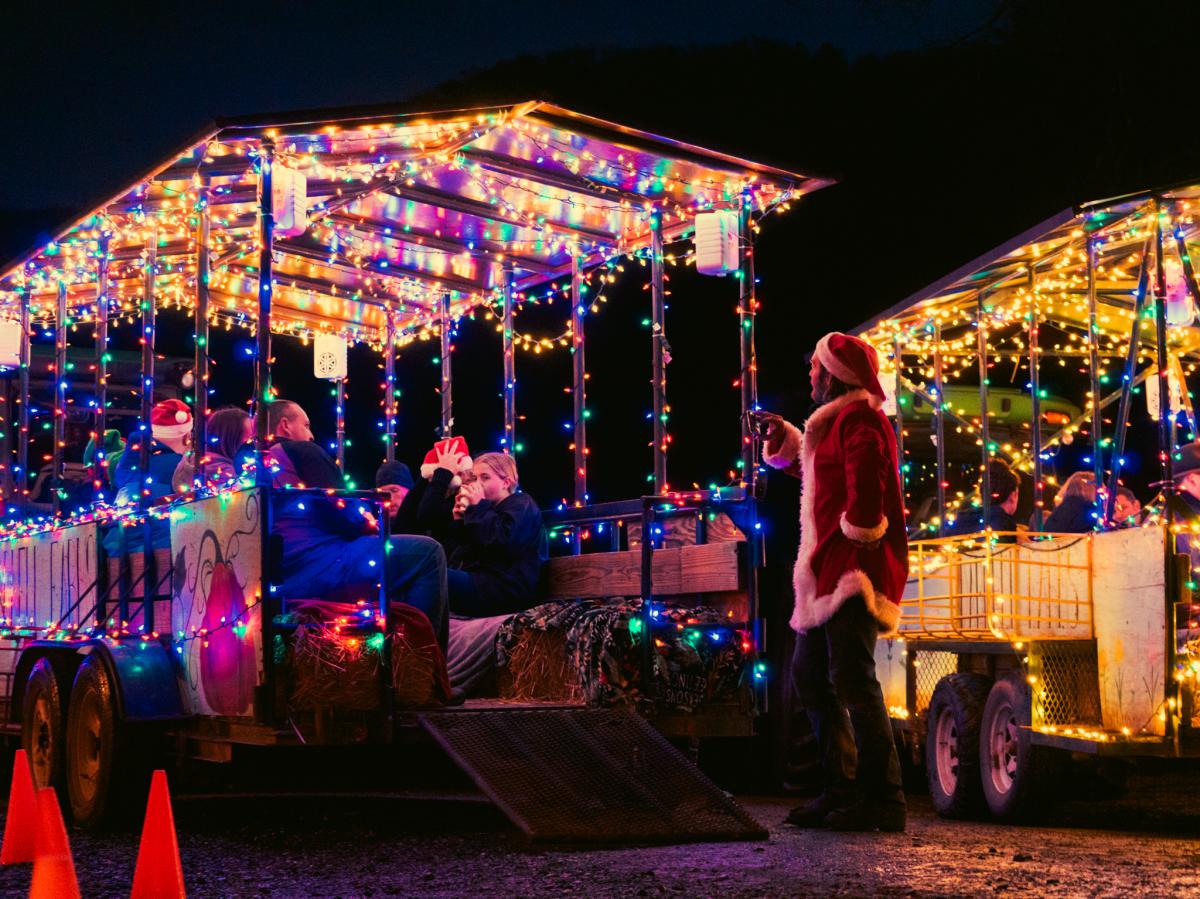 Head on over to Darnell Farms for an outdoor hayride through a majestic Christmas light forest and a reindeer barn lit with twinkling lights, opening on November 21, 2023. This much-loved holiday event has wonderful holiday photo opportunities, a farm playground, and seasonal goods available to bring home. Hayrides are $12 per person and include your choice of hot coffee, hot cocoa, hot apple cider, or bottled water. Children two years of age are free to ride as a lapped rider only, but no hot drink will be provided. Learn more at www.darnellfarms.com.
Breakfast With Santa:
Join Santa at the Nantahala Outdoor Center's Rivers End Restaurant
Letters to Santa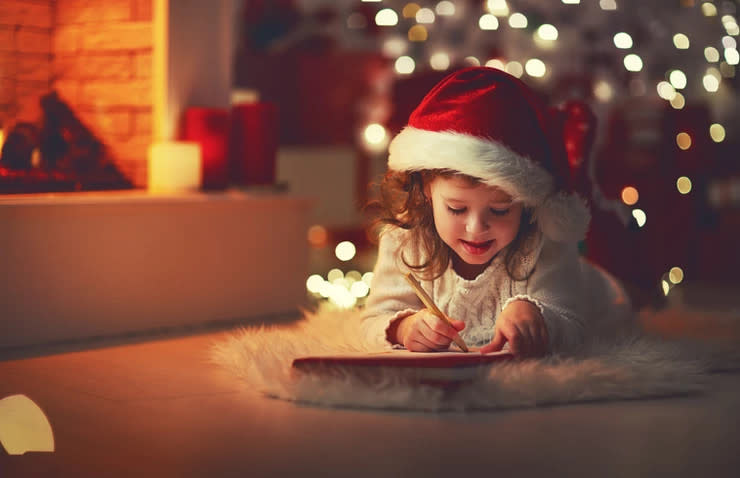 Write your letter to Santa and mail it at the Swain County Visitor Center and Heritage Museum. All materials provided. Complimentary. Letters to Santa runs from November 11th through Christmas Eve. Hours are Monday-Saturday 9-5 and Sundays 10-4.
Hot Cocoa and Cookies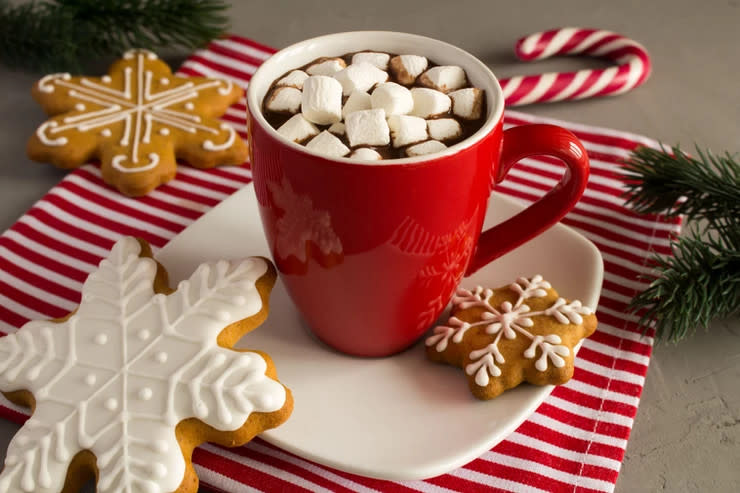 Complimentary cocoa and cookies are available at the Swain County Visitor Center and Heritage Museum from November 11 - December 31, 2023. Cookies and hot cocoa will be "to go," and self-serve, and have been pre-packaged. Hours are Monday-Saturday 9-5 and Sundays 10-4.
Visit Darnell Farms for an outdoor hayride through a majestic Christmas light forest, the lit reindeer barn. Amazing Christmas photo ops, a farm playground, as well as their fruit stand full of Christmas gifts to bring back the taste of the mountain. Hayrides through the Lights includes your choice of hot coffee, hot cocoa, hot apple cider, or a bottle of water. Order tickets at www.darnellfarms.com and click on "Book Hayride".
Location: Darnell Farms, 2300 Governors Island Rd, Bryson City, NC
Escape to a Cozy Cabin this Winter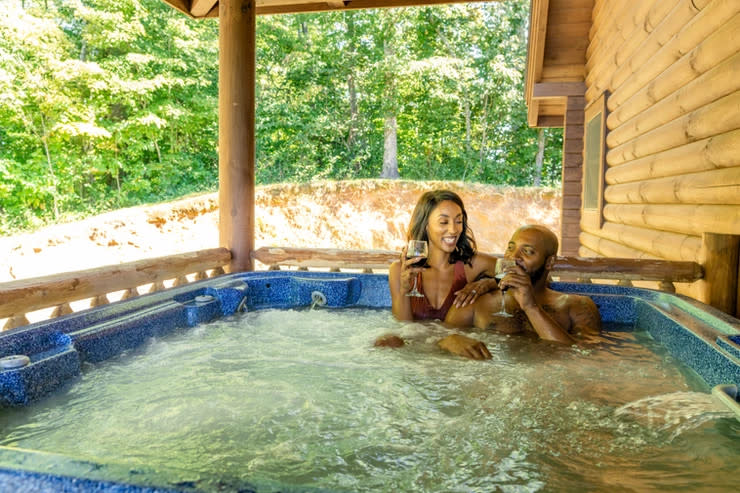 A cozy cabin rental in the Smoky Mountains is an idyllic place for you to unwind and relax for a quick weekend trip or a more extended week-long vacation. They look great on the 'gram and have plenty of amenities to make sure you have an extra special retreat. Cabins with hot tubs and fireplaces or fire pits are especially popular in the winter months.
Take an Easy Family-Friendly Waterfall Hike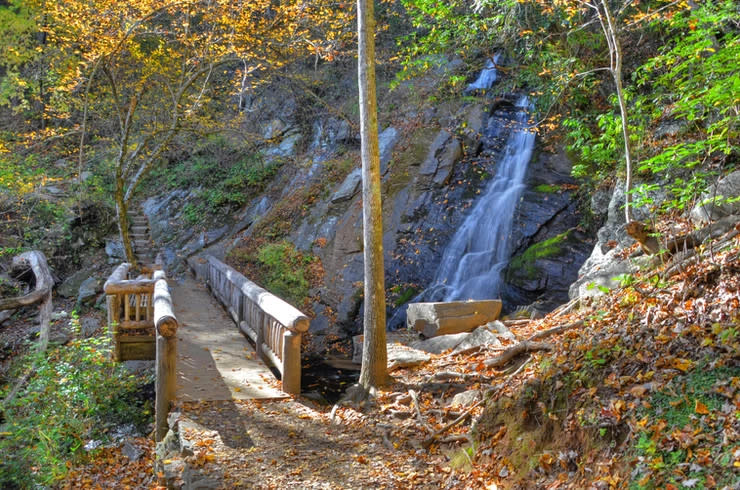 The Deep Creek area of the Great Smoky Mountains National Park is just outside of downtown Bryson City. During the summer, this area is bustling with creek tubing, picnicking, biking, and hiking. But during the winter, it is the trail less traveled; a quieter respite that leads you to 3 tranquil waterfalls: Tom Branch Falls, Juneywhank Falls, and Indian Creek Falls.
Museum Scavenger Hunt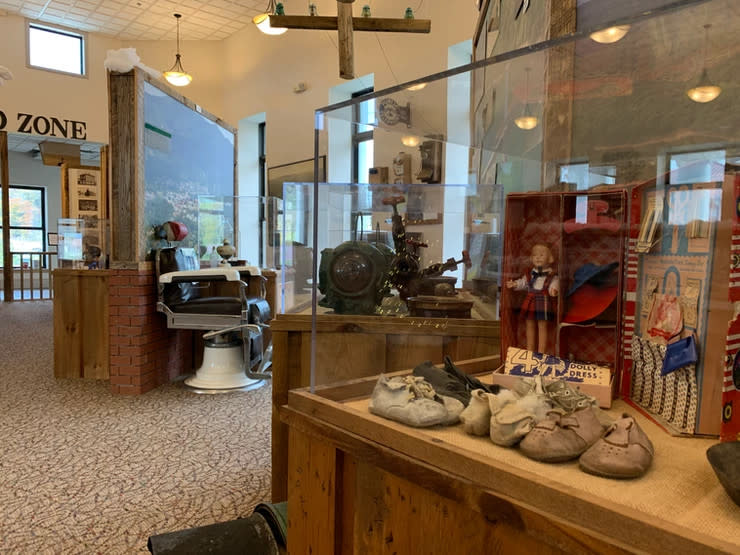 Visit the Swain County Heritage Museum for a Scavenger Hunt for the whole family! Explore the history of Bryson City and Swain County including life-size replicas. Ask about the scavenger hunt at the first-floor visitor center. Not only will you learn more about our county heritage and its people, but there is a prize for finding every item on the scavenger hunt list! Complimentary. Hours are Monday-Saturday 9-5 and Sundays 10-4. Featured displays include:
One Room School

Restored log cabin

1887 church organ

Children's Activity

Video room, featuring a 15-minute film about Swain County History

Picture room, featuring photos of the North Shore area of Fontana Lake.

Quilts

Military

Memorabilia and tools from early settlers in Swain County
Appalachian Rivers Aquarium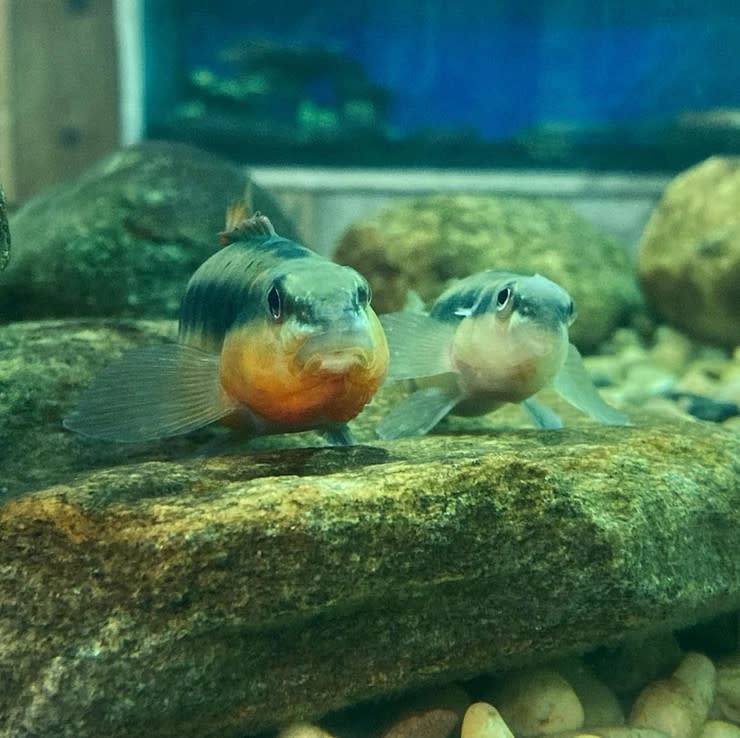 Bryson City's newest attraction is the Appalachian Rivers Aquarium! Observe fish species native to the region. Explore regional species of non-game and game fish among its fourteen tanks, two terrariums, and a hellbender exhibit to showcase the variety of amphibians and reptiles in the Southern Appalachians. Complimentary. Hours are Thursday through Saturday from 10:00 AM - 4:00 PM. Location: 117 Island Street in downtown Bryson City.
Write your letter to Santa and mail it at the Swain County Visitor Center. All…
THE POLAR EXPRESS™ with the Great Smoky Mountains Railroad is a 1¼ hour round-trip…
After dark, the farm lights up with magical Christmas lights and sounds! Before…
Back for the holiday season, the very talented crafters of our Smoky Mountain Farmers…
Cirque Musica Holiday Wonderland is a must-see holiday event to usher in the magic of…