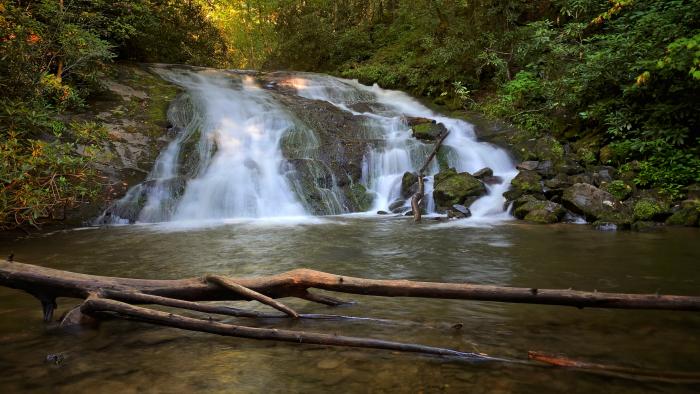 Tucked away and just a short drive from downtown Bryson City, Deep Creek is one of the most beautiful and serene areas of the Great Smoky Mountains National Park. Home to hiking trails, three scenic waterfalls, campgrounds and a sparkling, clear stream, there's no shortage of adventure and excitement here. Let's explore some of our favorite activities you should dive into on your next Bryson City vacation!
Sleep Near the Action and Adventure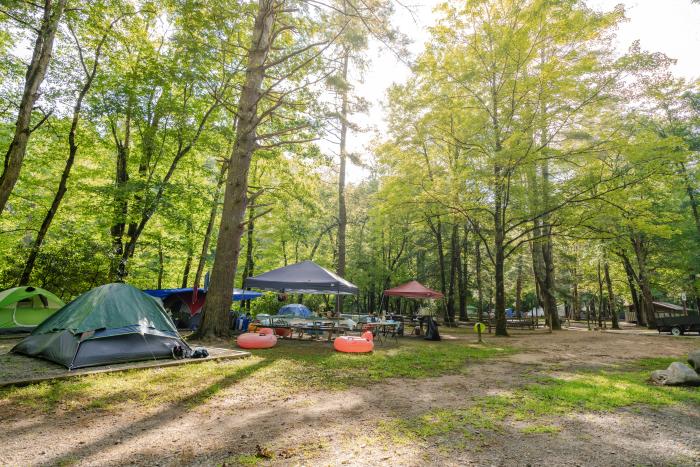 Deep Creek Campground, located just along the area's popular stream near the entrance to the park, is perfect for those who truly want to experience nature's beauty. Here, you can truly immerse yourself in the Smokies' signature stunning seasonal scenery, whether it's the budding wildflower blooms of spring or the bursting colors of fall. Summer vacationers can also enjoy the campground's close proximity to stream tubing services, one of our favorite ways to keep cool and experience the Deep Creek area.
This traditional, primitive campsite features 92 individual sites, complete with grills, tables and campfire rings for toasting up marshmallows. This is a tent-only campsite, with no hookups available. Showers are also not available, but bathrooms and drinking water are both onsite. Sleep and relax in the heart of it all by reserving your spot at this scenic campground. Reservations can be made by calling (828) 488-3184.
Hike through Wooded Wonder and Waterfalls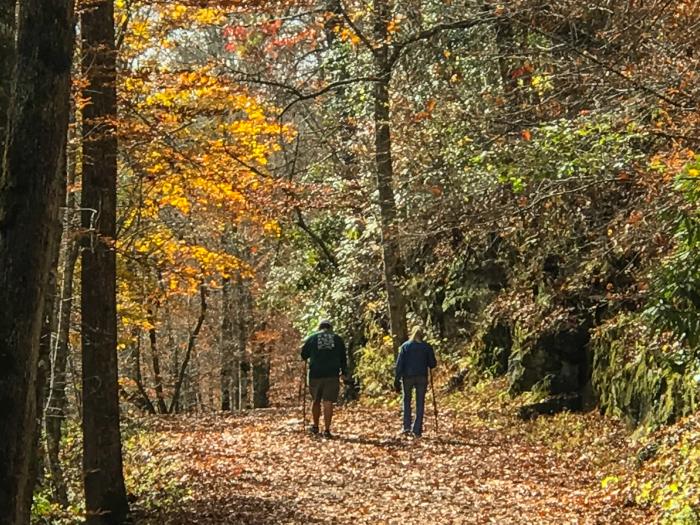 With its lower elevation and wide, well-kept trail systems, this section of the Great Smoky Mountains National Park is full of low-impact, easy-to-access hiking that's never short on scenic beauty. Deep Creek is ideal for families with young children, older vacationers and anyone who just wants a simple, beautiful stroll through untouched splendor.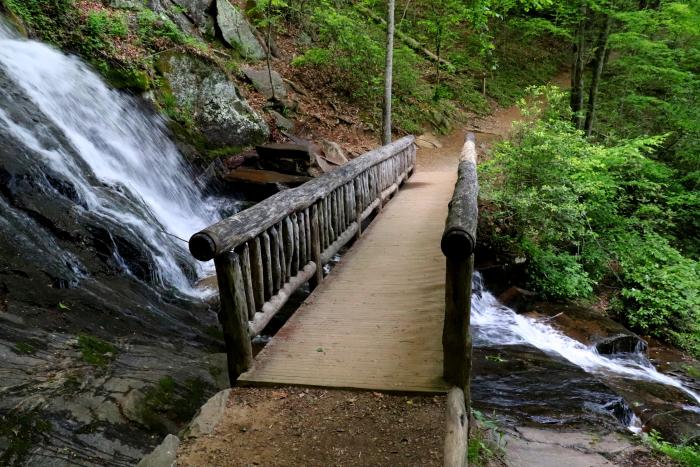 The area features three waterfalls to hike to - Juney Whank, Tom Branch and Indian Creek. All three waterfalls can be viewed by following the waterfall loop, a 2.4-mile easy hike through this well-traveled terrain. Juney Whank, the first waterfall on this trek, will get your adrenaline going. Perched up slightly higher than its neighboring falls, getting to Juney Whank will require a small, .3-mile uphill hike. A bridge spans the width of this 90-foot cascade, allowing you to view both the upper and lower section of it.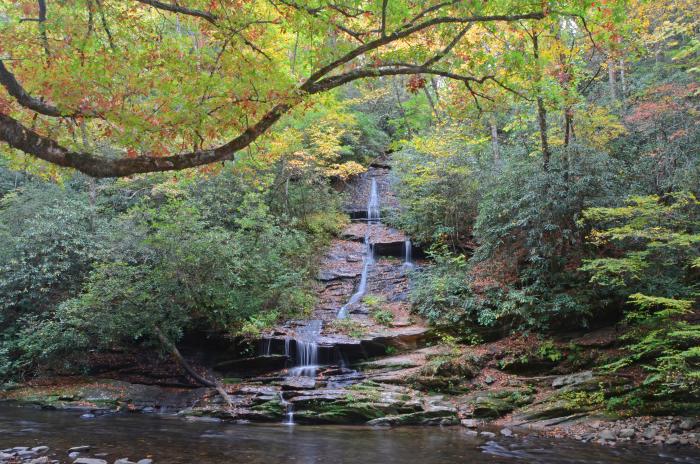 From there, you will head back downhill toward Tom Branch. Benches await at the base of Tom Branch Falls, ideal for soaking in its scenery. One of our most photographed natural landmarks, Tom Branch shines on its own in the winter months, bursts with new blooms in the spring, is lined with tubers in the summer months and is covered in colorful fall foliage each autumn. For an even easier hike, you can also access Tom Branch falls directly via a straight, mostly flat walk from the main parking area.
After stopping to enjoy Tom Branch, your journey winds deeper into the National Park towards Indian Creek.  While it may be the smallest fall at 25 feet, Indian Creek is no less stunning, with crystal clear water cascading over its smooth rocks. View this final fall at a distance, or take a walk down a short trail to soak in this stunner at its base.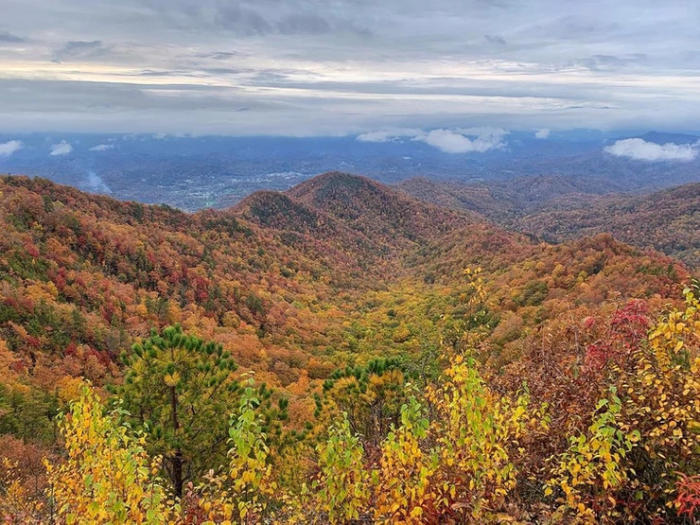 Deep Creek is also an access point to other, more strenuous hikes. The Lonesome Pine Overlook can take up to four hours to hike out and back, rounding out to more than 6-miles total. The area surrounding the Lonesome Pine Overlook features picture-perfect views of the Nantahala Mountains across the Tuckasegee River Valley, as well as Bryson City almost directly below you. The hike to the Overlook is uphill, making the journey there more strenuous than the trek back.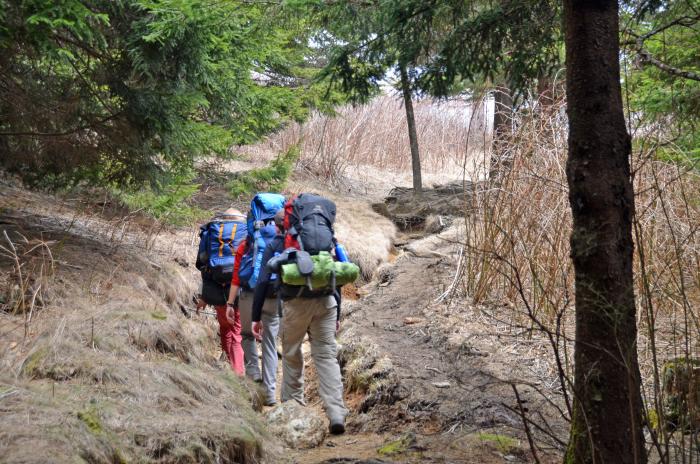 The Thomas Divide Trail is an impressive, lengthy hike that can be started at either Deep Creek or Galbraith Creek Road. Starting at Deep Creek, this 11-mile point-to-point trailhead is strenuous for a stretch as it climbs uphill toward Newton Bald. For a much shorter hike, access the Thomas Divide trailhead at Tom Branch Road, hike to the Stone Pile Gap Trail, to the Indian Creek Trail, and back to the Deep Creek Trail and Tom Branch Road.
Several of these trails are also open to mountain bikers. A full trail map with detailed guides to each approved mode of exploration can be found, here: https://bit.ly/3DV2ji6.
Tune into Our Kind of Streaming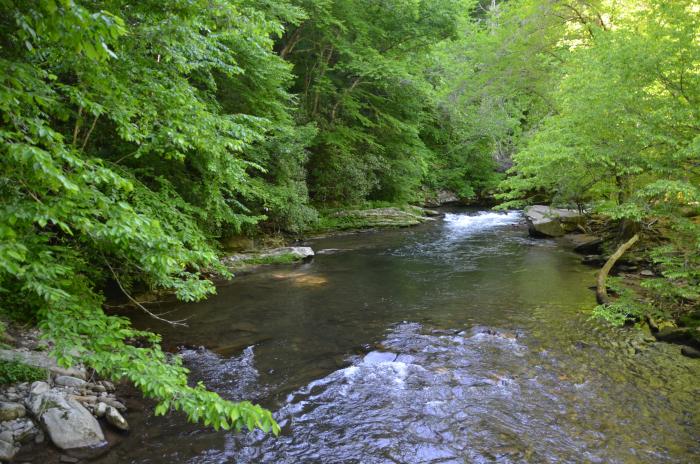 More iconic than Tom Branch Falls is Deep Creek's beautiful, clear stream, which flows 15 miles to the mighty Tuckaseegee that cuts through downtown Bryson City. As you wander through the area, the stream acts as a calming guide, rippling through the wilderness and guiding you to both Tom Branch and Indian Creek falls. Be sure to stop along the way and soak in its natural beauty at one of the many benches available in Deep Creek.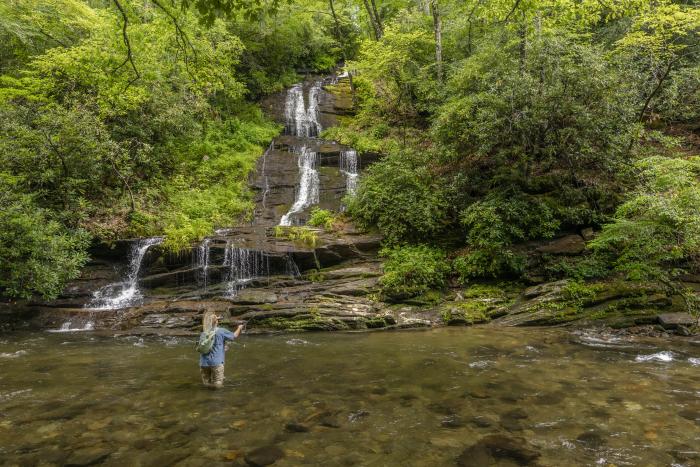 Year-round, this stream is one of the best in the National Park for brown trout fishing. Whether you want to spend time in the stream solo or with one of our expert guides, you're sure to reel in an impressive catch. Approximately 90% of the stream lies within the GSMNP and is regulated for single-hook artificial lures only. A fishing license is also required to cast your line in North Carolina waters. If you're casting your line in the summer, we recommend moving upstream above Indian Creek falls as the rest of the stream will be lined with tubers.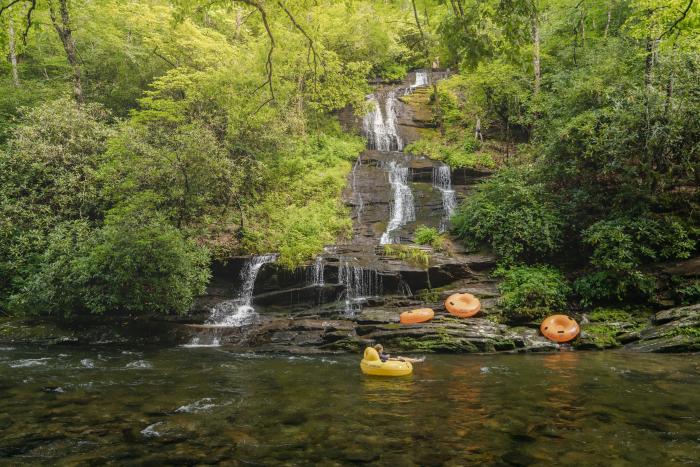 Tubing is by far the most popular activity to explore in Deep Creek. Every summer as the days stretch and the temperatures rise, vacationers from all over flock to the icy cool waters of Deep Creek. Starting just a few miles north of the park's entrance, you'll slip and slide your way down past swimming holes, smooth sliding rocks, swirling whirlpools, and Tom Branch Falls. There are several tubing outfitters near Deep Creek's entrance ready to help you bob down this waterway. Some, like Deep Creek Lodge and Smoky Mountain Campground and Tubing, even offer nearby accommodations in addition to tube rentals! Tubing companies generally operate from Memorial Day weekend through Labor Day; however, Deep Creek tubing can begin earlier in May and continue after Labor Day if the weather is warm.
Explore on Horseback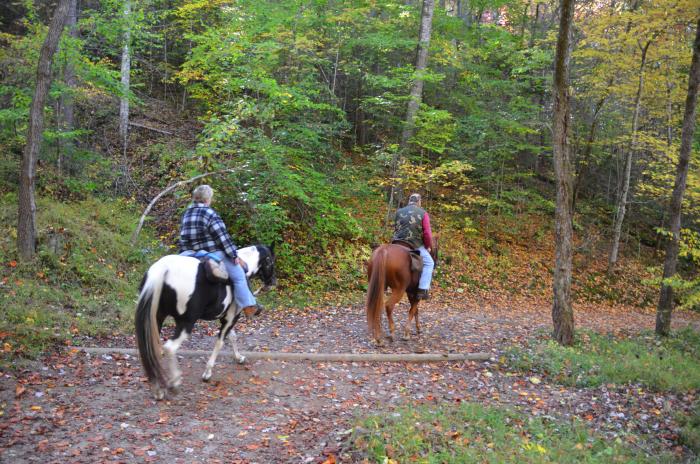 In addition to exploring Deep Creek on foot or by water, you can also saddle up and explore on horseback, either on your own or through a guided horseback tour. Several trails that originate in the Deep Creek area allow horseback riding, including the Deep Creek Horse Trail, Noland Divide Trail and Thomas Divide Trail. If you are traveling on your own, be sure to follow trail guidelines and stick to areas that permit horses.
It's so secret why Deep Creek is one of the most popular, most visited areas of the Great Smoky Mountains National Park. Its close proximity to Bryson City's Hallmark downtown, the abundance of easy, scenic hiking trails and the plethora of opportunities to splash into its cool stream all make it ideal for vacationers of any age and adventure level. Don't miss this scenic stretch during your next Bryson City getaway! Start planning your Deep Creek adventure, and explore other areas of the Great Smoky Mountains National Park, here: https://www.explorebrysoncity.com/things-to-do/great-smoky-mountains-national-park/deep-creek/