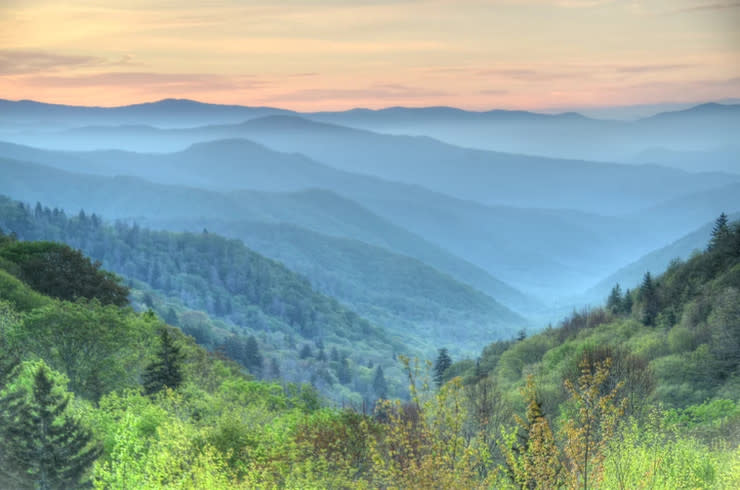 When spring arrives in the rolling mountainsides of Bryson City, North Carolina, our wooded wonderland comes to life. Our downtown eateries, breweries and boutiques throw their doors open wide to let in the spring sunshine. After a long winter slumber, the many wildflowers of the Great Smoky Mountains also begin to emerge, dotting the National Park in blooming seasonal delight. Many of our much-loved outdoor adventures return from hibernation, too, with warming temperatures allowing you to plunge into the full range of excitement that awaits in the Outdoor Adventure Capital of the Great Smoky Mountains. We've rounded up a few of our favorite activities to explore this season. Come see why we should be on your springtime bucket list!
Spend Sunny Days Strolling Through Downtown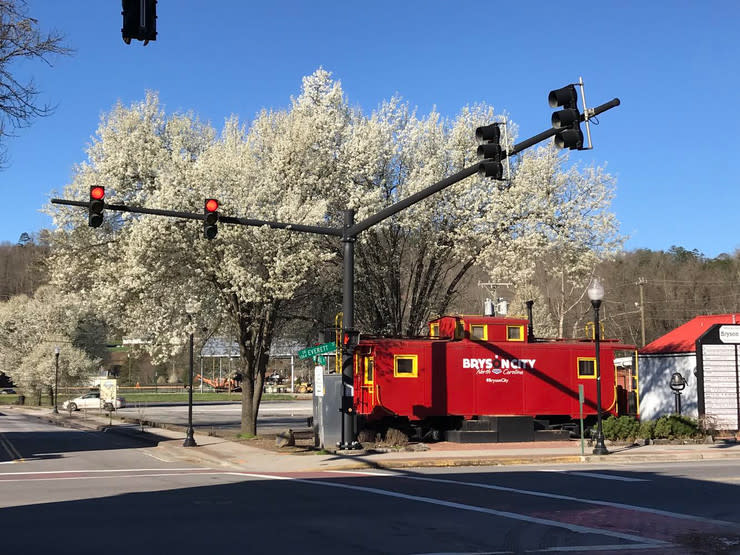 Is there anything sweeter than wandering the streets of our charming downtown on a sunny spring day, when the flowers are blooming, new leaves are budding on the trees and the peaks of the Great Smoky Mountain tower in the background? It is a lovely time to explore the many boutiques, specialty shops and eateries nestled on Main Street, Everett Street and beyond.
Humanite' Boutique
From fantastic clothing boutiques like Humanite' and Madison's on Main to outdoor adventure outfitters and unique antique shops, you're sure to enjoy our diverse array of shopping opportunities. In May, the Smoky Mountain Farmers and Artisans Market will make its return, too, giving you a chance to shop for locally-made goods and locally-grown produce in a relaxing, open-air environment. The downtown market is open from 9 a.m. until 2 p.m. on Fridays and Saturdays. After you've had your fill of browsing through our many markets and shops, pop over to one of our wonderful dining establishments for a replenishing bite or grab a cold one from one of our craft breweries or pubs.
As you're enjoying your journey through our downtown, be sure to stop and snap a selfie at one of our many beautiful murals found throughout. It's a memorable way to capture the memories you're making on your Bryson City escape.
Enjoy Scenic Spring on the Great Smoky Mountain Railroad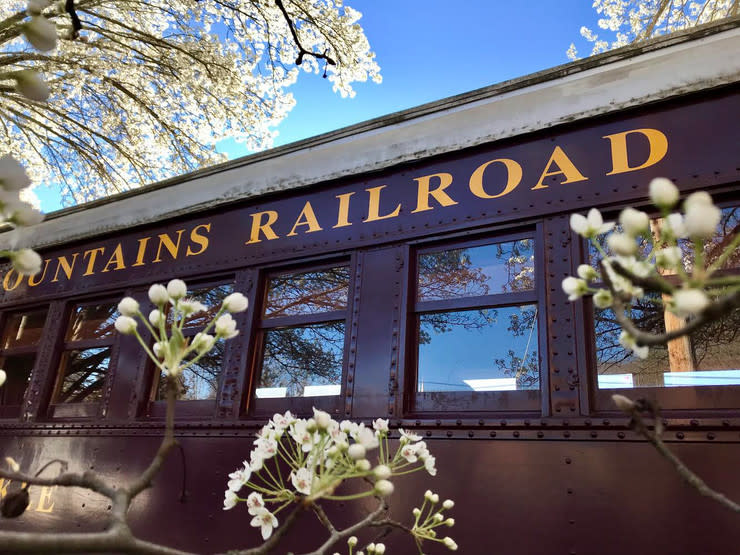 It's almost impossible to visit Bryson City without at least getting a glimpse of the magnificent locomotives that make up the Great Smoky Mountain Railroad. The beautiful steam and diesel engine passenger trains are a stunning sight to see as they pull in and out of their downtown depot, and is something we truly miss during cold winter days when train journeys are limited due to icy weather. The coming of spring signals the return of almost daily train excursions, beginning slowly in March and ramping up with more offerings in April.
During Easter weekend, the Bunny Hopper Express is a 4 and half-hour round trip special event train that departs the historic Bryson City Depot at 10:30 am and travels along the Nantahala Gorge River to a picturesque layover destination, for Easter-themed activities and Egg Hunt.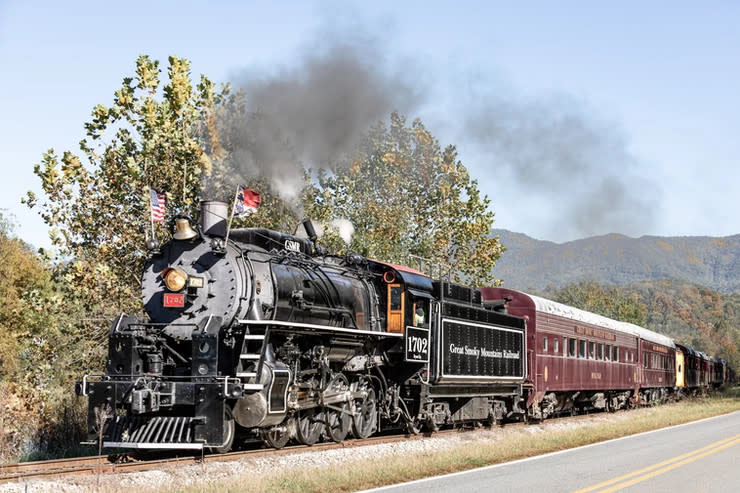 The Great Smoky Mountain Railroad offers many packages and expeditions that are perfect for any kind of adventurer. One of our favorites is the Tuckasegee River Excursion, a four-hour, 32-mile round trip ride that takes you from Bryson City to neighboring Dillsboro, and back. An hour and twenty-minute layover gives you an ample amount of time to explore Dillsboro and all of its wonderful shopping and dining. Keep your eyes peeled on this journey, as you can also spot remnants of the movie set constructed for the hit movie The Fugitive along the way! Explore this and other train excursions in our railroad guide, here.
Plunge into the Rushing Rapids of Our Waterways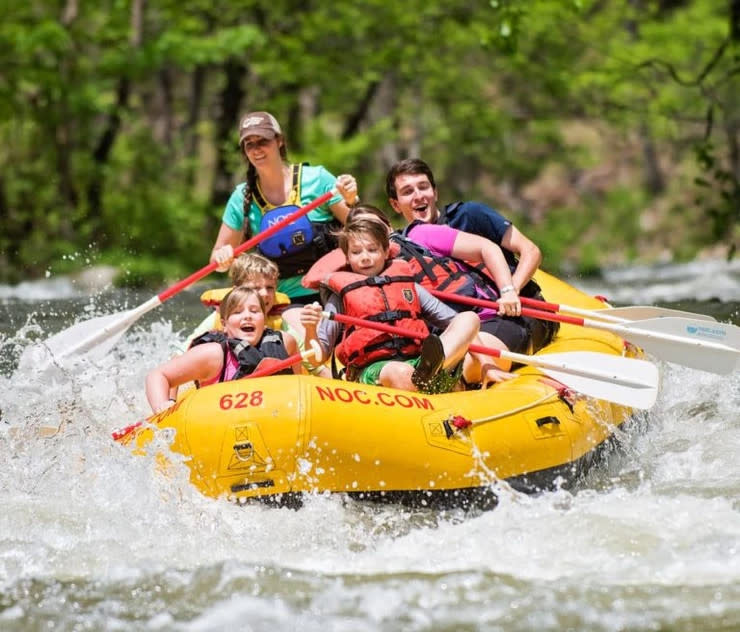 Whitewater rafting is one of our favorite warm-weather activities here in Bryson City, with our many rivers offering ample opportunity to embark on this unforgettable adventure. The Nantahala River Gorge is one of the best places in our backyard to get your rafting fix, with many outfitters lining its rushing waters, ready to guide you on your journey. Rafting season begins in March, greeting you with chilly waters and a rush of adrenaline.
This year, the Nanathala Outdoor Center will celebrate its 50th birthday, marking the occasion with, of course, more thrilling guided tours down its namesake waterway. NOC also offers ziplining, hiking, biking, cabin rentals and just about anything else you'd want on an adrenaline seeker's to-do list. WildWater-Nantahala Gorge Adventure Center also offers a plethora of exciting activities and whitewater trips, including one that partners with the Great Smoky Mountains Railroad. Ride the train up the Gorge with your expert guide, where you'll hit the water and plunge back to WildWater in style. This excursion resumes in April.
For a more detailed breakdown of all whitewater rafting opportunities available in and around Bryson City, check out our handy guide.
Take Adventure to New Heights in Our Backyard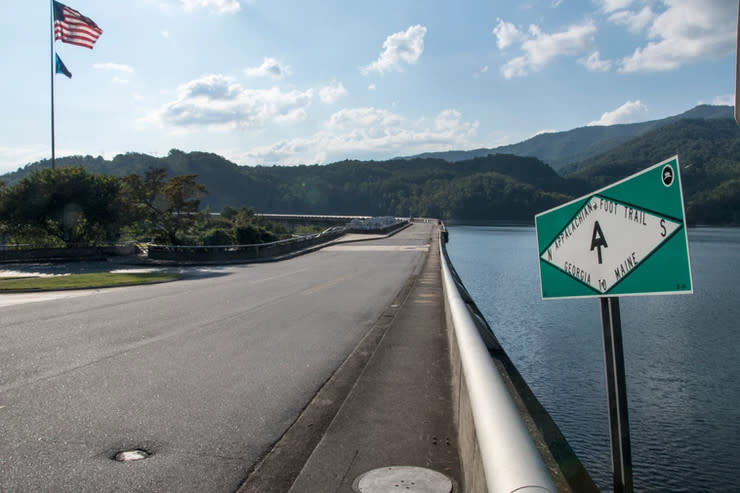 As the Outdoor Adventure Capital of the Great Smoky Mountains, we are no stranger to great hiking in Bryson City. Our backyard is crisscrossed with trails that range in difficulty from nothing more than a simple stroll to journeys that require impressive skill, stamina and preparation. No matter the difficulty, though, many of these trails often reward you with unparalleled and breathtaking views of the Great Smoky Mountains.
Shuckstack Fire Tower is a wonderful spot to explore that, at its top, reveals a gorgeous look at our mountains and Fontana Lake. Located along the Appalachian Trail and accessible on foot, this 7-mile roundtrip journey is a strenuous hike, with sure footing required as the path climbs higher. Another towering location to trek is Waterock Knob, located at milepost 451.2 along the Blue Ridge Parkway. A moderate hike, this peak is the 16th highest in the Eastern United States, with a 1.2-mile-long trail leading you from the parking area to its highest point. Clingmans Dome, a very popular spot to soak in the Smokies, is one of the easiest to access, depending on how you choose to reach the summit. The highest point in the Great Smoky Mountains, the road leading to this peak reopens on April 1, allowing you to drive right to the mountain's observation tower, which offers 360-degree views of the National Park. You can also reach Clingmans Dome on foot via a variety of nearby trails, including Forney Ridge and Noland Creek. All hiking adventures to Clingmans Dome are lengthy and strenuous.
Not sure where to start in the National Park? Our multi-day itinerary breaks down some of the best hiking places to explore throughout the mountains of Western North Carolina.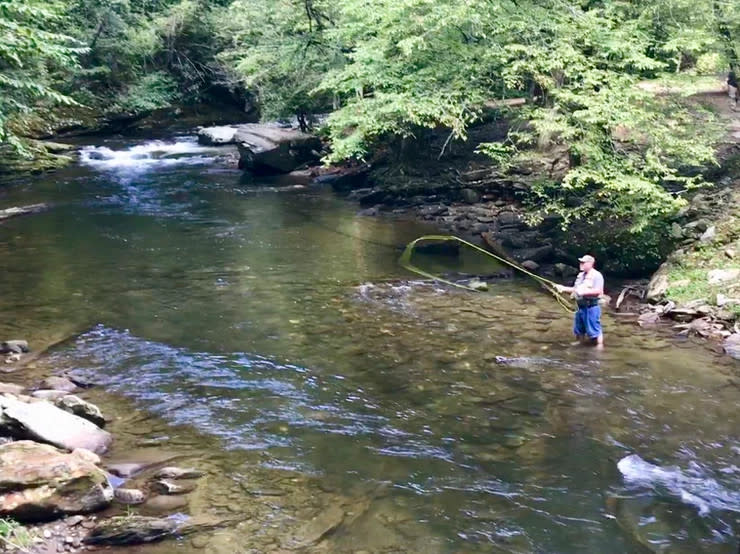 Not only do our plethora of waterways make our backyard an ideal destination for beautiful waterfall hikes and thrilling whitewater rides, but it also makes us a wonderful spot for fly fishing! Prize-winning trout, crappie, bass, muskie and more can be found swimming in the blue-green waters of Fontana Lake, through our many creeks and down our rivers. Our many expert fishing guides, like Fly Fishing in the Smokies, are here to help you hook an impressive catch. Fly Fishing in the Smokies offers guided fishing tours complete with all required gear that are suitable for all ages, and operates a bait and tackle shop downtown for those wanting to cast their line solo.
After a day spent letting your line fly on our waterways, you can make a visit downtown to dive into our town's deep history with this aquatic sport. The Fly Fishing Museum of the Southern Appalachians and Appalachian Rivers Aquarium both offer multiple exhibits that detail everything from the species of fish, aquatic and amphibious creatures that swim in our streams to the history of fly fishing. Learn more about the many fishing opportunities and activities that await in Bryson City by checking out our fishing guide, here.
All of the splendor and beauty of Bryson City is yours to enjoy this spring. What are you waiting for? Begin planning your next getaway today with a plethora of helpful guides, itineraries and more at https://www.explorebrysoncity.com/.