Few things are more awe-inspiring than being perched high above and seeing miles of rolling mountainsides stretching before you. Trees blend with whisps of cloud as towering peaks pierce the skyline. The sun rises or sets, giving off a burst of color and beauty. Sometimes, you can even see distant rain clouds shower on an unsuspecting patch of forest. From a scenic overlook, you feel on top of the world, and have a front seat to so much of nature's wonder. As the Outdoor Adventure Capital of the Great Smoky Mountains, we're fortunate to be close to so many wonderful places to get this glimpse. Let's take a journey to five of our favorites!
1: Get the 360 Experience at Waterrock Knob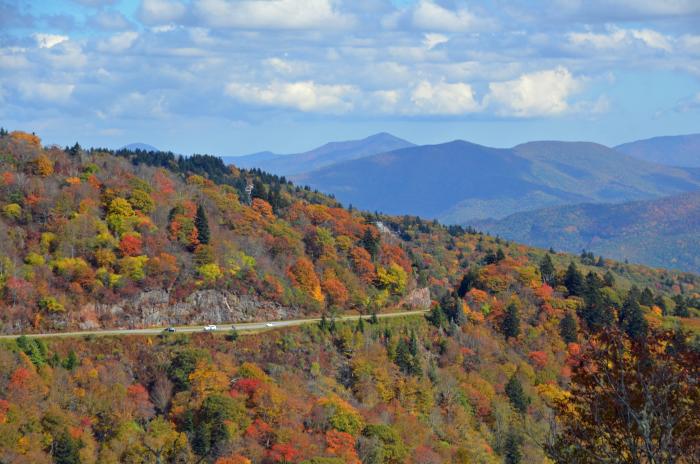 With so many overlooks and pull-off spots available, it's hard to pick just one must-see part of the Blue Ridge Parkway. However, boasting the highest visitors center on America's Favorite Drive, Waterrock Knob just has to be on your list. Viewing and picnic areas on either side of the parking lots give you a full presentation of just how vast and impressive our mountains are. Perched at 5,820 feet, Waterrock Knob offers a one-of-a-kind look at several major Appalachian mountain chains, with handy plaques noting the names of each. They also make this spot perfect for viewing a sunset or sunrise!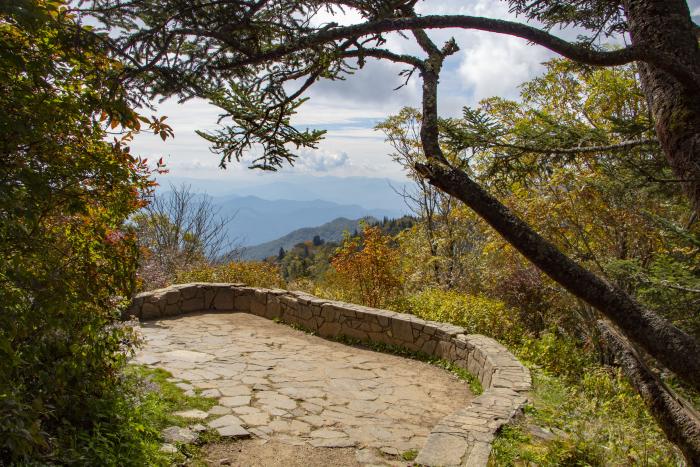 Those seeking added adventure can trek further up, following a steep, 1.2-mile trail to the top of the Knob. The summit is 6,273 feet in elevation and is the highest point on the Blue Ridge Parkway. Along your drive to Waterrock, be sure to stop off at any of the wonderful overlooks you'll pass as you twist into the clouds!
 2: Touch the Sky at Clingmans Dome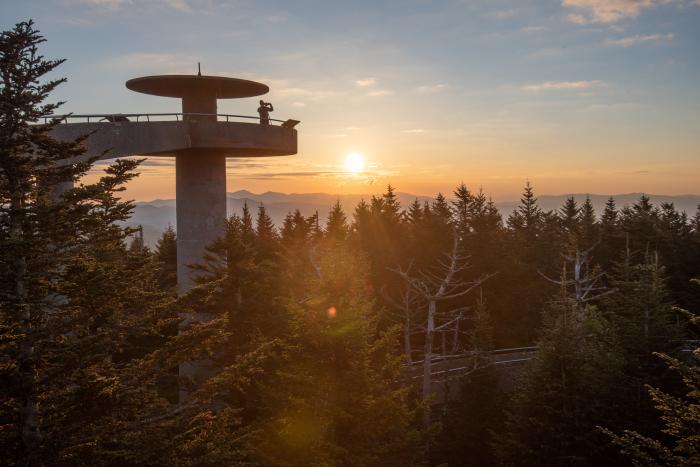 Is it really a scenic overlook countdown without Clingmans Dome? At 6,634 ft., Clingmans Dome is the highest point in the Great Smoky Mountains National Park, with an observation tower crowning its peak. On a rare clear day, you can see 100 miles out from Clingmans, with dense forests and rolling mountains below and beyond. It's truly a magnificent sight to behold.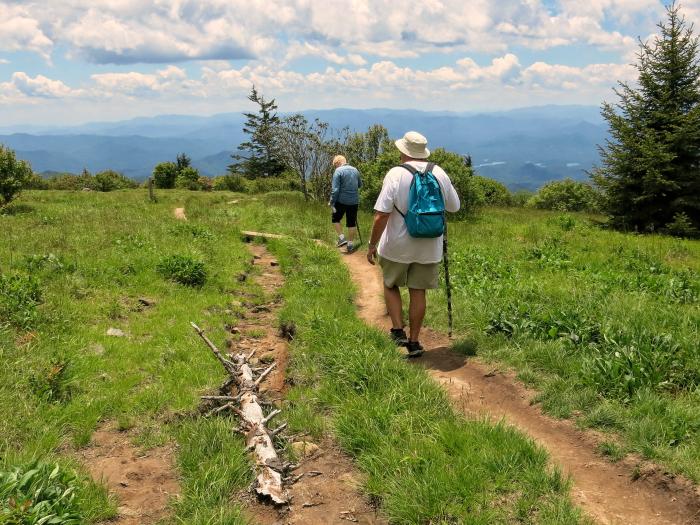 In addition to offering a beautiful spot to soak in 360-degree Smokies views, Clingmans Dome is also a hub of adventure and activity. Several hiking trails either begin or pass through this area. Most notably, Clingmans is a stop along the famous Appalachian Trail, a historic trek high on any hiker's bucket list. From here, you can also access the Forney Ridge Trail, which leads you to beautiful Andrews Bald.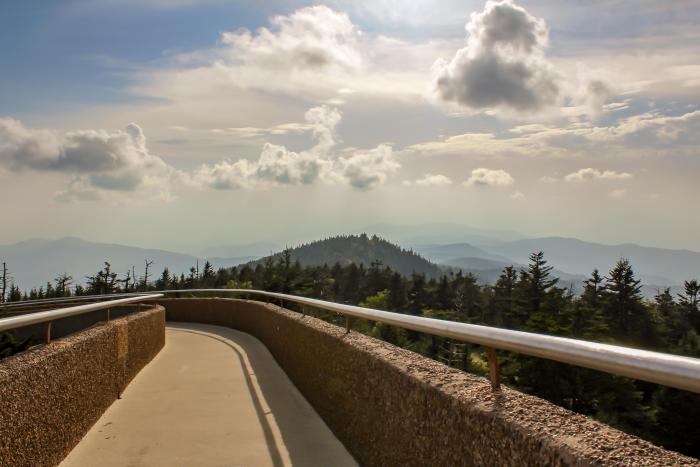 Though the majority of the journey to Clingmans can be completed via car, the paved path up to the observation tower is steep. This makes it difficult for wheelchairs to navigate and can make it a challenge for others to summit. Benches along the path offer spots to catch your breath. Because of its elevation, Clingmans is also typically several degrees cooler than Bryson City. Prepare to bring layers! Restrooms and a visitors center are also available at Clingmans.
3: Savor the Reward at Lonesome Pine Overlook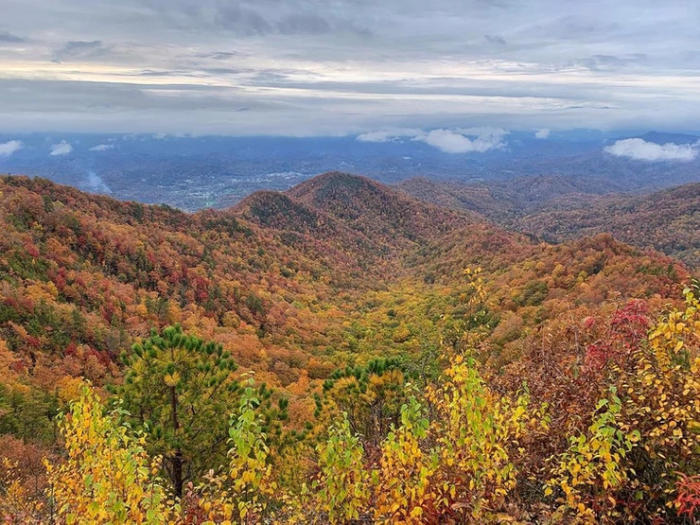 Sometimes, a trip to the Smokies calls for truly disconnecting from everyday life and fully plugging into the magic and beauty of nature. The journey to Lonesome Pine Overlook can deliver exactly that. Accessible via Deep Creek, the hike to Lonesome Pine Overlook takes you down a 6.6-mile out-and-back hike along the Noland Divide Trail. Fun fact - if followed to its much longer completion, Noland Divide will eventually take you to Clingmans Dome!
The journey to Lonesome Pine ranges from moderate to more challenging as you climb higher. At roughly three miles in, you will reach Beaugard Ridge, your sign that Lonesome Pine is just within reach. The trail will circle around the backside of the knob before revealing a short spur path that takes you to the overlook. From here, you can soak in impressive views of the Nantahala Mountains, Tuckasegee River Valley and, if you look closely, downtown Bryson City! Depending on how long you spend looking out at Lonesome Pine, this journey can take an estimated three to four hours.
4: Explore the South's Second Most Scenic Road with Newfound Gap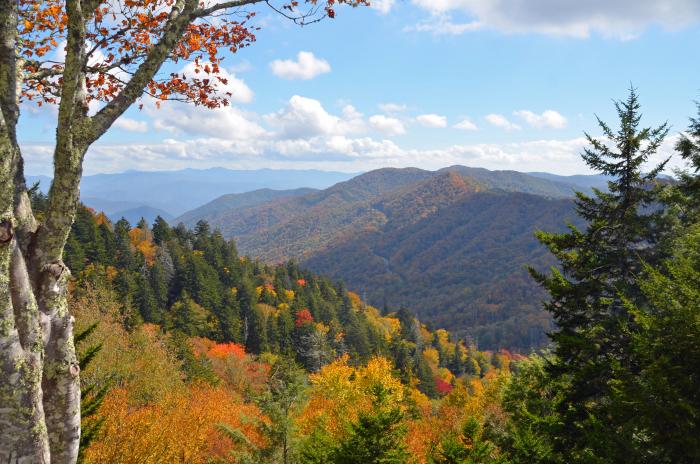 While the title of Most Scenic Drive has to go to the Blue Ridge Parkway, the drive to Newfound Gap's overlook comes in at a very close second. Stretching for 33 miles across state lines to connect Cherokee, North Carolina, and Tennessee, Newfound Gap Road is a gateway to many Great Smoky Mountains National Park adventures, including Clingmans Dome and Cades Cove and, for those driving from Tennessee, Mingus Mill, the Oconaluftee Visitors Center and so much more.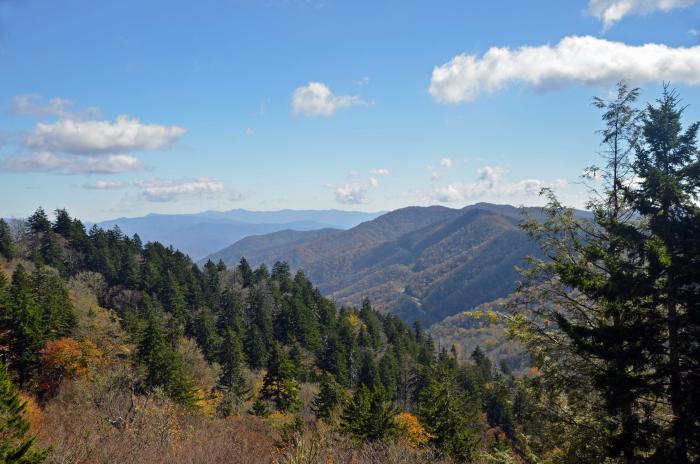 To reach the overlook, you'll need to reach Cherokee and follow Newfound Gap Road, also known as US Highway 441, for roughly 20 miles. Along the way, you'll twist and turn as the mountain road takes you higher and deeper into the Great Smoky Mountains National Park. Once you reach your scenic journey's end, you'll be met with a stunning Southeastern view of the Smokies as you stand at 5,046 feet above sea level. You'll also be standing on the state line that divides North Carolina and Tennessee, a little fun fact you can share back home. Be sure to wave while you're there - a live stream camera offers a peek at this scenic spot year-round!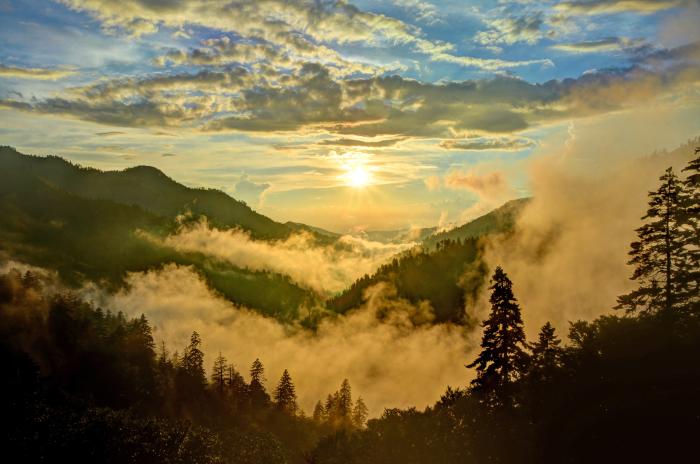 A National Park dedication memorial can be found here, dating back to 1940. Restrooms and rock wall benches are also available. Other scenic overlooks along this road include Charles Webb, the Oconaluftee Valley and Morton Overlooks (shown above).
5: See Sparkling Waterfront Beauty at Fontana Dam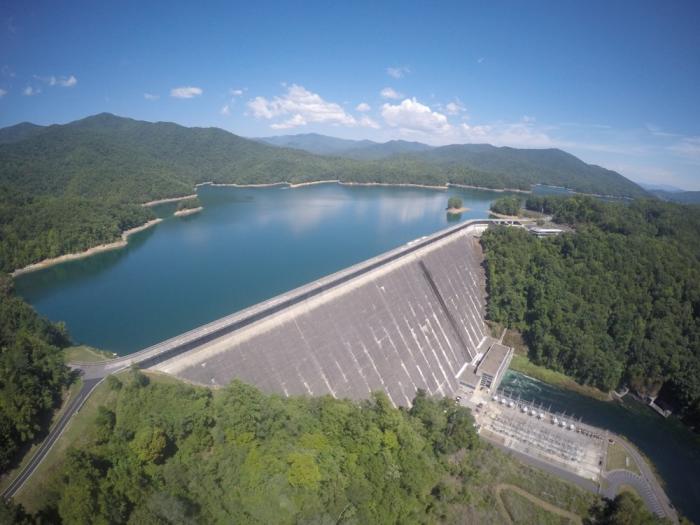 Proudly standing as the tallest dam east of the Rocky Mountains, Fontana Dam is a beautiful place to savor the beauty of Fontana Lake and learn a little bit about Bryson City's history. Construction of the dam was completed in 1944, impounding and creating Fontana Lake below. Back then, it and the lake were created as a means to answer the demands for more electricity in nearby areas working on research and projects during World War II. They were also labeled as designated areas of the Great Smoky Mountains National Park.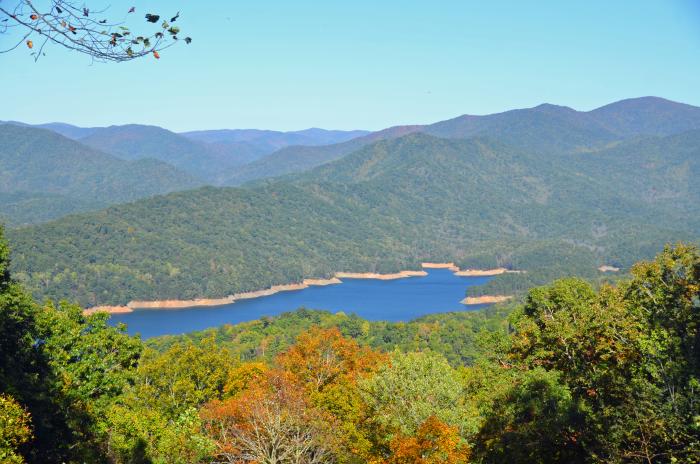 Today, the Dam stands not only as a monument to the past but also as a beautiful area that all can enjoy. Winding up NC-28, also known as the famous Hellbender, you can spot stunning fall foliage in autumn or pull off at one of many picnic areas along the way for beautiful Fontana Lake views (shown above). As you continue to climb, you may even come across the Fontana Hilton, a shelter many Appalachian Trail hikers use to camp overnight!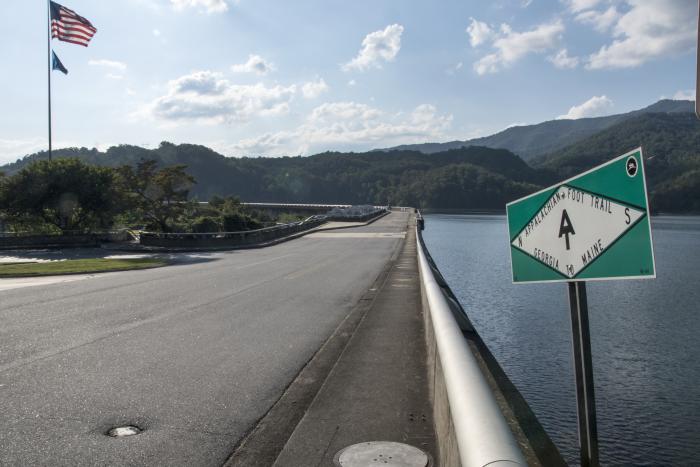 Once you reach the Dam, you can choose your own path for an equally scenic adventure. An observation tower sits above restrooms and a visitors center, giving you a direct view of the Dam itself, as well as Fontana's waters below. Alternatively, you can also follow a set of steps to reach the top of Fontana Dam itself, overlooking the dual sides of its namesake lake. In the late spring and summer months, you may even be lucky enough to spot paddleboards, kayaks or boats across its emerald surface! The Fontana Dam Visitor Center is open from 9 a.m. to 7 p.m. April through August, and from 9 a.m. to 6 p.m. September and October. The center will close on the last Sunday in October.
Ready for even more scenic fun? We've also compiled a list of some of our favorite spots to snap beautiful photos of a sunset or colorful mountain sunrise! Turn your vacation into a scenic scavenger hunt when you cross all of these picture-perfect spots off your list: https://www.explorebrysoncity.com/blog/post/the-best-photography-spots-in-the-great-smoky-mountains-for-sunrise-and-sunset/